How Buster Keaton Became a Cinematic Superstar
James Curtis on Buster Keaton's Transition from the Stage to the Screen
Meanwhile, the eldest scion of "fun's funniest family" traveled on to New York and Ehrich House, where he arrived, according to his datebook, on January 18, 1917.
When settled, Buster called at the offices of Max Hart, the top vaudeville agent of the day, who was in the process of transforming a $300-a-week single named Eddie Cantor into the $3,500-a-week star he would become for Flo Ziegfeld. Hart, 42, had a legendary nose for talent, and could see past the trappings of a bad act in mining what was good and valuable in a performer.
So he was not bothered in the least when Buster told him he had broken up The Three Keatons and wanted, for the first time in his life, to work on his own. "I'll get you all the work you want," Hart told him, and he marched him over to the 44th Street office of J. J. Shubert, who was assembling his annual summer revue, The Passing Show.
"This is Buster Keaton," Hart said to Shubert. "Put him in your show." Shubert looked him over and said, "Can you sing?"
"Sure I can sing," said Buster, somewhat amused at the question since he was infinitely more valuable as a comedian than as a singer. Shubert, fortunately, engaged him without asking him to croon.
Starring DeWolf "Casey at the Bat" Hopper, comedic acrobat Jefferson De Angelis (to whom Buster was sometimes compared), singer Irene Franklin, and actor-comedian Chic Sale, The Passing Show of 1917 was set to open at the Winter Garden on April 26 following a week's shakedown in Pittsburgh. Rehearsals hadn't yet begun, and Buster was to have a voice in determining what he was to do in the show. Still, with time on his hands and a wait of nearly three months until the first performances, he was fidgety and nervous, unsure of what to do with himself.
After ten days in New York, which he filled mostly by seeing shows, Keaton returned to Detroit to visit his mother, who, on his 21st birthday, had given him a membership in the Benevolent and Protective Order of Elks. From there he traveled to Muskegon, where, on February 2, he was inducted into Elks Lodge #274 with his proud father at his side.
"I had no more idea than anyone else at the time what the growth of pictures was to be," Buster said […] "I took my gamble and cast my lot with the pictures."
The Keatons briefly regrouped in New York City, where Joe told the Telegraph he was lonesome for his family. According to the Clipper, he tried to persuade Myra and Buster to go back out on the road with him, but it was no good. Myra never had any particular love for the stage, and Buster felt the old act had run its course. However, Myra took pity on her husband of 24 years and rejoined him in Bluffton, even though the Keatons' summer cottage had no plumbing, heating, or insulation.
It was sometime in March, just prior to the start of rehearsals for The Passing Show, that Buster encountered someone he knew on the streets of Manhattan. In the early 1950s he told biographer Rudi Blesh it was an old vaudevillian named Lou Anger, and he repeated the claim in his 1960 autobiography. But in 1928, and again in 1930, he said it was Joseph Schenck, the booking manager for Marcus Loew and the man who introduced The Three Keatons to small-time vaudeville. Schenck, who had started producing his own movies, told Buster he was making some two-reel comedies. "He wanted to know," said Buster, "if I wanted to try the movies."
Moving pictures, or "flickers," as Joe Keaton dismissively called them, had been on the bills of vaudeville houses since the very beginning of Buster's career. At Dockstader's it was Siegmund Lubin's Cineograph; Keith's had the large-format Biograph; Tony Pastor's longtime choice was the Vitagraph (which made its public debut there in 1896); and George K. Spoor's Kinodrome was an attraction along the Orpheum trail.
Other brands proliferated—Lifeograph, Kinetograph, Casinograph, Cineomatograph—most offering thrilling scenes of fires, races, demolitions, beauty pageants, and occasional story pictures like The Great Train Robbery. Gradually, movies gained in importance, and in 1916 the Telegraph suggested the record business at Loew's American Roof wasn't due to the Keatons or the other live acts on the bill, but rather Charlie Chaplin's The Floorwalker, which was shown at the conclusion of the program.
"I had no more idea than anyone else at the time what the growth of pictures was to be," Buster said. "One feature of the films did appeal to me, and that was that it would mean staying in one place for a while. I had been traveling on the road for over 20 years. I took my gamble and cast my lot with the pictures."
Schenck was new to the movie business, having produced his first film, a feature titled Lost Souls, the previous year. He had the instincts of a gambler, though, and lured actress Norma Talmadge away from Triangle with the lavish promise of $1,000 a week, her own production company, and 25 percent of the profits. The result was his second picture, Panthea, which opened on Broadway at advanced prices and began Talmadge's impressive climb to stardom.
By then, Schenck had married her and contracted with comedian Roscoe "Fatty" Arbuckle to make a series of comedy shorts. Contemplating a production slate that called for six features a year from his wife and eight to twelve shorts from Arbuckle, Schenck secured a four-story plant on East 48th Street, the former home of the Paper Novelty Manufacturing Company, and poured $100,000 into equipping it for moviemaking. The result was two vast stages, each 100 by 125 feet, reputedly making it the largest such facility in the East. The cost of lighting gear alone was said to have run $35,000. Nevertheless, to writer Anita Loos it was "ramshackle to a degree," a place seemingly thrown together on the fly.
"Roscoe explained the technique in pictures was different from the stage," he said, "particularly in taking a pie or a pot of molasses in the face."
Keaton had seen some of Arbuckle's comedies for Mack Sennett and told him that he greatly admired them. Arbuckle, in turn, had seen the Keaton act onstage and returned the compliment, allowing as how he had "always liked it." He had full creative control of his pictures and could easily have nixed Keaton's addition, but instead he embraced the younger man as a kindred spirit, an apprentice of sorts in the relatively new trade of making films that were funny.
"Roscoe—none of us who knew him personally ever called him Fatty— took the camera apart for me so I would understand how it worked and what it could do. He showed me how film was developed, cut, and then spliced together." A supremely inventive man with a grace and dexterity that belied his great weight, Arbuckle didn't so much write his films as work them out laugh by laugh.
"Not a scrap of scenario paper in my studio," Arbuckle said. "I wouldn't know what to do with a manuscript in my hand. I plan out the pictures, and we rehearse them—that's all."
When they began shooting The Butcher Boy on the morning of March 19, 1917, Buster had already worked out business for the first half of the film, which was to take place in the bustling interior of a general store. "You only had to turn me loose on the set and I'd have material in two minutes, because I'd been doing it all my life." Dressed in overalls and a pair of slapshoes, he makes his entrance sporting a pork pie hat with an impossibly flat crown and similarly abbreviated brim. "In those days, almost every comedian you saw affected a derby hat," he explained. "Even Harold Lloyd, when he was playing his Lonesome Luke character in 1917, wore a derby—which he later deserted for his signature straw hat and horn-rimmed glasses. So I decided to get a hat that was my very own. I knew straw was too fragile for my kind of antics, so I chose felt and designed this particular pork pie. I took a good Stetson and cut it down, then I stiffened the brim with sugar water."
In a nod to his earliest days onstage, Buster is immediately attracted to a display of brooms stuffed into a couple of barrels. He selects one, hefts it, yanks off a few straws, casts it aside. A second leaves him similarly unimpressed, and after returning it to the barrel, he uses a foot to retrieve the first off the floor and return it as well. With Arbuckle, whose dexterity with small props—particularly a butcher knife—is on full display, Keaton explores the comedic possibilities in a pail of molasses, virtually cementing himself to the floor with it. The slapstick highlight of the sequence is a rowdy fight with bags of flour primed to explode on impact, Keaton taking a direct hit from Arbuckle that literally knocks him off his feet.
"Roscoe explained the technique in pictures was different from the stage," he said, "particularly in taking a pie or a pot of molasses in the face, because the toughest thing is to keep from flinching when you see it come. We're doing a scene in a bakery and there are a lot of three-pound sacks of flour lying about. Fatty picks one up and throws it at the baker who ducks, and I get it. So he explains: 'Now, Buster, you just keep looking over in that direction until I say turn. When you turn, it'll be there.' So I do just like he says and look away until he says turn. Bowf! I get it. I thought my neck was broken. It exploded just like a bomb. That Arbuckle was a dead shot, and that sack came with all his 300 pounds behind it. My eyes, nose, and ears were filled with flour—but it got the laugh."
Making his entrance on a bicycle and catching his neck on a clothesline, Keaton was called upon to execute no fewer than 20 falls during the course of the action.
In the film's second half, set in a girl's boarding school where Josephine Stevens, playing the shopkeeper's daughter, has been sent to keep her and Fatty apart, Keaton enlivens the action with a display of acrobatics he perfected over a lifetime in vaudeville. He takes a variety of spills, tumbles roughly down the front steps of the store, and in one spectacular shot is sent hurtling through the doorway of a bedroom, where he pulls a backward somersault, spinning on his head so as to land facing the opposite direction.
"From the first day on I hadn't a doubt that I was going to love working in the movies. I did not even ask what I'd be paid to work in Arbuckle's slapstick comedies. I didn't much care." Buster's usual share of the Keatons' weekly take in vaudeville was $300, and the Shuberts had agreed to pay him $250 for The Passing Show. Yet on his first day of filming for the Comique Film Corporation (pronounced, according to Arbuckle, Co-meek-ee) Keaton's datebook shows that he was being paid $40 for the week. And, as he said, he didn't much care. "I'd fallen in love with the movies—with the cameras, with the rushes, the action, the slam-bang—with all of it."
The Butcher Boy took three weeks to work out and shoot. Then Arbuckle invited Keaton into the cutting room to observe the editing process. "By the time I'm through," Arbuckle said in an interview, "I have about 15,000 feet of film—and all I need is 2,000 feet. I've got to skim the cream off that milk. I go over all the films and pick out the best scenes. Then is the time I write the story. I make out the scenario from the scenes I intend to use. In this scenario every scene is numbered. When I have it finished, I take the reels, find the scenes I want, cut them out, and put them in numbered pigeonholes. I write the titles that connect up these scenes and then everything is in shipshape order for making up the necessary two reels."
Schenck arranged to distribute the new Arbuckle comedies through Paramount, which was asking $35 a day in first run—top dollar for a two-reeler that didn't star Charlie Chaplin. Released on April 23, The Butcher Boy was an immediate critical and commercial hit, playing more than 300 theaters in its first week alone. Ben Grimm, in a notice for Moving Picture World, praised the film's free-for-all as "one of the best comedy battles" yet staged. "The main ammunition is flour, and what don't happen in that store when the flour bombs begin to fly is hardly worth mentioning… Buster Keaton does some excellent comedy falls." With a new picture set to start, Keaton's salary was bumped to $75 a week, a measure of the added value he brought to the movie.
To help fill the pipeline, Schenck acquired an Arbuckle short made for Keystone that went unreleased when its star left the company. Filmed the previous summer, A Reckless Romeo was passed off as the second entry in the current series, though reviewers instinctively saw it as a throwback to Arbuckle's Sennett days. Released just a month after Butcher Boy, A Reckless Romeo bought Arbuckle and his company some badly needed time and put Paramount on course to releasing eleven Arbuckle comedies for the 1917–18 season. So great was the anticipation for a second picture that contracts to show it reportedly outpaced those for the first by some 35 percent.
Keaton's second movie with Arbuckle was titled The Rough House, and it took no less time to make than the first—about 20 camera days for an eighteen-minute subject. Advance publicity hinted at a troubled shoot, with opening scenes set at Churchill's famous Broadway cabaret abandoned at a cost of $10,000, along with almost any hint of a story concerning Mr. and Mrs. Rough, whose house by the sea is invaded by Fatty's mother-in- law. What remained was a relentless slapstick assault on the senses, substituting frenetic action for what the film lacked in inventiveness.
Making his entrance on a bicycle and catching his neck on a clothesline, Keaton was called upon to execute no fewer than 20 falls during the course of the action, conclusively demonstrating that he could handle without injury practically anything in the line of physical comedy. At the completion of Rough House, he was raised to $100 a week.
By the time of his third Arbuckle, His Wedding Night, the company had relocated to the former Biograph studio in the Bronx. Keaton liked to say the move was due to all the noise they made on 48th Street, which interfered with the shooting of the Norma Talmadge pictures, but it was more likely Schenck's need to improve the bottom line. Producer-distributor Pathé took a six-month lease on the space Arbuckle vacated, while George Backer, president of Foursquare Productions, rented another portion of the building.
And Talmadge herself would soon begin shooting The Moth, her fourth feature under Schenck's management. The Biograph, on the other hand, was a spacious and well-appointed facility built expressly for the making of motion pictures—four floors of offices, dressing rooms, a kitchen and dining room, even an on-site power plant and film-processing lab. And atop the building a large glass-roofed studio that could be seen for blocks around.
"Everyone there was doing drawing-room pix," Buster remembered. "Tails and evening gowns were all over the place. If you spoke American out loud, monocles dropped by the dozen."
The Arbuckle company settled into a comfortable production routine. Schenck, focused on his wife's films, was a hands-off producer, leaving the day-to-day of running the studio to Lou Anger, the former Dutch dialect comic who served as his general manager. It was the affable Anger who persuaded Arbuckle to leave Sennett to make pictures for Schenck in the East, and who was subsequently charged with keeping the operation running smoothly and within budget. Al St. John, Arbuckle's lanky nephew, lacked Keaton's hard-earned skills as an acrobat but was seemingly fearless in the stunts he'd attempt for the camera.
And Roscoe acquired a lively new comedienne in the person of Alice Lake, who had appeared in A Reckless Romeo and lent some continuity to the series after the departure of Josephine Stevens. William Jefferson, son of actor Joseph Jefferson, was one of the company's supporting players. Herbert Warren, longtime leading man for French-born actress Valerie Bergere, was the company's chief scenario writer, and Frank Williams, Arbuckle's cameraman at Sennett, had come east to continue working with him.
"He was one of the greatest friends I ever had," Keaton said of Arbuckle. "I was only with Arbuckle about three pictures when I became his assistant director. It wasn't a case where he came up and said: 'From now on, you're assistant director.' You fall into those jobs. He never referred to me as the assistant director, but I was the guy who sat alongside of the camera and watched scenes that he was in. I ended up practically co-directing with him because he was considered one of the best comedy directors in the business."
Keaton may have been moved behind the camera for His Wedding Night because he was needed less on-screen than in either of his previous films. The result was a more inventive, less frantic comedy than its predecessors. When Buster sidles up to the soda fountain and hints at wanting an illicit beer, Arbuckle obliges, adding a small footrail, a spittoon, and sawdust on the floor. Later, an effeminate man enthuses over a perfume display, and Fatty hauls out a sponge, a long-handled brush, and a small tub so the customer can literally bathe in the stuff while being drenched with seltzer water.
Then Buster, having delivered a wedding gown to the proprietor's daughter, puts the dress on to model it, and the screen in her bedroom drops for a dramatic reveal, complete with spotlight, then magically rises up again as he steps forward and strikes a pose. "I didn't know it at the time," said Keaton, "but I turned out to be Arbuckle's whole writing staff for gags."
_______________________________________________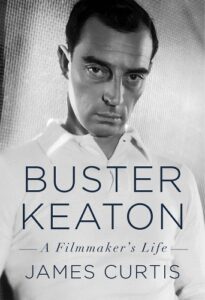 Excerpted from Buster Keaton: A Filmmaker's Life by James Curtis. Copyright © 2022 by James Curtis. Excerpted by permission of Alfred A. Knopf, a division of Penguin Random House LLC. All rights reserved. No part of this excerpt may be reproduced or reprinted without permission in writing from the publisher. 
---