How Björk Helped Iceland Weather the Global
Financial Crisis
Panos A. Panay and R. Michael Hendrix on the Connections Between Songwriting and Entrepreneurship
Desmond Child is a Songwriters Hall of Fame inductee who has written more than two thousand songs. His hits include Bon Jovi's "Living on a Prayer" and "You Give Love a Bad Name," Ricky Martin's "La Vida Loca," Barbra Streisand's "Lady Liberty," and "Thong Song" by Sisqó. Other collaborators include Aerosmith, Cher, Katy Perry, Kelly Clarkson, Kiss, and Michael Bolton. How has Desmond managed to be so prolific and work successfully with so many artists, spanning genres and generations?
When we first met him, we wondered if Desmond would be imposing and intimidating, a man who is aware of his fame and influence, a celebrity's celebrity. We were delighted to discover that he is a warm and engaging person, the kind of friend you could talk to forever. To give a quick example of the kind of person he is: during our first conversation with him, Panos mentioned in passing that he was born and grew up in Cyprus. So imagine our surprise when, months later, Panos was invited to Desmond's home in New York and was introduced to another Cypriot couple, as well as a Cyprus-born chef whom Desmond had asked to cook a traditional meal of halloumi cheese, horiatiki salad, and grilled lavraki. It was more than a thoughtful gesture; it was typical Desmond.
That evening's meal stretched out for hours. After dinner, we talked about how he learned to write hit songs. He said that his musical education started in infancy, when he lay in a crib next to his mother—the late, great Cuban bolero writer Elena Casals—while she played the piano.
"She was a poet," he told us. "When she was happy, she'd write a happy song; when she was sad, she'd write a sad song. Her music was a snapshot of her daily life."
His mother's translation of slices of life, small moments of delight or sadness, into music and lyrics inspired Desmond to form Desmond Child & Rouge, a rhythm-and-blues-influenced pop band, in the mid-1970s. The band received positive reviews, and its music was included on a movie soundtrack. One of the band's songs climbed to number 51 on the Billboard charts but sold poorly. So Desmond looked to transition into songwriting, and connected with Bob Crewe, the legendary songwriter for the Four Seasons, Bobby Darin, Patti LaBelle, and Barry Manilow.
"For two years, Bob and I would get together at a little place for lunch, across the street from his studio," he said. "Monday through Friday I'd meet him at noon, and he'd tell me stories about the old days in Hollywood. Then we'd go to his studio—a bare apartment with nothing on the walls, nothing in it but a grand piano and a chair for him to sit in."
Desmond describes sitting at the piano in the spare room with Crewe in the chair beside him, both with blank pads of paper. According to Crewe's method, they were searching not for a melody or lyric but for a song's title.
"Bob would not begin writing a song until he had a great title. I would throw out an idea and then he would until—bingo!—we nailed it. Bob felt that the title should encapsulate the whole essence and story of a song in a few words and that writing the lyrics should be about finding their way back to this essence."
In Desmond's mind, Crewe's technique dovetailed with that of his mother: listen for the right way into a song, patiently working until you can sum up a human experience in a few words and a turn of phrase. Taken together, these ideas changed Desmond's life when he had the opportunity to collaborate with New Jersey rocker Jon Bon Jovi. Desmond was invited to the childhood home of Bon Jovi's guitarist Richie Sambora, a small wooden house on the edge of a brown marsh with an oil refinery in the distance—an archetypal childhood setting for a member of an archetypal Americana band. Bon Jovi, Sambora, and Desmond met in the basement, where Sambora had set up a keyboard and a shabby, buzzing amplifier on a Formica table.
"Thinking back to my sessions with Bob, I had already thought of a title and brought it in my back pocket: 'You Give Love a Bad Name.' The minute I said it, Jon's face lit up, and I got my first view of that billion-dollar smile. Turns out he had also been working on a song, and he threw out, 'Shot through the heart and you're to blame because darling…'
"Then the three of us chimed in: 'You give love a bad name.'"
What rejected teenage Romeo or Juliet hasn't felt this pain? It was as if Desmond could hear their unspoken sighs and channeled them into pop poetry and then turned them into a creative relationship that lasted for many years. "You Give Love a Bad Name" reached number one on the Billboard Hot 100, became a number-one hit again in Poland when the singer Mandaryna recorded it, and had yet another stint on the charts when a contestant performed it on American Idol.
*
Desmond's practice of drawing on personal experience and distilling it into a few words is only one starting point for creativity.
For many songwriters and creatives, as well as entrepreneurs, the question of where to begin can seem daunting. There is something intimidating about a blank page; you have ideas rolling around in your head, like socks tumbling in a dryer, but don't quite know how to reach in and pull out the right one, the one with a thread that you can follow. Desmond starts by listening for the perfect title. Others look for intense emotional experiences and try to catch their feeling and then catapult it into audiences. For Icelandic singer and composer Björk, her process begins with immersing herself in nature.
A native of Reykjavik, Iceland, Björk is deeply committed to the idea of listening to the natural world around her and interpreting what she hears into art. Like Desmond, she started young.
Even as a child, walking in the woods or singing for her classmates on the school bus, she said that singing is her way of interacting with her environment. And the interaction is not abstract; it's particular. She has spoken in interviews about walking along the pier in Reykjavik, listening to the noises of the harbor: waves lapping on the shore, the cries of seagulls overhead, the horns of ships in traffic. To Björk, this is more than background noise; it is music.
There is something intimidating about a blank page; you have ideas rolling around in your head, like socks tumbling in a dryer, but don't quite know how to reach in and pull out the right one, the one with a thread that you can follow.
Her song "Wanderlust" begins with these sounds, seemingly at random until they come together and harmonize, falling into a rhythm that becomes the backbone of the melody. From the mundane soundtrack of everyday life, Björk took what she heard—or, more accurately, listened to closely—and orchestrated a lovely and haunting song about what it means to belong.
As she has grown to become the most famous Icelandic artist of all time, she has released a catalog of songs that are unorthodox, otherworldly, idiosyncratic, and beautiful—and that have become international hits. She describes her process of artistic creation, whether in music, fashion, music videos, or starring in movies like Lars von Trier's Dancer in the Dark, as a search for emotional coordinates.
"I started writing melodies as a kid, walking to school and back, and it just always was my way of coping or dealing with the world," Björk has said. "It's like another function in my subconscious, in my brain that's just rolling away like a screensaver, coexisting next to whatever is happening… if there is a happy period or if there's a sad period, or I have all the time in the world or no time in the world, it's just something that's kind of bubbling underneath."
Over time, Björk has honed her habit of listening to a reflex. She makes it sound easy. But just like learning to play an instrument takes years of practice, it takes years to make the skill of listening effortless. Her antennae are always up, like a satellite dish catching waves from distant galaxies, separating the signal from the noise. Appearing on an episode of the podcast Song Exploder, she reveals how she dials in the signal, describing the process of sonically exploring emotions, with another of her hits, "Stonemilker."
"I was walking on a beach back and forth and the lyrics came along without me editing them [and I thought] moments of clarity are so rare, I'd better document this," she said. "The strength of this album is simplicity, thinking out loud, feeling, and I shouldn't be too clever. It would work against it. The whole song is about wanting clarity, wanting simplicity, and talking to someone who wants things to be really complex and foggy and unclear. And you saying: 'OK, I've got clarity, want it or not."
It takes practice and, perhaps just as importantly, a deliberate decision to recognize what is not there or at least what is not normally there. In this case, it was a lucid moment that matches the intent of her song. That was the signal.
In "The Songwriters Issue" of Q magazine, published in 2007, she further unpacked her process of identifying, exploring, and articulating emotional connections.
"It's all about singing the melodies live in my head. They go in circles. I guess I'm quite conservative and romantic about the power of melodies. I try not to record them on my Dictaphone when I first hear them. If I forget all about it and it pops up later on, then I know it's good enough. I let my subconscious do the editing."
When the time comes to add lyrics, she says: "I put a lot of work into the lyrics, and I think there is a reason why the written word and the poetic form allow us to express things we can't express during our everyday lives or in conversation," she said. "These few times you manage to arrange the words in the correct order you create this tension and this energy, which flows between the lines, and the most powerful thing is often the thing which lies slumbering in the silence."
At this point, you might be wondering what an Icelandic postpunk sprite's search for emotional connections in the world around her has to do with entrepreneurship. Unless you're planning to write an esoteric, existential, international number-one hit, how does this relate to the world of business?
Over time, Björk has honed her habit of listening to a reflex. She makes it sound easy.
But stay with us. A musician understands that listening to the world, drawing ideas and inspiration from outside yourself, is only the first part of innovation. It also requires listening to yourself for points of resonance between the world and your own vision and values. And in Björk's case, the power of her approach took on new meaning when she helped her country  through a crippling economic recession.
*
The global financial crisis of 2008 started in Iceland. In a country of 300,00 people, there were only three private banks, each of which had grown fat in the years leading up to the crisis, thanks to governmental policies that encouraged them to borrow heavily. A new moneyed elite sprang up in the country, thanks to easy access to large lines of credit: the housing market ballooned and stock market prices increased by 900 percent in a single year. Over the course of three years, the average Icelander's personal wealth grew by 300 percent. But when the bubble burst, all three banks defaulted, investment firms went belly up, and more than a quarter of Icelanders couldn't pay their mortgages.
Björk felt a responsibility to do what she could to take care of her fellow citizens, so she teamed up with a venture capital company called Audur Capital. Audur's founders, Halla Tomasdottir and Kristin Petursdottir, had earned a reputation for investing in environmentally sustainable projects and female entrepreneurs, but with Audur's BJÖRK venture fund they went a step further.
Following the singer's lead, they listened for emotional connections that aligned with their own values. When considering potential investments for the fund, Audur's founders said that their personal feelings about a company were just as important as historical data, market gap analysis, and projections.
"We were willing to use our rational mind and our emotional intelligence to release value out of our investments," they told the BBC in 2009. "The touchy-feely side is actually the harder side. We reject a lot more investment opportunities as a result of emotional due diligence than financial due diligence."
Let's pause for a moment to consider whether or not emotional due diligence is a term you have heard before. We certainly had not—and it made us stop and consider: Why is that? After all, people invest in people; a company's leaders shape its vision, culture, and ability to deliver.
We called venture capitalist Tim Chang to ask for his thoughts about this concept of emotional due diligence. Tim started his career as a musician: he grew up playing classical piano, but in high school he joined a rock band, and from the day he played Van Halen's "Eruption" on stage, he felt less like a bookish teen and more like a rock star. His fellow classmates suddenly were not just friends, they were fans. Following the feeling, Tim pursued music throughout college, signed a record deal with Sony, and started touring.
But he soon realized that the contracts offered by Sony did not line up with his personal values—the label profited, while the musicians sweated—and so he left the road to enter the world of finance.
Now a partner with Silicon Valley titan Mayfield, Tim has twice been named to the Forbes Midas List of top tech investors. His personal journey from tour bus to tech stardom involved an honest rethink of who he is and what he wants to spend his time and effort building.
"As a musician, when I started playing in bands, I had to unlearn a lot of my classical training and really figure out: What is my voice? What am I trying to say? What's my style? I went through a lot of different genres, picking up the elements that resonated with me. I call it creating my own mixtape. I think that's the number-one job of an artist: craft your own voice."
He followed a similar path when he shifted into finance.
"When I started, I tried to come up with a formula for whether or not to invest in a company. I wanted a heuristic, a scoring criteria, so I started by looking at hundreds and hundreds of examples, getting data points down and looking for patterns."
Despite Tim's rigorous analysis, he, too, came to lean heavily on emotional due diligence. When an entrepreneur presents to Mayfield, a great idea is enough to get you in the door but not close a deal. Tim also looks at historic data: the individual's past track of personal or professional achievement, for signs of chutzpah, initiative, and self-awareness.
"What the X factors are for me might not be the X factors for someone else," he told us. "Maybe you are drawn to rule breakers. Maybe you are not. But it's important to know what matters to you personally. It will vary wildly from person to person, just like who I fall in love with is different from who you fall in love with. It's as much an art of understanding yourself as it is understanding others."
Given his own radical pursuit of self-awareness, it's no surprise that he listens for the same in others. There is a common perception that, when pitching an idea to a roomful of investor millionaires, an entrepreneur should have everything buttoned up, can't let her guard down, can't show weaknesses in the plan. For Tim, this is a yellow flag. So much so that he often asks pitchers to talk about the most difficult challenges they have faced in their careers or even outside the workplace.
"Their response tells me so much. If they are defensive, or if they're open and vulnerable, or if they have no clue what you're talking about, that's really revealing. I want to invest in people who have done the work."
In his emotional due diligence, Tim is looking for people with whom he is on the same wavelength. He chuckled as he told us that he sometimes imagines a small, energy-producing motor inside everyone, vibrating at different frequencies.
"Each person emanates that energy subtly, all the time, and as you get more attuned to your own self and your own energy, you get better at reading other people's and, even better, building connections."
For Björk, Audur Capital, and Tim Chang, building an investment portfolio is grounded on a different kind of thinking, one based in feeling. They listen to their gut intuition as a reliable guide. The same goes for Pharrell Williams, though he took the idea of listening to and trusting your own voice ever further:
Everybody has some level of doubt, somewhere. But for the most part, there's a healthy portion of delusion that is required for us to be artists. You have to believe that you are worthy and have to believe that you are unique and have something different. You can doubt, but doubting is a nonstarter. You can't get anything started that way. I was just with an artist the other day who continued to talk himself out of something that was really amazing, and it was blowing my mind. That is what you don't want. You want a healthy delusion.
____________________________________________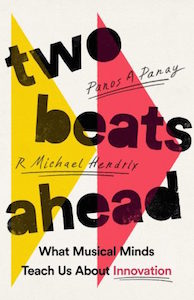 Excerpted from TWO BEATS AHEAD: What Musical Minds Teach Us About Innovation by Panos A. Panay and R. Michael Hendrix. Copyright © 2021. Available from PublicAffairs, an imprint of Hachette Book Group, Inc.
---