How Being an Airbnb Host and Cleaning Toilets Helped Me Write a Novel
Kate Russo on What it Took to Write Her Novel Super Host
Cleaning a toilet doesn't take much brain power. As a matter of fact, I'd advise the smallest amount of brain power you can put into it, the better. You don't want to think too hard about what's in there, particularly if you haven't been the one using it.
This is one of the bizarre realities of being an Airbnb host: people have touched your stuff. They've done things in your bed. Yes, they have. They've left all their uneaten food in your fridge and pantry. That lingering can in the cupboard is how you know those two couples in their thirties, the ones who just checked-out, still eat SpaghettiOs. The other reason you know that: the inside of the microwave is covered in a red sauce and little pasta rings, and it smells like vomit. And no, they didn't have a kid.
Other people's habits are so deeply strange to us, especially when they are happening in your own space. Remember when you were a kid? The first time you went over to a friend's house to play? It smelled funny. Unfamiliar. Everything was laid out differently from your home. The snacks were different. This is what it's like to return to your home after having rented it on Airbnb. It's fine. Totally, fine. No big deal. But it smells odd and, they've rearranged the furniture, and there is always, always, one solitary pube in the fridge.
If you can believe it, I'm not trying to talk you out of renting your home on Airbnb. For people like me, who split their time in a couple different places, it can be really useful. Back in 2016, my family had a house they couldn't sell. It happened to be in a small seaside town in Maine, so I said, "Let's stick it up on Airbnb. I'll manage it. How hard can it be?"
I don't need to tell you the answer; you probably tumbled to the obvious conclusion before I did. Running an Airbnb is hard work. It's not just communicating with guests. It's not just cleaning the property. It's making the place sparkling-new every single time, as though the people who just checked-out had never existed. And you need maître d level knowledge of the community you live in—the restaurants, the sights, public transport, parking, the list goes on. You're running a hotel. Except you're not, because it's your home. It's where you eat, sleep, and yes, have sex, same as those other people who just left, minus the SpaghettiOs.
Cleaning a toilet doesn't take much brain power. As a matter of fact, I'd advise the smallest amount of brain power you can put into it, the better.
Or in my case, it's a house you grew up in. I rented it to vacationers for two summers before my family found a buyer. This also happens be around the same time I started writing seriously. I don't consider this a coincidence. It's hard to be a writer without possessing curiosity. It's also hard to be an Airbnb host without being curious about your guests. It's only natural that I started thinking about who these people were. Why did they move the sofa into the dining room? Did they compete in a mud run before getting into the shower? Or did they eat a rotisserie chicken in bed? There's the beginning of a short story in every room.
I met Bennett, the main character of Super Host, cleaning one of the five toilets in that house. I was grumpy that day. It was 95 degrees outside, the house was a mess and I was wondering how my MFA in painting had led me to this point. Bitterly, I thought of all the famous male artists I could, the ones whose shows I'd seen in Chelsea galleries. Then, I thought, Middle-aged men never have to do stuff like this. Naturally, at the point, there was only one thing I could do: invent one who did.
Weirdly, running that Airbnb might have been the smartest thing I've ever done. I found I enjoyed cleaning. Okay, enjoyed is possibly overselling it, but it was a productive activity for me and I knew that immediately. I wondered if I'd stumbled on the perfect job for creative people. I've done loads of classic artist jobs over the years, from waiting tables, to bartending, to admin. But none of them afforded me the freedom of imagination the way cleaning did. As long as I got the cleaning done, I could think about whatever I wanted. I could write entire scenes in my mind. And I did.
When I got home from cleaning all day, I didn't sit down and start writing. I was way too tired for that. I relied on a very good memory to store it all. When I had enough time and energy to be creative, I was in the studio painting. I had exhibition and application deadlines. But Bennett followed me there, too. While I painted, I thought about what he might choose to paint. I thought about how he might paint differently from me, with broader, more figurative strokes on larger canvases. I thought about what we had in common: a love of color and pattern.
In late August 2016, it finally happened. I started writing him down. Five pages in one hour. I didn't even sit at a desk. I'm not sure I even owned a desk, yet. These days, I have the desk, an ergonomic chair, a laptop stand, etc. But then, I curled up on my sofa, with my legs tucked under me and wrote the first five pages of my new novel, Super Host. When I was done, I closed my laptop and looked around sheepishly, like I'd been watching porn for the last hour.
When I got home from cleaning all day, I didn't sit down and start writing. I was way too tired for that. I relied on a very good memory to store it all.
Only my husband knew what I was doing. And that's because after I wrote the first five pages, we went out for a beer and, one sip in, I blurted out, "I'm going to write a novel. It's about a guy called Bennett. He runs and Airbnb and he loves Roots Manuva. I'm going to call it Super Host."  It seems ridiculous and brazen to me now that I was so sure I had started a novel, but I had no doubt in my  mind.
And this is how it went until spring. My meetings with the book were intermittent and clandestine. I wrote here and there, when I had the chance. Lots of tiny little pieces of paper lying around my house and studio with random proclamations written on them: "vagina painting!" and "Bennett hates beets!" I wrote dialogue in my head, memorized it like I was in a play, and rehearsed it while I was cleaning and painting, so that when I had the chance to write it down, I'd remember.
Ultimately, it took patience and confidence to really get going. It also took a spring trip to London: two months, no paintings to paint, no house to clean and an Airbnb flat where I was the guest instead of the host. That's when I finally had both sides if the story, when I actually started writing a novel instead of just saying I would.
I cleaned that house for another summer. Then, I did two more summers cleaning other houses. The work felt like an asset, a perfect companion to daily writing, which, since spring of 2017, is my habit. Sure, every creative person dreams of writing, painting or (insert creative endeavor here) fulltime. But if you have to earn money, and let's face, that's all of us, why not choose cleaning? You get paid, plus the added bonuses of intrigue and humility that are naturally built into the work. It's hard not to be humble when you're cleaning someone else's mess. And I can attest that it was good for me. Not only was it a chance to scrub things clean and make things new again, it was also a chance to see the home I'd known for decades in a new light. Every week, I saw it through the eyes of a different set of guests. Every artist needs new perspectives. And who doesn't want to opportunity to wipe the slate clean and start again?
This last summer was the first I didn't take seasonal work cleaning. The pandemic helped me make the decision to write fulltime. But when my husband and I are cleaning our own house, I still write dialogue, sometimes whispering it to myself. He's stopped asking me who I'm talking to.
__________________________________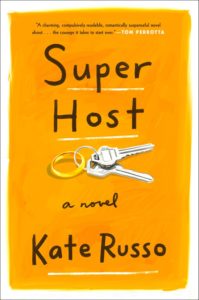 Super Host by Kate Russo is available now via G.P. Putnam's Sons.
---