How a Ride-Sharing Collective Aims to Combat the Crisis of Missing and Murdered Indigenous Women
Marcello Di Cintio on the Kindness and Communal Solidarity of Ikwe Safe Rides
Anishinaabe artist and community activist Jackie Traverse founded Ikwe Safe Rides in 2016. The idea was simple: women who needed a ride could sign up as Ikwe members and post requests on a dedicated Facebook page. Women with a vehicle and some spare time then offered to pick them up. Within the first few days of the launch, about a dozen women volunteered to be Ikwe drivers. After four months, more than 10,000 women had registered as members. Traverse eventually left Ikwe, but in the hands of a crew of volunteer administrators, Ikwe continued to grow, and now boasts more than 18,000 members. Nearly a third of Winnipeg's Indigenous, Inuit, and Métis women have signed on, making up 80 percent of Ikwe's total membership. By the summer of 2019, Ikwe's 54 volunteer drivers had given more than 75,000 rides.
I met with Christine Brouzes, Ikwe's co-director, at her home in Winnipeg. While Douglas, Christine's border-collie-husky cross, laid his head between my legs and begged for my attention, Christine described her history with Ikwe. Christine became involved with the organization soon after the MMIWG National Roundtable came to Winnipeg in 2016. Christine, herself a Métis woman, moderated a group discussion between 12 people whose families had lost members to the crisis. She listened as these traumatized people shared their stories with the rest of the group. The experience shook her.
"I am a social worker. I always see the good side of everything. There is a silver lining to every cloud," she said, but she couldn't see the value in compelling people to recount such nightmares. "If anything, I felt I was harming those people by making them repeat their stories again."
After the two-day session ended, Christine wondered how she could contribute to the lives of Indigenous women outside of the MMIWG roundtable structure. "I always feel that to make a change in the world, you change one small thing. You don't know how it will grow. Like a pebble in the water sort of thing." Then Christine met a woman who drove for Ikwe Safe Rides. "She told me 'We are trying to help women not become murdered and missing.'" Christine signed on as one of Ikwe's first drivers, but soon shifted to an administrative role where she helps recruit new volunteers, manages current drivers, and acts as Ikwe's unofficial spokesperson.
Christine also vets new members. In order to join the Ikwe community and book rides, potential members must first issue a formal request to Ikwe's Facebook group. Members must be at least 18 years old and identify as female. (Later, and for journalistic purposes only, Christine would allow me to join the page. As far as I know, I still have the honor of being Ikwe's only male member.) Potential members must also have a profile photo that's a reasonable likeness. No photos of celebrities, pets, or babies, however adorable.
"Then we look at their Facebook profile and snoop a little bit," Christine said. "We snoop a lot, actually." Christine and other site administrators scroll through old photos and posts of would-be members in search of anything that indicates criminal activity. Drug dealers and shoplifters often use their Facebook pages as a marketplace for goods and services, and Christine must stay abreast of the ever-changing lingo of petty crime. "Jib" is crystal meth. "Perks" means Percocet. "Killer Fish" is crack cocaine. HMU stands for "Hit Me Up" and IBM is "Inbox me."
"Booster available" means the poster is a professional shoplifter. "You can message a booster 'I would like some steaks and a pair of size eight Nike shoes' and they will go steal it for you," Christine said. Suspected criminals are not allowed into the Ikwe group. Christine doesn't want her drivers ending up as unwitting couriers for thieves and drug dealers. Those who evade Ikwe's benevolent cyber-stalking are usually found out soon enough. "The drivers are a chatty, social bunch," Christine said.
"I quickly realized that Ikwe was about spreading kindness. Being good to each other."
If an approved member needs a ride, she'll post a request on the Ikwe Facebook page with information about her current location, destination, the time she needs picking up, and number of other passengers. Ikwe allows men to accompany female members. Women ride with their sons, husbands, and boyfriends all the time—Ikwe is a popular service for Winnipeg date nights—but men can never outnumber women in an Ikwe vehicle.
Members also indicate how much they're willing to pay for the ride. Ikwe operates as a registered charity rather than a taxi company, and cannot legally charge fares. Instead, Ikwe encourages members to make a donation to the driver. Their Facebook page recommends donations comparable to city taxi fares, or a little less. One of the first things Christine explains to potential drivers during their training session is that driving for Ikwe isn't a part-time job. Ikwe is not Uber. Volunteer drivers can make decent money if they put in long hours, but those earnings rarely cover the cost of gas and maintenance over time.
"If you are looking to make extra money to pay the rent, then you are in the wrong place," Christine said. "That is not the kind of driver we want to add anyway. We want to add people who are kind and helpful and want to support their community."
Occasionally, a member cannot afford to pay at all. Ikwe's drivers usually give these women rides nevertheless. And drivers never expect donations for emergency rides, such as trips to the hospital for non-life-threatening medical problems. Christine recalls picking up a member who was in labor. "She comes out of the house, moaning and groaning," Christine said. "She's all by herself. Has no money. Came out with no bag or nothing." Christine brought her to the hospital, walked her into the emergency room, and helped her check in.
"It's the kindness we want to give," she said. "So we don't just drop the person off at the hospital and wish her well." Christine believes this is one of the advantages of using a Facebook page instead of a ride-sharing app or taxi dispatch. "You can post 'Somebody help! My water just broke! Come get me!'" To date, Ikwe's drivers have delivered 21 pregnant women to their deliveries. "We have 21 Ikwe babies," Christine said.
Because Winnipeg is the closest large city to Nunavut, Inuit from remote northern communities often travel there for medical services. Many of these patients and their families sign up as Ikwe members.
"When they come here, often they are in culture shock," Christine said. "The Inuit don't identify as being part of the Indigenous culture here in the south. They are often quite shy. They hear about what happens in taxis and they are afraid." These northern travelers, though, feel comfortable with Ikwe's drivers. Instead of cowering in their hotel rooms between doctor appointments, they request rides to the movies or to go shopping—things they can't do in the tiny communities from which they've come.
Christine has no way of knowing whether the women of Ikwe have saved any lives since the service began. "What if a woman posts on the site: 'Please help me. My grandpa is in the hospital and is very sick. I just want to visit him'? If we didn't give her a ride, she would walk there. And maybe she would get scooped off the sidewalk. Who knows?" In January 2020, Ikwe volunteer driver Bessie Johnson spotted a woman about to jump off Winnipeg's Louise Bridge into the icy Red River. Johnson stopped her car, bounded across the bridge traffic and helped coax the woman to safety.
"If it would have been a second later, she would have been gone," Johnson later told a reporter.
Such heroics aren't Ikwe's primary goal. "I quickly realized that Ikwe was about spreading kindness. Being good to each other. And being helpful," Christine said. "Our members just want to get to where they are going. I can do that."
__________________________________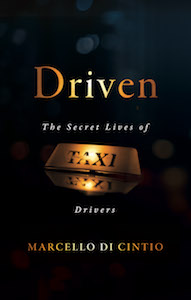 Excerpted from Driven: The Secret Lives of Taxi Drivers by Marcello Di Cintio © 2021. Published by Biblioasis. Excerpted with permission of the publisher.
---