Larissa Pham on Allowing Memory to Shape a Memoir
"I don't believe life is narrative."
The following first appeared in Lit Hub's Craft of Writing newsletter—sign up here.
While writing and reading alongside Pop Song, a memoir-in-essays, I was very interested in two things: diaries and non-narrative forms. They're more related than one might think: a diary records the passage of time, but its "narrative," what little of it exists, comes from accretion and association. Events gain in significance as time passes in the text, but there's a sense of randomness to it—reading along, we see what's most important on any given day, but we might also be taken by surprise by events that become important only in retrospect.
I don't believe life is narrative—causational, maybe, in that events can cascade like dominos, but not narrative. Life is a roiling mess of events with no clear beginning: did I become the way I am because of this? Or this? Or—was it because my mother was this way too? Writing Pop Song, I was drawn to books constructed outside of a traditional narrative arc (say: conflict, climax, denouement) because they felt truer to life and its entanglements. In Maria Gainza's novel Optic Nerve, the text is constructed according to images the narrator sees—the reader moves fluidly through time alongside her observations and memories. In Sally Wen Mao's poetry collection Oculus, motifs are redoubled and returned to; a series of poems inspired by the actress Anna May Wong moves not chronologically through Wong's life, but thematically, zooming both into an imagined time-traveling future and a historic past.
Life is connected to itself. We feel the reverberations of our past in our present; our anxieties about the future shape our present, too. And the people who we were are shaped by the people we'd hoped to be.
So why not mix it up—why not flip things around, move flexibly through time, drop into research mode or staccato across memories as they rise to the surface? What does one memory make you think of, and where does that trail lead you? If you believe time is all around us—and I do—there's no need to write down events as they arrived in our lives. The writer is only anchored by one kind of time: the passage through a book as the pages turn. The rest of time can flow freely, and it will.
*
Read more on writing memoir:
Daisy Hernández on the intersection of journalism and memoir.
Brittany Ackerman on choosing to write a novel versus a memoir.
Rose Andersen on confronting the unknown in memoir-writing.
Eve Makis on creating a toolkit for memoir writers.
*
5 Books with Innovative Structures
RECOMMENDED BY LARISSA PHAM
Kate Zambreno, Screen Tests
Maria Gainza, Optic Nerve
Esmé Weijun Wang, The Collected Schizophrenias
Sally Wen Mao, Oculus
Sarah Manguso, Ongoingness
__________________________________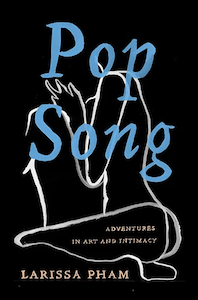 Pop Song: Adventures in Art & Intimacy by Larissa Pham is available via Catapult.
---