How a Mathematical Model Rescued My Book About Math
Ben Orlin Used Calculus to Fix His Floundering Draft
I was 40,000 words deep when I realized that my book was not working. Titled Poet's Calculus, it was a tour of the concepts of calculus, connecting each to a topic in the humanities. Interested in mathematical limits? Check out the fluid meanings of Adrienne Rich's poetry. Curious about velocity and acceleration? Turn your attention to these paintings by Edgar Degas. The flaw that has taken you 30 seconds to see—my connections were strained, baffling, and defiantly obscure—took me ages to accept. Finally, my editor told me that the titular word "poet" wasn't playing well with the marketing team. Also, she added delicately, they weren't crazy about the word "calculus."
The book was due in four months.
I had precisely one card up my sleeve. A now-abandoned chapter had explored this exact phenomenon: the life cycle by which a piece of writing collapses, improves, and evolves.
"How does this process work?" I had written, in a document now consigned to the digital junkyard. "Does it unfold continuously, or in distinct stages? Is it cerebral or instinctual, cognitive or emotional? Is it as mysterious as writers would have us believe, or does it lend itself to a fuller account—perhaps even a mathematical one?"
I was struggling to write a book about math. Could a mathematical model help fix it?
The first publication in the history of calculus was Gottfried Leibniz's 1684 paper, "New method for maximums and minimums." The idea is simple: a maximum is where things stop getting better and start getting worse.
Say you're trying to maximize your profit from selling teddy bears. It may help to nudge the price upward (to raise more revenue), or perhaps downward (to attract more customers). Calculus locates the place where no nudge will help: where any change, in either direction, is a change for the worse.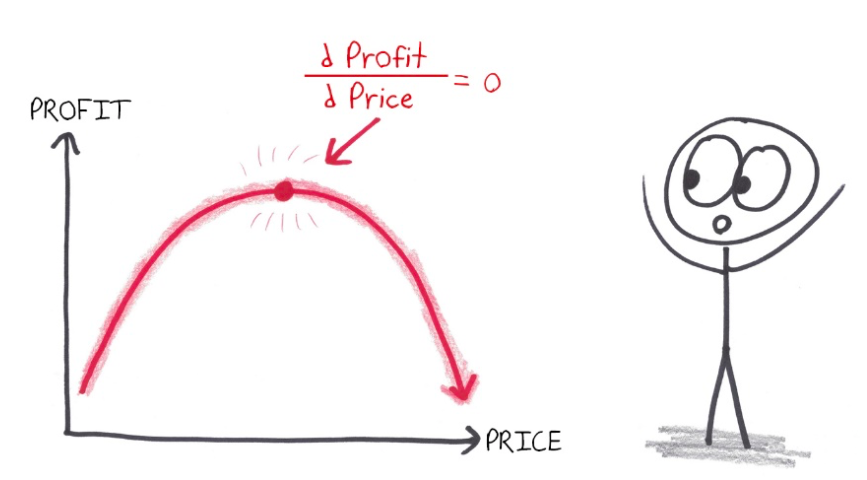 The same theory can perhaps hold for writing. I control many input variables: the complexity of my sentences, the concision of my explanations, the ratio of cat jokes to dog jokes. I picture the variables arrayed like dimmer switches on a lighting board, each under separate control. They work better in certain combinations than others—maybe folks prefer erudite, polysyllabic cat jokes, but short, punchy dog jokes—and taken all together, they determine the final result: the quality of the book.
Envision the space of possible books that I could write as a physical landscape. The higher the elevation, the better the corresponding version. There may be several hilltops ("local optima," in mathematical jargon) but one must be the highest (the "global optimum").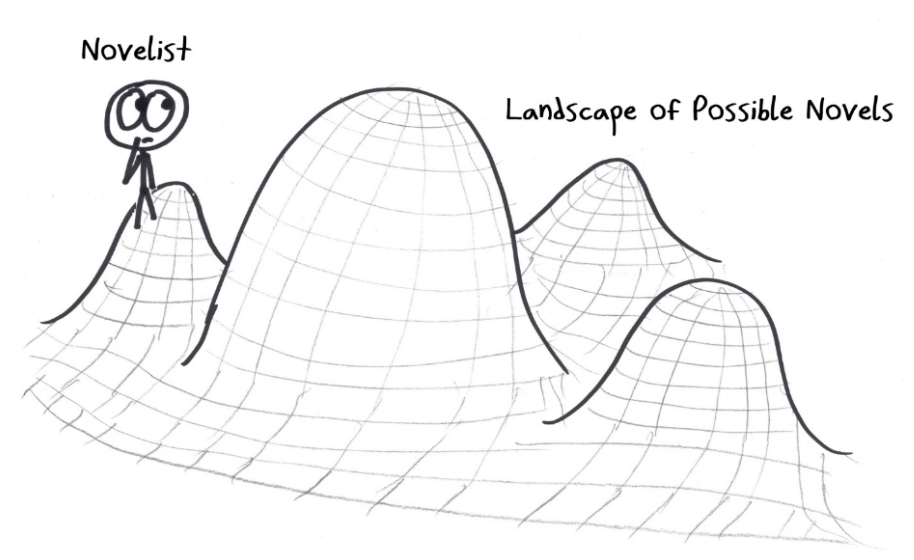 Of course, when I open a fresh document, I don't see an alpine landscape. I see a blank screen and a blinking cursor. I see the abyss. Then I see that Twitter is open and 20 minutes have gone by. The problem is the size of the landscape: with so many possible books, how do I know which direction to move?
Often, the writer's answer is to let go. Write a fast, sloppy draft. Sprint willy-nilly across that landscape, looking back at the path only after you're exhausted, the blank page is full, and you're ready to begin more systematic work.
The mathematician's answer is surprisingly similar. The first step in many optimization algorithms—especially when the space of possibilities is too large for an exhaustive search—is to move around randomly for a while. Jump left; jump right; sample random points, testing their altitudes. The aim is to sketch a map of the landscape before you commit to one quadrant.
This was where I had failed. By beginning with a specific structure in mind, I had in effect chosen my coordinates before looking at the map. Only after arriving did I realize that I'd bought a one-way ticket to the lowlands.
Now I faced a nauseating phase of the writing process: what Sir Arthur Quiller-Couch called "murdering your darlings." These favorite passages were polished little local maxima: perfected fragments of a different work than the one I was writing. Ditching them felt like going downhill, but it was unavoidable. A single change always necessitates a host of additional ones. In pursuit of a greater maximum, you must walk through the Shadow of the Valley of Suboptimal Prose, with 115 degree  temperatures and colorless verbs that taste of dust.
calculus helps me to make sense of the first draft's failure, to frame the experience as something more than 40,000 words spiraling down the drain.
At some point in the following weeks, as I wandered among my darlings with serrated knife and hollow eyes, I worked up the good sense to call my father, who teaches a course in optimization at MIT. I asked for his wisdom on the question that was causing me such torture: how to move past a local optimum and seek out the global one.
Even over the phone, I could hear him shrug. "The way you optimize is you look for improvement," he said. In other words, seek higher ground, and don't worry about which mountaintop is the tallest. Mathematicians have language for this (because of course they do): the highest mountaintop is the "global" optimum, while each lower mountain is a mere "local" optimum.
"Local," he said, "is what we can do."
I pressed. "Aren't there methods for finding global optima?"
"Well, we always want global," my dad said. "So we look for places where local will be global."
Then, he explained to me the optimization process of "simulated annealing." You begin somewhere on the landscape of possibilities and proceed by jumping in a random direction. If a jump brings you to a higher altitude, then great; keep jumping onward from there. If a jump brings you to a lower altitude, then you undo it, but—here is the key—only sometimes. Such a jump may lead through a temporary valley, toward a greater optimum, but there's no way of knowing until it happens.
How do you decide whether to undo a jump? It depends on a variable called "temperature." The whole process begins with a "high temperature," meaning that you allow almost any jump, even the seemingly bad ones.
Then, as time goes by, you "cool" the system. That means becoming choosier, rejecting more and more of the downward steps, allowing only a random handful.
"Eventually," my dad explained, "when the temperature is low enough, you accept only improvements."
Writers do this naturally. You write early drafts at super-high temperatures, chasing random inspirations wherever they lead. Later drafts unfold at cooler temperatures—sure, you kill some darlings, but the murder is less wanton. The final edits take place with the temperature at almost zero: you cut sentences and sharpen phrases.
I had tried to skip the early phases and begin with the system on freeze. That had failed. It was time to begin again—this time, the right way.
I talked with my editor. I talked with friends. I widened my reading. I experimented with a dozen new structures and almost a hundred titles (including Whose Calculus Is It Anyway? and A Heartbreaking Work of Staggering Calculus). Eventually, I began to feel a kind of electricity: it was coming not from the humanistic connections, nor even from the calculus itself, but from the stories I was finding. The anecdotes passed around over tea; the jokes shared over beer; the strange and tantalizing trivia that a professor might mention offhand, before returning to the planned lecture. I came to see these fragments as the oral folklore of calculus. These, I realized, were the book.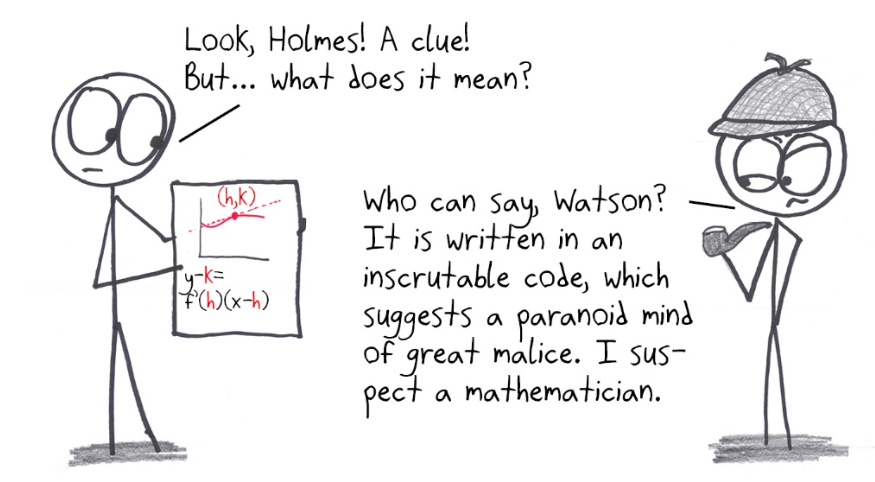 Change is the Only Constant (a new title I love, and which my editor suggested) came in a mere three months late. It was released in October. I still can't quite believe it's real.
In retrospect, calculus helps me to make sense of the first draft's failure, to frame the experience as something more than 40,000 words spiraling down the drain. I now know what I was doing for those five months: surveying a particular bit of low-lying territory in exquisite detail. It was a strange trip; I'm left with only memories, plus a bunch of photos and mementos that will interest no one but me. In that sense, it was like any vacation—just as beautiful, just as useless, and just as worthy.
__________________________________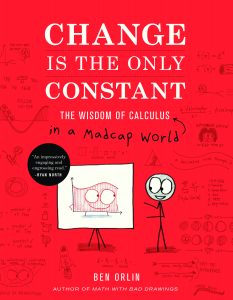 From Change Is the Only Constant by Ben Orlin. Used with the permission of Black Dog & Leventhal. Copyright © 2019 by Ben Orlin.
---