Honorée Fanonne Jeffers on Writing Place and Juggling Projects
Jane Ciabattari Talks to the Author of The Love Songs of W.E.B. Du Bois
Honorée Fanonne Jeffers's The Love Songs of W.E.B. Du Bois is vast in scope, ranging from the early decades of the Afro-Indigenous-European interactions on this continent to the contemporary U.S., interspersing ancestral "songs" with the coming of age and young adulthood of a brilliant Atlanta scholar who traces her roots to slave archives in rural Georgia. It is a lyrical, thoughtful, emotionally resonant, sometimes edgy, and ultimately profound work, as is evident in the opening lines: "We are the earth, the land. The tongue that speaks and trips on the names of the dead as it dares to tell these stories of a woman's line. Her people and her dirt, her trees, her water."
*
Jane Ciabattari: It's been a year since Lit Hub published your essay "Letter from Oklahoma," last June near the anniversary of the 1921 Tulsa Race Massacre and in the wake of the George Floyd murder and what you call "the growing numbers of police killings of Black folks." How has this tumultuous year leading up to the launch of The Love Songs of W.E.B. Du Bois been for you?
Honorée Fanonne Jeffers: Honestly, I've been in a constant state where I move between grateful euphoria and emotional exhaustion.
Last year, I was very frightened of getting COVID. I just stopped leaving the house, because out here in Oklahoma, people didn't want to wear masks. Not only that, but they would look at me funny when I came outside wearing my own mask. I stopped leaving the house altogether, except to take out the garbage and check the mail. That helped my writing—I had a bit more time on my hands, because I was teaching online—but not my emotional health. I was very lonely. I'm not ashamed to say, I cried constantly.
And then, Derek Chauvin murdered George Floyd and the country exploded into racial chaos, too. It seemed like every time I turned around, a Black person was getting killed by the police. My fears about getting COVID expanded to my fears of being hurt as a Black person.
I prayed a lot. And I thought about what life meant—I know that sounds corny, but it's true. And I considered that we never know the hour or the day we will leave this earth. But I lived in constant gratitude, that I had a good job that allowed me to work from home. Over this past year, I have happy-cried in gratitude over my privileges, even though I'm still frightened as an African American.
I set a few emotional burdens down by the side of the road. But my house is still a mess—because I realized I couldn't do everything. I've always been a terrible housekeeper and even more so now. But that's all right. I can't say I care.
JC: What inspired you to write The Love Songs of W.E.B. Du Bois? What was the initial seed? How did it evolve? How long did it take? Did you expect to cover so much in one 816-page novel?
HFJ: Love Songs is about one family living in a fictitious, central Georgia town called Chicasetta. Though the novel isn't autobiographical, my mother's family is from Eatonton, which is in central Georgia, too. Every summer, I would travel down to Eatonton, sometimes with my mother, sometimes only with my sisters. I'd stay the entire summer in my grandmother's house.
Grandma Florence had very strong opinions and would tell anybody what was on her mind. This was in the 1970s and 80s, and gender roles in the Deep South were still very rigid in African American communities. But Grandma Florence would get any man told. Seeing her speak her mind to men had a great impact on me. Grandma wouldn't have called herself a feminist, but that's what she was, and her tough way of doing things definitely influenced my writing.
I started secretly writing stories about rural Georgia when I was in graduate creative writing program in poetry. I was the only Black person in the program, and very lonely. But when I wrote about these Black folks in this imaginary town called Chicasetta, I felt like I had friends and kin who I talked to in my little apartment. After I completed my graduate program, I kept writing Chicasetta stories, and after maybe ten or twelve years, I set the stories aside and decided to write a novel.
I had to find a way to let my readers understand that what is happening in the family of my novel's protagonist has roots that go very deep. You have to travel back to her family's origins. At first, I resisted writing that origin story.
I didn't intend to write such a long book, but I realized that the history of Georgia is unknown to most Americans. Even more folks in Georgia don't know that history, about the forced Removal of Native Americans in the early 1800s. I'd read these things online that would say, "The Indians left in the 1830s." Like it was some kind of voluntary choice to leave their home!
I had to find a way to let my readers understand that what is happening in the family of my novel's protagonist—Ailey Garfield—has roots that go very deep. You have to travel back to her family's origins. And those origins begin in the early eighteenth century.
At first, I resisted writing that origin story. But then, I began having dreams where the history of Ailey's family would speak to me, in this very lyrical, almost poetic language. And I would get this feeling like I could fly or something—it was odd but so wonderful. So I just surrendered to those dreams, and that's how I ended up writing such a big book.
JC: You've written five poetry collections, including The Age of Phillis, which won the NAACP Image Award for Outstanding Literary Work in Poetry, and was longlisted for a National Book Award. That book imagines the life of the eighteenth-century writer Phillis Wheatley (Peters), the first African American woman to publish a book of poetry. And it involved, as I understand it, some 15 years of research, uncovering original primary sources that reshaped Wheatley's narrative. How did the writing of The Age of Phillis compare to or affect the writing of The Love Songs of W.E.B. Du Bois? Were you working on them both at the same time?
HFJ: I started slowly working on The Age of Phillis, back in 2003. Then, I started writing Love Songs in earnest around 2012. So yes, for around seven years, I was writing them at the same time. Also, I was writing two other books in the meantime, Red Clay Suite (published in 2007) and The Glory Gets (published in 2015).
Working on two very huge projects simultaneously was very hard. But I've always worked on several projects at the same time. I find that being able to pivot to another project keeps me from diving into depression when I hit a roadblock on something else. I can get very bereft when my writing stalls.
Frequently, I will learn an intellectual or artistic truth from a pivot. That's what happened with The Age of Phillis. I had pivoted to Love Songs from writing the Phillis Wheatley Peters poems—that's when I started having those dreams about the origin story of Ailey's family. I realized, the novel was not only a contemporary story of one young girl, but an ancestral story, the same way that The Age of Phillis is book of poetry guided by ancestors.
There was even a longer poem that did not make it into The Age of Phillis, but when I set it aside for a couple of years, I realized, it was perfect for a historical "chorus" moment in Love Songs. I recycle a lot; when something doesn't work for one project, I'll use it in another.
I've told this story so many times before, but once, I was in the audience when Lucille Clifton was giving a talk. I can't remember much else, but I do recall her saying she was "always open to the word." That it didn't matter if she set out to write a poem and then, it became a story or some other genre. It was all the word. And that stuck with me.
I recycle a lot; when something doesn't work for one project, I'll use it in another.
JC: W.E.B. Du Bois serves as an inspiration, a guide, a touchstone to this book. You quote his work throughout, you honor his "sorrow songs" as a structural device, you have characters who met Du Bois during his lifetime and who comment upon his role in history and discuss his theories. What brought the title to mind? How has Du Bois influenced your work over the years—and the evolution of this novel in particular?
HFJ: I grew up in de facto segregation, first in Durham, North Carolina, and then, in Atlanta. My parents were Black nationalists, and cultural and social activists in "Black" Durham. They stressed that anything African American was the best. Our food was more delicious than anyone else's. Our skin and features were the prettiest. Things like that.
My parents were hardcore intellectuals, too, so naturally, they insisted that I read Black literature. I must have been around twelve or thirteen years old, when I first encountered The Souls of Black Folk by W.E.B. Du Bois.
The first college I attended was Clark College in Atlanta, a historically Black institution. Clark College was right across the street from Atlanta University, where Du Bois taught for over a decade. (Clark and Atlanta University merged back in late twentieth century.) So Du Bois's name was mentioned all the time. I read him in my American Literature classes. Friends of mine in political science and history read him as well.
I thought this obsession with Du Bois was just an Atlanta thing, but when I transferred to another HBCU, Talladega College, Du Bois's name was constantly mentioned there, too. It was like Du Bois was this big boulder that you couldn't get around if you truly wanted to be a brilliant Black person.
Though Du Bois can be dense—his Black Reconstruction comes to mind—there were parts of his writing that spoke to me. The Souls of Black Folk is so beautiful to me, especially when he talks about the Spirituals, what he calls "the sorrow songs." These were songs composed by enslaved African Americans. My parents owned recordings of the Spirituals by the Jubilee Singers at Fisk University, where Du Bois had attended college. Fisk is a HBCU, too.
But I'd heard these same Spirituals in my Grandma Florence's church, down in Eatonton, and they sounded very different from the Fisk recordings. Slow and gutty. And sometimes, when the congregation would be singing, one of the old ladies in Grandma's church would catch the holy spirit and start shouting.
When I read more about Du Bois, I learned that, though Du Bois had been the first Black person to earn a doctorate from Harvard, he'd been very poor as a boy. So he'd had a foot in both working class and intellectual circles—just like my own mother. Mama had been the first person in her family to go beyond a grade school education. Then, she earned a doctorate from Atlanta University, where Du Bois had taught. So there were connections just humming all over the place with Du Bois, even before I started my novel.
When I began writing Love Songs—when it was just a collection of passages on random pieces of paper—I knew that I wanted to focus on both African American working-class folks as well as Black intellectuals. I began to write about Uncle Root, a character who is obsessed with Du Bois, the work that he'd done for southern Black communities and his passion for African American uplift.
That's when I knew that Du Bois had to be part of my novel somehow, because he had not only loomed so large in my own life, but in so many other African Americans' lives. And probably about three years into writing the novel, it came to me that I should use his "sorrow songs" as a frame, and that the historical portions of the novel should be written in lyrical form. That's when the first draft really started coming together. That was around 2013.
JC: One narrative line of your novel is a coming-of-age story, narrated by Ailey Garfield, a young black woman raised in the City but spending summers in Chicasetta, Georgia, ancestral home to her grandparents, and grand-uncle Root. Her two sisters each have powerful and complex stories to tell. How did you conjure up Ailey's voice?
HFJ: When I first started writing Chicasetta stories, I would produce these first-person stories in traditional southern Black vernacular. That voice is so natural to me.
But when I began Love Songs, I knew that I was writing a young, Black girl whose parents are middle-class and intellectually privileged. I couldn't write her voice in working class vernacular.
I spent my summers around old Black folks, down in Eatonton. Even though they had lived through some very tough times under Jim Crow and segregation, they had these wonderful senses of humor.
Once I finished the first draft of the novel, I realized that Ailey is the only character I'd written who is intellectually and economically privileged and also grew up in the north. That bothered me. I wanted to write about socio-economic class, but not from a classist, regionalist point of view, if that makes sense.
So I started revising Ailey's character and making sure that her sensibilities were very Black working class, even though outwardly, she was privileged. And these sensibilities come from her summers down in Chicasetta, surrounded by tough-talking, surviving Black women.
Ailey's humor allows her to survive her trauma, too. I spent my summers around old Black folks, down in Eatonton. Even though they had lived through some very tough times under Jim Crow and segregation, they had these wonderful senses of humor. But sometimes, their teasing was merciless! I'd be sitting there on the porch fuming, and then, they'd pat my shoulder, and say, "Aw, baby, you know I'm just playing! You know I don't have no sense."
So I thought about translating these humorous, vernacular-talking, working-class Black folks into Ailey's middle-class sensibility, and that's how Ailey became this hardcore girl, and then, young woman who speaks her mind, and who has this take-no-prisoners sense of humor.
JC: Your opening lines are lyrical and timeless: "We are the earth, the land. The tongue that speaks and trips on the names of the dead as it dares to tell these stories of a woman's line. Her people and her dirt, her trees, her water." What were the challenges of alternating between historic "sorrow songs" and your story of Ailey, a fierce and independent contemporary feminist?
HFJ: Ailey's story intersects with history, because she evolves in her ideas about female empowerment precisely because of the specific struggles of African American women throughout the centuries.
For example, there is a moment in one of the "songs" that considers the Virginia 1662 law, which decided that children of enslaved Black women could no longer claim the status of their fathers. If the mother was enslaved, so were her children. This law applied to both white and Black children, but since there weren't any enslaved white children, it was basically just a lowdown, racist law that applied to African Americans. This law also protected white men who sexually assaulted Black women; after 1662, there was no legal recognition of freedom for biracial African Americans in Virginia.
In a later "song" in the novel, there is a passage about how the notions of "frailty" of females do not include Black women and girls, either. There is no "weaker sex" rule that applied to Black women. And so, the notion of the "strong Black woman," a term often repeated in actual, contemporary African American communities, is really about how Black women have been forced to constantly negotiate how to keep themselves and their children safe, when the law is precisely targeted to strip that safety away. This is why Ailey is a Black feminist, because many of the struggles of Black women are unique to their communities.
So there's this constant tug of war that takes place through the novel concerning African American female power. There are these official, historical events that have real consequences in African American homes and in Black communities, and Black women had to improvise and negotiate during these moments to maintain inner strength. No, they wouldn't call this improvisation and negotiation "feminism" or "womanism." But on practical levels, that's exactly what it is.
The notion of the "strong Black woman," a term repeated in contemporary African American communities, is really about how Black women have been forced to constantly negotiate how to keep themselves and their children safe, when the law is targeted to strip that safety away.
And because this novel is a family saga, I want readers to understand how Black women's political stances occurred first in families and communities, before they moved into high, intellectual arenas like academia and essays and such. And this is why the most feminist moments in the book don't occur in public arenas, but instead, in cramped domestic territories, like in kitchens and bedrooms.
JC: The Love Songs of W.E.B. Du Bois also is the story of Ailey's multiracial ancestors, beginning with a young Creek woman known as Woman-of-the-Wind, who marries a courageous hunter known as Coromantee-Panther (his mother had been born on the Gold Coast of Africa, "Coromantee"; he was adopted by a Creek family of the Panther clan). Their grandson, the boy named Micco, is born in a Creek village known as The-Place-in-the-Middle-of-the-Tall-Trees to a Creek mother and a Scottish deerskin trader father. And that's the beginning of your multigenerational multicultural chronicle. What elements of research and storytelling allowed you to be able to honor the original people of central Georgia, trace their history, and include Afro-Indigenous interconnections in your novel?
HFJ: If you aren't trained as a historian, it's difficult to find pre-Removal Indigenous history in Georgia, and to see how that history intersects with African American history. I had to piece things together. I read books that talked about the Creek and Cherokee peoples before the Removal, then during the Removal.
For example, the scholars Claudio Saunt and Michael Green write about Creek history, and Theda Purdue is a legend in the field of Cherokee history. And there are only a few scholars who engage specifically in Afro-Indigenous studies, such as Tiya Miles and Angela Pulley-Hudson. The latter scholar writes about the federal road, how it was forced through Indigenous territories, and how, eventually, that led to the Removal.
What I found so fascinating is that when I began to do research in the digitized online Georgia archives, I saw that some of the same very early laws restricting the movement of enslaved Black folks—called "slave codes"—also included Native Americans! That really was a surprise to me. It meant that, for a while, Native Americans and African Americans were considered to be members of intersecting communities.
And when I read Pulley-Hudson's research about the federal road from the upper south to New Orleans, I realized, that road that decimated Creek and Cherokee lands was the same road that made a southern slave trade possible! It was the same sort of thunder-clap when I encountered information about expansion of cotton farming in the deep south. I understood that, along with the federal road, the invention of the cotton gin had led to the theft of Native American land, to make room for cotton farming.
The novel evolved, as I noticed these very consequential moments. These moments that are viewed as separate research areas in Native American studies and African American studies, but are really intersecting moments. That's why I'm glad there are new scholars focused on Afro-Indigenous studies.
But as a creative writer, I look at these large, historical moments and ask, how do these moments impact people on a much smaller scale? So I thought of how beautiful and how complicated that would be. I wondered, what would happen if these intersections between African American and Indigenous characters became love, and what would happen when that love led to building a family? And how do characters change when they are forced to confront how the country evolves?
JC: Ailey becomes a historian, exploring her family's history by consulting the Old South Collections, the Federal Writers' Project slave narratives, plantation records, and conducting interviews with key people connected to Wood Place Plantation in Chicasetta. Your own archival work has been noted in critical response to The Age of Phillis and in your election into the The American Antiquarian Society. What were the most valuable resources you encountered for writing The Love Songs of W.E.B. Du Bois—historic sources, books, documents, places? Did you also draw from family archives?
HFJ: Certainly, I did so much research for this book, particularly on Indigenous folks in Georgia, because I really wanted to get those portions right on Creek culture in the songs. And I've been studying African American history going back to the eighteenth century for a while. I've done plenty time in the historical archives.
But at some point, you have to set the research aside and consider the lives of human beings. And when writing about Black families, you're forced to do that, because most documented Black family history—meaning what is written down on paper—only begins after the Civil War. Unless there are extraordinary circumstances there is usually no paper trail for southern Black folks before 1860.
For example, I have no documented proof that I have Native American female ancestors on both paternal and maternal sides of my family. For most folks with southeastern Indigenous heritage, your ancestors had to be forced out west to Oklahoma, in order for there to be a paper trail of that heritage. The people who stayed behind had to find ways to hide from the government.
My father's biracial—Black and white—ancestors were claimed by their white fathers, but the only proof I have that my maternal great-grandfather was biracial—Black and white—is a photograph that shows him with white skin, straight hair, blue eyes and his last name. He was born with his mother's last name, but when he was older, he took the last name of his rumored white father. I have the 1870 census with his mother's name and his name.
And that's it. Sometimes, this erasure makes me mad. And sometimes, I cry over it.
But what I do cherish is the family stories. Much of southern Black family history is oral, and that's why in the novel, you see Ailey learning about her family from old Black people, like Uncle Root. That's how I learned my family history, so that's one of the few parallels between my life and Ailey's.
For the few "song" pages on a pre-enslaved Wolof family, I read about Wolof family culture in the Senegambia region, and I'd traveled to Senegal. And the smattering of Wolof language that you read in the book comes from my knowledge of Wolof small talk, social graces, and class hierarchy, from when I was once married to a Senegalese man, and I was part of a huge, extended family.
But yes, I did read an awful lot of books and archival materials for Love Songs. I wanted to know about early Georgia and settler colonialism after 1733, and the arrival of James Oglethorpe, the first official settler colonialist. The scholarly knowledge about the slave trade came from everything I'd already read about West Africa and the slave trade, when I was writing The Age of Phillis.
In terms of documentation, at the end of Love Songs, I present what I call an "archival coda," where I list the texts that helped me to write the novel. Because Love Songs is fiction and not about filling in gaps of the historical record, I didn't think it was appropriate to present a long bibliography and end notes, the way I did with The Age of Phillis.
But reading history books can't tell you everything about human emotion. That's where "critical fabulation" comes in, a term invented by the scholar Saidiya Hartman. She means, you can research and find documentation, but then, you have to leap into the undocumented gaps to create a portrait of historical peoples. That's how we appreciate them as human beings.
JC: Ailey's mentor, Dr. Oludara, prepares her to be the only black scholar in graduate school, in her department, at the conference; she advises her to shower and pray after getting home from a day at the library where she spends hours excavating documents detailing unimaginable horrors. Ailey's roots in Georgia root her in traditions: food, faith, family, storytelling. Will all these forces be able to sustain Ailey through the grief and pain in her own present and in her intense, empathetic reading of the past?
HFJ: I think that the forces that you mention—the traditions that root Ailey—are the same forces that have allowed other Black women to survive the trials of this country, the difficulties that have been intentionally created to break African Americans, and in particular, Black women and girls. Yes, Ailey's story is the coming of age of one girl-child. But her story of survival is a representative story of so many others.
I was just having a conversation with another sister about childhood pain, and I said, our Black women's pain is so heavy, because we don't just carry our own pain. We carry the pain of generations. That's a heavy burden. I'd grasped that knowledge several years ago. But then, in talking to this sister, I came to an epiphany: that when I heal a small part of me—and I think of healing as an incremental journey—I heal those ancestral Black women and girls, those who didn't have the privilege of time and financial freedom and physical freedom to stop and engage in self-interrogation. They didn't even have the vocabulary for self-interrogation, because that vocabulary had not even been invented yet.
I have privileges. I'm very aware of that. I think of when Maya Angelou wrote, "I am the dream and the hope of the slave." My survival—my happiness—is a triumph not only for myself, but for my ancestors. It's a double boon.
So there's a gathering of Black women in the "songs" of this novel, and they surround Ailey. This is how she's sustained, because she is never truly alone. Her ancestors are always with her. Not only in the documents and books that she reads—and the stories that Uncle Root tells—but in her dreams, and even, in her waking moments.
The ancestors protect and guide Ailey, but they cling to her, too. This is why Dr. Oludara tells Ailey to shower and pray. Because sometimes, Ailey needs relief. She needs to wash that historical pain off her skin. Dr. Oludara knows about that, because she's been walking with the ancestors for decades, even longer than Ailey has.
JC: What are you working on now?
HFJ: I can't talk about everything, because I don't want to steal my own mojo! But I'm real busy right now and I cherish that feeling. I won a fellowship, so I'm on a year-long leave from teaching. That helps so much, because when I'm teaching, my students must come first. They are my top priority.
As I said, I'm always working on several different projects at the same time, and that's true now. But I can say that there are two projects I'm waist deep in, that I'm very focused on.
I'm writing essays, which I love to do. I'm obsessed with taking very complicated concepts of family and history and race—and the emotions that these concepts evoke—and breaking them down into plainspoken language for my readers. That way, folks who don't have the time or inclination to dive into the historical archives can understand how we Americans all landed this particular political, spiritual, and physical place in which we find ourselves.
And I'm writing short stories—and yes, they are mostly set in Chicasetta, Georgia. No matter the difficult history of this fictitious town, in my mind, that's where I feel loved and completely safe. I know the people and I know the territory. I don't think I could ever leave Chicasetta alone. And even though I've lived there in my imagination for so long, there are always wonderful surprises to be found.
__________________________________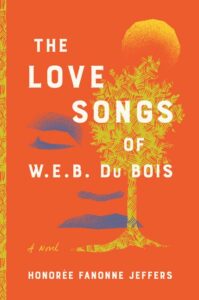 The Love Songs of W.E.B. Du Bois by Honorée Fanonne Jeffers is available now from HarperCollins.
---