Here's the Quick and Dirty on Foot Fetishes
Rachel Feltman Looks Into the Theories Behind Our (Very Common) Fixation on Feet
While we're on the subject of whence came the concept of perversion, you might also be wondering where more pedestrian kinks come from. Whether you find yourself in a tizzy every time you see Ben Solo put someone in a Force choke hold or you have a desperate need to lick armpits, it's natural to wonder why certain things that turn you on are benign—or even repugnant—to others. Unfortunately, we don't yet have enough data for someone to create a unified theory of yucks and yums or to pen the treatise On the Origin of Kink. But science has a few intriguing thoughts about why some humans wind up attracted to things that seem unusual to others.
One fetish with a particularly neat-and-tidy (though far from proven) scientific explanation is having a fixation on feet. Also known as podophilia, a foot fetish is just one example of something called partialism: where you tend to fixate on a particular body part above all others. Some forms of partialism are accepted as fairly normal (a heterosexual man being nuts over boobs or butts on ladies, for instance), while others (feet) are considered weird but are still quite common.
I seem to be a magnet for men who are really into noses (?!), so my perspective on this may be slightly off. But my anecdotal take is that being into a particular body part is downright pedestrian, when all possible body parts are taken as a collective. But it makes sense that fixation on body parts that are more closely associated with traditional sex and physical sex characteristics is considered more normal than a focus on parts that are generally not part of the sex act, and feet—low and figuratively or literally dirty as they are—are particularly polarizing.
According to one 2006 study by researchers at the University of Bologna, University of L Aquila, and Stockholm University, which analyzed several hundred internet chats about kink involving thousands of participants, partialism of some kind is by far the most common fetish. Feet and toes stand out as the most commonly fetishized body parts, when more traditional areas like bums are excluded. Another study found that the desire to sniff smelly feet or socks ranked as the most common form of fetish for objects associated with the body. Even Idris Elba, indisputably one of the sexiest actors of our era, has openly confessed to having a thing for women's feet.
Anyway, people love those little piggies. Like, an extremely not-insignificant number of people. Perhaps you are in their number. What's with all the foot fetishes?
As promised, foot fetishism has a uniquely tidy potential explanation. Neuroscientist V. S. Ramachandran studies the way crossed wires in the brain can cause amputees to experience phantom limb syndrome. Ramachandran offers one reason that feet might be a common target of ardor: the part of the brain that receives signals of podiatric touch is right next to the part receives genital stimulation. "Maybe even many of us so-called normal people have a bit of cross-wiring," he wrote in his 1999 book Phantoms in the Brain: Probing the Mysteries of the Human Mind, "which would explain why we like to have our toes sucked."
My anecdotal take is that being into a particular body part is downright pedestrian, when all possible body parts are taken as a collective.
That link, while satisfyingly simple, is far from achieving scientific consensus. And because many kinks and fetishes don't deal with body parts at all, we certainly can't attribute all of our weirder inclinations to unusual neurological wiring. Sigmund Freud viewed perversion like he did just about everything— as likely stemming from periods of disorder in childhood development. He also thought that foot fetishists probably grew up equating feet with penises, which is just too much of a stretch for this gal to buy into.
Most of Freud's theories are now considered by many to be overly simplistic at best and sexist hogwash most of the rest of the time. Still, there is some truth to the notion that our most fundamental sexual urges may be formed in childhood. Mostly based on case studies and anecdotal wisdom, the idea is quite widely accepted that a feeling of proto-sexual excitement or attraction felt as a child can lead folks to sort of imprint on some arbitrary aspect of the stimulating scenario. I have heard psychiatrists suppose that as children our sheer proximity to feet—the easiest body part to see when we are low to the ground—may leave us prone to fixating on them as a visual when we register some new and intriguing feeling.
In truth there are likely as many roads to developing a fetish as there are things to fetishize, if not more. There may be some evolutionary component, perhaps because a diversity of sexual preferences and desires made people more likely to go forth and multiply than if we all wanted and competed for the exact same thing. If so, it would be reasonable to assume that some of us are simply more likely, on a genetic level, to be open to freaky stuff.
Some kinks may be the result of social pressure. On the one hand, we might see TV and film suggest a particular thing is desirable, which influences our development; on the other hand, we might even be pushing back against what we're told is normal or civilized simply because taboo things are thrilling. It's also possible that sensations or objects that are easily swapped in the brain, as may be the case with genitals and feet, are a common source of seemingly bizarre sexual proclivities.
Many people with kinks likely develop them, at least to some extent, long before they consciously think about sexual activity, let alone engage in it. And this leaves plenty of opportunity for random experiences and thoughts to cement aspects of our sexuality that we find unusual—or even alarming.
____________________________________________________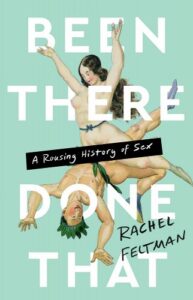 Excerpted from Been There, Done That: A Rousing History of Sex by Rachel Feltman. Copyright 2022. Available from Bold Type Books, an imprint of Hachette Book Group, Inc.
---