The Southern Poverty Law Center is reporting that Hatewatch has identified the principals behind Antelope Hill, a far right publisher founded in 2020 that specializes in white nationalist, fascist, Nazi publications.
With a catalog ranging from newly translated Nazi-era texts to contemporary white nationalist writing, Antelope Hill has been "successful" in finding an audience eager for both ideological "sustenance" and blueprints on how to replace democracy with fascism (one of their books is Conquering Berlin, a smug 1933 recounting of the Brownshirts successful use of targeted mob violence during the rise of the Nazi Party). Antelope Hill even had one of its authors, known as "Raw Egg Nationalist," appear in Tucker Carlson's infamously embarrassing preview for a documentary about masculinity.
The publishers behind Antelope Hill (which also launched a white nationalist children's imprint, Little Frog) have been identified as a Green Lane, Pennsylvania couple, Vincent Cucchiara, 24, and Sarah Elizabeth Cucchiara (née Nahrgang), 25, along with Dmitri Anatolievich Loutsik, 25, who recently bought a house in nearby Harleysville, Pennsylvania.
The Cucchiaras, it seems, have lately been darlings of the far right podcast world, appearing pseudonymously to promote their titles. But they're not just about books—according to the SPLC:
The Cucchiaras and Loutsik have a long, shared history as far-right activists, stretching back to their time together as students at Penn State University in the late 2010s. The publishing operation is one aspect of their ongoing participation in the white power movement. Specifically, Hatewatch has found considerable evidence of close cooperation between the Antelope Hill principals and a network of far-right actors associated with the white supremacist National Justice Party (NJP) and The Right Stuff (TRS) podcast network.
It's important to note here the role of Amazon in the distribution of Antelope Hill's noxious poison. As much as we'd like to consider the publishers of Mr. Egg Nationalist "fringe," when you have access to the largest commercial distribution network in the history of the world, that allows you to post glowing praise for a book lionizing the Sturmabteilung (the SA, aka the aforementioned Brownshirt paramilitaries), you're going to have a pretty good chance of reaching your fellow racists. Just look at this shit, on Amazon, as I type this:
Berlin: Capital of the Reich. In the heyday of the decadent Weimar Republic, the political heart of Germany is a Red fortress with streets overrun by communist gangs. While the brown-shirted SA-Men are ascendant in other parts of the country, only the bravest dare set foot in Berlin's working-class neighborhoods. But the SA is awash with brave men willing to sacrifice everything to bring about their Third Reich. Spurred on by their love of Germany and by the charismatic Dr. Goebbels, the Berlin NSDAP rise from a handful of men in a dingy cellar to the toughest group of fighting men under the SA banner.
Absolutely fucking gross. Unsurprisingly that first paragraph reads like a far right call to arms for militias to take back America's cities. And it's on Amazon, along with this handy starter pack of Nazi ideology.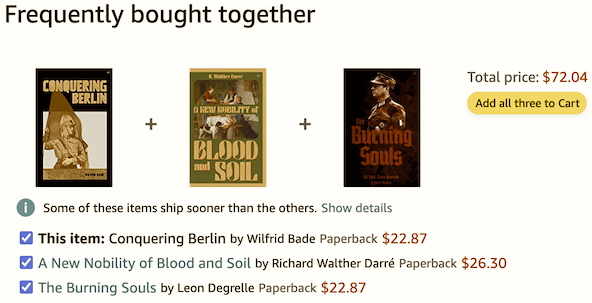 It's no wonder the Proud Boys feel emboldened.