Every week, the TBR pile grows a little bit more. It's getting precarious. It's taking up your whole nightstand. It's threatening to crush you in your sleep. Well, what are you waiting for? Get cracking. What are you reading this week?
FICTION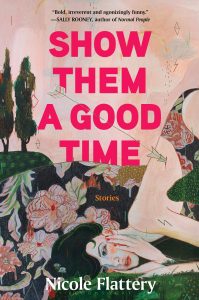 Nicole Flattery, Show Them a Good Time
(Bloomsbury)
Flattery is a rising star back in the UK and Ireland (where she already has a heap of awards to her name), and with very good reason. Her debut collection is a magnificently mordant work, full of delicious one-liners, perennially creeping menace, and hypnotically nihilistic depictions of cold-eyed young women trapped in strange, lonely, sometimes dystopian situations, often surrounded by predatory or unhinged older men. In one story, "Hump," an office worker develops a hunchback after her father's death. In another, "Abortion: A Love Story," two female college students join together to tell their stories in the format of a play. Reminiscent of the writing of Mary Gaitskill, Lorrie Moore, and Ottessa Moshfegh, Show Them a Good Time is a deft and dazzling work of pitch-black humor and deep, disquieting sorrow.
–Dan Sheehan, Book Marks Editor
Charles Yu, Interior Chinatown
(Pantheon)
I think about the first story in Charles Yu's 2012 collection Sorry Please Thank You, "Standard Loneliness Package," about once a week. I won't describe it (you can read it here) but it has never quite left my mind, and as a result, I am always here for new work from Yu. His latest novel, Interior Chinatown, is a metafictional send-up of Asian American tropes, and it sounds perfectly odd and funny and deep, like the rest of his writing. Can't wait for another story to mull over until the end of time.
–Emily Temple, Lit Hub Senior Editor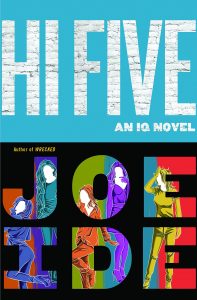 Joe Ide, Hi Five
(Mulholland)
Ide is one of the rising stars of crime fiction, and he's back this month with the fourth installment in his celebrated IQ series, which follows the investigations and adventures of a young, community-spirited, crime-solving man nicknamed IQ, born, raised, and operating out of South Central L.A. In Ide's latest, IQ gets dragged into a case by a local arms trafficker and heads to new terrain to solve a murder in toney Newport Beach. The twist this time around is the key person-of-interest has multiple personalities, each one with a different story.
–Dwyer Murphy, CrimeReads Managing Editor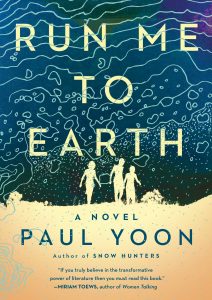 Paul Yoon, Run Me To Earth
(Simon & Schuster)
This new novel by Young Lions Fiction Award winner Paul Yoon (Snow Hunters, The Mountain) is the story of Alisak, Prany, and Noi—three orphan teenagers trying to survive in a war-ravaged, and unexploded ordinance-littered, Laos in 1969. After seeking shelter in a bombed-out field hospital, the trio become medical couriers for an impassioned French doctor who eventually secures them safe passage out of the country. What follows is a decades-spanning journey of horror and hope, as Yoon tenderly traces the divergent paths of these four wounded souls, still haunted by their past but determined to persevere.
–Dan Sheehan, Book Marks Editor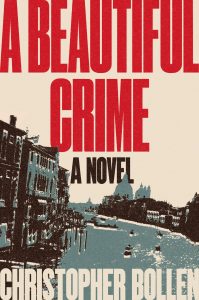 Christopher Bollen, A Beautiful Crime
(Harper)
The first chapter of this novel gave me major Tom Ripley vibes—which is about as high a compliment as I can pay to a crime novel. But while Bollen's latest is as sumptuous and fraught as Highsmith's classic, it's a satisfyingly updated version (the thieves are a gay couple, one white, one black, in a well-rendered contemporary Venice), and full of delights all its own.
–Emily Temple, Lit Hub Senior Editor
NONFICTION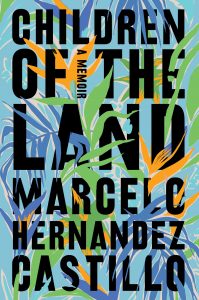 Marcelo Hernandez Castillo, Children of the Land
(Harper)
I've followed Marcelo Hernandez Castillo's work as a poet for years, including on the Undocupoets Campaign, where he worked with co-founders Javier Zamora and Christopher Soto to eliminate citizenship requirements from poetry book prizes. Children of the Land is his story of migration from Mexico in 1993 and everything that followed as his family was subject to the violence and dehumanization of the US immigration system. The book also addresses Castillo's changing relationship with language as he progresses through his education, eventually enrolling in an MFA program at the University of Michigan. It's a moving, gripping testament to the ways in which US immigration policy fractures lives.
–Corinne Segal, Lit Hub Senior Editor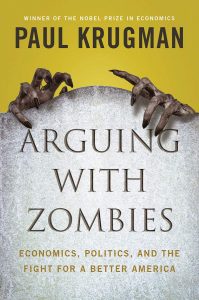 Paul Krugman, Arguing With Zombies: Economics, Politics, and the Fight for a Better America
(W. W. Norton)
We are living in a time of zombie ideas, Paul Krugman has been arguing. Ideas that should have died long ago when hit by evidence—trickle-down tax breaks, the madman syndrome of leadership—but have refused to go away. What have they wrought? This collection of Krugman's pieces for the New York Times takes readers on a tour of that world. From the road to Obamacare to its long (and ongoing) pushback, to the election of Donald Trump and the "revelation" that he would leave the American worker behind, it's not a pretty picture. In short it's become a time against truth.
What a ghoulish assortment of villains who emerge in its pages, from Trump to McConnell to Paul Ryan—remember him!—and others. Krugman might be a Nobel Prize winning economist, but he is plugged in to Washington power and reminds us where our politicians call from and who they heed. Kavanaugh isn't just unfit to be a judge, for example, Krugman reminds, he's also an anti-worker extremist. Kavanaugh even decided a worker killed by a whale at Seaworld should have known better, and that Seaworld was't liable for her death. In a time when keeping oneself educated against the tsunami of lies pouring out of Washington can feel like a full-time job, this collection is far more than a hunk of old journalism, it is a lamp in a storm.
–John Freeman, Lit Hub Executive Editor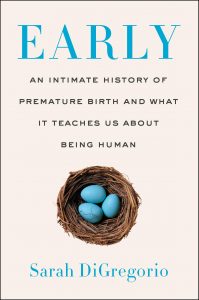 Sarah DiGregorio, Early: An Intimate History of Premature Birth and What It Teaches Us about Being Human
(Harper)
An engaging balance of research and personal anecdotes culled from the writer's own experience giving birth, Early is a celebration of life and an encouraging appreciation of the parents and specialists dedicated to fostering the growth of these babies. (Fun Fact: Most preterm babies develop into happy, healthy children.)
–Katie Yee, Book Marks assistant editor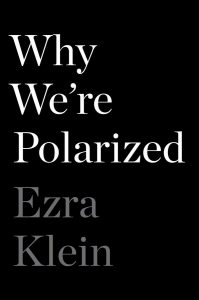 Ezra Klein, Why We're Polarized
(Avid Reader Press / Simon & Schuster)
Ezra Klein is a born explainer. In his podcast (Impeachment, Explained) and many television appearances, Klein has the energized, sleeves-rolled up demeanor of a person holding important information. He often does, and lately that information concerns the ways that loopholes and outright misinterpretation can be used to subvert the democratic process. In his first book, Klein takes a step back from the current mayhem to ask, how did we get so far gone that a mainstream political party could resort to such tools? To essentially shutting down government to control it? Why We're Polarized tells this story, and while it does not go as far back as Michael Tomasky's fantastic If We Can Keep It—Why We're Polarized focuses on the Goldwater election and its aftermath—Klein's book is more up to date. It is also more hopeful. Demagoguery on par with Trump is a sign that the Republican party has been losing power and its hold over American people, Klein impressively argues. A few key changes, after a very important election—such as giving Washington DC and Puerto Rico statehood, overhauling the electoral college—would restore people to the equation, diffusing the partisan based polarization. Let's hope the explainer can become a predictor.
–John Freeman, Lit Hub Executive Editor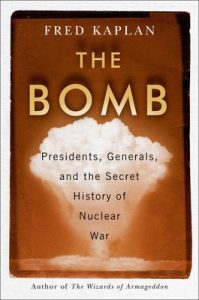 Fred Kaplan, The Bomb: Presidents, Generals, and the Secret History of Nuclear War
(Simon & Schuster)
From Pulitzer Prize finalist Fred Kaplan comes a thorough history (cautionary tale?) of America's policy in nuclear war. If you loved Kaplan's earlier work, The Wizards of Armageddon, or if you're a history/international relations buff, this is the book for you. Pick it up, rejoice in the fact that we're all somehow still alive, and enjoy.
–Katie Yee, Book Marks assistant editor