"Her Novels Were Not For Men." On Suat Derviş, Turkish Novelist
Maureen Freely on How a Writer Gets Erased From Literary History
By the time she turned 16, Suat Derviş had witnessed the collapse of an empire, and with it the social order that had given her family its lofty rank. Constantinople, the city of her birth, and for two millennia one of the world's great capitals, had been ravaged by more than a decade of political upheaval and, finally, defeat in the First World War. Refugees now roamed its streets in the hundreds of thousands. In the waterways dividing its European and Asian shores, the proud Ottoman Navy had been replaced by a hybrid fleet of British, French, Italian, and American warships. Vanquished and dispossessed, the old Ottoman elites were in disarray. Some had fled to Germany to escape prosecution for war crimes. Others had pledged themselves to the occupying powers. Most of the rest were gathering, sometimes in public but more often in secret, to aid in the struggle for independence.
At 16, Suat was already committed to that struggle. When she went out on long walks with her childhood friend Nâzım, cheerfully straying far beyond permitted limits, they spoke of independence. Their country's, and their own. Nâzım had recently graduated from the naval academy, but had no interest in a naval career, let alone a navy in which to enlist. He was therefore devoting his days to poetry. Suat, who had attending university in mind, was still in school, and that was where she was when Nâzım happened to drop by the family home one afternoon in October 1920 to find a stack of her papers sitting unattended on a table.
He had always been more interested in wild, beautiful Suat than she in him. At some point in their romantic friendship, she had broken his heart. And he had written a poem about it, in which he spoke of walking in her shadow without her ever deigning to lower her gaze. Though he knew she had been writing stories and novels since the age of seven, she had never shown him a word. Now here was his chance.
Amid the scribbles and the lines copied from great works and great minds, Nâzım found a prose poem she had signed with her own name. Its title was Delirium. "Tonight I am drunk," it read, "Tonight I am driven mad. I am raving, raving, raving!"
Well-mannered boy that he was, Nâzım sought Suat's mother's permission before taking the piece to a friend who was editing a literary journal. The following Sunday, he returned to Suat's house, proudly waving the latest edition, in which the editor had given her poem pride of place, also promising his readers that she was to be a regular contributor.
Seeing her name and her most secret thoughts exposed on the printed page, Suat burst into tears. After telling Nâzım never to poke his nose in her private business again, she ran from the room, slamming the door behind her. But she did submit a story to the next edition of that journal. In the months and years that followed, she became the regular contributor she had never agreed to be, crossing the Bosphorus by ferry to the Sirkeci quarter, in the old city, climbing the narrow lane up to the publishing district of Babıali to deliver by hand her stories and articles to this and like journals. Her confident manner and fashionably modest attire won her a certain degree of respect, though no one in those smoke-filled, men-only offices knew quite what to make of her.
"I am not ashamed of being a woman," she once said. "And I take great pride in being a writer. That title is my sole fortune, my single pride, and my bread." Her aim in life was "to gaze at the stars" without impediment.
*
Suat Derviş had her first novel ready and waiting in a desk drawer at the time of her first lucky break at the age of sixteen. Within weeks she had found it a publisher. Over the next eight years, she secured financial independence by publishing seven more. And though each and every one was a gothic roller coaster of twists, turns, and untimely deaths, with highs and lows as extravagant as anything you might find in Poe or Maupassant, they were also resolutely themselves. Rooted in the once-grand and now-disintegrating Ottoman mansions on the shores of the Bosphorus, and looking out onto a city that had now shaken off the occupiers to embrace the modernizing drive of the newly independent Turkey, they were, for all their stormy sensationalism, quiet disruptors of the didactic fictions with which many women writers of the early republican era sought to teach their readers how to live and think.
Suat Derviş's novels were not written for men, nor, for the most part, were they read by them. But by the end of the 1920s, she had also made a name for herself as a political journalist. This too was due in part to her old friend Nâzım Hikmet. He was no longer in Istanbul, as Constantinople was now known, having left for the Soviet Union to witness its revolution firsthand. But his friends had become her friends, and these friends made up the core of the literary Left.
Suat Derviş's novels were not written for men, nor, for the most part, were they read by them.
By the 1930s, Nâzim was back in Istanbul, taking the poetry world by storm and working alongside his old friends, Suat among them, as they reached out to the masses with their revolutionary pens. The state was ferocious and unrelenting in its efforts to silence them in the decades that followed. They impounded their journals and raided their offices, threatening and blackmailing their employees.
Those who would not be turned or silenced were taken to court, deprived of their passports and their right to work, locked up in jail, hounded into exile, or delivered into the hands of hired assassins. But still they continued to publish, disseminate, and innovate, breaking out of old forms to create new and revolutionary voices in poetry and fiction, on the stage and on the newsstand.
Suat Derviş did some of her best work for journals like Resimli Ay (Illustrated Monthly), which did not target women so much as take them seriously. She also penned splendidly bold pieces of political reportage. Her most (in)famous, written after her second voyage to her friends in the north, was titled "Why I Am a Friend of the Soviet Union."
Suat had by now escaped from her third and stormiest marriage. Her first two marriages—the first to a member of the Turkish national football team, and the second to another left-wing writer—had ended almost as soon as they'd begun. Her fourth husband was Reşat Fuat Baraner, secretary general of the Turkish Communist Party—a gentle and courageous man, much loved by all who knew him. He and Suat were married in 1940, and although they remained man and wife until his death in 1968, Reşat Fuat would spend 17 of those years in prison.
Suat herself was never incarcerated, unless we count a short spell she spent under house arrest. The authorities had other ways to punish her. By the early 1940s, the newspapers had been purged of leftists. Those who replaced them were mindful of the ruling party's pro-Nazi and anti-Communist views, and when Suat, never to be daunted, went to them for work, they laughed her out of the office. For a time, though, she was still able to eke out a living by doing translations, writing under pseudonyms, and turning out another string of novels. If she was able to publish these under her own name, it was presumably because no one of importance (in other words, no man) would ever read them.
By the early 1940s, the newspapers had been purged of leftists. Suat, never to be daunted, went to them for work, they laughed her out of the office.
When asked to choose between her two careers, the first as a novelist, the second as a journalist, Suat Derviş would insist that they were of equal importance. To journalism she brought her flair for a good story, while journalism, she said, nourished her fiction. It might be more accurate to say that her journalism, and the political education that came with it, transformed her very understanding of fiction and the ways in which she might use it. During the middle years of her career, she put aside her old gothic ways for a bold if also rather racy mode of social realism.
In most of these later books, her characters occupy the margins of society—oppressed but endowed with chains they can learn to lose. They take as their inspiration the hardy souls Suat Derviş came to know through her work as a journalist and activist, and through her own ordeals as a political target.
In the Shadow of the Yali is one of two novels that Suat Derviş rewrote and republished in French after going into voluntary exile in 1953. It may or may not have been her old friend Nâzım Hikmet, by now a world-famous poet residing in Moscow, who opened doors for her. For she wrote to him from Paris, confessing to near starvation and begging for his help. There is no record of her hearing back from him. Suat may again have been left to find her own way. All we know is that once the leaders of the French Communist Party had been alerted to her plight, they did everything in their power to help her. They did not just introduce her to a publisher. They also made sure that—for the first time in her life, and the last—she was feted. Both novels were highly praised by the leading critics of the day, who marveled at the elegance of the prose—knowing as they did that Suat Derviş had translated the books herself, with a bit of help from her sister. (There is more to this story, to be found in the translator's note.)
In 1963, when her husband was at last out of prison, Suat returned to Istanbul. If he was glad to see her, his acolytes were not. They thought her selfish and disloyal to have gone abroad. She sat at her own kitchen table on sufferance. Behind her back, the acolytes exchanged spiteful stories about how badly she had cared for her husband, whose years in prison had left him in poor health. She carried on regardless, despite her own failing health. She had long suffered from diabetes, only recently diagnosed. It had affected her eyesight and her heart.
But now, at last, she was enjoying a revival of sorts in Turkey, where novels that had only ever appeared as newspaper serials began to appear as proper books. One of these was Fosforlu Cevriye (Cevriye the Firebrand). This tale of a flamboyant, brave, and goodhearted prostitute went on to become her greatest and most enduring success. In 1969 it was made into a much-loved film, then adapted in 1972 into a play, and in 2008 it was revived as a musical.
She remained active in politics. In 1970, when the Turkish Left was again on the rise, and under assault, and when she herself had only two years to live, she helped found the Socialist Women's Association. But even now she had to fight to be heard. Introduced at a meeting as the wife of the general secretary of the Turkish Communist Party, she rose to her feet and cried, "No! I am Suat Derviş, the writer!"
Today, almost half a century later, she is known in Turkey as the writer who was erased from the record. But now, at last, her books have been reissued. Symposia have been held, and a fine biography written. She remains a puzzle—the Marxist who wrote steamy romances. The Ottoman daughter who was given the name of the son she was meant to be. The fearless activist who loved a good laugh and a good party. The dissident who spent decades on the poverty line, but who never gave up on the city's best patisseries. Until her last, she would happily pass up on supper just to share an overpriced éclair with a friend. She never stopped fighting, writing, or hoping. In her life, as in her work, she offers a shining example of what is possible, even at the worst of times, if you set out to make the most of things, just by following your own lights.
__________________________________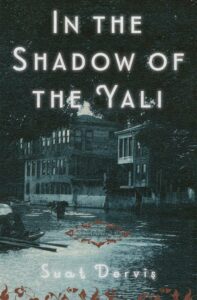 Excerpted from In the Shadow of the Yali by Suat Derviş, translated by Maureen Freely. Reprinted with permission of the publisher, Other Press. Copyright © 2021 by Maureen Freely.
---