Heat, Rain, and Snow in Baltimore: On Reporting in the Pre-Digital Era
David Michael Ettlin Finds Community in the Newsroom
Back in the day—back when newspapers were lush with advertising and the luxury of space to fill with stories—editors obsessed almost daily about how to feed the beast.
Imagine, it's 11:00 am, and those editors are gathered 'round a conference table, talking up story possibilities. A politician arrested for DWI? Great—down page on the front of Metro! Random mayhem? Excellent! Got a photo of the victim yet? Night meeting of the school board? Hold space on page two! Centerpiece? Cover art?
"It's hot out today," one says. "Maybe rewrite can gin up a weather story."
For nearly a quarter-century of my forty-year career there, I was rewrite. And there was nothing I dreaded more than being greeted at my afternoon arrival with the assignment from Mount Newsuvius: "It's hot out today. See if you can do something with it."
There were variations, of course—like, "It's cold out today. See if you can do something with it," or, "They're predicting snow tomorrow. See if you can do something with it."
There was nothing I dreaded more than being greeted at my afternoon arrival with the assignment from Mount Newsuvius: "It's hot out today. See if you can do something with it."
Not that I could cool down a hot day in August, or warm up an icy January morn. And writing about snow before it even starts falling? Let's get real. That's crazy. That's why we have a front-page blurb with a weather forecast and half a page with forecasts and statistics and maps with curvy lines showing frontal systems threatening doom for the Land of Occasionally Pleasant Living.
Editors loved to know that "yesterday was Baltimore's seventh-hottest August 4 since record-keeping began in 1880-whatever" or that ice eventually melts.
I could do something about the weather. Just write a story saying snow is coming, and half the time it seemed, the storm would veer off its anticipated track. All we'd see the next day was flurries. I hated seeing my byline on stories about storms that hadn't happened yet, and wouldn't. It's like Mother Nature screwing up my journalistic credibility.
Better to fill the space with a big photo of people lined up at a hardware store bearing snow shovels, or little kids with big, drippy cones of ice cream on the steps of the Maryland Science Center. "Six-year-old twins Johnny and Bengie Smith lick to keep up with their melting treats at Baltimore's Inner Harbor yesterday as noontime temperatures edged past 90 degrees. Today's forecast calls for even hotter weather, with no end in sight before next week."
I wrote hundreds of photo captions like that. The ones I hated most had this ending: "Article, Page 2B." Which meant I also couldn't dodge writing another damn story telling our then-200,000 readers it was hot outside.
Occasionally, though, weather stories were a hoot. Real weather stories. Worries that air conditioning demand would bring down the northeastern power grid, or that islanders on the Chesapeake were being cut off from supplies and heating oil as thickening ice halted barge traffic. And somewhere at the bottom of the Bay lies a barnacle-encrusted Volkswagen that failed to make it across the frozen waterway.
A rare tornado lifted a car across the median on Loch Raven Boulevard. My late colleague Joe Challmes dashed out to the hospital to interview the car's occupants and get me the necessary quote: "Man, it was like The Wizard of Oz."
I hated seeing my byline on stories about storms that hadn't happened yet, and wouldn't.
As the reporter most likely to write the story, I knew, when heavy snow began falling, to pack an overnight bag and get on the road before the white stuff was fender-high. I got stuck only once, driving from my Pasadena home to the Sun's old headquarters on Calvert Street—veering into the median off Route 100 in a blinding whiteout. I was using old newspapers to push snow out of my path back onto the highway when the flash-booms hit.
Thundersnow. Lightning.
I managed to get the car back in gear and steered onto an exit ramp, figuring rightly that Ritchie Highway would be easier to navigate. I got to work in about two harrowing hours.
Remember Lenny Skutnik? Probably not. But he was the star of my favorite front page. On January 13, 1982, during a blinding snowstorm, Lenny dove off a bridge into the icy Potomac to save the life of a young woman—one of just five survivors—after Air Florida Flight 90 hit Washington's Fourteenth Street Bridge and sank into the river.
I was driving to work when it happened, stuck in traffic on Calvert Street for more than an hour. I went from car to car, interviewing disgusted drivers. And when I finally reached the office to say I had some good quotes, the response was, "Great. You're writing the weather story."
So why was that my favorite front page? The entire Washington staff, it seemed, had been sent out into the snow to cover the Air Florida disaster. That story, accompanied by the photo of heroic Lenny Skutnik saving Priscilla Tirado, was credited as "Washington Bureau of The Sun." The only byline on the front page of January 14, 1982, was mine, on the weather story.
I had partners in my weather stories—the good folks of the National Weather Service at BWI Airport, in particular Amet Figueroa. In a summer heat wave, it was never just a Bermuda high to blame. For Amet, it was "that good old Bermuda high." He retired around 2006, before the BWI weather operations were shifted to Sterling, Virginia. I was asked to speak at his farewell party, but I was on an international vacation and instead sent a two-page compilation of Amet quotes gleaned from my years of weather stories. I heard it was a highlight of the celebration.
On one occasion, asked to write about a predicted snow in 1993, I had the bright idea of asking the weather folks at Baltimore's four TV news operations for their best guesstimate on how much would fall—which, for the Queen City of the Patapsco Drainage Area, is never easy to pinpoint. And the winner (whose forecasts I still trust in any time of weather trouble) was WBAL's Tom Tasselmyer.
I was running out of ledes. I needed to hang it up, turn over the reporting to younger folks, maybe… finally… become an editor instead.
My story began in classic weather yarn style:
Bread, milk, toilet tissue… lunch meat in case the power goes out… salt for the front steps and driveway… Darn, the hardware store's run out of shovels.
You didn't have to be a mind reader yesterday to fathom the thoughts of many Marylanders as weather forecasters flat-out used the "S" word.
But then came the unrelenting ice storms of 1994 and demand for a different front-page story every day on the same damn story.
Reporters across the newsroom were sent scurrying for fresh quotes. I blessed the day veteran reporter Bob Erlandson delivered our governor's declaration of an energy emergency, as electricity demand for home heating peaked and major users cut back…like the Social Security Administration headquarters in suburban Woodlawn switching to backup generators to keep its enormous computers operating. It gave me a new angle for stories beyond the tally of school days lost to weather closings.
I told Sun editor Bill Marimow that after more than two decades of writing weather stories, I was running out of ledes. I needed to hang it up, turn over the reporting to younger folks, maybe…finally…become an editor instead. And Marimow delivered on that promotion a few months later.
Did I escape? Not quite. I was night metro editor February 15–18, 2003, when Baltimore was buried by more than two feet of snow. And it was a young reporter named Johnathon Briggs who was sitting at my old rewrite desk, finding his way in the art of crafting weather stories. As it finally ended, the National Weather Service declared the three days of snow a single storm, and the 28.2 inches a record.
The city was frozen in place, schools closed, side streets buried beyond recognition, the roof of the B&O Railroad Museum collapsed under the weight of snow.
"What's my lede?" Briggs asked.
"It really was the big one," I replied.
That was even good enough for the streamer headline across the front page.
A good memory, too, of times when newspapers still had money and a big staff, and Baltimore had snow in wintertime.
__________________________________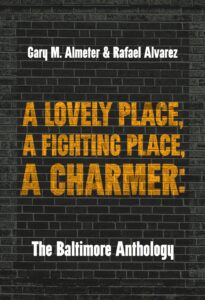 Excerpted from A Lovely Place, A Fighting Place, A Charmer: The Baltimore Anthology edited by Gary M. Almeter and Rafael Alvarez. Copyright © 2022. Available from Belt Publishing.
---