Did Dante Alighieri Suffer From a Sleep Disorder?
On the Sleeplessness That Makes Patients Weak With Laughter
"Mirth is like a flash of lightning,  that breaks through a gloom of clouds, and glitters for a moment."
–Joseph Addison
I was at a conference, standing in the queue for coffee during a break between sessions, and the woman in front of me went down. As she fell, she resembled a push puppet, one of those little elasticated toys that collapses when you press the button on the base. It all happened very quickly, but if it had been possible to slow down the motion, I would have seen her head drop first, chin onto chest, her shoulders relax, arms flop to her sides, and legs buckle.
Within seconds, and before I could offer my assistance, she was back, rising Phoenix-like inside her bright orange dress in perfect time to receive a cup of coffee and a biscuit. I would have been surprised at this fit, except that this was the annual meeting of Narcolepsy UK, and falling over like this is standard practice for most people with narcolepsy. To the uninitiated, it might have looked as though the woman in front of me had suddenly fallen asleep. I knew better. In spite of appearances, the woman in the orange dress had remained completely conscious throughout this brief episode.
This is cataplexy, a condition in which emotions can cause the body's muscles to fail; it affects many people with narcolepsy. Nathaniel Kleitman understood the difference between narcolepsy (the sleep) and cataplexy (the collapsing fits) only too well. "Boredom and monotony favor narcolepsy; gaiety and excitement, cataplexy," he wrote in Sleep and Wakefulness.
For those who have first-hand experience of narcolepsy and cataplexy, the distinction is abundantly clear. Most obviously, narcolepsy (that invincible need to sleep) involves a loss of consciousness. Cataplexy does not. This is underscored by the fact that cataplexy has an extraordinary number of ideophones, invented words that offer powerful testimony of the fact that this is a conscious state that can be perceived.
There are a few people whose words for cataplexy were probably coined in the first few weeks, when mirth resulted in a new and puzzling weakness at the backs of the knees but before this progressed to a full-blown collapse. In her brilliant memoir Wide Awake and Dreaming, Julie Flygare refers to this feeling as "my knee thing." Others have jelly legs, heavy legs, spaghetti legs, a funny turn, a moment, a melting moment. More commonly, there are simple nouns, distilling each attack into a clearly defined, almost sentimental entity. Where I have "a gibber," for instance, others have a wobble, the wobbles, the wobblies, the jitters, a pajama flop, the floppies, the jellies, a jellyfish attack, a cat attack, a cat do, a do. Many use verbs that give a better sense of the action. If I'm in the middle of an attack, for example, I am gibbering. Others swoon, bungle, fall from grace, go lop sop doi. More rarely, there are simple exclamations, like "oh no" or "man down ,"succinct utterings that alert those in the know to an impending collapse. Doctors too have suggested plenty of names for cataplexy over the years, like affectotonia, gelolepsy, affective adynamia, tonus blockade, emotional asthenia and geloplegia.
"For those who have first-hand experience of narcolepsy and cataplexy, the distinction is abundantly clear. Most obviously, narcolepsy (that invincible need to sleep) involves a loss of consciousness. Cataplexy does not."
Giuseppe Plazzi, head of the sleep lab at the University of Bologna, has argued that Dante Alighieri might have suffered from narcolepsy with cataplexy all the way back in the 14th century, as his autobiographical masterpiece The Divine Comedy features most of the symptoms, including cataplexy. In the middle of his journey through Hell, for instance, Dante hears the tragic love story of two lost spirits and collapses. "I fainted out of pity, and, as if l were dying, fell, as a dead body falls."
The idea that Dante suffered from narcolepsy is certainly intriguing, but most sleep specialists—including Plazzi—date the first unequivocal description of cataplexy to 1877, when German psychiatrist Karl Westphal presented a case at a meeting of the Berlin Medical and Psychological Society. He had witnessed several attacks in one of his patients, a book­binder called Herr Ehlert. "His eyes close involuntarily, and he cannot keep them open," Westphal told his medical audi­ence. At the same time, he loses all strength in his limbs and the ability to speak. He cannot move, and must sit or lean on something. . . He reports that he hears and understands what is said to him during an attack."
On another occasion, Westphal watched Ehlert "stagger­ing like an intoxicated person," then standing and swaying but without falling. "During this time, slight twitching move­ments in the face were observed, as were movements of the jaw." To Westphal, it looked as though Ehlert was searching for a chair or seat to hold himself up. When he finally found a support, he murmured "Chair," and with eyes half-shut added, "Professor, please excuse me while I take a seat."
When Gelineau came to describe the narcolepsy of the cooper Monsieur "G" a few years later, he also described clear-cut cataplexy. "When laughing out loud, he would feel weakness in his legs, which would buckle under him," wrote Gelineau, but he went on to equate these attacks with sleep.
"If he experiences a deep emotion. . . the need to sleep is even more urgent and sudden. Thus, for example, if he is closing a good business deal, if he sees a friend, if he speaks with a stranger for the first time, or if he receives a good hand while playing cards, he collapses and falls asleep," he wrote, failing to make a clear distinction between his patient's sleepiness and his collapsing in response to emotions.
This is a common mistake, even today, most people failing to distinguish between the sleepiness of narcolepsy and the cataplectic seizures that have an outward resemblance to sleep but are, as we will see, something completely different. Whilst it's great that more and more people have heard of narcolepsy, it's a shame that the cataplexy that many of us experience is not more widely known, not least because it's so interesting.
*
For many people with narcolepsy, the excessive sleepiness is the first symptom. The cataplexy, if it comes, usually takes weeks, months or sometimes years to develop. It is most commonly triggered by a joke. But the context is crucial.
If I am alone, watching TV perhaps, and a comedian delivers a witty one-liner, I might smile or even chuckle but I will never, ever have cataplexy. In company, however, that exact same joke could bring on a full-blown fit. The identity of my companions matters too. If we are not well acquainted, I am far less likely to gibber than if I am cosseted by close friends and family. The source of the trigger is important too. Rather embarrassingly, it's my own cheeky thoughts or jokes that are most likely to cause cataplexy. If a friend makes a gag, I might chortle but no more. If I made the same joke and it caused a ripple, I'd be down on the ground in no time.
This tallies rather nicely with what other people with cat­aplexy report. In a recent survey, the researchers recognized laughing as the most common trigger, but correctly noted that "other qualities need to be associated with laughter to reliably evoke cataplexy." Laughing excitedly was the most frequent trigger. Telling a joke was more likely to cause a collapse than hearing a joke and some 85 percent of respondents were familiar with falling over before reaching the punch line. The laughter resulting from being tickled was more effective than the laughter as tickler. One of the most reliable triggers was making a sharp-minded remark.
It was a sharp-minded remark that caused me to experience my first major cataplectic attack back in 1994. I was back from college for the Easter break and was over at the home of my best friend Zaid, watching television in his bedroom. We were lounging on beanbags on the floor. The weather forecast came on. The presenter had somewhat exaggerated incisors. I let out a gentle neigh. Zaid snorted. It was juvenile in the extreme. It was unkind. If not quite sharp-minded, it was certainly barbed, and in that  moment, shared  between close friends, I slumped back into  the beanbag in a fit of uncontrollable hysterics.
The mirth rippled through my body, but as my muscles shuddered, then failed completely, the laughter didn't last long. It felt as though my breathing had stopped and my heart was faltering. I was sure I was dying. The thrill turned quickly to fathomless dread. I panicked and tried to call out, but I could not move my lips and no sound came, leaving the distress to echo in silence inside my head. l heard my name. Zaid had noticed that something was wrong. "Henry?" he repeated, this time with greater urgency. Then he reached across and shook me, his grip bringing my near-dead body back to the world of the living. I sat up and burst into a cascade of tears.
Sarah Garvey has a similar story of how a shared moment, even if it's not particularly funny, is enough to trigger an attack. She became aware of sleepiness when she was just 14, then began to develop cataplexy and eventually got a diagnosis of narcolepsy with cataplexy when she was 16. When I first spoke to her in 2013, her mother had rarely witnessed her cataplexy, and she had yet to have an attack in public. But her two sisters—one older and one younger—soon learned how to take their sister down. "The best person to bring on my cataplexy is my older sister," says Sarah. "She knows how to make me laugh. She has showed me the stupidest things."
"The mirth rippled through my body, but as my muscles shuddered, then failed completely, the laughter didn't last long. It felt as though my breathing had stopped and my heart was faltering. I was sure I was dying."
On one occasion, Sarah's sister pulled up a picture on the internet of a college student dressed up for a Halloween party. Rather than going as a conventional ghost, vampire or zombie, he'd combined two characters from children's fiction: Dumbledore, the sage headmaster at Hogwarts School of Witchcraft and Wizardry and Dora the Explorer, a cartoon character for the under fives. Dumbledora the Explorer sports the wizard's wand, spectacles and long-grey beard and the young adventurer's trademark orange shorts, pink T-shirt, purple backpack and bobbed black hairdo. It's silly enough, I can see, to trigger an attack.
*
The first time this happens, it's alarming. But the recovery is so quick that it's easy to dismiss as a one-off. This is what I did with that first attack in Zaid's bedroom. Over the next few weeks and months I had more episodes, but they were relatively mild and fleeting, so when I eventually went to my doctor, in the summer of 1994, I only reported occasional weakness in my legs when I laughed. As I didn't seem too alarmed, he wasn't either. It was unlikely to be serious and would probably pass, he told me, I biked back to my college, relieved.
By the end of the summer term, however, the attacks had become more frequent and stronger, though as with the sleepi­ness, the change had been so incremental that neither I nor my friends noticed the extent of the deterioration. So it was only back at home that I took a moment to reflect on the extent of my transformation.
I was with my brother and sister, neither of whom I'd seen for months, and when I toppled to the kitchen floor in a heap of mirth, they were extremely alarmed. I was about to go to India over the summer and, with my parents away, my siblings insisted I see a neurologist before I went. After some phone calls to my GP and a family friend, I managed to get an appointment with a consultant neurologist at the National Hospital for Neurology and Neurosurgery in Queen Square, London.
I took a seat in the marbled entrance. There was a man next to me, his limbs jerking with alarming frequency. A woman shuffled to the bathroom, her head ticking back and forth like a chicken. "Fuck it," shouted a youth coming down the stair­case. I was in the wrong place, surely?
The consultant was a tall, thin, serious man, grey and quiet. He listened as I told him about my peculiar symptoms, making occasional jottings in what were to become my medical notes. I explained that l kept falling asleep in lectures and in the library, which didn't seem to surprise him. "We all do," he said, or something to that effect.
I went on to describe how certain types of joke would provoke uncontrollable laughter, how it felt like I couldn't breathe, how my lips, my eyelids and my limbs would quiver, how I'd feel weak and might drop things. "Knows before the attack, that it's going to happen. Friends say he looks very odd—as if paralyzed during episodes," he wrote. "Tries to speak, but unable to," he recorded, but "no  loss of consciousness." The consultant wondered whether I might be suffering from "a type of reflex seizure," a "very rare form of epileptic attack."
This experience is strikingly similar to that of a 14-year-old girl called Olivia, who had entered the exact same hospital some 70 years before me with the exact same symptoms and received the exact same misdiagnosis. While Olivia's neurologist sent her packing with a prescription of anti-epileptic drugs, mine sent me for brain scans. "I doubt that there is any abnormal neurological basis for these attacks and I see no reason to limit his activities at the moment," he wrote to my GP. I went to India.
__________________________________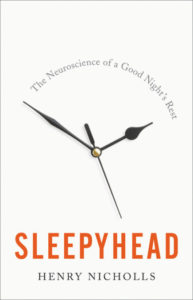 From Sleepyhead: The Neuroscience of A Good Night's Rest. Courtesy of Basic Books. Copyright © 2018 by Henry Nicholls.
---