Go West Young Ski Bum: The Broken American Idea of Living the Dream
Heather Hansman on Trying to Find a Life in a Colorado Ski Town
At dusk the lights on the lift towers click on, dull yellow in the darkening night. It is snowing—not quite sideways, but almost—and the wind gusts into all the cracks in our clothes, the tender skin just below a glove edge, the place where my jacket hem hits my hips and rides up. Deep winter, Southwestern Colorado. The snowpack is so often fickle and thin down here, and Hesperus, the one-lift ski area where we are night skiing, is less of a mountain than a hill.
But tonight it has snowed, inches adding up into feet, and no one else is out, so MJ, Eric, and I slide off the chair, tighten our boots at the top and point our ski tips downhill, dropping away from gravity. In the dark there is nothing to notice but the floating, and it is so deep that we come up gasping at every turn.
"This is the dream," MJ says, at the bottom, when we stop to clear our goggles and catch our breath. "Holy shit we are so lucky."
The "dream." Heavy on the quote unquote. It has a specific rhythm, and here it looks like this: You dedicate yourself to something singular, undeterred by the societal pressure to get a job, or make money, or grow up, and when you do it year after year, prioritizing skiing over everything else, you become a ski bum.
"Do you think we get those moments more than other people?" MJ asks me, as we stumble back to the car later, legs shot, still buzzing. "Or am I just trying to tell myself that, to justify my life."
I'm thinking about that a lot these days. What stories have I been trying to tell myself, to justify my life? How do you explain—much less write about—a fragile, problematic idea you're obsessed with, one that's shaped everything from where you live to who you love. And how do you grow up in the face of that?
*
Most ski movies start their action in the car and my story is the same. I drove to the mountains from Massachusetts, hooked into this idea of chasing adventure, and an unfounded feeling that I would be truer and better in motion, that skiing, somehow, would make me good. It was my 21st-century version of the fictitious frontier myth.
I was barely old enough to drink, but that idea of a hero quest had been fed into my brain for decades by then, and it stuck hard, overriding other, more realistic dreams. I was so fixated on that questionable American axiom of go west young man, that I didn't really stop to think about what might happen once I did. Even though the west was never just open to explore. Even though I am not a man.
I was so fixated on that questionable American axiom of go west young man, that I didn't really stop to think about what might happen once I did.
When I first moved to a ski town, I wasn't very good at anything besides being stubborn, but I'd decided that if I could act the part something would change. I got better at moving my body by sheer will. Bruised my shins banging through bumps. Broke my thumb trying to ski backward, showing off under the lift. Did it again and again, trying to find that downhill friction-free flow.
Certain people's brains are built like that. Psychologists call that need for stimulation sensation seeking. We all have set points for it, and some of us need it more than others. You see it in little kids on the playground. They crave that thrill. There's a reason why that idea of physical accomplishment resonates harder for some people than others. They don't feel whole without it.
"I got addicted to the motion because it feels purposeful," an old dirtbag who'd pegged his life to winter once told me. "It fills in the gaps you don't get in a more constrained life," he said. I know exactly what that feels like, and I also know that if you're not careful it meets all your needs in the moment, and almost none of them in the long term.
That's where it gets tricky. There are shiny good parts of that hero myth. That dream comes from something. Part of it is the neuron tinging thrall of newness, and of pushing your physical limits. It's the adrenaline jack of breaking from gravity, which is surprisingly hard to find. But it's also community and the way people band together when you show up for something stupid and keep showing up. It's the way your days become governed by weather and wind, and how times slips and stretches when you're moving through the mountains, paying attention. It becomes a story you can tell yourself, the one where you do get those dreamy moments more.
For me it was also a natural progression of another broken myth hammered into the brains of my generation, millennials of the 1980s and 90s: If you work hard, you can be whatever you want to be. That was probably never true, and it's definitely not now, but I took it to heart that striving for something was a way to grow up, and that I shouldn't give up on my dream, as senseless as it might be.
When I moved to Colorado in 2005, risk was everywhere, but in a way that felt exciting. I liked the brag of drinking too much, and I was too naïve to notice harder drugs. Climate change felt vague and theoretical, and no one I knew had died in the mountains yet. The crash of the Great Recession hadn't shaken my generation's idea of stability and corporate entities were just starting to binge buy resorts. I didn't understand the direct connection between my rampant anxiety and my relentless impermanence, and I thought living in my car was cool. I thought I could exist like that forever.
That's the thing about the mythic origin story, the drive west, toward the golden, unexplored edge of the country, the story doesn't outline what happens after you get there. You have to figure out the good and bad parts for yourself.
In the 15 years since I drove into the Vail Valley for the first time, wages have stagnated, but housing prices have skyrocketed. Rates of suicide in the western mountains are so high that psychologists call the stretch of the country from Montana to New Mexico the suicide belt. Diminished snow is a foregone conclusion, and the sport itself is becoming anemic because it hasn't adequately owned up to its racist, sexist, classist tendencies. It's a brutal thing to love sometimes. But still.
And maybe we do get more flashes like the night at Hesperus, where the place and the people and precipitation all line up, and all your senses are firing. Those moments feel so good they hurt, and the glimmer goes by too fast. That's a feeling that for me, still feels worth chasing.
And I guess that's the story there, the one I've been trying to figure out since I went to the mountain the first time. The dream is like a knife-edge ridge, dark sides and light, and the shadows come quicker than you think some times. The legend I latched on to isn't fully real or true—it's a myth I chose to believe and keep believing—but it sticks around because sometimes the light is exactly right, too.
_________________________________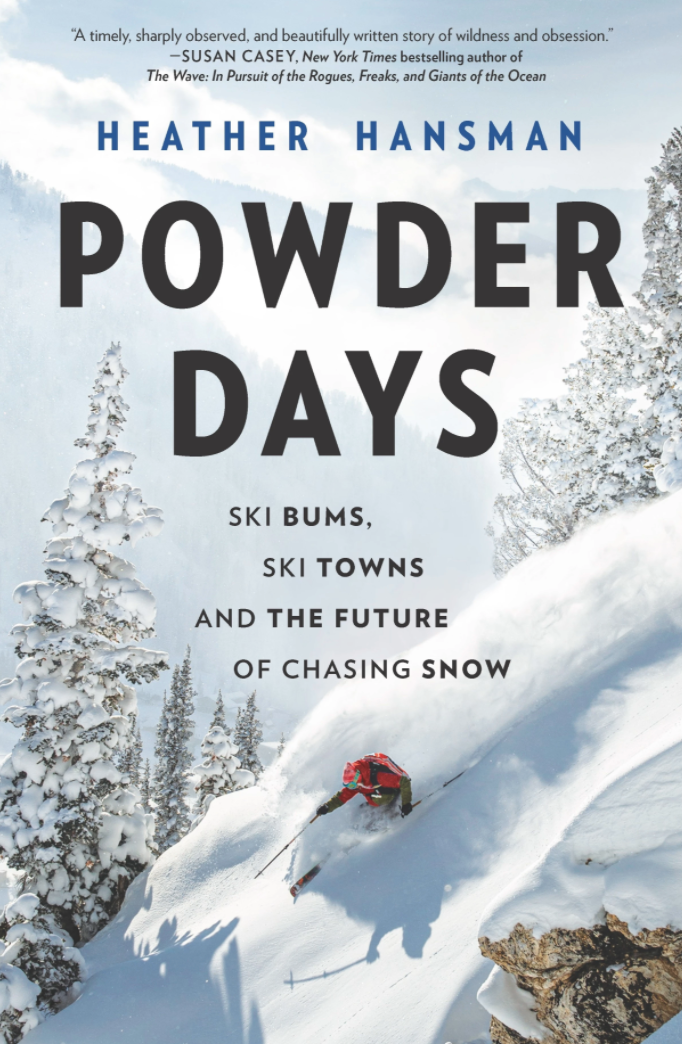 Heather Hansman's Powder Days is available now from Hanover Square Press.
---