Gilded Age Parties Were Even Wilder Than You Can Imagine
Renée Rosen Runs Down the Great Balls of the
19th-Century One Percent
When I began writing The Social Graces, set during the Gilded Age, I knew I would include Mrs. Astor's annual Ball, which was the most highly anticipated event of the season. Always held on a Monday night in January at her Fifth Avenue brownstone, the Grande Dame of society entertained 400 carefully curated guests, known as The Four Hundred. They dined on a lavish dinner and danced the quadrille until the wee hours, walking away with tasteful party favors like nosegays for the ladies, boutonnieres for the gentlemen. But as the new money, or the Nouveau Riche as they were known, began inching their way into Mrs. Astor's old money, Knickerbocker society, what started as understated, dignified gatherings soon ratcheted up to ostentatious displays of immense wealth. Even in my wildest imaginings, I could not have conjured up such antics. Trust me when I say fact is stranger than fiction. Here's a look at some real, honest-to-goodness balls that took place during the Gilded Age, many of which have been reenacted in the pages of my novel.
*
Patriarch Balls
It all began with the Patriarch balls, also known as marriage marts. In an effort to find suitable husbands for her four daughters, Mrs. Astor, along with the pompous, self-proclaimed tastemaker of the day, Ward McAllister, created a series of subscription balls. In order to maintain society's exclusivity, the invitations only went to 25 carefully selected gentleman, who in turn were asked to invite nine additional guests: four debutantes and five eligible bachelors. At midnight, they arrived in the ballroom of the famous Delmonico's restaurant and danced while accompanied by the Lander's Orchestra. At 1:30 in the morning they sat down for supper; nine courses served on gold French Limoges plates. More drinking, dancing and much matchmaking followed until dawn.
Alva's Masquerade Ball
Having never been invited to either the Patriarch balls and certainly not Mrs. Astor's annual ball, upstart, Alva Vanderbilt, wife of William Kissam Vanderbilt, took matters into her own hands. On March 26, 1883 she threw her famous masquerade ball, commemorating the completion of her new Fifth Avenue mansion, Petit Chateau. Suddenly Mrs. Astor's annual ball was being eclipsed by a flashier, fancier party, which sent 1,200 guests flocking to jewelers, cobblers and dressmakers, in search of the perfect costume. For months New York's wealthiest families were whipped into a frenzy as they obsessed and planned for this one glorious event.
On the big night, the stuffy Knickerbockers and the gaudy Nouveau Riche came together under one roof, parading around as Little Bo Peep, Daniel Boone, Mozart and countless Louis XVIs, various queens and Joans of Arc. Mrs. Cornelius Vanderbilt II arrived in an electric light costume including a torch which she illuminated with the switch of a button concealed in her pocket. Another one of Alva's sisters-in-law dressed as hornet with a diamond-studded beehive headdress. Socialite Kate "Puss" Strong displayed her love of all things feline by wearing a taxidermied cat on her head with half a dozen tails adhered to her gown.  Dinner was catered by Delmonico's and was not served until two o'clock in the morning. After throwing $11,000 on flowers alone and another $65,000 on champagne, it's easy to see how Mrs. W. K. Vanderbilt spent an incredible $250,000 ($6 million today) for her party.
The Servants Ball
Alva's masquerade ball was the first of many themed balls and it seems quite tame compared to what was about to come. After a slew of elaborate hat balls, the all-white blanc ball, the all-red rouge ball and balls of every other imaginable color, the financier, Henry Clews and his wife, Louise decided to swing the pendulum the other way and hosted a servants ball. Once again, their guests rushed to their dressmakers, but this time they requested rags and uniforms be designed, and of the finest fabrics, of course.
Henry Clews greeted his guest with a feather duster in one hand and a bucket in the other. Dressed as butlers and footmen, ladies' maids and laundresses, the smart set played their roles to the hilt going to far as to ambush the kitchen in an attempt to make their own supper. It was reported that while one guest fried eggs, another boiled lobster tails. When it came time for their feast, the dining room table had been replaced with wooden boxes for chairs and instead of damask napkins, they dabbed their mouths and wiped their hands on old newspapers. Talk about being tone deaf, I imagine it was quite a mess for the Clews' actual servants to clean up.
After a similar hobo ball and other copycat balls were thrown, New York's elite grew bored and decided to up the ante with a menagerie of animal themed balls.
The Horse Ball
One of my favorites was the horse ball at Sherry's, another popular restaurant of the day. Hosted by the industrialist, C.K.G. Billings, this extravaganza for 36 of his fellow horse-loving friends cost $50,000, ($1.3 million today). Sherry's elegant ballroom floor was covered with hay and the horses had bottles of champagne in their saddle bags from which the guests drank through long tubes. While still on horseback, they enjoyed a multi-course dinner. I looked but could never find out how they handled all the manure that night.
The Dog Ball, Circus Ball & Prince Del Drago Ball
Not to be outdone, the flamboyant Harry Lehr and his accomplice Mamie Fish threw the dog ball at Crossway's, Mamie's forty-room "cottage" in Newport. One hundred guests, with dogs in tow, arrived wearing fancy hats and diamond collars, one costing $15,000 (worth more than $300,000 in today's money). While the humans dined in one room, a separate room with tables was setup for the dogs, who indulged on their own three course meal of stewed liver and rice, biscuits and bones. Unfortunately, one of the pups was such a glutton, the poor fella passed out and slept through the rest of the festivities. This little gathering set Mamie and Harry back about $50,000.
Because the dog ball had been such a success, Mamie Fish was inspired to throw her famous Circus Ball, complete with an elephant as the main attraction. Just imagine New York's elite lined up in a Gilded Age mansion with peanuts in their hands as a 12,000-pound elephant clomped about. But Mamie wasn't through outdoing herself. Next came her ball honoring the mysterious Prince Del Drago of Corsica who turned out to be a chimpanzee. The little tuxedoed chimp certainly surprised her 400 plus guests. But the real fun began when the furry little prince grew bored with the upper crust and decided to liven things up by swinging from the chandelier while lobbing champagne glasses into the crowd.
The Bradley-Martin Ball
Once the animal novelty had run its course, it was time to return to a good old-fashioned costume ball which brings us to the famous Bradly-Martin ball, held on February 10, 1897 at the Waldorf Hotel (before it became the Waldorf-Astoria, a story unto itself, also included in The Social Graces). Never mind that the rest of the country was still in the grips of the financial Panic of 1893, it has been estimated that by today's dollars, it would have cost nearly $10 million to throw this bash. The 1,500 guests spent nearly $400,000 on their costumes alone with several appearing as Mary Queen of Scotts, Marie Antoinette, Henry IV, George Washington and the Duke of Guise. Transforming the hotel into a replica of Versailles with Louis XV furnishings certainly wasn't cheap. Neither were the party favors which included jewelry for the ladies and cigars wrapped in $100 bills for the men. Given that most families existed on barely $400 a year, the Bradley-Martin ball drew considerable backlash from the public.
Though there were other elaborate and controversial balls to follow, (most notably the 1905 James Hazen Hyde Ball in which the host was accused of expensing the costs to the company he chaired) for the most part, the Bradley-Martin ball marked the beginning of the end for such Gilded Age galas. I suppose you could say that when all was said and done, the upper crust choked on their own conspicuous consumption.
__________________________________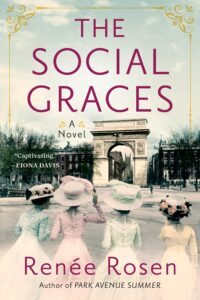 The Social Graces by Renée Rosen is available now via Berkley Books.
---