Ring the alarum-bell! It's your first look at Denzel Washington and Frances McDormand as literature's favorite murderous power couple, the Macbeths. (Unrelated: should someone should write a contemporary adaptation in which Lady Macbeth is a #GirlBoss and Macduff is a journalist at Business Insider?)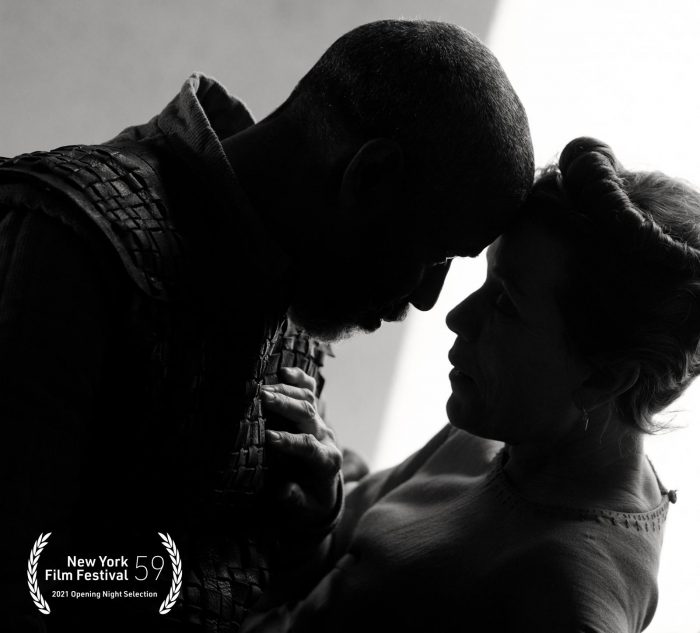 Along with the photo came the announcement that The Tragedy of Macbeth, written and directed by Joel Coen (sans Ethan, who, according to the film's composer Carter Burwell, "wanted to do other things") will open the 59th New York Film Festival on September 24.
From the New York Film Festival's announcement:
In meticulously world-weary performances, a strikingly inward Denzel Washington is the man who would be king, and an effortlessly Machiavellian Frances McDormand is his Lady, a couple driven to political assassination—and deranged by guilt—after the cunning prognostications of a trio of "weird sisters" (a virtuoso physical inhabitation by Kathryn Hunter).
Well, it sure seems like the film is well placed to chart on Lit Hub's next ranking of the best Shakespeare adaptations (AKA the Oscars of "What's Lit Hub?"). Aside from the powerhouse leads, I'm particularly intrigued by the description of the witches. There's no release date for the film yet, but keep an eye out (not in a Shakespeare way—in a figure of speech way).