The Best 90s Screen Adaptations of Shakespeare, Ranked
Do You Want This in Iambic Pentameter?
Remember when Hollywood was obsessed with bringing updated Shakespeare plays and literary classics to the big screen—instead of just chewing over old franchises until they become gray and grainy, like gum? Oh yes. I'm talking about the 1990s. A lot of adaptations of Shakespeare's plays graced our screens in the grungiest decade, and most of them were actually pretty good! Or at the very least, I think of them fondly—besides, everyone knows there's a different standard for quality when you loved something as a teenager, and also when it was the 90s—and below, I've ranked some of the most memorable.
Now, before you start in on the omissions: I know The Lion King was inspired by Hamlet, but it's not credibly an adaptation. Same goes for Rosencrantz & Guildenstern Are Dead—and I'd argue that My Own Private Idaho is too loose and expansive to really count (and most of the Henry IV stuff is around Keanu Reeves and his character). Ethan Hawke's Hamlet, alas, came out in 2000. And it may be a fool's errand to rank teen rom-com updates alongside unabridged, four-hour Shakespearean-language tragedies, but what the hell—Shakespeare loved fools.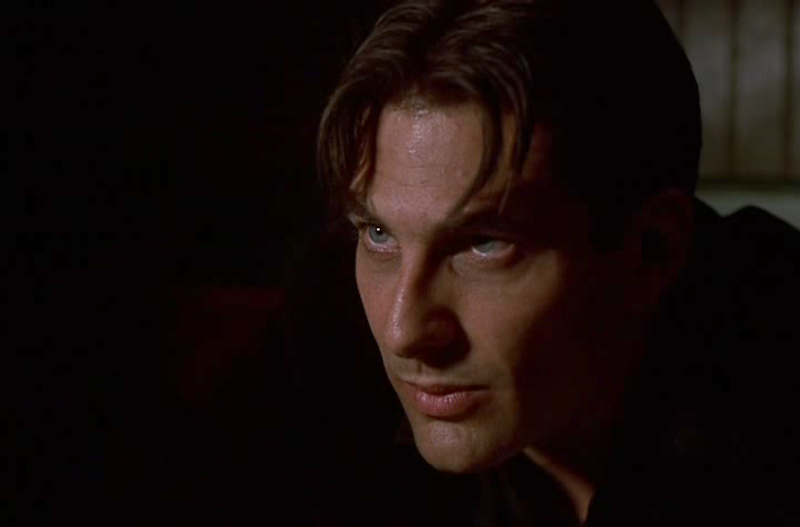 12.
Let the Devil Wear Black, dir. Stacey Tile (1999)
I admit that I have not seen this "film," but from the trailer and reviews, it appears that even Mary-Louise Parker could not save this slimy, over-the-top adaptation of Hamlet, whose tagline is "Something is Rotten in the City of Angels." It looks pretentious and also sounds pretty gross (one sex scene involves Pepto Bismol used as lube), but at least they admit from the jump that Hamlet has mental health issues. Unfortunately, he's also a total prick.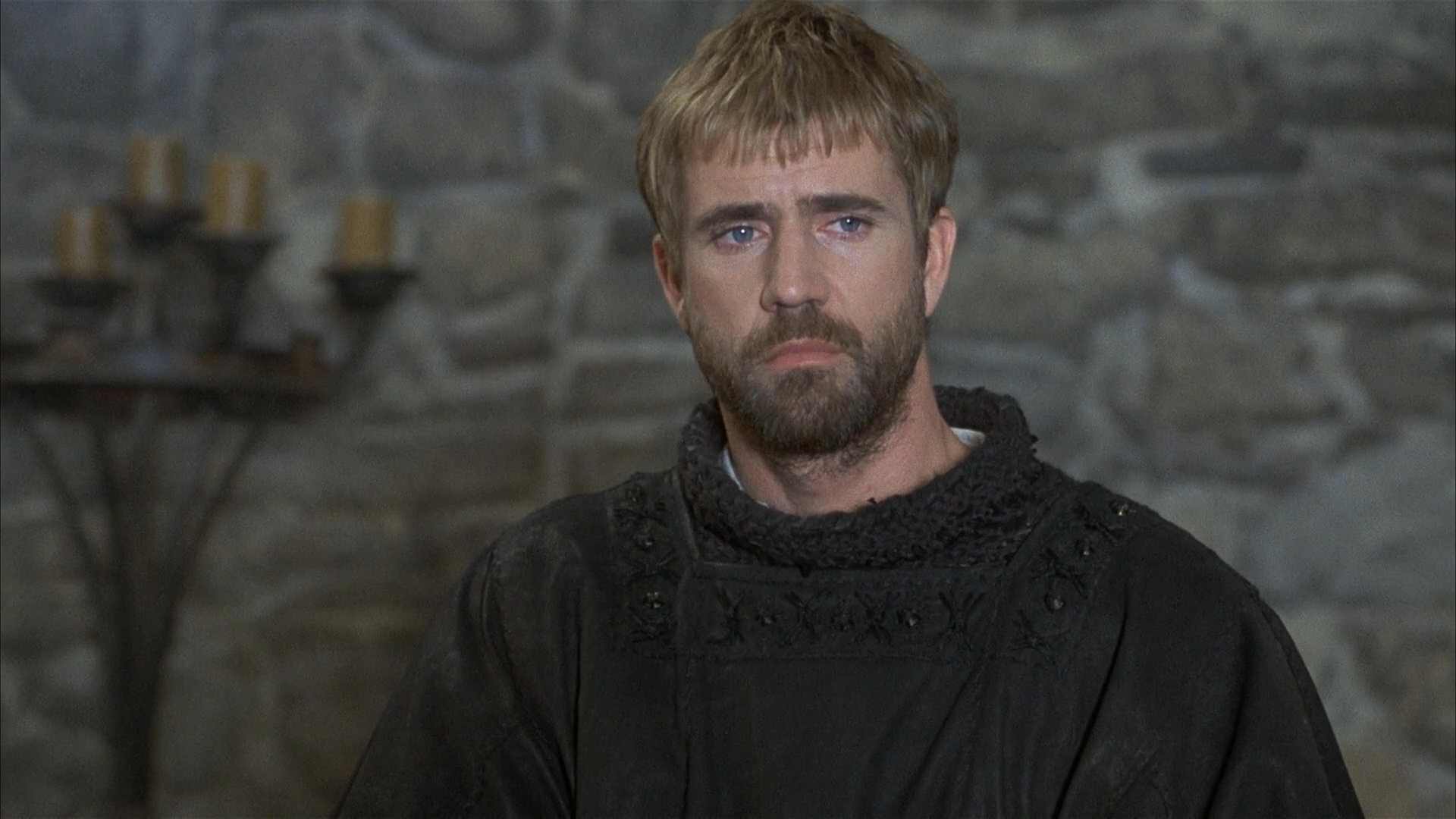 11.
Hamlet, dir. Franco Zeffirelli (1990)
Fine, but a little pedestrian. The bro's Hamlet. I mean, it's Mel Gibson, after all (though it's also Glenn Close, Helena Bonham-Carter, and Ian Holm). In a contemporaneous review in the New York Times, Caryn James wrote that "Mel Gibson's Hamlet is strong, intelligent and safely beyond ridicule." Safely beyond ridicule, you say? The lady doth protest too much. I mean, for starters, look at that hair.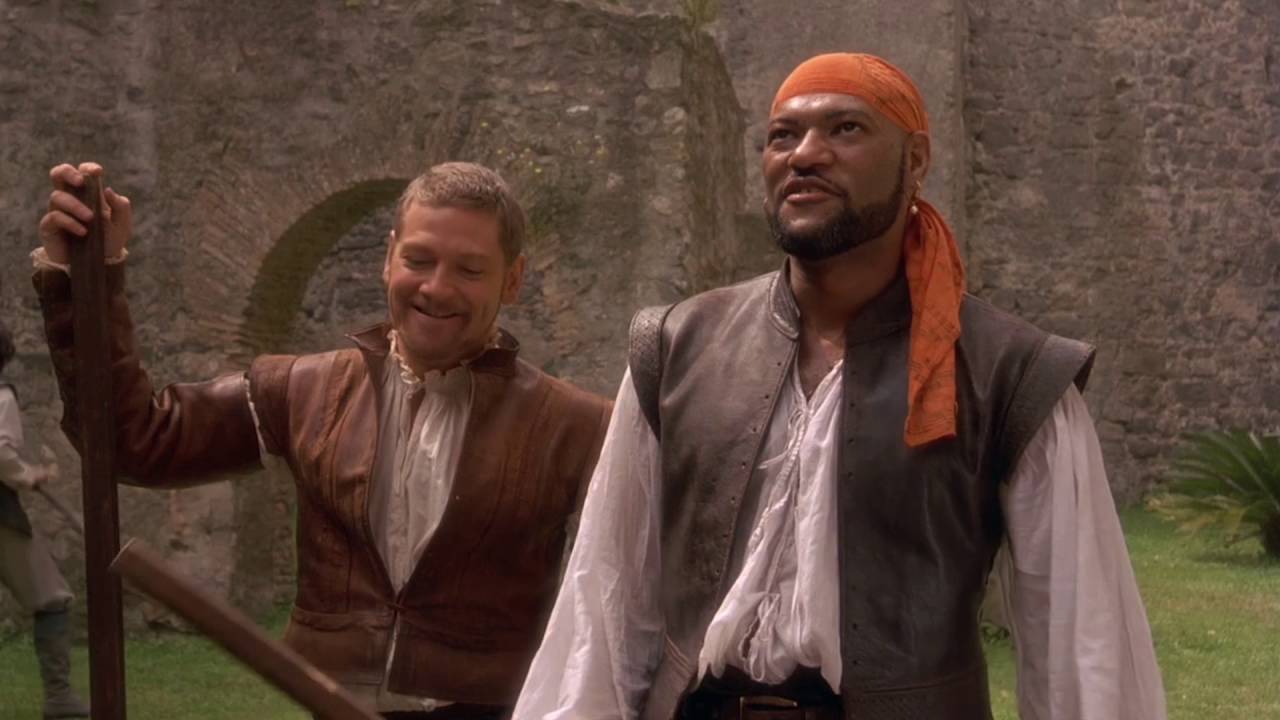 10.
Othello, dir. Oliver Parker (1995)
Kenneth Branagh is by all accounts the best part of an adaptation that is otherwise just okay (though Laurence Fishburne is pretty good too). Roger Ebert writes:
Parker's adaptation slices and dices the original until the movie almost could have been based on the "Othello" pages from Bartlett's Familiar Quotations. With the time he saves, Parker gives us a distractingly modern soft-core sex scene and montages that summarize offstage action that the play itself is hardly concerned with. Even worse are scenes where characters talk unheard under the music on the soundtrack; no composer—no, not even Charlie Mole—can improve on Shakespeare.
Entertaining, but no patch on the play.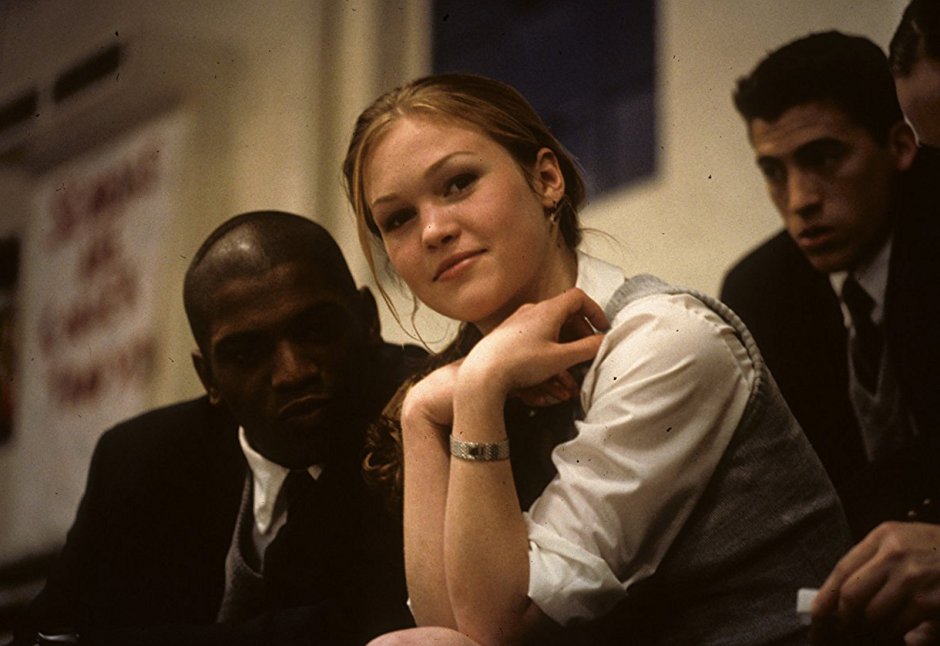 9.
O, dir. Tim Blake Nelson (2001)
Julia Stiles and Andrew Keegan in the lesser of their two 90s Shakespeare adaptations. More importantly, this movie also features Josh Hartnett and Mekhi Phifer, who were both really hott. And Martin Sheen! Come on. Admittedly, O came out in 2001—but it was originally scheduled to open in April of 1999, and was delayed because of Columbine, which in my book makes it an undeniable 90s movie. Also, despite the fact that it got decidedly mixed reviews when it was originally released, and might officially be Bad, it's also kind of great—incendiary jealousy, on which the plot hinges, is particularly potent in high schoolers, after all—if just as preposterous as all of the rest of these movies and also Shakespeare's plays.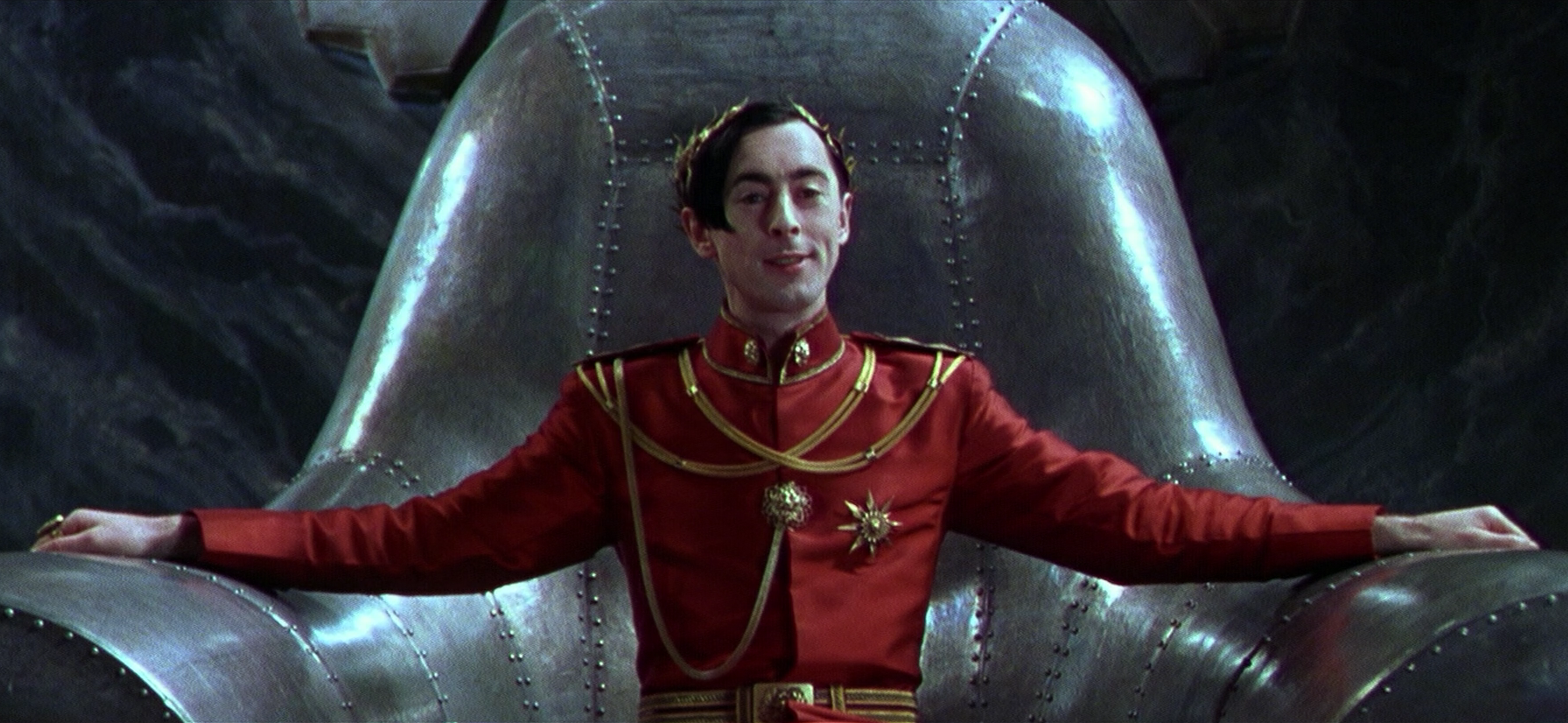 8.
Titus, dir. Julie Taymor (1999)
Full disclosure: I can't really be trusted to rank this movie accurately, because I saw it when I was 13 years old and still have bad dreams about the scene in which Lavinia gets raped and has her hands cut off and replaced with bundles of sticks, and then when her uncle comes to find her, asking what happened, she opens her mouth and nothing but blood comes out, because oh look, they also cut out her tongue. Though it probably says something positive about the film as a work of art that it still haunts me nearly 20 years later. The only other thing I actually remember about it—besides thinking I should have known, a Titus Andronicus (the bard's most brutal play) with Anthony Hopkins—is the gloriously evil Alan Cumming. At the A. V. Club, Scott Tobias writes:
Featuring enough dismembered parts to construct several new bodies, Titus strikes a near-impossible balance between magnificently cracked high camp and a more serious statement about corruption and the cycle of violence. It's heavy going on both counts, but Taymor's audacity is something to behold, even if the sum of her conceits borders on oppressive. . . Bold and decadent, Titus is built on jarring and darkly comic juxtapositions, colliding the past with the present, garishness with serene poetry, and wild excess with chilly aestheticism, like an arranged marriage between the shamelessly lusty Ken Russell and the anti-sensual Peter Greenaway.
Maybe one day I'll get up the nerve to watch it again.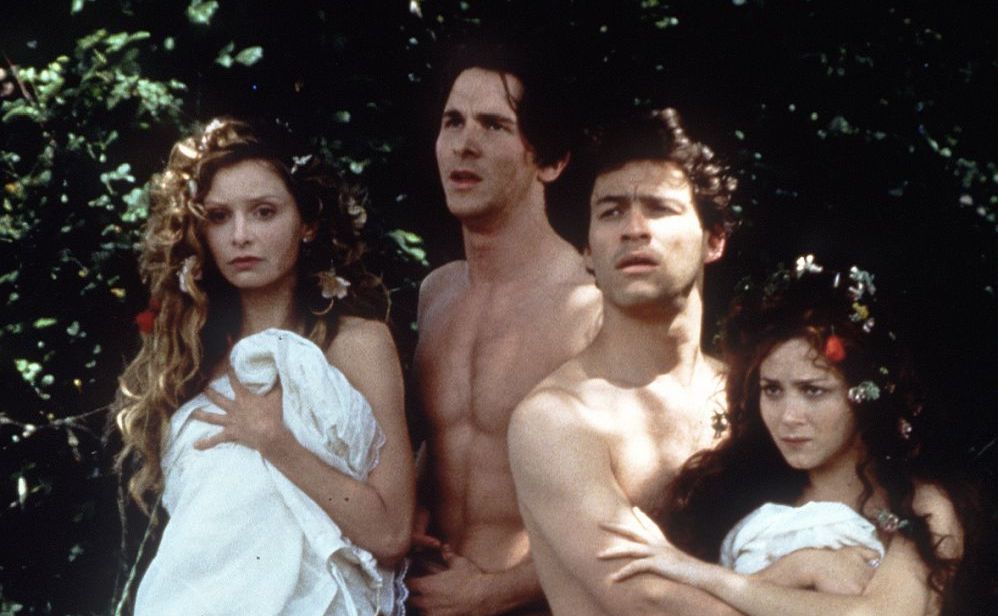 7.
A Midsummer Night's Dream, dir. Michael Hoffman (1999)
It's amazing how star-studded all these adaptations are—this one boasts Kevin Kline, Sam Rockwell, Michelle Pfieffer, Rupert Everett, Stanley Tucci, Calista Flockhart, Christian Bale, and Dominic West. Anna Friel is the least famous major cast member, and even she has an Emmy nomination. As a kid, I remember being totally hypnotized by the lushness of this adaptation (the inherent lushness of the play is underscored by this Tuscany setting—and just look at all the flowers casually strewn in the women's hair), but on reflection it's quite uneven—all of the fairies (Tucci's Puck, Everett's Oberon, Pfieffer's Titania) are fantastic; aside from Kevin Kline's Bottom (who is only sometimes human anyway) the human scramblings are rather less compelling. Well, to be fair: 'twas ever thus.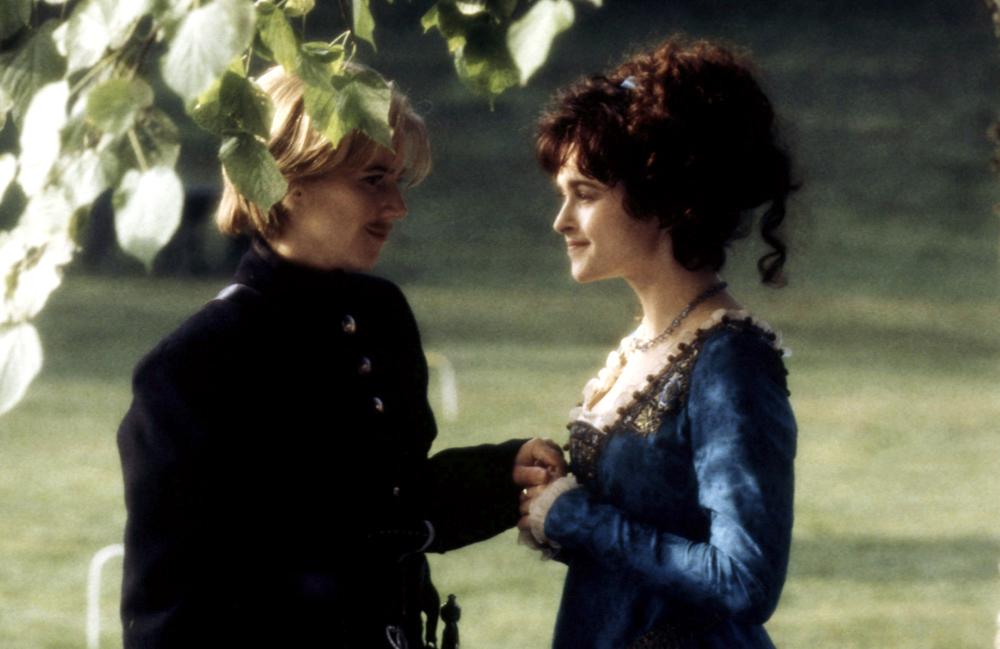 6.
Twelfth Night, dir. Trevor Nunn (1996)
This play is not often filmed, in part because it really tops the charts in terms of absurdity. I mean, a girl gets shipwrecked, washes up and decides to dress up like a man to survive. A mourning countess falls in love with her (thinking her a man), while she falls in love with the man who is wooing the countess, and being his manservant, has to do torturous things like give him sponge baths—and oh, then her twin brother shows up. But Helena Bonham-Carter and Imogen Stubbs rather pull it all off, and as a bonus, Ben Kingsley is running around hilariously as Feste.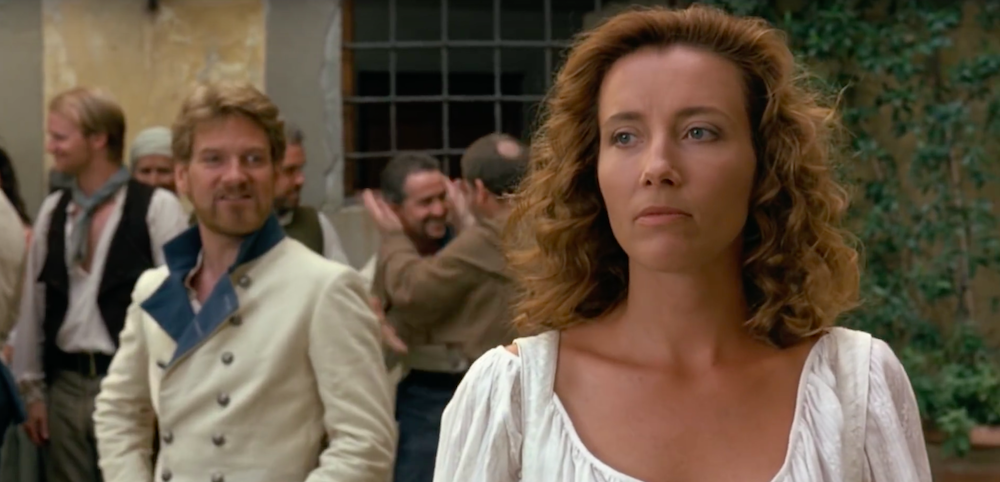 5.
Much Ado About Nothing, dir. Kenneth Branagh (1993)
Much Ado is my favorite Shakespeare play, despite the fact that the plot is pure and utter nonsense—not just because in it, Shakespeare is both inventing and subverting the romantic comedy, but also because of the fantastic, heroic Beatrice, who I'd argue is the best character in the comedies entire. ("Oh God, that I were a man! I would eat his heart in the marketplace.") She is wonderfully portrayed here by Emma Thompson, who at the time was married to her Benedick, Kenneth Branagh. There's also the film debut of Kate Beckinsale as Hero, a very alluring Denzel Washington as Don Pedro, a terrible, wooden Keanu Reeves as the villain, and Michael Keaton, who is fine as Dogberry. It's all fun, and very theatrical—the effect is of the very best straightforward stage performance of Much Ado you've ever seen transported into your living room.
Also, though this is a list about the 90s, I would feel remiss if I did not mention Joss Whedon's 2012 Much Ado here. It is wonderful, maintaining the Shakespearean language in a modern setting—Whedon's own house, in fact—with the added visual element of being in black and white. It's so different from Branagh's lush version that I can't really choose between them, though Whedon might have the edge for anyone who has been harboring a grudge against him for what happens with Fred and Wesley (that would be me). A hint: this film begins, with Amy Acker as Beatrice and Alexis Denisof as Benedick, by making your dreams come true.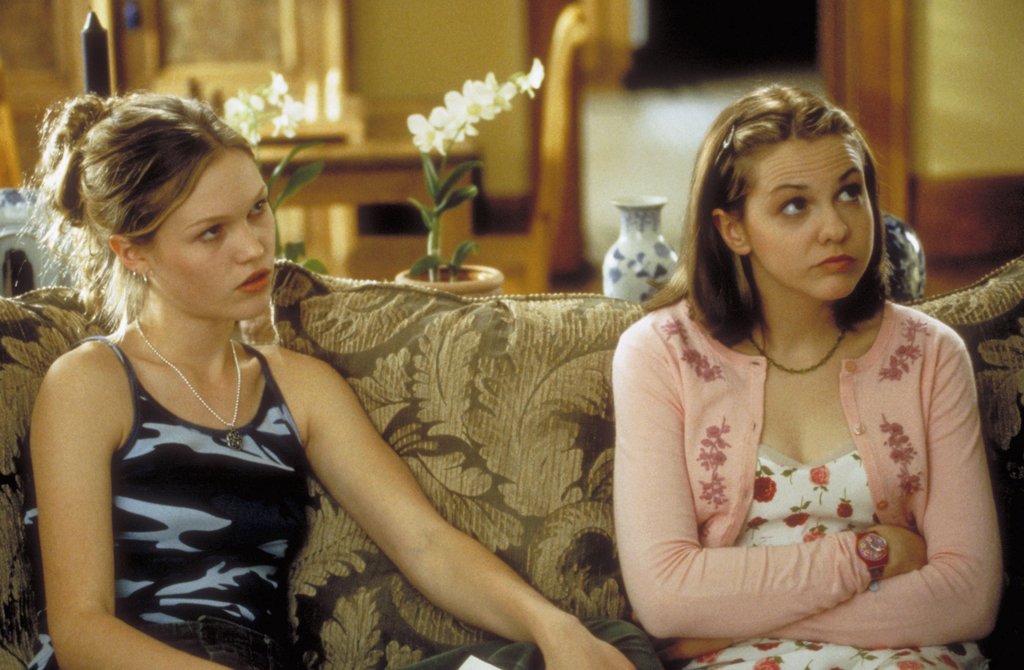 4.
10 Things I Hate About You, dir. Gil Junger (1999)
The Taming of the Shrew is not one of Shakespeare's better plays. But that really doesn't matter, because 10 Things I Hate About You is a masterpiece. Or at least it's a (the?) masterpiece of the 90s teen romantic comedy genre. Starring Julia Stiles (who is brilliant in this movie), Heath Ledger, Joseph Gordon-Levitt, and Larisa Oleynik, overflowing with witty repartee (which, by the way, reflects the experience of a contemporaneous viewer of one of Shakespeare's play), it is a delight at every turn—while still asking some of the same questions the original play did: Who should have control? How is real love made and shown? What is everyone wearing?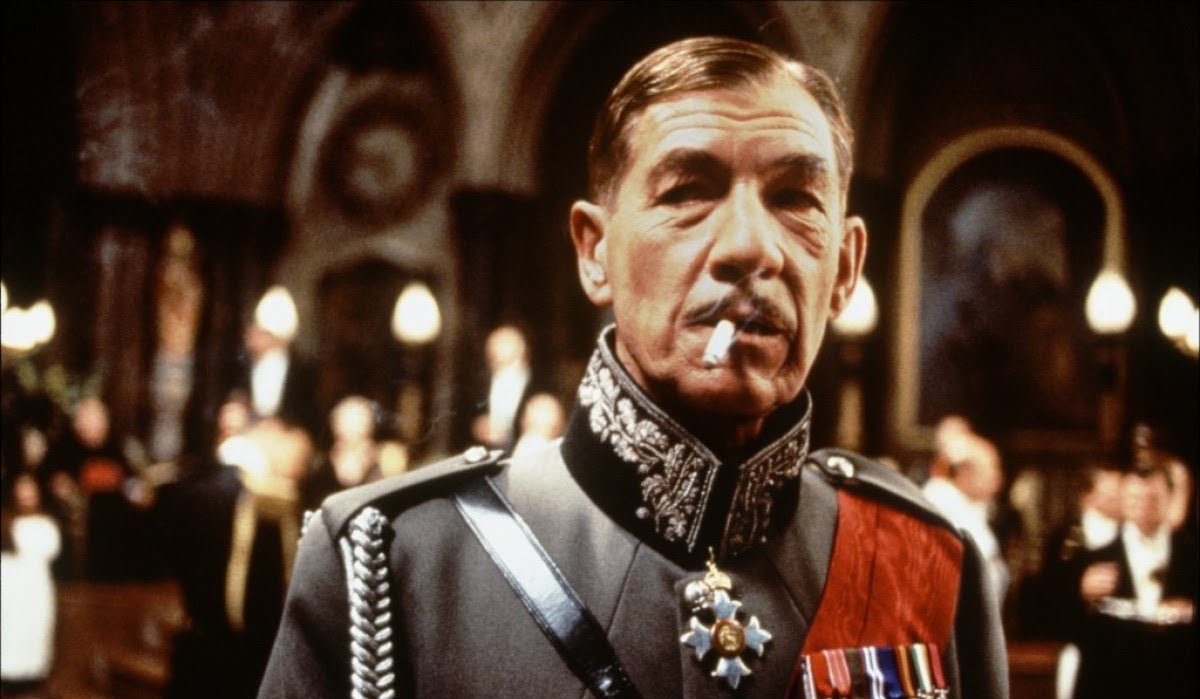 3.
Richard III, dir. Richard Loncraine (1995)
It's probably Shakespeare's fault that Richard III is so widely thought of as a villain (reading The Daughter of Time changed a lot for me, I admit—he's innocent!), and Sir Ian McKellen's Richard—set in a hypnotic 1930s-esque alternate England—is the most villainous version I have ever seen, and the best. He is very evil, and self-aware, and uncannily sexy. Roger Ebert called the movie "perversely entertaining" and compared McKellen's Richard to Hannibal Lecter, which is apt. Also: Annette Bening, Jim Broadbent, Robert Downey Jr., Nigel Hawthorne, Dame Maggie Smith, and Dominic West (again).
"There is a wonderful tension in this movie between a history that never happened and what might have happened," said McKellen in notes about the movie on his website. "Is it credible, could there be such horror going on in such high places? Well, yes: in this century of tyranny, the 1930s is the most recent period of history when it was possible for an English King to rise to a political dictator. When you put this amazing old story in a believable modern setting, it will hopefully raise the hair on the back of your neck, and you won't be able to dismiss it as 'just a movie' or, indeed, as 'just old-fashioned Shakespeare.'" It certainly is not.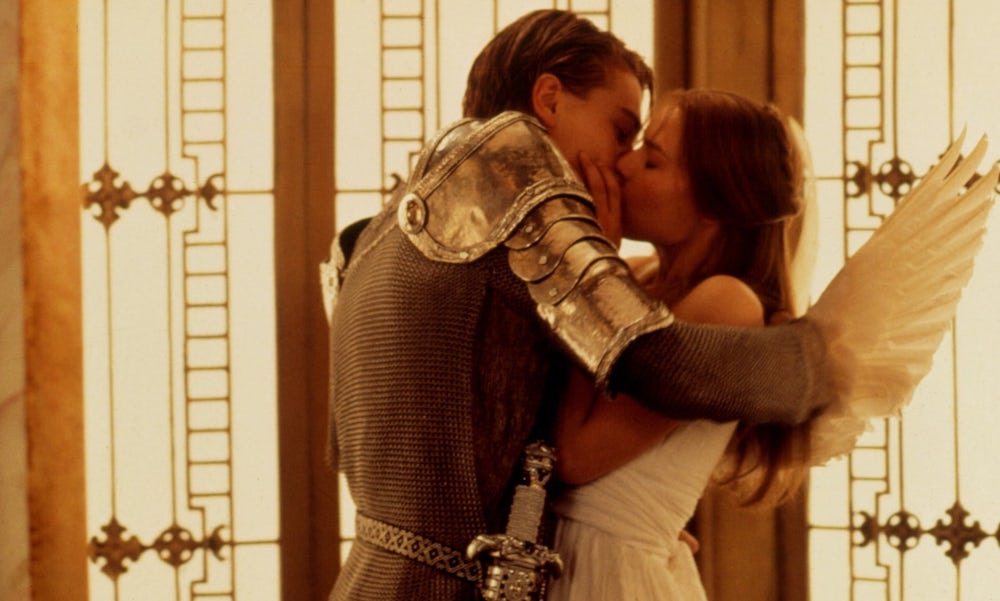 2.
Romeo + Juliet, dir. Baz Luhrmann (1996)
Baz Luhrmann is always divisive, but I think this one takes home the title as the most iconic 90s Shakespeare movie—which doesn't necessarily have any bearing on how good it is. Except of course it does, because nostalgia! Also, it's amazing. I mean, for the soundtrack alone it should crack the Top 5: Radiohead, the Cardigans, Garbage, Everclear (personal teen angst fave, don't @ me). Luhrmann's dizzy, dramatic phantasmagoria of teenage dreams turns the Montagues and Capulets into two rival mob families fighting it out in Verona Beach. Claire Danes, only 17 at the time, is obviously divine as Juliet (apparently she was third choice, after Natalie Portman (too young next to 21-year-old DiCaprio) and Sarah Michelle Gellar (scheduling conflicts), but now she seems unimpeachable in the role), but John Leguizamo is almost more memorable as Tybalt. The whole thing is messy, overblown, and glitter-encrusted, but endlessly magical—the feature film equivalent of that first true lovers' glance across the room.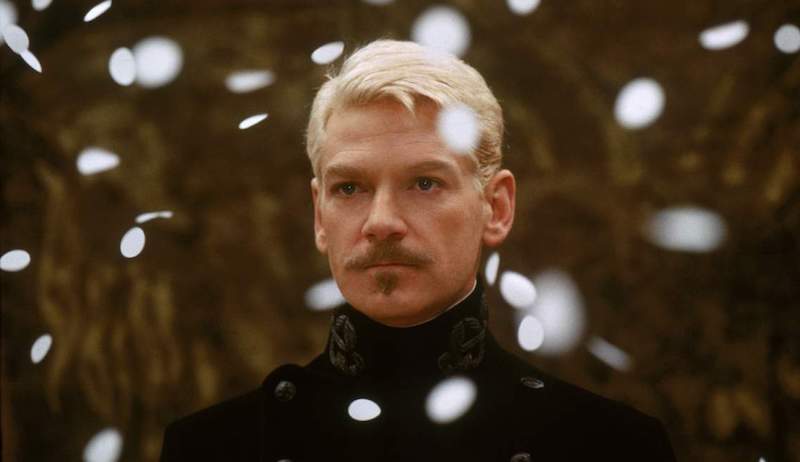 1.
Hamlet, dir. Kenneth Branagh (1996)
Sorry, I can't help it—I'm a purist. Branagh's Hamlet was the first film to depict the play unabridged, running over four hours. It's wonderful. All four hours are riveting, which is reason enough to win it the top spot here. Branagh, silly though I sometimes find him, even elevates the now-tired "to be or not to be" soliloquy—it is so perfectly shot in front of that disorienting mirror. The whole production is grand, visually intense and scrupulously acted—I would expect nothing less with the talent on hand (just to scratch the surface of the huge and very famous cast, we have Derek Jacobi, Kate Winslet, Robin Williams, Timothy Spall—even Billy Crystal as a gravedigger), but even so, this movie is a triumph.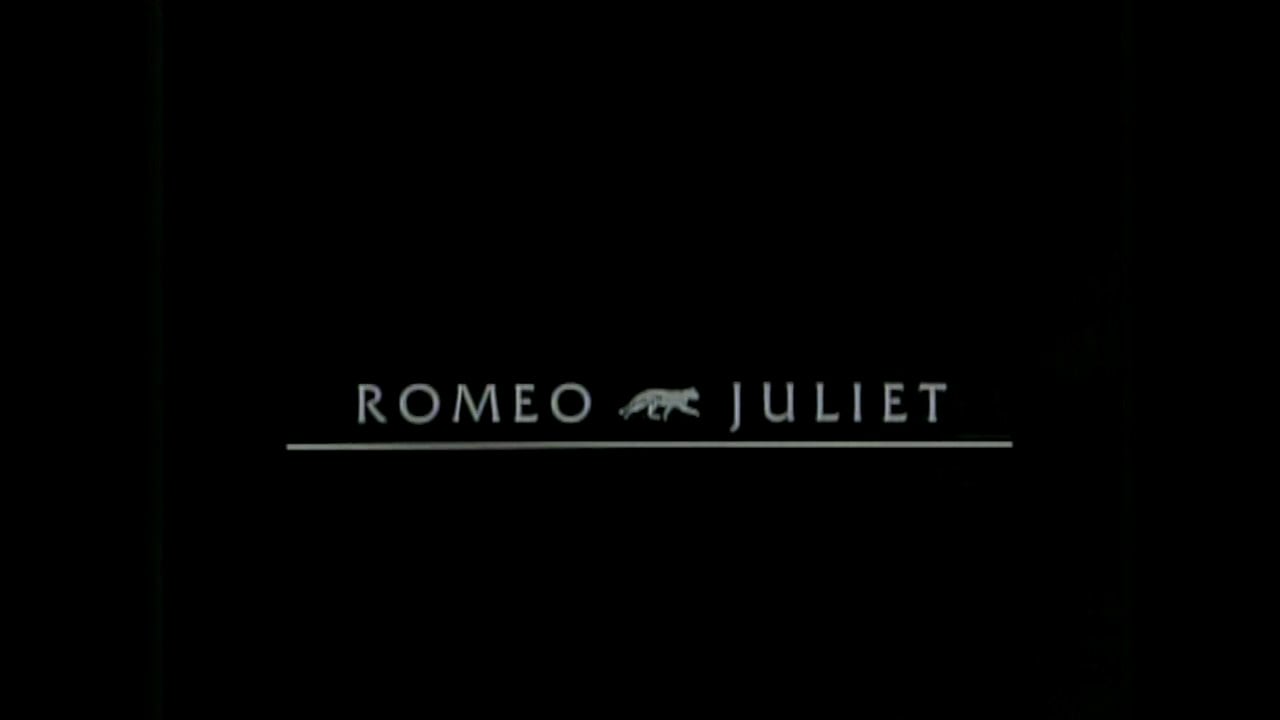 Honorable Mention:  Romeo.Juliet, dir. Armondo Linus Acosta (1990)
I would love nothing better than to rank this all-feral-cats production (you heard me) of Romeo and Juliet, for which Acosta filmed the cats of Venice (108 of them) for hundreds of hours and then had them voiced by Maggie Smith, Ben Kingsley, Vanessa Redgrave, and John Hurt (who also plays the bag lady herding the cats on a boat to the new world, the only human character in the movie) and set the whole thing to Sergei Prokofiev's Romeo and Juliet as performed by the London Symphony Orchestra—but I can't find it anywhere. From what I can tell, it looks amazing.
---