From the Golden Age to… Roombas: 8 Essential Books About Artificial Intelligence
Michael Wooldridge Helps Us Prepare for Our Robert Overlords
The field of Artificial Intelligence (AI) is concerned with building machines that have the same capabilities that human beings have. If the ultimate dream of AI is ever realized, then we will have machines that can do everything a human being can do: read a book, write a book, understand a joke, make an omelette, ride a bicycle, drive a car, tie a pair of shoelaces—everything.
For now, and for the foreseeable future, however, the ambitions of AI are considerably more modest. Current AI is mostly aimed at getting computers to do very specific tasks which currently require human brains, rather than trying to build "general" AI systems, which can do everything. And the past decade has witnessed a lot of progress in this respect, which is why the field is so feted right now. We have computers that can do a passable job of translating between an astonishing range of languages; computers that can automatically caption pictures and identify key elements within them; and we are tantalizingly close to the dream of driverless cars (although we may well remain tantalizingly close for some decades to come).
With all the recent excitement and progress, you might reasonably assume that AI is a new discipline, but in fact it has been with us since the mid 1950s. Since then, a range of different approaches to AI have been proposed with the hope that they will provide a silver bullet for building intelligent machines—but with exhausting regularity, each has ultimately proved to be of limited value at best, a dead end at worst. The current wave of AI, called deep learning, is based around using ideas from the microstructure of the brain and nervous system to inform the design of neural networks: massively interconnected networks of very simple computational elements, which collectively are capable of learning to carry out complex tasks.
Whether deep learning and neural networks will prove to be another dead end (and lead to another "AI winter," in the parlance of the AI community) remains to be seen. I doubt that deep learning alone will be the magic ingredient—it may be part of the recipe, but that recipe will surely contain many other ingredients, some of which we probably can't even guess at right now.
My reading recommendations below reflect the rich and diverse history of AI. I have included some books that were enormously influential in their time, even though the ideas they espoused are wildly unfashionable in the present day. My hope is that if you read this collection, then you will have a good grasp of the trajectory of the field as a whole, and the ideas that have shaped it from its inception in the mid-1950s through the present day.
*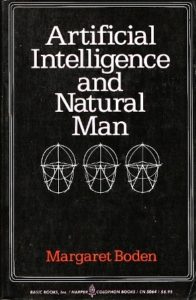 Margaret Boden, Artificial Intelligence and Natural Man
(Basic Books)
As I mentioned above, the "grand dream" of AI is not really in the mainstream of contemporary AI, but that doesn't make it any less fascinating as a topic to think about. It raises many fundamental philosophical questions: can a machine really be conscious and self-aware in the same way that a person is? Can a machine have subjective experiences in the same way that we do? How can we know whether a machine really is conscious, self-aware, etc., rather than just imitating these things? If these questions pique your interest, then Maggie Boden's evergreen classic is the place to start. Maggie is a hugely influential thinker in philosophy and AI, and she knows what she's talking about. For all that this book was published nearly half a century ago, the questions it addresses remain relevant, and endlessly fascinating, in the present day.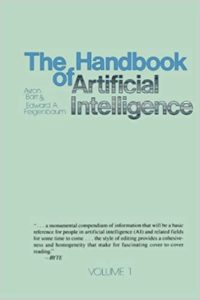 The Handbook of Artificial Intelligence (Vol. 1, 2, and 3)
(HeurisTech Press and William Kaufmann)
The early period of AI—often called the "golden age"—lasted for about two decades, from the founding of the field in the mid-1950s to the first "AI winter" in the mid-1970s, when lack of progress led to research funding drying up, and the field beginning to attract a reputation for over hyping and under delivering. These three volumes were my set texts as a student of AI in the mid-1980s, and I find them fascinating as a record of the work that was done during this time. They provide a comprehensive account of the first computer systems to exhibit the attributes of intelligent behavior: the first systems that could learn from experience, plan and solve problems, and understand ordinary human languages. Long out of print, you can readily find copies online, and any university library worth its salt will have copies. I can spend hours browsing these books—they transport me back to the AI labs of MIT and Stanford in the 1970s, when the field was fresh and full of optimism, and truly intelligent machines felt like a tangible possibility.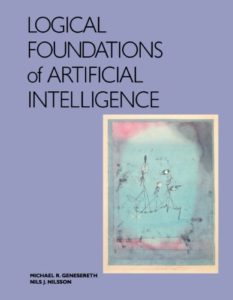 Michael R. Genesereth and Nils J. Nilsson, Logical Foundations of Artificial Intelligence 
(Morgan Kaufmann Publishers)
I love this book because it is the purest expression of one of the most important—albeit now deeply unfashionable—strands of AI research. The guiding principle that underpins this book was first espoused by John McCarthy, the man who gave the name to the field of AI. McCarthy's idea was intelligent behavior could be reduced to reasoning—and more particularly, logical reasoning. According to McCarthy, an intelligent machine would be one that reasons logically about what it should do. It was a beguiling idea, and hugely influential in its time, although it is now more of historical interest than a mainstream research direction. Nevertheless, this is a fascinating book, beautifully written, and well-worth reading. (I ended up buying two copies: one for home and one for the office, because I got fed up with always taking the book home to read and then taking it back into work the next day. That says something, surely!)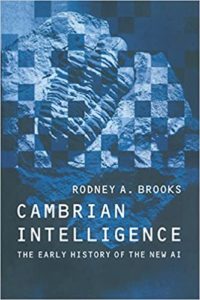 Rodney Brooks, Cambrian Intelligence
(MIT Press)
McCarthy's dream of logical AI began to fade from prominence in the late 1980s, as it became clear that it simply wasn't very practical in many settings. One of the ideas that sprang up to replace it was called behavioral AI, and the best-known champion of the new AI was Rodney Brooks, then a robotics professor at MIT. Brooks believed that AI had suffered from focussing too much on "toy" problems, and that progress with AI required machines that carried out real tasks in the real world. He loudly championed an alternative approach, based on systematically building real-world robots that exhibit progressively richer and richer behaviors. If he had been just another critic of AI, then I suspect his ideas would not have gained much traction—by the late 1980s, AI researchers were well-used to cheerfully ignoring critics. But Brooks demonstrated his ideas in a range of impressive robots, and you may even have a robot inspired by Brooks' work in your home: he was a co-founder of iRobot, the company that makes the Roomba robot vacuum cleaners. This book collects together Brooks' main articles from the period. It positively buzzes with ideas, and you get a very vivid sense of the gauntlet being thrown down by the new AI, challenging the existing orthodoxy.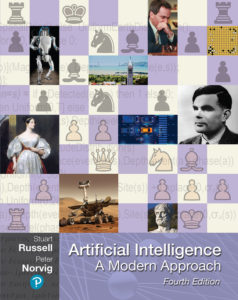 Stuart Russell and Peter Norvig, Artificial Intelligence: A Modern Approach (Fourth Edition)
(Pearson)
The first edition of this book appeared in the early 1990s, and I think it is fair to say that at that time AI was in the doldrums. The field had become subdued after two decades of wildly varying fortunes, and it increasingly seemed to be on the fringes of contemporary computing. This book changed that. It is commonly described as the book that systematized the study of AI, and for once the hype is justified. For the first time, a single volume placed all the disparate elements of the field into a coherent narrative. It was, and remains, a genuinely astonishing work of scholarship, and I think it is highly unlikely to be bettered in the foreseeable future. The book is now the most widely adopted textbook on AI, and I use it as a reference work on a weekly basis. It comes with a vast array of teaching materials (including software) and there is an active online community supporting it. The most recent edition of the book appeared in late 2020, and I was honored to be invited to contribute a chapter to it about my own research area. If you can only buy one book on this list, then this is the one to get: there is simply no other text out there that comes close to representing the entirety of contemporary AI.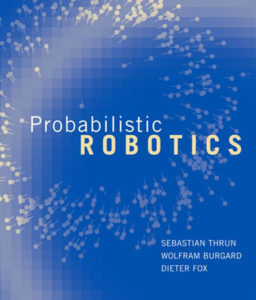 Sebastian Thrun, Wolfram Burgard, and Dieter Fox, Probabilistic Robotics
(MIT Press)
One of the landmark achievements for AI occurred in 2005, when research funding agency organized a "Grand Challenge" for driverless cars. The goal was for a car to drive itself across 130 miles of rough terrain on the California/Nevada border. Of the 195 original contenders, just 5 robotic cars successfully completed the challenge. The winner, robot Stanley from Stanford University, was developed by a team led by Sebastian Thrun, one of the authors of this book. Stanley completed the course in 7 hours, averaging about 19 miles per hour, without any human intervention whatsoever. The 2005 Grand Challenge opened the floodgates for interest in driverless cars: for the first time, this technology felt like it really would work. The achievement was a Kitty Hawk moment, likely to be as profound in its implications for human society at that of the Wright brothers a century before. This book describes the science underpinning Stanley: the AI that enables a driverless car to understand where it is, what is around it, and what it should do next.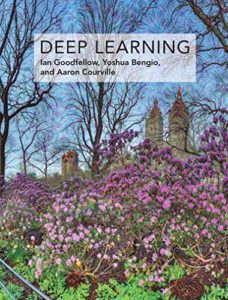 Ian Goodfellow, Yoshua Bengio, and Aaron Courville, Deep Learning
(MIT Press)
As I mentioned above, the current wave of interest in AI is based around a technique called deep learning, which began to come to prominence around about 2005. If you want to be part of the deep learning milieu, this is the book you should read. It is wonderfully written (although you'll need university level calculus to understand it), and the authors have all made substantial contributions to the new AI (Bengio was a recipient of the 2019 Turing Award—the "Nobel Prize for Computing"—for his work on deep learning).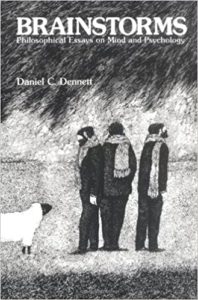 Daniel Dennett, "Where Am I?" in Brainstorms: Philosophical Essays on Mind and Psychology
(Bradford Books)
OK, this last one is a cheat. It is an essay, rather than a book, and it isn't specifically about AI—although it raises many questions of relevance for AI. It is a serious philosophical essay, but one which would quite genuinely make a wonderful Hollywood movie. The basic question it addresses is that of identity, and specifically the question: Where am I? The essay takes the form of a story, and the basic premise is that a person has their brain removed and placed in a vat, from where it controls the body from which it was removed by remote control. The brain perceives no difference; and the upshot is that the body behaves just as the individual did while the brain was in the body. But the brain and body it controls are now separated. So, where is the individual: in the vat, or in the body? I won't spoil the rest of the story, except to say it is truly mind-expanding stuff—the clever twists and turns are worthy of the very best Hollywood sci-fi, while exposing a string of genuine conundrums about the nature of identity. Dennett is a brilliant writer, mainly concerned with the philosophy of mind, but he has also written at length on AI, and he does so with charm and wit. If this doesn't whet your appetite for deep questions in the philosophy of mind and the philosophy of AI, then I don't think anything will.
__________________________________
Michael Wooldridge's A Brief History of Artificial Intelligence is out now from Flatiron.
---