From Sally Rooney to John Cheever, 6 Unforgettable Fictional Vacations
Chip Cheek Recommends Some Vicarious Travel
Since the era of the Grand Tour, vacations have been fertile ground for literature, and for good reason. What story can't be improved with a cool, evocative setting, like the Colosseum in Henry James's Daisy Miller, or the seaside resort of Yalta in Anton Chekhov's story "The Lady with the Dog"?
More importantly, vacations—when people take a break from their familiar lives to pursue happiness, have an adventure, or simply relax—are a great way to reveal character. They're poignant little acts of hope: "This Disney cruise will bring me joy!" And even when they're good, they're fraught with peril and uncertainty and often a vague undercurrent of dread and regret. ("There's so much work waiting for me back home! Why is my normal life not like this beach, this mai tai? Why have I made the choices I've made in my life?") Best of all, when things go wrong—as they must in a good story—people on vacation can't easily get away from each other, which means the tension stays high.
Having written my own vacation novel, Cape May—about that most tender, hopeful, and emotionally fraught kind of vacation, the honeymoon—I offer this highly idiosyncratic list of some of my favorite vacations in recent (or recent-ish) literature, in no particular order.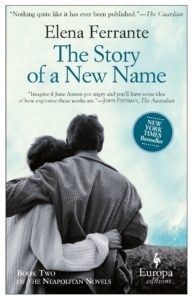 Elena Ferrante, The Story of a New Name
In the second of Elena Ferrante's utterly absorbing Neapolitan novels—which detail the turbulent relationship between Elena, the narrator, and her childhood friend Lila—the two girls, still teenagers at this point, take a long vacation to the island of Ischia in the Gulf of Naples. Lila's abusive husband, Stefano, wants to rent a house for Lila (as well as her mother and sister-in-law, awkwardly) in Torre Annunziata, a town on the Naples coast, so that Lila, newly pregnant, can rest and gather her strength. But Elena convinces her to go to Ischia instead, where the young man Elena is in love with, Nino, is staying with his family. Long, dreamy days by the sea ensue, and Elena's connection to Nino seems to deepen, but eventually things go south. Lila, who knows how much Elena loves Nino, nevertheless has a passionate affair with him, and Elena ends up losing her virginity to Nino's father. Ferrante's ability to convey the incredibly complex weave of emotions here, how they shimmer and change and change again, is stunning.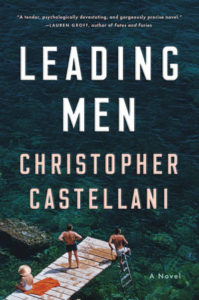 Christopher Castellani, Leading Men
Much of the action of Christopher Castellani's latest novel, which centers on the real-life relationship between Tennessee Williams and Frank Merlo, involves the hijinks of glamorous writers and filmmakers as they gallivant around the Italian Riviera. We follow them to a party thrown by Truman Capote in Portofino; we frolic with them in the Ligurian Sea; we narrowly escape with them from a pack of feral youths; we see one of them, the writer John Horne Burns, succumb to a strange illness and die. Throughout these scenes, a powerful source of tension comes from the fact that we're getting the story primarily from Frank Merlo's perspective—the perspective of an average man attached to a legendary playwright, subject to the great man's whims and mood swings. It's a glamorous life Frank is leading, a free-flowing, never-ending vacation of sorts, but he's trapped in it, without any power over its direction, and the consequences reverberate across the decades. This is a sweeping, rapturously beautiful novel.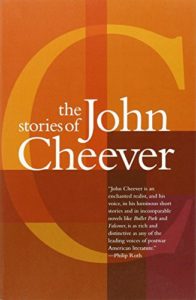 John Cheever, "Goodbye, My Brother"
Family vacations are especially ripe for tension, and that tension turns violent in this classic short story from 1951 (which, okay, isn't even recent-ish, but still, I had to include it, I love it so much). The proud Pommeroy family—a mother, daughter, three sons, and the sons' spouses and children—gather at the family's summer home on an island off the Massachusetts coast. Most of the family are blithely cheerful as they sip their gin martinis and play backgammon—except for moody Lawrence, one of the sons, whose dour observations continually undercut the family's good cheer, exposing the rot underneath. "This house will be in the sea in five years," he says of the summer home overlooking the ocean, but no one wants to hear it, and Mother stomps away to refresh her drink. The dialogue in this story is especially sharp, a bitter subtext running through it from beginning to end, when it finally bursts out in a shockingly violent act. Beware family gatherings!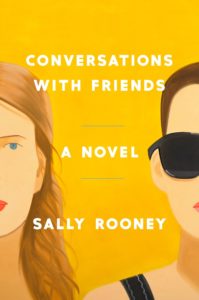 Sally Rooney, Conversations with Friends
In Sally Rooney's brilliant, understated first novel, the narrator, Frances, and her best friend Bobbi accept an invitation from their semi-famous married friends Melissa and Nick to stay with them and some other people for a few days at a villa in France. What no one knows (yet) is that Frances, who's 21, is having an affair with Nick, who's in his early thirties. They're both cool, sensitive, self-conscious people, and a bit embarrassed about the situation, especially Frances, but that doesn't keep her from sneaking into Nick's room every night and having emotionally complicated, often awkward, sometimes hot sex. (Nick and Melissa never seem to share a bedroom; their marriage has its own complications.) While the cast of characters have dinners, take walks through the village, and visit the nearby lake, the tension between Frances and Nick crackles—until on the last night Bobbi discovers them, leading to yet more complicated, nuanced trouble.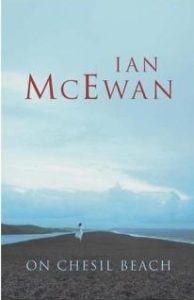 Ian McEwan, On Chesil Beach
A honeymoon—the old-fashioned kind, in which a union is supposed to be consummated for the first time—is the subject of Ian McEwan's short 2007 novel (which I avoided reading until I'd finished my own honeymoon novel). Set in 1962, right on the cusp of the sexual revolution, On Chesil Beach is a richly nuanced depiction of the wedding night of Edward Mayhew, a historian, and Florence Ponting, a violinist, at a Georgian hotel by the titular beach. The trouble is set up right from the start, with this perfect opening sentence: "They were young, educated, and both virgins on this, their wedding night, and they lived in a time when conversation about sexual difficulties was plainly impossible." Too bad, because they are both hopelessly naive and shy about their bodies and their desires—their own and each other's. The novel proceeds, along with flashbacks to their courtship, through dinner, their fumbling attempts to consummate the marriage, and the immediate and long-term aftermaths, and the awkward, endearing comedy of the situation turns more disturbing and ultimately heartbreaking by the end.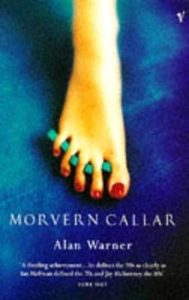 Alan Warner, Morvern Callar
One morning Morvern Callar, a young woman in a desolate seaside town in Scotland, wakes up to discover her boyfriend has committed suicide in their apartment—in an especially grisly fashion. But instead of calling the authorities, she simply goes to her job, stacking produce at a grocery store, and says nothing about it. Later she goes to a bar with her friend Lanna, and then to an all-night party. Eventually, after a distressing amount of time has passed, she chops the body up and disposes of it. Why she acts this way, we'll never know; though she's the narrator, she's utterly inscrutable. Anyway (I'm getting to the vacation, I promise), the boyfriend, whose name we never learn, has left a finished novel on a computer disk, with instructions for Morvern to send it to a list of publishers. She sends the novel out, but then, in an act almost more shocking than chopping his body up, she replaces his name with hers. The book sells, and with the proceeds she leaves her job, heads off to a Mediterranean resort, and blows all the money going to raves. I don't know if I love or hate this book, but in the dozen or so years since I first read it, I've never been able to forget it. And Morvern's is by far the wildest vacation on the list.
---