From Anon to Alt-Right:
The Dangerous Tricksters of 4chan
On the Evolution of Online Toxicity
There was a time when 4chan's users seemed to pick worthwhile enemies, including institutions like the Church of Scientology. Its activist arm, known as Anonymous, or "Anon," grew away from the shitposting platform while also being the cohort of users who were, for several years, most closely associated with it. Anon, highly stylized with Guy Fawkes masks and the catchphrase "Expect us," engaged in hacktivist attacks on the Recording Industry Association of America and the American Israel Public Affairs Committee, actions in support of Occupy Wall Street, and allied with the Steubenville rape victim.
Anon's avant-garde structure and affect—anonymous, multiauthored, existing everywhere and nowhere, with the potential to absorb anyone—was irresistible to a few new-media theorists. Anon was "trickster-like," as they put it, a 21st-century game of exquisite corpse, upending Westphalian sovereignty and authorship and so forth. Over time, Anon's power diffused into endless splinter sects ("Operation Monsanto," "Operation Killing Bay," "Operation DarkNet"). The election of Donald Trump, and his fomenting of online hate groups—many active on 4chan—tarnished Anon's Robin Hood reputation by proximity. 
The troll behemoth 4chan is amorphous; it is no institution. It has nothing like Facebook's money or massive Menlo Park campus, but to borrow a line from Videodrome, the anonymous image board "has a philosophy and that is what makes it dangerous." In its early years, the website footers linked to a manifesto by a user known only as "Shii," who created an earlier anonymous board, which 4chan was based on.
"Anonymity counters vanity," Shii wrote in the text. "If there is a user ID attached to a user, a discussion tends to become a criticizing game. On the other hand, under the anonymous system, even though your opinion/information is criticized, you don't know with whom to be upset. Also with a user ID, those who participate in the site for a long time tend to have authority, and it becomes difficult for a user to disagree with them. Under a perfectly anonymous system, you can say, 'it's boring,' if it is actually boring. All information is treated equally; only an accurate argument will work." 
It was anonymous, but for a time it wasn't quite leaderless—or public-figureless, rather. Christopher Poole ("moot") came out as its founder in 2008, and provided the media with a perfect foil to Mark Zuckerberg—they looked alike-ish, while Poole held beliefs in direct contrast with the Facebook founder's anti-privacy, one-identity inflexibility. In 2010, he even gave a TED talk entitled "The Case for Anonymity Online." Zuckerberg and Poole also differed in wealth. Conference stipends only go so far, and meanwhile he was responsible for a website that made advertisers wary—4chan was just about impossible to monetize.
Given his spotlight, compounded with decisions as a leader to comply with DMCA requests and turn over IP addresses to authorities, Poole lost the confidence of the 4chan community. Users were further incensed when he banned Gamergate content. Finally, in 2015, Poole gave up on the project and sold 4chan to the founder of 2channel, the Japanese site that it was based on. By 2016, he was working for Google. 
Much of how members of the 4chan and the alt-right behave suggests they are not serious when they say they are not serious.
Anonymity was a smoke screen. Hostility to sincerity was 4chan's through line. This proved to be a natural stance for bigots, which is how it became an alt-right breeding ground. Many 4chan users had already cut their teeth on the goon humor of Something Awful forums or shock sites like the Stile Project. There, a user, part of a collective but sitting elsewhere, could laugh at a screen or focus on a spectacle, alone in one's room but with company online—one had the privacy to say things that might not fly in polite society. 
In 2010, the danger that underscored 4chan's insincerity poked out as it instigated the harassment of an art student in Chicago named Natacha Stolz. A video of her performance Interior Semiotics was available on YouTube. Over the course of the eight-minute video, the artist smeared SpaghettiOs on her top, cut a hole in her tights at the crotch, fingered herself, and removed her top, using it to clean up the mess. Fellow students at the School of the Art Institute of Chicago might recognize this piece as an homage to Carolee Schneemann's Interior Scroll. There looked to be about 40 people in the audience, at rapt attention, each of them dressed the way people who go to galleries tend to dress.
Perhaps performance art like this piece is not to your taste. That's fine. Offline, you can decline to attend such an event, but what's more likely is you wouldn't know about it or get an invite in the first place. Someone on 4chan found Stolz's video and shared it, just to get the community to "rage" at its perceived pretentiousness. The video received more than 200 thousand views in 48 hours. That's volume beyond what an independent gallery ever expects through its doors—an audience size more comparable to a modest cable TV program. It is an understatement to say the video was not to the taste of most of these visitors. The video eventually received more than two million views, with heaps of derogatory comments about Stolz as well as the "hipsters" in the audience. 
The 4chan response to Interior Semiotics revealed the collective 4chan mind-set: they believed in one identity online, like the flip side to Mark Zuckerberg's famous musing that "having two identities for yourself is an example of a lack of integrity." The video posted to the internet was not theirs; it wasn't created for their consumption, but to 4chan users, as content on the internet, it was on their turf. The 4chan community reacted to Interior Semiotics as a gentrification of the internet they perceived as theirs and theirs alone. 
While the world has changed in ten years, the 4chan ideology is resilient in its regressiveness. Whether "alt-right" or 4chan shitposter, these bigoted persons and collectives are— ironically—triggered by the rest of us internet users, as they were by the art student in Chicago. They are sad that the internet is not their own private island; it is not their "safe space," if you will. "The internet is not reality," tweeted the neo-Nazi online playpen Gab, in its official statement after the 2018 Pittsburgh synagogue attack, because fascism is, among its dangers and evils, also profoundly corny. These new fash want to believe the internet is an escape hatch to the unreal; but it's not the internet that is. 
Much of how members of the 4chan and the alt-right behave suggests they are not serious when they say they are not serious. In early examples of networked trolling, like the coordinated abuse directed at the families of Mitchell Henderson, a seventh grader who committed suicide, and Nikki Catsouras, a teenager who died in a car accident, the confused and diffused nature of attacks heightened the outright cruelty of these actions. Henderson and Catsouras both died in 2006, and the harassment their families experienced operated outside expected social norms and behaviors. This was evil so extreme and so freakish, it was hard to accept, hard to explain, hard to tell as a story so another person might understand and offer sympathy.
Henderson's father talked to The New York Times about phone calls that continued for a year and a half after his son's death. Anonymous callers would say things on the phone like, "Hi, I'm Mitchell's ghost, the front door is locked. Can you come down and let me in?" Newsweek reported that Catsouras's family had to stop using the internet because of the harassment.
The coroner felt the accident was too gruesome to allow the family to identify her, but nine photos of the accident scene had been hacked or leaked, and trolls, pretending to be clients of her father, would email him copies. There was no name for this kind of harassment yet. There were no cyber-anthropologists who had ethnographic studies these victims could refer to back then; they suffered this perverse cruelty alone. 
In the same New York Times story, the reporter Mattathias Schwartz talked with self-identifying trolls who said they were operating in the tradition of trickster gods. It was all a "social experiment," they said. I've referred back to Schwartz's piece many times since it was published in 2008. It is comprehensive and well written, but the framing always bothers me. It is one of the first pieces of its kind—a sit-down with the networked enemy—and Schwartz makes a mistake that is representative of this kind of literature, for he doesn't interrogate the conditions under which the trolls opened up to him.
Bringing people to the internet meant bringing the wide swath of humanity's capacity for good and evil into this eccentric communication space.
Would his subjects have spoken to a black woman journalist all the same? Plus, one of the key people in the story was Andrew Auernheimer, who revealed himself therein as an instigator of online harassment against Kathy Sierra, and without on-the-record comments from her, it felt incomplete and insensitive. Since then, "weev"—described in the piece as influenced by "Coyote, Loki, and Kali"—has gone full, unironic neo-Nazi; he's even the sysadmin of the Daily Stormer website.
He isn't Loki or Kali, but a garden variety fascist-racist. It is hard to imagine now that Auernheimer could ever have been profiled so cavalierly, but that was a different time. In 2009, there was even a photo-sharing and wardrobe-ranking start-up called Fashism that counted Ashton Kutcher among its investors. The name of that app says everything about how the tech industry took its market-compliant liberal values for granted. 
Certain subcultures that came to the internet early had issues with white supremacy just as bad, if not worse, than contemporary gaming (hence, the Dead Kennedys song "Nazi Punks Fuck Off!"). A friend of mine who was part of the New Jersey punk scene in the 1980s remembers how white nationalist and Marxist skinheads dressed identically except for the shoelaces of their Doc Martens: white or red. The white supremacists were there in the fringes, bobbing in where they had purchase, attending shows for white power bands like Skrewdriver or creating a headache for Madness, who despite their anti-racism, were embraced by white nationalists as the only ska group composed of white guys.
"After a while . . . casual, even ironic embrace of the totems of bigotry crosses over into the real poison," wrote Lester Bangs, in an essay, "The White Noise Supremacists," that ran in The Village Voice in 1979, and could just as well be about the hate groups congregating on Reddit and YouTube today. The racists were out in the open. Maybe not in the center, but around, nearby. They were there. Not your friends, at least, as far as you knew. But looming near, at the same gigs, the same comics shops, riding the same subway trains, drinking at the same dive bars.
Later, they were on the same internet. Bringing people to the internet meant bringing the wide swath of humanity's capacity for good and evil into this eccentric communication space. In the early years of the internet, there were no grand funnels like YouTube and Twitter, in which people with widely diverging values shared the same stream.
Perhaps young fascists in the 90s would spread their hatred on forums like alt.music.hardcore, but usually they were segmented apart from the general internet population. That's still too close. In the '90s, AOL even hosted a page for the Texas branch of the Ku Klux Klan. The online provider prohibited racial slurs in search and user profiles, and yet this was a First Amendment issue, AOL insisted. It happened at a time when AOL install discs arrived as junk mail and fell out of Sunday newspapers. AOL was too busy laying down the welcome mat for new users to pull it away for problematic ones, and the company didn't see how that was counterproductive.
Racist rage at "identity politics" and progressive campus activism isn't a new thing, either. Books like Cyber Racism by Jessie Daniels offer countless examples of early racist memes and racist communities—examples that should put to rest any theory that contemporary online racists are reacting to "Tumblr feminism" or that they are newly radicalized because of "performative wokeness." Racists have been online from the beginning, just as racists existed before there was an internet. 
__________________________________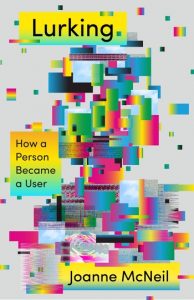 From Lurking: How a Person Became a User. Used with the permission of the publisher, FSG. Copyright © 2020 by Joanne McNeil.
---