Fragments of John McPhee: On Cary Grant, Ping-Pong, and Earthquakes
Outtakes from a Nonfiction Master
In an album quilt, the blocks differ, each from all the others. The passages that follow here seem to call for such a title. They are taken from writing I have done that has not previously appeared in any book. Getting this project under way, I looked through pieces written for both public and private occasions through the years, and selected a passage here and there. These included a number of short New Yorker pieces, and stories of varied length from other magazines and from Time, where I worked before I joined the New Yorker. I looked through some dozens of things I wrote when I was in college, and threw them all out. In aggregate, I sifted about 250,000 words and got rid of 75 percent. I didn't aim to reprint the whole of anything. Instead, I was looking for blocks to add to the quilt, and not without new touches, internal deletions, or changed tenses—trying to make something, not just preserve it, and hoping the result would be engaging to read.
With 56 3-by-5 cards on a large smooth table, I reached an arrangement of passages in an intentionally various, random, and subjective manner. I meant that they should be read that way—all at once, or, say, half a dozen pages after a crack of the book.

The Oddness of Cary Grant
Cary Grant has virtually every nickel he has ever earned. He was once seen handing a few coins to his wife and counting them first. After the Plaza Hotel sent him one and a half English muffins for breakfast, he called the head of room service and the manager and even threatened to call Conrad Hilton, the owner, claiming that the menu said "muffins" and a measly one and a half did not live up to the plural.
Lean, suave, incomparably tanned, he never wears makeup and, across time, has become steadily better-looking. More or less successfully, he spends his real life pretending he is Cary Grant. Open Paris Match, for example, and there, in all likelihood, will be a picture of him in an Italian car, zooming east of Nice on the Moyenne Corniche—the route he followed with Grace Kelly in To Catch a Thief. He is the darling of the internationals, a janissary in Kelly's Monegasque toy palace, a captive treasure among the potentates and popinjays of the Onassis floating salon.
Being Cary Grant is such a gilded role that all sorts of other people think they are Cary Grant, too. Tony Curtis, for example, seems to caricature Grant in everything he does. He dresses like Grant, but with tighter trousers; his accent seems to be an attempt to sound like Grant; and he imitates Grant on the screen. When Curtis bought a Rolls-Royce, he made sure he got a better one than Grant's.
Grant has many apes but few friends. In Hollywood—he has a mansion in Beverly Hills—he runs with no pack and is rarely seen at parties or premieres. The director Billy Wilder recently said, "I don't know anyone who has been to Grant's house in the last ten years." Grant steadfastly insists that he has as much right to privacy as a plumber or a municipal clerk. When people ask for his autograph, he gives them an incredulous look as if they are trying to crash a party, and if some jolly clod says, "Put your John Hancock right here, Cary," he says, "My name is not John Hancock, and I have no intention of putting it anywhere." On one occasion, a rebuffed fan snapped, "Who the hell do you think you are?" Cool as the north wind, Grant answered, "I know who I am. I haven't the vaguest idea who you are, and furthermore I don't care to know."
Cary Grant, of course, is Archibald Alexander Leach ("My name will give you an idea what kind of family I came from"), son of a textile worker in provincial Britain. When Archie was 12, his father deserted his mother, a tall and commanding woman who for a time went to pieces under the shock of rejection. Little Archie, essentially homeless, turned to show business and ran away to join a troupe of acrobats.
Perhaps reacting to his dark-haired, dark-eyed mother, he has had three blond, blue-eyed wives. The first was Virginia Cherrill, the flower girl in Charlie Chaplin's City Lights; the second was the Woolworth heiress Barbara Hutton (unlike her other husbands, Grant did not ask for alimony); the third was the actress Betsy Drake, whose grandfather built the Drake and Blackstone hotels in Chicago. An accomplished hypnotist, Drake put Grant to sleep at various times and helped him to stop smoking and drinking. Together they explored Asian religions, transcendentalism, mysticism, and yoga. Grant claims that through her he learned how to put one side of his jaw to sleep when a dentist happened to be drilling there. For years, they were intimately estranged, living apart, dating each other frequently, taking trips together. Once, at a Broadway show, Cary saw her come in with another man. "There's my wife," he said to his own companion. "Isn't she beautiful?"
Grant and his psychiatrist tried using LSD to help uproot Cary's deepest psychological problems. Often called instant analysis, LSD is said to clean out the subconscious like lye in a septic tank. Impressed by his own progress under its influence, Grant delivered a confessional lecture at UCLA. "I was a self-centered boor," he told the fascinated students. "I was masochistic and only thought I was happy. When I woke up and said, 'There must be something wrong with me,' I grew up." In a subsequent interview, he went on to say, "Because I never understood myself, how could I have hoped to understand anyone else? That's why I say that now I can truly give a woman love for the first time in my life, because I can understand her." Last week, Betsy Drake filed for divorce.
An editor, checking facts, recently sent a telegram to him, asking, "HOW OLD CARY GRANT?" He wired back, "OLD CARY GRANT FINE. HOW YOU?"
On a set, he drives directors and fellow actors round the bend with his fussy attention to minutiae. He once went over the scalps of innumerable extras to see if their hair had been properly dyed. While filming That Touch of Mink, with Doris Day, he went shopping with her and supervised her purchase of shoes, skirts, and blouses to wear in the picture. On the movie lot, he was so disturbed when he saw the paintings on a set wall that he held up production while he went home and returned with better ones from his private collection. "A thousand details add up to one impression," he explained.
In his studio office are very large photographs of all his wives, and numberless mementos of his long and lofty career. "The good old days are now," he says, grinning amiably. An editor, checking facts, recently sent a telegram to him, asking, "HOW OLD CARY GRANT?" He wired back, "OLD CARY GRANT FINE. HOW YOU?"
*
Sports: The Sublime and The Ridiculous
In the sport and camping show at the New York Coliseum, a former Ping-Pong champion of the United States, Great Britain, Canada, and South America played Ping-Pong with Mrs. John Lindsay, the First Lady of the City of New York, who bobbed gracefully about, hitting sweeping ground strokes in response to the champion's steady game. "Hi, Mrs. Lindsay!" a voice called from the crowd outside the picket fence surrounding the playing area. "Call me Mary," said Mary, without taking her eye off the ball. The professional sent up a high, dizzy lob that seemed to come down like a falling leaf. "Ooo!" said Mary. "Show me that one again. I want to try it on my children." After offering another lob, the pro, with some insolence, began to answer her volleys by raising one leg and hitting the ball with the bottom of his foot. Mrs. Lindsay watched for her chance, and sent a baseline drive whistling past him while his leg waved absurdly in the air.
A professional pool player prepared to demonstrate trick shots. An announcer with a small, intimate loudspeaker told the crowd that the professional would begin by sinking three balls at once. The pro chalked up and tried the shot. The cue ball rocketed into the three setups, and the balls dispersed to various cushions, but not one dropped into a pocket. He tried again. He missed again. He tried again. He missed again. "I don't think this table is quite right," said the announcer, who was—at least until that moment—an employee of the manufacturer of the table.
Oscar Robertson, of basketball's Cincinnati Royals, entered the hall and was immediately surrounded by at least 2,000 people, more than half of them adults. To get near him, they climbed over booths, broke down barricades, and temporarily paralyzed most of the exhibits in the show. National Shoes had engaged Robertson to make an appearance and sign autographs. Soon, Robertson was standing in a small "basketball court"—ten feet wide by twenty feet long—between a pair of backboards made of thin composition board and equipped with attached hoops of the sort that are sold in dime stores. The crowd seemed to surge like a throng in Saint Peter's Square. A little boy, perhaps ten years old, stood beside Robertson, and Robertson handed him a basketball. The boy took a shot, and missed. Robertson retrieved the ball and handed it to him again. The boy shot again, and missed. Robertson leaned down and talked to the boy. Not just a word or two. He spoke into the boy's ear for half a minute. The boy shot again. Swish. Robertson himself seemed reluctant to try a shot. The baskets were terrible, and—even if they had not been—a basketball player makes only about half his shots anyway. A few misses, and this crowd really would not have understood.
Moreover, Robertson was wearing an ordinary business suit, so his movements would be restricted. He signed a few autographs. "Shoot, Big O!" someone called out. Others took up the cry. "Shoot, Big O!" Robertson turned aside, and signed another autograph. "Shoot, Big O!" Robertson studied one of the baskets. This might have been a mistake, because there was no retreating now. Once a basketball player, with a ball in his hand, looks up at a basket, almost nothing can make him resist the temptation to take a shot. Robertson stepped back to a point about 17 feet from the basket and lifted the ball high, and a long set shot rolled off his fingers and began to arc toward the basket with a slow backspin. The crowd was suddenly quiet. Everybody watched the ball except Robertson, whose eyes never left the basket until the ball had dropped in. He shot again. Swish. Again. Swish. Five, six, seven in a row. There was no one else in the Coliseum now. Robertson—making set shots, jump shots, even long, graceful hook shots—had retreated from the crowd into the refuge of his talent.
*
The tilt of these essentially parallel faults is to the north. In each earthquake, the lower side slipped north, the upper side moved south. In each earthquake, the north-south dimension of the basin shortened somewhat, and its adjacent mountains went up a couple of feet. This local compression began in relatively recent time, when the Pacific Lithospheric Plate, moving essentially northward, sort of shouldered into the North American Plate where the San Andreas Fault presents an awkward curve that is known in geology as a prominent restraining bend. The mountains went up. People came, and Los Angeles went up. The mountains, hills, anticlines will continue to go up, the basin will continue to be compressed, as long as the Pacific Plate keeps pushing into the restraining bend. The Pacific Plate, sliding, weighs 345 quadrillion tons.
Like a city planner, the plate motions have created Los Angeles. The plate motions have shaped its setting and its setting's exceptional beauty, raising its intimate mountains ten thousand feet. The mountains are such a phalanx that air flowing in from the west cannot get over them, and a result is the inversion layer that concentrates smog. Plate motions in Los Angeles folded the anticlines that trapped the oil that rained gold and silver into the streets. Plate motions have formed a basin so dry that water must be carried to it five hundred miles. Plate motions have built the topography that has induced the weather that has brought the fire that has prepared the topography for city-wrecking flows of rock debris. Plate motions are benign, fatal, eternal, causal, beneficial, ruinous, continual, and inevitable. It's all in the luck of the cards. Plate motions are earthquakes.
__________________________________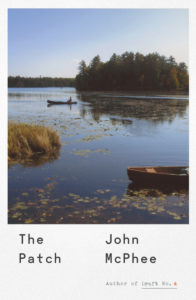 From The Patch. Used with the permission of Farrar, Straus and Giroux. Copyright © 2018 by John McPhee.
---