Kay Eldredge Salter: My Husband's Choice to Be a Writer Was the Hardest of His Life
On the Notes and Drafts of James Salter
Boxes kept surfacing. I'd forgotten there was so much. It was after Jim's death at 90, in June 2015, that I began to go through the many boxes of papers, most in obvious places. I gradually found others tucked away and then discovered still more boxes stored in places I could only get to with a ladder.
He used to advise, "Don't save anything." He was talking about phrases or names or incidents a writer might be reluctant to use, holding them instead for a possible later work. But in a practical sense, he had clearly saved everything, not only finished copies of all he'd published but also all his notes and drafts.
Much of Jim's work appeared in collected volumes while he was alive—excerpts from both his fiction and nonfiction—about life as a pilot in Gods of Tin, his travels in There and Then, the correspondence in Memorable Days with a man he came to know first through letters, and the short stories in the PEN/Faulkner winner Dusk and Other Stories and, later, Last Night. And of course, there's his memoir Burning the Days. In it he wrote about only ten of the many people or experiences or eras he might have chosen, taking as his guide the filmmaker Jean Renoir's quote: "The only things that are important in life are the things you remember." That had been the structure, too, of his novel Light Years.
Years before that had been his decision to commit his life to writing. He said it was the hardest he'd ever made—resigning from a promising career in the Air Force where he'd spent over a dozen years, first at West Point and then as a fighter pilot in the Korean War. Only 31 and a lieutenant colonel, he turned his back on it to focus his hopes and energy on writing. He did it encouraged by his first published novel, The Hunters, based on his experiences in Korea, and on the sale of the book to the movies for a film starring Kirk Douglas.
Jim was married, with two very young daughters. He had an Air Force pension. He joined the reserves out of nostalgia, to get out of the house, and for the pay. He tried selling swimming pools. He and a friend made documentary films, even one that won a prize at Venice, called Team, Team, Team.
In the meantime, he was writing, trying to convince himself that he could really do it. His second novel was a derivative homage to William Faulkner. Decades after it was published, he rewrote it, unwilling to let it stand in its original form, and renamed it Cassada.
In 1961, when the Berlin Wall was built overnight to divide the city, Jim was recalled and sent to Europe. Out of that, he wrote a third novel, A Sport and a Pastime. It was the first book that was what he'd imagined it might be and that finally allowed him to believe in himself as a writer.
At the beginning of the 1970s, Robert Ginna, the first editor-in-chief of People magazine, invited Jim to write for it. The subjects included serious writers, and Ginna sent Jim to Switzerland, France, and England to interview Vladimir Nabokov, Graham Greene, and Antonia Fraser. It would be Jim's first journalism.
In a practical sense, he had clearly saved everything, not only finished copies of all he'd published but also all his notes and draft.
As I reread the published pieces, I remembered the stories that Jim told over dinner of all that had happened. The interviews had been arranged before his arrival in Europe, but suddenly everything fell apart. Greene had seen a spoof of People called PeepHole and avoided their meeting until a note from Jim, slipped under the door of Greene's Paris apartment, brought him around. Their talk produced not only the article for People but a bonus: Greene arranged for Jim's novel Light Years to finally be published in Britain.
Then on to Montreux and the hotel where Nabokov and his wife Vera lived. But when Jim telephoned to confirm his appointment with her husband, Vera Nabokov told him he had to submit his questions in writing. Jim explained he'd done that and had received no answer. Her husband wasn't well, she said. Still, she'd ask him about doing the interview. Jim expected her to merely pretend to ask, then return to the phone to say Nabokov couldn't do it. Instead, she specified the next day and a time they could meet, warning Jim that he could take no notes or record any of the conversation. The two men hit it off, and Nabokov even proposed a second "julep," as he called their drinks. But Jim regretfully rushed to the station to catch his train back to Paris. He missed the train and instead sat down with a notebook to feverishly scribble down everything Nabokov had said, telling himself that if Capote could claim to have remembered every word of a night with Marlon Brando, surely he could recall an hour with Nabokov.
Every story Jim wrote had a backstory. When he researched the development of the artificial heart, he went to dinner at the home of its inventor, Robert Jarvik, who decided to cook naked and insisted that Jim also jettison his clothes. Jim wrote about Robert Redford when Redford was still relatively unknown, the two men traveling together in search of material for Jim's screenplay for Downhill Racer. Jim had imagined a character like Billy Kidd at the heart of the film, but Redford had a different idea and singled out a young skier who looked a lot like himself: Spider Sabich. The film still plays on late-night television, generating residuals that "can almost buy lunch," as Jim liked to say. Redford became a star with Butch Cassidy and the Sundance Kid and remained a friend. When Jim received the lifetime achievement award at The Paris Review annual gala in 2011, Redford gave the keynote speech.
Jim also wrote about the lure of the movies. Dazzled by the European filmmakers of the 60s, he was asked to write films himself and even directed one called Three that starred the young Charlotte Rampling and the equally young and then unknown Sam Waterston. The experience convinced Jim he never wanted to direct again, but he wrote other screenplays until, with hopes of leaving writing more lasting, he eventually gave up all involvement in film to concentrate on what mattered most to him—novels and stories—while still writing occasional journalism and essays.
His articles appeared in Esquire, Food & Wine, The New Yorker, Men's Journal, The Paris Review, others. He wrote about important figures of Alpine climbing, about French brothels before World War I, about other writers he admired, among them one of his favorites, Isaac Babel.
With every piece, either assigned or of his own choice, Jim gave it all he had, which was considerable. He did thorough reading and research, but there were also times when articles took the form of essays that meant delving deep into his own memories and feelings—about the confluence of men and women, about his life in Aspen, about his experiences in France.
Don't Save Anything is a volume of the best of Jim's nonfiction—articles, essays, and profiles published individually but never collected in one place until now. Those many boxes were overflowing with papers, but in the end, it's not really a matter of quantity. These pieces reveal some of the breadth and depth of Jim's endless interest in the world and the people in it, especially those who are dedicated and passionate and who try to do something. One of the great pleasures in writing nonfiction is the writer's adventure of exploration, of learning about things he doesn't know, then writing them down. That's what you'll find here.
__________________________________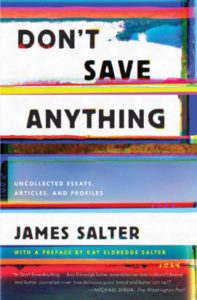 From Don't Save Anything: Uncollected Essays, Articles, and Profiles. Used with the permission of Counterpoint Press. Copyright © 2018 by James Salter.
---