For So Many Cultures, the Key to Understanding Death is a Festival of Light
Sasha Sagan on Finding Hope in the Night Sky
As with spring, our idea of autumn has a few components. The fall equinox signals the shortening of the days. The weather gets colder. The leaves start to change color and drop from their branches. Food is harvested. Plants wither. Animals prepare for hibernation. These herald a thematic shift and remind us: Darkness and death are coming. They're not here yet, but they're on their way, so live while you still can. 
This narrative is apparent in harvest festivals and in the variety of holidays we've created to find joy in our terror, glee in the ghoulish, freeing ourselves to a kind of morbid fun. In autumn we wrap ourselves in the coming darkness, taking death's power and making it our own. 
As an adult, I love Halloween. I like the break from societal norms. I like the Dionysian frenzy. I like the window into the fantasy alter egos of strangers. I like the freedom. In my twenties especially, I appreciated the opportunity to dress in provocative, probably very flammable nurse or fairy-tale costumes, free from judgment, if only for one night. 
But when I was small, I dreaded Halloween all year long. It wasn't the cotton cobwebs or the haunted houses or the showing up unannounced at the homes of strangers. It was a custom that is, as far as I can tell, unique to my otherwise really lovely and not-at-all-psychologically-traumatizing elementary school. 
For reasons still not entirely clear to me, every Halloween, all my costumed schoolmates and I were marched five blocks to a nearby assisted living facility to participate in a parade for the residents. In a line of what must have been a few hundred tiny vampires, ghosts, fairies, pirates, and Teenage Mutant Ninja Turtles, we'd wind in and out of common rooms, up and down stairwells. 
I have no doubt that seeing little children in their Halloween best was a much-needed source of joy for the residents. And many of them were cheerful, friendly grandparents who were in no way scary. There was, however, a large contingent of residents who were very clearly near the ends of their lives. Through my little eyes I saw them: toothless, gray, skeletal, unable to speak, moaning, reaching for us or just frozen by age.
I remember them as being as close to the living dead as anything I have seen before or since. Even then I understood that this was not their fault, they weren't trying to scare us, but it was impossible not to feel like we were facing the stuff of nightmares. These people were petrifying, both literally and figuratively. 
I don't remember being told beforehand that this would be scary, or any teacher or aide acknowledging that this was, at best, a double-edged sword. In adulthood, my lifelong girlfriends and I finally admitted to one another how upsetting this was and how much we would have benefited from some warning, or tools to process what we were seeing. I think, being small and unsure of all the ins and outs of my own society, I thought this was just part of Halloween. We scare them with our felt and poster board costumes, and they scare us with their palpable mortality. Not because they wanted to terrorize us, of course, but because this is where they are in the cycle of their lives. 
In middle school it became clear that other children did not take part in this ritual. I realized that the dress-up, the candy, and the low-grade set design were the "real" Halloween. I was annoyed. I thought I had been robbed of the best of this holiday. But only because I didn't understand its origins.
We make rituals out of facing our fears, wrestling with them, even making light of them, beautifying them.
Even on the clearest night, in the most remote, unpolluted corner of this world, we can only see a tiny fraction of all the stars in our universe. But those we can see have had an enormous impact on the lives of us Earthlings—although not in the way that the writers of magazine horoscopes would have you believe. There is no information up there about whether or not your crush will call, but there's another way in which the stars affect us. They have, since the dawn of time, had a large and real influence over our imaginations and our calendars. Disparate societies in far-flung corners of the planet have often, without any ability to communicate with one another, based their most beloved stories around the same bright corners of the night sky. 
In one particular corner you'll find seven hot blue stars, closely clustered. 
They are more than 400 light-years away. (That is to say, if we could somehow manage to travel at the absolute speed limit allowed by the physical laws of the universe, it would still take us something like 20 generations to get there from the point of view of those left on Earth. Those traveling would lose almost no time at all thanks to time dilation.) Yet even from this vast distance, these particular stars have managed to weave themselves into the lives of human beings across the planet. 
The Cayuga, the people from whom my hometown was taken, waited until the stars were overhead in winter to celebrate their new year with a seven-day dream-analyzing festival that would have made Freud proud—a kind of celebration of the subconscious. The Tuareg people of the North African desert used these stars for centuries to predict the changing of the seasons. The ancient Turks saw the cluster as a small battalion in formation. In South Africa, the Khoikhoi tribe saw them as the omen that the rains are coming. Not far away, the Xhosa called them Isilimela, or the "digging stars," the signal to start tilling the earth.
The Aztecs spoke of these stars in Nahuatl as "the marketplace." Yet farther north, the Mono people, who lived in California centuries before it was California, mythologized these stars as a group of ladies who preferred onions to husbands. The ancient Greeks saw seven sisters—a cadre of nannies for a baby Dionysus. In Japan, they are seen as a merging of several into one, a subaru, for which sensible midrange station wagons and flagship telescopes have been named. In English we call them the Pleiades, or the Seven Sisters, a group of bright blue stars that came to be about 100 million years ago. 
In Quechua, Maruja's first language, the language of the pre-Colombian people of the Andes Mountains, the stars were "the storehouse." In the Andes Mountains, for centuries before Maruja was a nun there, her ancestors celebrated Quyllurit'i when the Pleiades reappeared after spending two months out of view. Quyllurit'i means "bright white snow" and falls in late May or early June, just before the winter solstice for the people of the southern hemisphere. It's a celebration of this light as darkness approaches. 
But it's the Celts, the Iron Age and medieval tenants of what is currently known as the British Isles, who connected the Pleiades and their movement across the sky to the harvest, the dying of the light, and our relationship with our own death. Their festival of Samhain is the great-grandmother of our Halloween. It was celebrated when the Pleiades reached the highest point in the night sky. This coincided with the moment in the year exactly between the autumnal equinox and the winter solstice.
On Samhain, pre-Christian Brits would look at their cattle, their pigs, and their sheep and decide which would survive and which would be devoured during the coming winter. On the highest hills bonfires were lit, feasts were served, and the souls of the dead were invited to join the party. 
Halloween may be the great-grandchild of Samhain, but it's not its only living relative. For the planet's 1.2 billion Catholics there is All Souls' Day, a time to honor and pray for the dearly departed and, originally, to help those stuck in Purgatory graduate to Heaven. In modern Mexico, October 31st to November 2nd is Día de Muertos, the Day of the Dead, a Technicolor celebration of mortality where the spirits of dead children are invited back for a visit and graves are decorated by those who miss them most. 
We make rituals out of facing our fears, wrestling with them, even making light of them, beautifying them. Life used to be scarier. We evolved from creatures who were prey in the darkness of a world where we had not yet gained control of fire. No light but the moon and the stars. Imagine those long winter nights. Imagine what an advantage fear was and how quickly those who were unsuspicious of the sounds in the forest were devoured. 
Now, many of us (but it must be said, certainly, tragically, nowhere near all) sleep safely, bellies full, soundly locked in houses easily flooded with light at the flip of a switch. But the fear is still inside us. We let it out on roller coasters, at horror movies, and, in many cultures, through rituals as the nights get long and dark. 
How can something as old as lighting candles remain so popular? Whether it's a prayer candle or the one inside a jack-o-lantern, we find a way to incorporate this small magic trick in so many rituals. We must be still astonished that we managed to create a little day in the night. We've had it in our celebratory arsenal for more than a million years and the novelty has yet to wear off or go out of style. 
It is that dichotomy, between our present bright, sharp aliveness and our inevitable, approaching end, that's at the heart of all our fears.
Dewali is the five-day-long Hindu festival of lights, which takes place in October or November each year. For some Hindus it's about the deity Rama's return from exile. For others it honors Lakshmi, the goddess of riches. Jains and Sikhs celebrate Dewali as well, but back it with different legends. Across the board, the ritual lamp-lighting symbolizes how our understanding drives out darkness. It's an autumn holiday that originated in the northern hemisphere, but like summertime Christmas in the southern hemisphere, it's popular and widespread enough that in places like Fiji and Mauritius it is a spring national holiday. 
Since the Heian period in medieval Japan, Tsukimi, the moon-viewing festival, has celebrated a different kind of light every autumn. Special foods are made as offerings to the moon, and eaten here on Earth as well. These include dumplings, sweet potato, and mooncakes. As the moon reflects the sun, this too is a celebration of a small flicker of light in the darkness, giving people hope to carry forward. 
Elsewhere in Asia where the end of monsoon season comes in late August or early September, the climate cools and ancestors are honored. The Chinese celebrate the Ghost Festival, when it is believed that the dead visit the living. In September and October, Cambodians spend the 15 straight days of Pchum Ben honoring their ancestors when the gates of hell supposedly open to unleash generations of hungry ghosts. In Vietnam the equivalent holiday is Tet Trung Nguyen, when the poor should be fed, birds and fish released back into the wild, and the souls of the damned liberated from hell. 
These rituals all serve as reminders that death, like winter, is always coming. They are inextricably linked and there is no escape from either. Halloween serves as a clue that there is something powerful and mysterious coming for each of us, and a reminder that before it does we must relish the present with glee. 
It is that dichotomy, between our present bright, sharp aliveness and our inevitable, approaching end, that's at the heart of all our fears, the root of all our wishful thinking and in all our worst nightmares: in the nursing home in downtown Ithaca, at every haunted hayride and Halloween parade, in every ghost story that chills us. 
I don't know if my elementary school teachers intended this lesson, but the local assisted living facility was actually the ideal place to experience the truest roots of Halloween and its many holiday cousins. It's easy to ignore this darkness, especially in a modern world where we are largely removed from the realities of our dying, and of our own survival. But we should see it, know it, understand it so we can appreciate the light—be it candle, star, or moon. 
__________________________________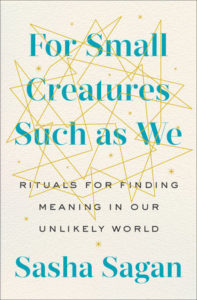 From For Small Creatures Such as We:  Rituals for Finding Meaning in Our Unlikely World by Sasha Sagan, published by Putnam, an imprint of Penguin Publishing Group, a division of Penguin Random House, LLC.  Copyright © 2019 by The Great Unlikelihood LLC
---