For Gothic Heroines, Haunted Houses Are Always Too Big
Jane Healey on Secret Corridors and Impossible Floorplans
When I tried and failed to draw an accurate floorplan of the fictional gothic country manor at the heart of my novel, I blamed my own poor draftmanship and research nous—I'd heard it said, after all, that a historical novelist should know every object inside a room her character enters, even if she doesn't describe them, and surely the same should be said of the walls themselves. But it was only during the copyediting of my novel that I realized my struggle was mirrored by my characters, and by many other heroines of gothic novels who find that the houses they live in confound any attempt to be known and mapped, understood.
I made a rudimentary floorplan while writing a first draft, gluing down card squares to represent rooms on four sheets of paper for the four stories of the house but as I redrafted the novel, removing characters, switching the location of scenes, sending my characters hurrying down darkened corridors looking for intruders and ghosts, the floorplan became inaccurate. And when I tried to fix it, and to make the squares more like rooms, the jigsaw puzzle of the interior didn't work, walls bulged outwards, staircases disappeared, doors slid into impossible locations.
"This house is bigger than you know" one of the preternatural twins living in the malevolent haunted house in Helen Oyeyemi's postmodern gothic White is For Witching declares to the troubled heroine, who disregards their warning, only to later find herself trapped forever in just such an unknown place, a hidden "trapdoor-room". In Rebecca, as for many heroines of gothic romances, the second Mrs. de Winter experiences the house at first like a maze, losing her way, stumbling into servants' corridors and dust-sheeted rooms.
Earlier on in their courtship, she had pondered Maxim's silence on his infamous estate—"Maybe there was something inviolate about Manderley that made it a place apart, it would not bear discussion" she considered, and elsewhere describes Manderley as a "fairyland", and "an enchanted house", "a house bewitched, carved out of the dark woods".
Many gothic heroines come upon hidden rooms which hold within them secrets of the women that came before them, their husband's first wives or their mothers—Bluebeard's chambers, secret libraries, haunted attics—but in Wide Sargasso Sea, Antoinette emerges from her tower room to find an entire house waiting beyond her locked door, "their world […] made of cardboard," where the signs of life are like the signs of ghosts, "lights on the floor beneath" and laughter, a mirror of Bertha's laughter that Jane had heard in Charlotte Brontë's novel. On her dream walk through the house, Antoinette sees Jane and thinks her a ghost, just as she does her own reflection "surrounded by a gilt frame" like a painting of someone else.
In the act of wandering long hushed corridors, and divorced from the practiced rhythms of its servants, gothic heroines often become ghostlike themselves, haunting the house. "Perhaps I haunted her as she haunted me," Mrs. de Winter says of Rebecca, whose presence she feels in every room and who seems more at home at Manderley after her death than the narrator is while living. In Rebecca, house and first wife are indivisible, both drenched in the scent of Azaleas, and both equally seductive and maddening to the narrator.
Many gothic heroines come upon hidden rooms which hold within them secrets of the women that came before them.
The gothic house is often synonymous with a person or a mind. "One need not be a house" to be "haunted," Emily Dickinson reminds us; "The brain has corridors surpassing/ Material place", and in Wide Sargasso Sea Antoinette opens "doors" in her mind to be "somewhere else, something else. Not myself any longer."
"She herself is a haunted house" states the epigraph of my novel, taken from "The Lady of the House of Love" by Angela Carter. One of my two protagonists, Lucy Lockwood, the haunted adult daughter of the Lord of the manor, sees herself as intertwined with the house she will inherit, and the troubling events that occur inside it come to be mirrored by her faltering mental state. In the prologue, Lucy speaks of a trick her childhood nurse taught her to get to sleep, that she should picture herself gliding through room after room of Lockwood Manor and by the time she has finished even one floor, she would be asleep.
But after the sudden death of her mother, whose own "bad nerves" were related to her compulsion to know what was happening in each room of the house at all times, and her conviction that something was lurking in a room out of sight, Lucy's insomniac game, her mental map, becomes an impossible task that threatens her sanity, and follows her into her nightmares where she is taunted by a blue-wallpapered room that does not exist in the day, in which a beast waits for her and scratches at the walls.
My second protagonist, Hetty Cartwright, arrives at Lockwood Manor with trucks laden with her charges, the evacuated collections of a natural history museum. Early on, several of the taxidermied animals go missing and Hetty roams the house obsessively searching for them and their thief. While Hetty maps the house physically then, Lucy does so psychically and slips forward and backwards through time through her hazy memories of events that took place in different rooms.
On one occasion as she ventures out of her room one night to search for a lost animal, Hetty comes across Lucy sleepwalking through the house as she walks through the dream house of her mind—a convergence of the two quests to map the house, and of dreams and reality, and a confluence of the two protagonists, who are, in some ways, descendants of the spirited gothic heroine and the madwoman in the attic.
As a neat addendum, and in the fashion of many gothic novels to have self-referential moments (my favorite of which is the opening page of "The Yellow Wallpaper," where the heroine muses that she might call the mansion where her husband has taken her to convalesce "a haunted house, and reach the height of romantic felicity"), I had idly given one of my characters the very document I was struggling to create.
Hetty speaks of a floorplan she had seen back in London while the museum was planning their evacuation, confidently stating that she has no need of a tour of the real house since she already knows the exact layout. But of course, that floorplan only had 92 rooms on it and, if the rumors at Lockwood are true, there might just be a 93rd lurking somewhere, waiting to be found.
__________________________________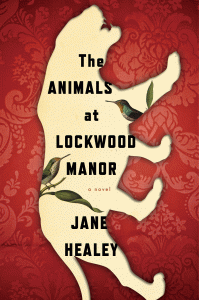 Jane Healey's novel The Animals at Lockwood Manor is available now.
---