Five Books Making News This Week: Politics, Philosophy, and Opium
Juan Gabriel Vasquez, John Kaag, Frances Wilson, and More
The San Francisco Bay Area is awash in writers and readers this past week as the annual nine-day Litquake unfolds. "I feel like it's our civic duty to reflect the city's personality," explains Litquake co-founder Jack Boulware. "San Francisco is an odd mix of people, from educated to eccentric, from empathetic to garrulous. We're here clinging to the coast, stewing in the fog most days, with people continually washing in and out of town like the tides." The fest kicks off with a Shakespeare@400 party featuring a Shakespeare photo booth, themed insult stickers and, of course, themed cocktails. Authors on the scene this year: Claudia Rankine, Maxine Hong Kingston, Rabih Alameddine, Nell Zink, first novelists Yaa Gyasi, Emma Cline, and Jade Chang, plus a tribute to Hunter S. Thompson, with his son Juan Thompson and long-time editor Alan Rinzler, and a Pulitzer centennial anniversary show of four award recipients: Jane Smiley, Richard Rhodes, T.J. Stiles, and Robert Hass. The wrap-up: Saturday night's Litcrawl, with its motto, "Get drunk on words!" The author of Where'd You Go, Bernadette offers another witty novel, Juan Gabriel Vasquez's new novel reflects the approaching end of the 52-year-old civil war in Colombia, Peter Ho Davies traces the lives of four Chinese-Americans in his second novel, Frances Wilson pens a De-Quinceyan biography, and John Kaag's memoir details his post-doc inquiry into the meaning of life.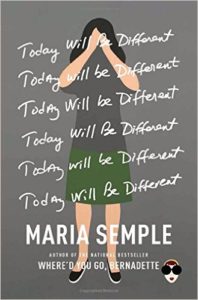 Maria Semple, Today Will Be Different
Semple, once a writer for Arrested Development and Mad About You, made a splash in 2012 with Where'd You Go, Bernadette. Critics agree her second novel is equally witty.
Maris Kreizman (Los Angeles Times) calls Maria Semple "a treasure." "With the publication of Today Will Be Different, she has now written two works of fiction . . . that are truly smart and deep and funny—worthy of laughing out loud rather than merely saying 'LOL.' Semple brilliantly conveys a whole array of angst—self-deprecation and existential dread and a panic attack of neuroses—while simultaneously packing in a liberal dose of levity.
Janet Maslin (New York Times) writes, "Speed bumps notwithstanding, Ms. Semple is an immensely appealing writer, and there's something universal in her heroine's efforts to get a handle on a life spinning out of control. We may not all have long-lost sisters who live in the most crazily status-obsessed corners of the South, but we surely know what she means about waking up each dawn with new resolve that melts by midmorning. The Sisyphean poignancy to this book gives it a heft that Bernadette lacked, even if it's also rougher around the edges."
Meg Wolitzer (New York Times Book Review) concludes, "The success of this poetic, seriously funny and brainy dream of a novel—Mrs. Dalloway Takes Laughing Gas, perhaps—has to do with Maria Semple's range of riffs and preoccupations. All kinds of details, painful and perverse and deeply droll, cling to her heroine and are appraised and examined and skewered and simply wondered at. If that's considered a trick, readers of Semple's novel will be overjoyed to fall for it."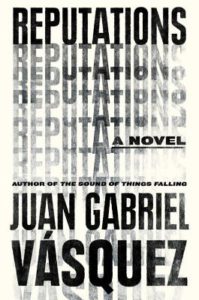 Juan Gabriel Vasquez, Reputations, tr. Anne McLean
Nobel laureate Mario Vargas Llosa has called Vasquez, a Colombian newspaper columnist and author, "one of the most original new voices of Latin American literature." His new novel arrives as Colombia's president Juan Manuel Santos wins the Nobel peace prize for ending his country's 52-year-old civil war, only days after Colombian voters had rejected  the agreement by referendum.
Reputations, "a short novel about a political cartoonist," "echoed the moral and personal dilemmas he had been facing in his own life: fights with friends who disagreed with his positions, and the risks inherent in having the power to influence people," writes the Wall Street Journal's Jennifer Maloney.
The starred Kirkus review calls it "a brisk and sophisticated study of a conscience in crisis."
Yiyun Li (New York Times Book Review) calls out one of her favorite sentences in the book:
"Forgetfulness was the only democratic thing in Colombia: It covered them all, the good and the bad, the murderers and the heroes, like the snow in the James Joyce story, falling upon all of them alike."
That sentence, like this novel as a whole, marks Juan Gabriel Vásquez as a Colombian writer working fully in the European tradition. Or maybe we can forgo geography altogether and just call him a true international writer."
Charles R. Larson (Counterpunch) calls Reputations an "unforgettable novel, probing a subject—our public images—with irony and deepening humiliation. An event (a public celebration of a man's life), which ought to be an occasion for joy and contentment, quickly turns sour as the figure of consequence begins to realize that his reputation has been built on sand."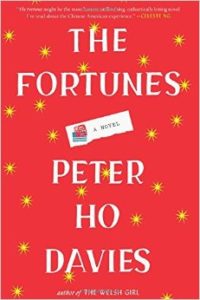 Peter Ho Davies, The Fortunes
The second novel from the author of The Welsh Girl spans a century and a half of Chinese-American immigration, and four moments in American history, reverberates with questions of identity.
Misha Berson (Seattle Times) calls The Fortunes a "panoramic postmodern novel."
Davies (the son of Welsh and Chinese parents) achieves an extraordinary novelistic intimacy against backdrops of historical vibrancy. Moreover, he considers what it means to be identified with, but not now belong to, an ancestral culture one can't escape or fully embrace—in an immigrant society that promises but doesn't deliver full racial inclusion.
"A stark meditation on Chinese-American experience over the past 150 years, it…features characters both drawn from life and imagined, each grappling with the wrenching business of fashioning a self in a culture often violently intent on their exclusion," writes Emily Eakin (New York Times Book Review).
Tess Taylor (San Francisco Chronicle) concludes, "In naming the given scripts of culture, as well as pushing against them, Davies' characters struggle to belong—not only to race or to history or to stories, but also simply to themselves. And Davies, ever deft, points us into the messy complexity of identity with compassion and nuance, urging us each on toward spaces where we honor and move more freely within what he calls our 'uncertain and contradictory' selves."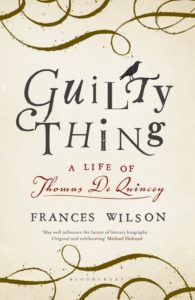 Frances Wilson, Guilty Thing: A Life of Thomas De Quincey
Wilson's "De Quinceyan" biography calls De Quincey a "romantic acolyte, professional doppelganger, transcendental hack." Her fresh take draws praise.
"Two of the finest biographies of De Quincey—Grevel Lindop's The Opium-Eater (1981) and Robert Morrison's The English Opium-Eater (2009)—highlight his drug habit in their titles," writes Matthew Bevis (Harper's). "Guilty Thing announces a welcome shift of emphasis. Wilson doesn't neglect her protagonist's addiction, but she's more interested in what Thomas Carlyle referred to as his 'diseased acuteness' than in the acuteness of his disease."
Eric Banks (Bookforum) writes,
"Frances Wilson's smart new biography of De Quincey, Guilty Thing, judiciously narrates the life of a writer who responded to the question 'How came you to dream more splendidly than others?' with the answer 'He whose talk is of oxen, will probably dream of oxen.' . . . With the recent publication of a new Works of Thomas De Quincey and scholarly biographies by Grevel Lindop and Robert Morrison, perhaps attention is being redirected in a promising way. Frances Wilson's book will play no small part in this sublimely pleasant development."
Guilty Thing  "captures in both form and focus something of its subject's disorienting, brilliant unpredictability," writes Daisy Hay (The Guardian):
There are plenty of stylistic fireworks worthy of De Quincey here. Comets whiz through the pages, as do snippets of poetry, narrative diversions and gruesome details of the various contemporary murders by which De Quincey was fascinated. Wilson maps her account of De Quincey's life on to the structure of Wordsworth's Prelude and then proceeds to pull apart that crowning glory of Romantic autobiography according to the messy dictates of De Quincey's life. The result is a great, complicated book, in which a host of competing ideas and images jostle for supremacy.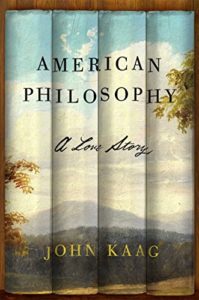 John Kaag, American Philosophy: A Love Story
Shortly after he completed his Ph.D. in philosophy in 2008, Kaag arrives at an existential crisis. His father has died of cancer, his marriage is on the rocks, his professional future unclear. Is life worth living? He sets off in search of the answer. The resulting book earns a star from Kirkus Reviews: "Kaag's lively prose, acute self-examination, unfolding romance, and instructive history of philosophy as a discipline make for a surprisingly absorbing book."  
Priscilla Gilman (Boston Globe) finds American Philosophy "a lovely, intelligent, edifying, and admirable book."
Randall Fuller (Wall Street Journal) notes that Carol Hay, "a feminist Kantian colleague who gradually pulls the narrator out of his depressive self-absorption and helps him to experience the world," is a vivid presence in the book, "a current of warmth in a sometimes chilly account of existential despair:"
More than any book in Hocking's library, she enables Mr. Kaag to understand that "philosophy shouldn't stem from the theories of others or from a collection of convenient facts, but from a careful evaluation of the widest range of experience." While the happy ending may seem a bit overdetermined—the two philosophers fall in love, get married and have a child—it seems ungenerous to begrudge Mr. Kaag the genuine happiness (the zest, in Jamesian terms) he experiences as his life turns around. His claim that professional philosophy has abdicated its role in helping individuals navigate large, existential problems also seems fair. Less clear is how much we should attribute his return to life to philosophy rather than the love of another person.
Andrew Federov (Bookforum) writes, "He's detached and hyper-analytical, lost in the world of the res cogitans, of pure thinking. At times throughout the book, Kaag sounds a little robotic. But love inspired him to try to change, and that's admirable. He wants to be a part of the world, and the ideas that emerge from it begin to mean more to him and, as his readers, to us."
---