Five Books Making News This Week: Poets, Pretensions, and Burglaries
Marianne Moore, Dan Fox, Karan Mahajan, and More
It's a busy week of literary honors. The Los Angeles Times book awards go to Valeria Luiselli (fiction), Chigozie Obioma (first fiction), Jorie Graham (poetry), Hayden Herrera (biography), and Sarah Chayes (current interest), among others.
Will Alexander wins the $50,000 Jackson Poetry Prize from Poets and Writers ("to alert audiences to one of our most original contemporary poets," the judges note). The PEN/Faulkner award goes to James Hannaham. (Here, video of his reading from Delicious Foods and a discussion of the influence of his cousin, artist Kara Walker, who designed the cover, and how Charleston is like New Orleans in a strait jacket). The National Book Award process, under dynamic new director Lisa Lucas, starts with the naming of judges (including head judges Joy Harjo, poetry; Melissa Harris-Perry, nonfiction, and James English, fiction). #NationalPoetryMonth kicks off with words spouting from every crack in the literary universe. Karan Mahajan's second novel launches with a series of superlative reviews, Dan Fox strikes a nerve with critics, Geoff Managh brings larcenous perspective to urban architecture, two award-winning Jefferson scholars take a fresh perspective, and The Nation publishes an evocative appreciation of a seminal Marianne Moore volume.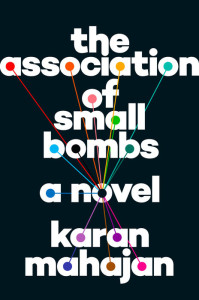 Karan Mahajan, The Association of Small Bombs
"A good bombing," writes Mahajan, "begins everywhere at once." His second novel is based on a "small bombing" 20 years ago, when Kashmiri separatists set off a car bomb in a Delhi market, Mahajan told Guernica's Ross Perlin. Mahajan, who studied at Stanford and now lives in Brooklyn, draws raves.
"Allow me to skip the prelude to judgment that usually begins a book review, and just get right to it: Karan Mahajan's second novel is wonderful," writes Fiona Maazel (New York Times Book Review). "It is smart, devastating, unpredictable and enviably adept in its handling of tragedy and its fallout. If you enjoy novels that happily disrupt traditional narratives — about grief, death, violence, politics — I suggest you go out and buy this one. Post haste."
"A writer puts himself in a bind if he begins his story at its point of highest intensity: where to go from here?" writes Alexandra Schwartz (The New Yorker). "Mahajan's answer is to strike out in all directions. The book's subject inspires its form, a series of shrapnel-like sections that cover the same temporal territory from distinct points of view. 'Blast: May 1996,' the omniscient opening sequence that describes the bombing, is followed by 'Victims: May 1996' and then 'Terrorists: May 1996,' where we see the planning of the attack. Later, Mahajan pushes deeper into the bomb's aftermath, following a year in the lives of Deepa and Vikas Khurana, a Hindu couple whose two young sons are among the dead, before turning to a Muslim friend of the boys who had gone with them to the market and survived. The effect is a kind of recurring recoil, an exercise in interrupted momentum. Every time we think we're moving forward, we're thrown back into the past."
Mahajan's novel "is in many ways a screed against coherence," writes Sharan Shetty (Slate). "Though it bears glancing resemblance to its baggy-monster precursors—it spans 30 years and three countries, and winds around two families and many more protagonists—it is in fact a keenly inward work, averse to forced parallels. It attempts no ennobling linkage of different forms of suffering, of this character's plight and that character's purpose. Some writers are quick to weave common threads; Mahajan delights in letting them fray. His book's project is not connection but its erosion, and, accordingly, his approach isn't rote panorama so much as an extended, off-kilter orbit of the void. The void in question is a bomb."
Sam Sacks (Wall Street Journal) calls it "the finest [novel] I've read at capturing the seduction and force of the murderous, annihilating illogic that increasingly consumes the globe."
Dan Fox, Pretentiousness: Why It Matters
Growing up in Oxford, Dan Fox gathered a sense of a broader culture from his brother's record collection and brief trips to London. Now 40, an art critic and co-editor of Frieze living in New York, he takes a thorough yet intimate look at a characteristic human behavior with a perspective that resonates with other critics.
Mark O'Connell (Slate) notes the range of Fox's book: "For a short book, Pretentiousness is impressively broad in its exploration of its subject, which it views from such vantage points as Greek philosophy, the Stanislavski acting method, the psychoanalytic theories of D.W. Winnicott, lifestyle consumerism, code switching in speech, and the use of fabricated identities and cultural appropriation in pop music." He also teases out the major questions the book raises, including, "How is it that pretense, seen as so authentic in childhood—a condition so idealized for its authenticity, its innocence—becomes so suspect in adulthood?"
What Fox "convincingly establishes," he concludes, "is that pretentiousness is the very soul of culture. He frees it from its associations with elitism and fakery, revealing it as itself a powerful force for liberation, as what he calls 'permission for the imagination.'"
Fox "sets out to explore how pretension — that is, a willingness to 'pretend' to greater conditions, to take artistic risks, to question reality and to dare to be different — is basically a necessary precondition to the creation of all culture," writes Kathleen Rooney (Chicago Tribune). His book "goes a long way toward making the compelling case that '[t] he pretensions of individuals from all walks of life — their ambition, their curiosity, their desires to make the world around them a more interesting place — is cultural literacy in action,'" she concludes.
Christian Lorentzen (Vulture) goes personal in his review. The core argument of Fox's book, he argues, is that "pretense is the 'engine oil' of all creative endeavors, that we'd have no art and a very impoverished culture without it. On a basic level this seems to me indisputable, yet there's something about Fox's defense of being pretentious that makes me a bit queasy. It's no easy thing to cordon off a realm of culture from the social world, but in each context being pretentious has different implications. What wins you a prize in one place can get you beat up in another. Unless things have changed since I was a kid, for many precocious adolescents those places might be one and the same. If I've just given it away that my anxieties about pretentiousness are rooted in my own adolescence, then I've got something in common with Fox…[who] concludes his book with a memoir of his own intellectual and creative formation."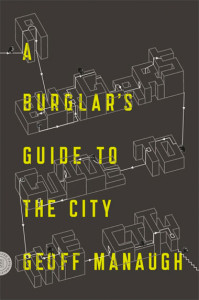 Geoff Managh, A Burglar's Guide to the City
The writer/creator of the architectural blog BLDGBLOG uses true crime episodes to show how cities make us sitting ducks for burglars. "Architects tend to think that they're the only people really concerned about the built environment, but when you read police reports about burglaries or talk to burglars or read FBI reports about bank crimes, they're discussing architecture in a really unexpected and interesting way," Manaugh told the Wall Street Journal's Ellen Gamerman. His exploration excites critics.
"Manaugh describes buildings the way food critics conjure up the flavor of a sumptuous meal," writes Analee Newitz (Los Angeles Times). "There's something delicious about his images of how burglars work their way inside buildings, moving through walls and floors 'like worms, like serpents, as if shape-shifting back and forth between species, between minerals and plants, burrowing their way into buildings before disappearing again through the ceiling in ways that architects would never have imagined nor planned.'"
Kate Tuttle (Boston Globe) calls the book "smart" and "original," noting, "Manaugh delights in the sheer creativity of burglars, like the great Victorian bank robber George Leonidas Leslie, an architect who meticulously planned each heist, building large scale models of bank vaults and interiors in empty Brooklyn warehouses. He describes, too, a kind of arms race between burglars and law enforcement, each trying to see things the rest of us ignore — the 'secret passageways and trapdoors' found or invented by the most creative criminals."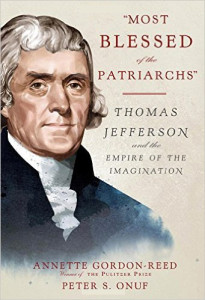 Annette Gordon Reed and Peter S. Onuf, Most Blessed of the Patriarchs
Two Jefferson scholars collaborate in a fresh perspective on one of the most revered founding fathers.
The doors to Jefferson's inner sanctum were always locked, points out Peter Baker (New York Times Book Review). "Visitors of the time were not the only ones eager to unlock the secrets of America's third president and author of the Declaration of Independence. For more than 200 years, Jefferson has been, along with Abraham Lincoln, perhaps our most analyzed president, the subject of endless study, scrutiny and speculation…. Few have spent more time trying to pry into Jefferson's historical hideaway than Annette Gordon-Reed and Peter S. Onuf…To the already bursting Jefferson canon, they add a fresh and layered analysis, one centered more on his interior life than his deeds for posterity."
Walton Muyumba (Chicago Tribune) calls Gordon-Reed and Onuf's new book "an unconventional portrait of Jefferson" in which "Jefferson's patriarchal identification highlights both 'his sense of himself as one who occupied a privileged place — with attendant responsibilities — in his home and community' and his membership in the republican revolutionary 'vanguard of a progressivism fueled by Enlightenment thinking that would inexorably strip away the old order to make things anew' in America."
Keeping the tension between the past and the present, foreign and familiar in play, Gordon-Reed and Onuf raise Jefferson in relief, against his times and ours, to examine his attitudes about home, family life, public service, slavery, politics, friendship and education. The Jefferson who emerges in these pages is a dynamic, complex and oftentimes contradictory human being.
Allen Barra (Dallas Morning News) concludes, "The authors maintain that in recent years 'Jefferson the God' has given way to 'Jefferson the Devil.' Well, it's true that no one's writing Broadway musicals about Jefferson these days, but Most Blessed of the Patriarchs has the virtue of avoiding the pitfalls of presenting our third president as either God or devil and restoring him to the ranks of the human."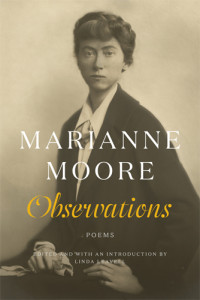 Marianne Moore, Observations
First published in 1924, Observations won the Dial Award for Poetry. Its "long overdue republication" brings a fresh perspective to her seminal role in twentieth-century poetry.
In a 1988 lecture at the Folger Shakespeare Library, notes James Longenbach (The Nation), John Ashbury called Moore's "The Octopus" the "most important poem of the 20th century." The poem, Longenbach continues, "grew out of Moore's 1922 expedition to Mount Rainier, the 14,000-foot peak towering above Seattle, and as Clifton Johnson puts it in What to See in America (one of Moore's sources for the poem), the 28 glaciers covering Mount Rainier reach 'into rich gardens of wild flowers and splendid evergreen forests like the tentacles of a huge octopus.' But just as the octopus is a figure for the mountain, the mountain is Moore's figure for America—its vastness, its multiplicity, its tortured past and its infinitely promising future. Except for Whitman's Leaves of Grass, there is no poem that more passionately fulfills Emerson's conviction that 'America is a poem in our eyes; its ample geography dazzles the imagination.'"
Observations, he adds, "emerges as one of several books that in the 1920s created our lasting sense of what constitutes the modernist achievement—books that court chaos through exquisite artistry: Eliot's The Waste Land, Woolf's Mrs. Dalloway, Pound's A Draft of XVI Cantos, Joyce's Ulysses."
Longenbach concludes, "The one dismaying aspect of this long-overdue republication of Observations…is an introduction persuading new readers that Moore is a defensive artist in need of defense. To praise her at the expense of Eliot or Pound is to descend to a kind of argument that Moore herself found witheringly distasteful; the conviction that something is great 'because something else is small' (as Moore put it) diminishes what is great. Observations is one of the great verbal works of art of the 20th century, in part because of its infectious devotion to everything small, and like The Waste Land or Ulysses, it speaks for itself."
---