Five Books Making News This Week: Lost Fortunes, White Trash, and Wild Hogs
Ramona Ausubel, Nancy Isenberg, Ian Frazier, and More
In the wake of the Orlando shootings comes poetry. U.S. Poet Laureate Juan Felipe Herrera's "i Will Lov U 4Ever, Orlando" (WNYC), Maggie Smith's "Good Bones" (Waxwings), and Carolina DeRobertis' bilingual "For Orlando" (San Francisco Chronicle).
Margaret Atwood wins the UK's PEN Pinter prize, awarded to a "writer of outstanding literary merit who, in the words of Harold Pinter's Nobel Prize in Literature speech, casts an 'unflinching, unswerving' gaze upon the world and shows a 'fierce intellectual determination … to define the real truth of our lives and our societies.'" Etgar Keret wins the $100,000 Charles Bronfman prize, the first storyteller honored by an award that recognizes young humanitarians. "In a dangerous world, Etgar Keret portrays people who have the capacity to empathize with the other, to hear the other, and to find compassion for the other," notes Charles Bronfman, for whom the prize is named. "He counters dehumanization and inspires his readers with warmth and humor and original thinking." Novelist Ramona Ausubel's second novel launches with a strong critical response, as does New Yorker writer Ian Frazier's new collection. Nancy Isenberg's White Trash sheds light on this year's presidential election. And more accolades for Pulitzer Prize winner Annie Proulx's ninth novel and Yaa Gyasi's.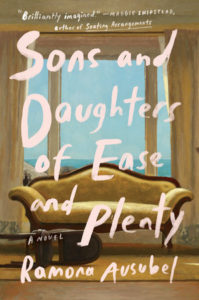 Ramona Ausubel, Sons and Daughters of Ease and Plenty
Ausubel's second novel opens in Martha's Vineyard, where a young family is about to lose its inherited source of income. It's on must-read lists in O Magazine, Harper's Bazaar, Refinery29, the Chicago Tribune, Newsday, Travel & Leisure, Vanity Fair, People, Elle, and in my BBC Between the Lines column.
"A dried-up family fortune and the first cracks in a marriage are the twin calamities that open Sons and Daughters of Ease and Plenty," writes Malcolm Forbes (Minneapolis Star-Tribune).
Ausubel alternates her drama, detailing in one chapter the next stage of the family unraveling in 1976, and in the next describing how the family formed in the late 1960s. Both time frames have their fair share of fresh, witty and skillfully imagined scenes, from young Edgar dodging Vietnam and ending up "a misplaced toy soldier" in Alaska, to Fern going into labor and having her twins delivered by the two Swedish men who have come to assemble her desk.
Joan Frank (San Francisco Chronicle) offers high praise: "A terrific exuberance and tenderness drives the telling, as it wings back and forth in time: full-blooded, sorrowing, funny, lush with backstories and images so acute you read them twice, three times: "As if the family had tipped over the edge of a waterfall, time sped up." She continues:
Before at last settling into a graceful, piquant closure, the novel thinks passionately and complicatedly about love, marriage and family. ("The burden … was beautiful. Heavy and beautiful.")
It thinks a lot about money, but also about class, race, work, war, history, sex, childhood and adolescence; about food, color and light, the pleasures of the senses, death. It thinks about grief and forgiveness — including forgiving oneself for failing the lost beloved, and for living past the unrectifiable.
Jenny Shank (Los Angeles Times) is also admiring: "My writing teacher, Lucia Berlin, used to admire how Anton Chekhov would treat a princess and a maid with the same lack of judgment in his writing. Berlin thought it was the princess that more writers tended to flub, chastising her instead of conveying her humanity. Ausubel succeeds on this score — she does not scorn her princes and princesses."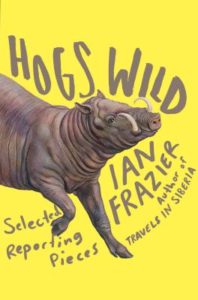 Ian Frazier, Hogs Wild
New Yorker staff writer Frazier's new collection encompasses feral hogs, the hip-hop cop, and the curious chemistry behind a potential biodegradable replacement for Styrofoam. "A lot of it is about the city and the country," Frazier told Kate Tuttle (Boston Globe). "Where I came from was rural. It's not rural now, but it was when I grew up. I think if you come from someplace where nature's more a part of your life, you look for it when you move to the city. You look at nature. You look at water."
"Frazier is in chameleon mode," writes Michael Upchurch (Seattle Times). "He's a science writer. No, wait, he's a New York City historian — or a muckraker, or a cultural critic. His essays range from whimsical to wisecracking to withering." He concludes, "Read Hogs Wild, and you won't just be entertained. You'll feel smarter."
David Hugh Smith (Christian Science Monitor) calls Hogs Wild a "brilliant collection" and praises Frazier's "unquenchable curiosity." "Frazier is admirably non-judgmental. He provides vivid, startlingly fresh, often humorous, descriptions – along with historical backstory. But he mostly lets readers form their own opinions."
Michael Magras (Minneapolis Star-Tribune) remarks upon the "Frazier wit," present even in his most serious essays: "In a piece on Death Valley National Park, site of Charles Manson's hideout, Frazier writes that he didn't mind playing on a deserted golf course because 'I am such an indifferent golfer that I prefer there be no witnesses.' In the midst of a technical description of polymers and hydrocarbon molecules for a piece on the process of growing plastic substitutes from mushrooms, he writes, 'high-school chemistry, don't fail me now.'"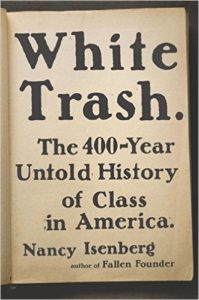 Nancy Isenberg, White Trash
An American history professor at Louisiana State University offers a 400-year-old survey of the fate of poor white Americans since the founding of the Jamestown settlement. "They are who we are," Isenberg concludes, "and have been a fundamental part of our history, whether we like it or not."
"White Trash offers a deep-diving history of people…going all the way back to the first European incursions into the Americas," writes Laura Miller. (Slate). "The rich, powerful and well-connected men behind [colonizing] schemes stocked their ships and settlements with 'expendable people—waste people,' typically indentured servants bound to work off the price of their passage, workers who could be used up in taming the wilderness. The authorities back in England welcomed such plans as a way to drain Britain of its human dregs: convicts, vagrants, the orphaned children of paupers. If the hard work didn't redeem them, the hard conditions would eliminate them."
Miller adds: "If White Trash is rather weak at weaving its assorted elements into a coherent narrative, it sheds bright light on a long history of demagogic national politicking, beginning with [Andrew] Jackson. It makes Donald Trump seem far less unprecedented than today's pundits proclaim."
Daniel Akst (Newsday) has quibbles. "White Trash is informative but strangely narrow for such a sprawling work, and readers may find themselves distracted by all the noise of axes being ground. If you really want to learn about poor Americans in the rural South (and, eventually, in the urban North), read Isenberg's book with Harriette Simpson Arnow's heartbreaking 1954 novel The Dollmaker. It has its failings — Appalachia before the war was a lot less like Eden than the writer would have us believe — but you'll never think of human beings as 'white trash' again."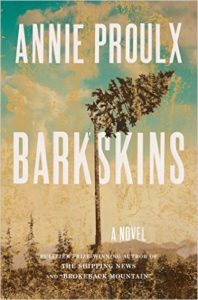 Annie Proulx, Barkskins
For the second week, Barkskins, Proulx's 700+ page ninth novel draws mostly positive reviews.
Barkskins is "awesome and urgent," writes Peter Geye (San Francisco Chronicle). "If Proulx's vision sometimes seems fatalistic, isn't that fair? By holding a mirror up to the short history of the conquest of this continent, she valiantly shows us how we've ushered in our collapse. Time, like the wind, moves faster over a decimated landscape. And if we're lucky enough to survive the Anthropocene we've seemingly wrought, then Barkskins will surely survive as the crowning achievement of Proulx's distinguished career, but also as perhaps the greatest environmental novel ever written."
"Although Barkskins is full of strange and vibrant humanity, that 'vast invisible web' is its central character," writes Annalisa Quinn (NPR). "The woods are alive: rivers are 'snarling,' shrill mosquitoes 'keening,' hills 'exhaling' mist, trees 'pulsing' with pollen. The fish are so plentiful that rivers look 'made of hard muscle.' The long and slow sickness — humanity — that ravages this gasping, living place is the book's theme. The humans that pass over the earth flame brightly and then disappear."
Jeffrey Zuckerman (The New Republic) describes the "intractable duality at the heart of Barkskins: a finite natural world and a drove of men intent on harvesting and destroying it for their own benefit." But, he writes, "Barkskins is not a polemic. The beauty of Proulx's book is how it illuminates the lives of characters who have been affected by this foundational exploitation."
Dwight Garner (New York Times) is not convinced:
Like the Lorax, Annie Proulx speaks for the trees. Her new novel, "Barkskins," is a clamorous epic of environmental despoliation. It plays out across 717 pages and more than 300 years, from the arrival of woodcutting French settlers in Canada in 1693 through an eyewitness account of melting glaciers in 2013.
In between, there is clear-cutting and more clear-cutting, with the occasional sidebar about eating or scheming or killing or rutting. This is a jeremiad about the loss of North America's "monstrous pine finery," in the author's resonant phrase, and thus its weird, old pagan soul. This novel is a flood of acid rain….
It is possible to utterly share Ms. Proulx's environmental views while noting how this book's homilies fall, like a succession of cut trees, into your path. From the start, trees shiver and inhale and help humans heal. Lives are filled with "leafy meaning." All things, not just bark and skin, are seen to be connected.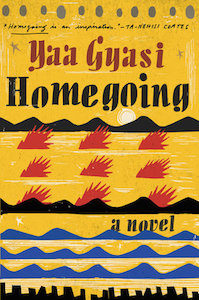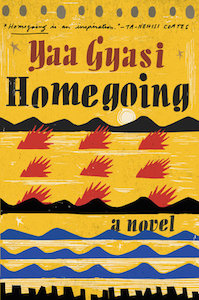 Yaa Gyasi, Homegoing
This potent multigenerational epic by Iowa Writers Workshop graduate Gyasi continues to gather steam.
"It's impossible not to admire the ambition and scope of Homegoing," writes Michiko Kakutani (New York Times), "and thanks to Ms. Gyasi's instinctive storytelling gifts, the book leaves the reader with a visceral understanding of both the savage realities of slavery and the emotional damage that is handed down, over the centuries, from mothers to daughters, fathers to sons. At its best, the novel makes us experience the horrors of slavery on an intimate, personal level; by its conclusion, the characters' tales of loss and resilience have acquired an inexorable and cumulative emotional weight."
Gyasi, writes Ron Charles (Washington Post) "has developed a style agile enough to reflect the remarkable range of her first novel. As she moves across the centuries, from old and new Ghana and to pre-Civil War Alabama and modern-day Palo Alto, Calif., her prose modulates subtly according to time and setting: The 18th-century chapters resonate with the tones of legend, while the contemporary chapters shine with clear-eyed realism. And somehow all this takes place in the miraculous efficiency of just 300 pages."
Christian Lorentzen (New York) concludes favorably: "…Homegoing repeatedly enacts one of the novel's classic missions: to dramatize the struggle of the individual soul, with its local yearnings and heartbreaks, against the unjust social forces of the modern world. Sometimes these forces have the face of a brutal Mississippi slaveholder — the cruelest character in the novel is simply called "the Devil" and his plantation "Hell" — but in Africa they have the faces of her otherwise sympathetic protagonists and their families. Gyasi knows that in this struggle, any reprieves for the individual, even the individual with a semblance of power, are rare."
Dana De Greff (Miami Herald) suggests that Homegoing "serves as a modern-day reconstruction of lost and untold narratives — and a desire to move forward. Having both sides of one family journey home together more than 300 years after the fact is the start of a new truth, a new chapter."
---