Finding Space for Art in
Dark Times
Megan Margulies on Her Grandfather, Captain America, and
the Purpose of Creation
On April 1st, I sent the final draft of my book, a memoir that revolves around my relationship with my cartoonist grandfather, to my editor. It was also on this day that there were nearly one million confirmed COVID-19 cases worldwide, almost 50,000 deaths, and thousands of overwhelmed healthcare workers fearing for their own lives along with the lives of their patients. I felt little excitement. There wasn't a sense of accomplishment that I had expected with the completion of my first book. The news alerts on my phone, the emptiness of the streets, and the silence of the sky—without the typical hum of airplanes overhead—made the moment feel meaningless.
Before all of this, before the world seemed to crack at the seams, my writing felt harmless, though perhaps, at times, purposeful. It was acceptable to carve out a piece of the world—then abundant and full—for my words. There was room to spare for my story. I've struggled with this idea of finding space for myself before. My memoir explores years of searching for space to claim—in my family's tiny NYC apartment, in the city itself, as an adult in my new suburban life—and about the love and loss of my grandfather who offered me this space when I needed it most.
After I hit send on my email, I sat in the guilt for hours. Guilt during a pandemic is just as contagious as the virus. It can be about the mundane acts of life: food shopping, leaving the house, kissing your children. With everything shut down, cities and towns bare, only the essential workers remain. As these people keep the country running and keep people alive, the work that I do as a writer becomes utterly ridiculous. Can I even call it work? Again, as I did as a teenager living in the small apartment, I feel like a nuisance. My writing becomes clutter, an annoyance that only gets in the way.
And yet again, I look to my grandfather to find my place in the world. My grandfather, Joe Simon, the comic book legend, co-created Captain America before the start of World War II. During that time, the world was also ready to crack at the seams. Yet he continued to be an artist.
Before all of this, before the world seemed to crack at the seams, my writing felt harmless, though perhaps, at times, purposeful.
My grandfather moved to New York City in 1937 when he was 23 years old to start his career in comics. Two years later, war broke out in Europe and fear hit New York like a shock wave. As a Jew, my grandfather was infuriated by the rise of Hitler. Many of the city's residents were immigrants who had family overseas. My grandfather's own father and mother had come the states at the beginning of the century, creating a life for themselves in Rochester, New York. They found safety and a place to thrive.
It's hard to imagine now, but Nazi sympathizers were so prevalent that on February 20th, 1939, a rally was held in Madison Square Garden that hosted 20,000 supporters and members of the German American Bund. Publicly, without shame, and for all to see, thousands of hands shot upward like knives, thousands of voices chorused "Heil Hitler."
Scrolling through photos of the event, I see my grandfather in a crowd of protestors standing outside Madison Square Garden. New York City's mounted police form a barrier of 1,500 officers to keep them from colliding with the bundsman. The man I see isn't really my grandfather, but it looks just like him—his dark curls, his lanky frame. This misidentification allows me to hear my grandfather's internal dialogue. How could he, the son of poor Jewish immigrants, have his say in the matter? Where could he channel his rage? "Don't take shit from anyone," he used to say.
Article continues after advertisement
My grandfather worked for Fox Publications at the time, but he and fellow artist Jack Kirby rented an art studio where they worked after-hours. Hunched over their desks all night, they brainstormed new character ideas and worked on freelance assignments that offered needed extra income. It was here in this studio, their own bubble of imagination, that Captain America was created. While the newspapers reported the horrors overseas, as the city buzzed with fear and heated debate over whether the United States should enter the war, my grandfather put his pencil to paper.
While writing, there are moments when I stop typing, my eyes lose focus, and I'm gone. It's as though I've entered another dimension where I take pieces of the world, rearrange and jostle, until I can understand what it is I'm trying to put on the page. I'm grateful for the escape, even if it's only for a few minutes. I picture my grandfather in this dimension, leaving the buzz of the city, the photos of war in the newspapers, his hand frozen over the blank sheet of paper.
I often study his artwork that hangs on my walls. If you look closely enough, you can see the ghost of an erased line where his hand worked, moving—rearranging and jostling—the shapes and movements of a character. Sometimes it's the letters that were erased, the words that he reconsidered. He was a writer as well, his mind always spinning tales of adventure and humor.
When you think about the early days of comics, you might imagine a young boy wearing a baseball cap, a comic book resting across his lap. Young kids chasing each other, engrossed in a game of make believe and imitating their favorite characters. In the first issue of Captain America Comics, with the famous cover of Captain America punching Hitler in the jaw, two servicemen approach President Roosevelt with their concerns over the war.
Roosevelt quips, "What would you suggest, gentlemen? A character out of the comic books?" With the interlacing of reality and fantasy, Captain America found his grounding in the world, for both kids and adults. The character grew to become an enduring symbol of patriotism, bravery, comfort, and strength. Captain America proved the power and resilience of art.
The character grew to become an enduring symbol of patriotism, bravery, comfort, and strength.
Eighty-one years after my grandfather made that rough sketch, Captain America is still here. Almost nine years after my grandfather's death, I find comfort in the longevity of his art. It wasn't swallowed up by the devastation of the world around him. Because of him, I allow myself to carve out some space for my writing, and forgive myself for focusing on my art during the pandemic. My words don't have to be clutter, like a pair of sneakers left in the middle of the floor to trip over. They can sit patiently on a shelf, waiting for the right time to be read. I can only hope that someday, somehow, someone will find comfort, joy, or even just entertainment in them.
Even if there isn't much room for a writer's work now, there will come a day when it will serve as wheels to help get the world rolling again. It is in these dark times that we are forced to reexamine our loves, fears, and relationships. Stories will bloom like spring flowers, their color reminding us that we and our art will endure.
__________________________________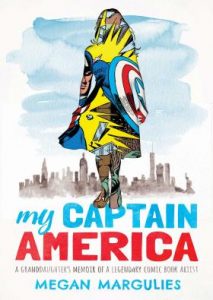 My Captain America by Megan Margulies will be published in August by Pegasus Books. 
---