Finding Purpose in the Desolation of Antarctica
Jemma Wadham on the Extreme Wildness and Barren Backdrop
of the Dry Valleys
Days had passed, and nights too, almost indistinguishable from one another under the relentless glare of the sun. He'd traveled far from the sea; while out fishing one day, he'd got separated from his penguin family and had emerged onto land suddenly confused about which direction to waddle. Normally he'd use the sun to guide him, but dense cloud cover made this tricky. So he'd started to walk away from the sea, to cross the headland—only it wasn't a headland—and the sterile, white surface yielded no clues as to the true path, so he'd just kept going. He was unbearably hungry. Then, one day, on the horizon, he'd glimpsed a cluster of jaunty domes—canary yellow and orange against the whiteness.
He was an Adélie penguin, the smallest and one of the most common species of penguins along the Antarctic coast, which are capable of diving for up to six minutes underwater and down to depths of 150 meters in search of fish. These comical-​looking birds were encountered by a French expedition in the 19th century, and named after Adélie Land, a portion of the Antarctic mainland which the explorer Jules Dumont D'Urville had in turn named after his wife Adéle. Apart from my human companions, of course, this little penguin was the first living creature I had set eyes on in Antarctica. One day he'd stumbled into our camp lost, his navigational senses scrambled. We were about 100 kilometers from the sea—not to mention a supply of fresh fish—having traveled by helicopter for an hour or so from the Antarctic base of McMurdo the day before.
You're strictly prohibited from interfering with wildlife in the McMurdo Dry Valleys; no feeding of animals and birds is allowed, and you must let nature take its course. So there was nothing to be done with our newly arrived black-​and-​white friend. In the beginning he entertained us with his antics, blundering around, wings aflap, getting caught up in the fly sheet of the mess tent, entangled in the guy ropes. He made us laugh—there's nothing elegant about a penguin on dry land. Our meeting with the little Adélie was bitter-​sweet—sweet because that is indeed what he was, bitter because we could not help him.
Antarctica truly is Earth's last great wilderness, the one place where humankind has so far failed to put down roots. It is so far from anything we can imagine or feel, a mysterious, inhospitable white void in a world atlas, its name giving nothing away—meaning simply "opposite the Arctic". Yet this far-​off continent is about the size of Canada and is dominated—except for about two per cent of its area—by our greatest ice sheet, separated into east and west lobes by the twisting spine of the Transantarctic Mountains which connect the Ross Sea on one side and the Weddell Sea on the other.
Antarctica truly is Earth's last great wilderness, the one place where humankind has so far failed to put down roots.
It is surrounded by the treacherous Southern Ocean, its waters kept cool by the intense Antarctic Circumpolar Current (ACC), which swirls clockwise around the continent, fending off warm waters from the north and helping preserve the ice sheet. At its northerly boundary, the ACC dives beneath the more tepid waters of the sub-​Antarctic, and the mixing of the two brings nutrients to the surface, sustaining life and particularly the prized Antarctic krill. Krill is a semi-transparent, shrimp-​like crustacean, what we call a type of zooplankton, that drifts around the ocean following currents.
It's one of a few types of Southern Ocean marine life that can feed directly on something as small as a phytoplankton, which it does by filtering them from the ocean water using its tiny feathery legs. Many larger forms of life eat krill, and it sustains valuable fisheries for nations like Norway and Japan—without the krill the food webs of the Southern Ocean would collapse. Thus, despite its roughness, the Southern Ocean teems with marine life—whales, albatross, penguins, seals, krill and many species of fish flourish here.
Antarctica has always offered a benchmark, by way of its extremity and remoteness, against which to determine one's purpose in this world; throughout the intensive era of polar exploration and into the present, it has fulfilled a deep-​seated human desire to venture into the unknown. Many pilgrimages have been made to this featureless, colorless land. Everyone who has gained an acquaintance with Antarctica has a word for its vast polar desert—awe-​inspiring, blank, hostile, isolated, serene, stark, sterile, striking . . . unforgiving. For me, it embodied desolation—for my visit there in 2010 coincided with one of the most desolate periods of my life.
My expeditions to Greenland had been wild, euphoric and charged with ambition and hope. Yet it was during this period, too, that my mother had been diagnosed with advanced breast cancer, which had progressed through much of her body. She had responded brilliantly well to the chemotherapy drugs, in part, I always felt, through having a spirit that was more positive than anyone I knew. Two years down the line, though, the drugs were no longer working quite as well and causing severe side effects. One spring during this bleak time the opportunity cropped up to visit Antarctica. Totally out of the blue, I had received an email from a scientist from New Zealand, John Orwin, who'd been working in Antarctica with Martin Sharp, my glaciology professor from the Arolla days. His small team from Dunedin in the chilly south of New Zealand were on the hunt for someone who understood both glaciers and water chemistry and who might be prepared to join them on a trip to the McMurdo Dry Valleys to collect some data to support a forthcoming research grant proposal. As always, the call of the ice was too strong to resist.
It felt desolate from the start. On Christmas Day I sat alone in a plush apartment in Christchurch, New Zealand, carefully unwrapping the brightly colored presents which had been hidden in my backpack by my family. The pain engendered by the distance and separation was excruciating. What if my mother were no longer alive by the time I got back? How would I know? What on Earth was I doing on the other side of the world, in Antarctica of all places? Why couldn't I just be like a "normal" person, who would surely stick around at a time of family crisis? Where did my constant restlessness come from? The next day I was strapped bolt upright into a military plane, a thunderous roar in my ears, bound for the southern continent. There was no going back now.
Stormy conditions tend to prevent helicopters from taking off, and so we spent the first few days grounded at the New Zealand research station, Scott Base on Ross Island, named after Captain Robert Falcon Scott, who had departed from the shores of the nearby Ross Ice Shelf during his fateful Terra Nova Expedition of 1910 to 1913. (Not only had the British party been beaten to the South Pole by Roald Amundsen's Norwegian team, but they had all perished on the return journey from the South Pole.) I have always found research stations strange, claustrophobic places. The atmosphere can be heavy with extreme politeness, as people who don't really know each other (and probably never will) attempt to make light conversation over meals; drowsy from the suffocating warmth of the supercharged heating systems and the insomnia that comes from sharing bunkrooms with snoring strangers.
In the event, our confinement at Scott Base could have been a lot worse. Its cheery crew were used to making their own entertainment, and while I was there the 20 or so permanent station staff staged an entire (mock) wedding where the burly carpenter married the equally burly cook, complete with wedding ceremony, dinner, speeches and a reception party got up in drag. I'd also managed to purloin some skinny cross-country skis—I had no idea how to use them, but my Canadian colleague, Ashley Dubnick, who I already knew from my Greenland exploits, kindly gave me an impromptu lesson on the Ross Ice Shelf. She glided like a swan over the glassy ice-​shelf surface, rhythmically loping from one foot to the next in an elegant, fluid motion. I, on the other hand, resembled Bambi—a few strides followed by a fall to the ground, having lost my balance for the umpteenth time.
Finally, after several days of limbo, we flew by helicopter to our destination, the McMurdo Dry Valleys, the largest expanse of ice-​free land on the Antarctic continent. Nestled between the Transantarctic Mountains and the Ross Sea, these barren valleys are starved of both moisture and warmth—even in summer, the air temperature mostly bumbles along below zero degrees Celsius. A peculiar collection of glaciers flows down into them from the mountains. These are "cold-​based" glaciers, because many of them are frozen to their beds, and they flow ever so slowly, moved by the minuscule dislocation and stretching of ice crystals under the pressure of an enormous frozen mass.
Their swollen, white lobes feed glacier tongues which protrude like giant alabaster slow worms from the valleys, exposing ice cliffs which tower imposingly over the sandy plains below. These near-​vertical cliffs are impossible to assail without the aid of a sharp pair of crampons, an ice axe and some courage. Their steepness reflects the fact that there is little melting of ice here—so the snouts of glaciers in the Dry Valleys do not develop the typical gently sloping surfaces of glaciers in, say, the Alps. The sub-​freezing air temperatures throughout the year in this part of the Antarctic have helped the glaciers maintain relative stability compared to others elsewhere; the climate-​warming time bomb has yet to fully hit them.
Due to the extreme cold and aridity, this landscape was littered with the mummified remains of seals, penguins and other benighted creatures.
My time in the Dry Valleys amounted to six weeks, yet it felt like six months. There were none of the highs of Greenland, no crazy parties, no monumental scientific breakthroughs to elevate the spirits. Just desolation and drudgery. A small team of just three scientists—Ashley, John Orwin and me; we were entirely alone in the deep field. With no phone, no email, no radio, I was tortured by worry about my mother back home and felt an overwhelming sense of disconnection.
Unlike my companions, who abstained from alcohol for the entire trip, I had to partake of a dram or two of single malt every night to bring relief from my spiraling thoughts. It was a treasured ritual—I'd carefully decant a portion of thick, golden Islay malt into a 28-​millimeter glass vial, originally intended for collecting water samples. It became the highlight of my day, which sounds dismal given that I was in Antarctica, a place most people can only dream of visiting.
We established our small camp on the shores of Lake Colleen, in Garwood Valley at the far southern end of the Dry Valleys, which borders the McMurdo Ice Shelf and the vast Ross Sea. I'd expected these valleys to be arid, but still was amazed by what this meant in reality. Of course, like everywhere in Antarctica, the snow tumbled from the clouds—yet, within an hour of touching the ground, it had vanished back up to the skies. I could scarcely believe my eyes. It couldn't have melted—the air temperature was far too cold.
Instead, the air's extreme dryness meant that the solid snow had transformed, as if by magic, straight back to water vapor—a process called sublimation, when a solid goes to a gas—thus avoiding the liquid phase that would occur if you heated a chunk of ice in a pan on the stove, when it would turn first to liquid and then to steam or 'water vapor' (a gas state). This sublimation of snow is the main means by which glaciers in the McMurdo Dry Valleys lose mass, although they do also melt a bit in summer.
Due to the extreme cold and aridity, this landscape was littered with the mummified remains of seals, penguins and other benighted creatures which had wandered there by mistake. Their leathery remains can be preserved for as much as thousands of years in the frigid air, which protects them against breakdown by bacteria and other microbes. This is not to say that microbes don't exist in the Dry Valleys, but they are not numerous compared to, say, a tropical soil, and they work slowly under such conditions. It was Captain Scott who initially discovered these valleys—referring to Taylor Valley as the "Valley of the Dead."
Curiously, it was my first mental image of these valleys as a graveyard where most forms of life struggled to survive that provided my reason to visit. Drawing on my earlier discoveries about microbial life and how it survives deep beneath glaciers, I wanted to know how life thrived on the glaciers here, in one of the most challenging places on Earth, not to mention what this might tell us about the habitability of the huge ice sheet that lay silently next door, and even perhaps of other icy planets and moons.
Despite the eerie backdrop of corpses strewn across a polar wasteland, our small gathering of tents was the most luxurious field camp I'd ever set foot in, probably because it wasn't run by a Brit—we tend to do things the hard way. The Kiwis, who were running the logistics for our trip, had helicoptered in a chest freezer powered by a generator, which was brimming with pre-packaged bags of meat and tasty sauces that cohabited with our ice samples. If you do research in Antarctica, you normally carry it out in association with a national logistics operation—whether it's the Brits, Americans, New Zealanders or one of forty or so other countries with a presence there—who will supply the right gear and make sure things proceed safely. This was a far cry from my work on Greenland, where my small team of hardy glaciologists doubled up as the logistics operation, managing our own transport, camp set-​up, kit, power, food and daily regime. In Antarctica, I didn't have to worry about any of that.
Our mess tent, aptly named a "Weatherhaven," was fit to survive a tornado—it resembled a giant yellow banana that fanned out like a concertina, its shell stretched taut across a series of hooped poles. I'd had mixed experiences with this tent from the start, when Ashley and I tried to put it up after being dropped by helicopter during a very short weather window (we had had to leave John behind because of the huge amount of equipment that needed to be stowed away—he joined us later). We'd never seen anything quite like this tent, and were initially quite puzzled, but we'd managed to figure it out and assemble it into its bizarrely shaped body, with all the poles correctly installed.
We were inside, admiring our creation and marveling at its all-​round yellowness when a powerful squall swept across the proglacial sands. Without warning we found ourselves violently tossed back and forth as the tent was swept up and propelled down the rocky incline towards the lake, as we desperately rolled around inside, trying to stay upright, scrabbling frantically like hamsters in a turning wheel. We'd forgotten to peg it to the ground. Luckily, we ground to a halt when the wind abated, just before starting a wild slide across the glassy lake ice.
Our personal tents were thankfully more simple affairs. Mine became my safe place—a refuge from storms of the weather and the mind. The New Zealanders had provided not one but three sleeping bags—a fleece liner, an inner and outer down bag—all of which were laid out upon a thick insulated air mattress covered with a woolen fleece pelt. Strange to say, I have never slept so well as I did down in the Dry Valleys. Despite my internal turmoil during the day, when night fell my mind and body seemed to settle down into a slower rhythm, and I felt cocooned in my tiny tent, a warm, tingling memory of whisky in the back of my throat.
__________________________________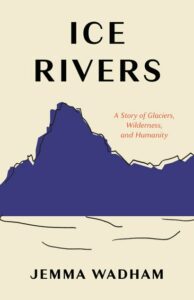 Excerpted from Ice Rivers by Jemma Wadham. Reprinted with permission of the publisher, Princeton University Press. Copyright © 2021 by Jemma Wadham. 
---