"February, Rain"
A Poem by Tess Taylor
1
Dawn, after the hoped-for downpour.
Droplets beaded in the sage.
2
On hills, ruts revert to streambed:
Thistle-blue, the sky in rivulets.
3
On damp
fallen leaves, bright fungal blooms—
4
Live oak cradles winter sun: Satsuma.
Winter clouds—swift coho salmon—
5
Along freeways, pans & garbage.
Fragile line between expensive & discarded.
A screen, rotating advertisement.
A camp: three tents, two bicycles.
6
On this road, backlit coyote:
Quick illuminated trickster god—
7
At home: Absentminded,
under storm. Symphonic
crash, then silence.
Everything is gleaming, gleaming.
We prime ourselves to forest atmospherics.
8
On the mountain now mossy live oaks
twist, softening our hills.
Druid, draoidh—some greenish
Welsh or Celtic god
lodged in a latter Spanish colony.
After rain: white steeple, green behind it.
9
The light might be the Philippines or Goa.
Little mission church on a green hillock.
10
O white sanctuary gleaming:
You trail all your bloody histories—
__________________________________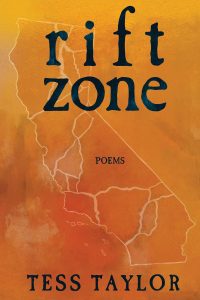 "February, Rain" is excerpted from Rift Zone, a poetry collection by Tess Taylor. Copyright © 2020 by Tess Taylor. Reprinted with permission of Red Hen Press. 
---