Fast Love in Turbulent Times: The Early Days of Sarah Kidd's Marriage to a Notorious Pirate
Daphne Palmer Geanacopoulos on the Suspicious Timing of a Widowing and a Wedding
Anti-Catholic rebels Jacob Leisler and Jacob Milborne were hanged on May 16, 1691, in the New York City public square that is now City Hall Park. Sarah Bradley and Captain William Kidd attended the early morning hanging before their wedding. Kidd and a fellow Scot named Colonel Robert Livingston stood so close to the scaffolding they saw the rain drizzling down the face of Jacob Milborne and heard his last words: "We are thoroughly wet with rain, but in a little time we shall be washed with the Holy Spirit." As the handkerchief was tied around Jacob Leisler's head he cried out, "I hope my eyes shall see our Lord Jesus Christ in heaven; I am ready! I am ready!"
Sarah and Kidd's love match happened fast in a turbu­lent time. The fear and uncertainty may have focused Sarah on the brevity of life. It had been seven years since she ar­rived in New York, and she had learned a lot about men and marriage: her first was arranged, her second was for conve­nience, this one was for love. Sarah knew that the timing of her marriage so soon after Oort's death was suspicious, that some might wonder if Kidd had something to do with the Dutch merchant's sudden demise. Did he kill him or have him killed so he could marry Sarah? Or, did Sarah, with the help of an accomplice, organize the fatal event so she could marry the man she loved?
Sarah had made short work of the procedures and pro­tocols of Oort's death. He died intestate (without leaving a will), so Sarah filed for the letter of administration, initi­ated an inventory of his meager estate, contacted the coro­ner, and held a funeral all within twenty-four hours of his death. The funeral expense of £30 was added to the list of debts Oort owed to the merchants and the three widows. It all went so smoothly she may have seen it as a meant-to-be sign that she was supposed to have a promising new future.
Sarah knew her behavior was unconventional but it didn't dissuade her from going through with the sudden nuptials. The couple's bold news shook the community known for its love of gossip. She was willing to tolerate the loud whispers about the widow and the war hero in taverns, street corners, and behind closed doors—it gave people something to talk about. She may have humorously thought their marriage was a public service of sorts.
Sarah and Kidd were such solid citizens and highly re­spected members of New York society that an investigation into Oort's death was not initiated and no untoward behav­ior was ever proven. Sarah may have disregarded the social norm of grieving a year for her husband before remarrying, but what the community would come to understand was that she knew a great opportunity when it came her way. Sarah was taken with Kidd, and he with her. Nothing seemed to faze her. This was a new beginning and she was open to all that it might bring.
Sarah knew that the timing of her marriage so soon after Oort's death was suspicious, that some might wonder if Kidd had something to do with the Dutch merchant's sudden demise. Did he kill him or have him killed so he could marry Sarah?
They set up Sarah's Pearl Street home and a list of the goods and chattels made at the time showed they lived sur­rounded by luxurious furnishings. The large collection of pewter plates and drinking glasses suggests that the Kidds hosted large, lavish dinner parties. The meals were cooked with a skillet and two iron pots, and meat was lifted out of the pot with a flesh fork, unusual for the time. They set the table with two pewter saltcellars (small footed bowls) and Sarah had a choice of tablecloths and napkins. (People pri­marily ate their food with their hands so numerous napkins were a luxury item.) Barrels of cider were available for ev­eryone to enjoy in pewter tankards.
Dorothy Lee, Sarah's longtime housekeeper, likely shook out their six rugs including the only turkey work carpet in Manhattan, crisped the linen sheets with smoothing irons, and made up the four-poster feather beds with valences and curtains.  On cold nights, Lee likely filled the warming pan with hot coals and put it between the sheets among the bol­sters and pillows. In the morning, she may have wound the clock that ordered their days, emptied two bed pans, and polished four looking glasses for Sarah and Kidd to dress by. They kept fires going in the two fireplaces, carefully imple­menting the fire tongs to make sure the ashes did not blow past the decorative fenders. They used candles to keep the house well lit, trimming their wicks in the brass, pewter, and tin candlesticks.
While Sarah minded things at Pearl Street, Kidd worked as a merchant sea captain delivering goods to and from the Caribbean. His route took him south where he touched base in Antigua, then headed north, sometimes stopping in Boston. The West Indies needed food, wood to build things, and an assortment of manufactured goods. Flour, pine, and white oak were readily available in New York. In turn, the West Indies was an abundant source of sugar, rum, and spices for the northern colonies. Sailing in the Antigua, Kidd shuttled cargo back and forth taking on privateering jobs when he was needed.
A year into their marriage, Sarah received a written no­tice from the acting governor, Richard Ingolds by, inform­ing her that as the administratrix of the estate of John Oort she had neglected to exhibit the inventory of Oort's estate, as was required by law. For this oversight, she was fined the exorbitant amount of £500 and given an extension of six months to carry out her obligation.
Out of sight, out of mind, Sarah had happily settled into her new life with Kidd and the details of her past life with Oort were a distant memory. Kidd paid off all of John Oort's debts to eliminate Sarah's embarrassment, and he and James Emott, Kidd's lawyer and friend, successfully helped Sarah regain her inheritance from Cox. It may be that Sarah didn't think to inventory Oort's estate because Oort lived in her house among her things.
Under the law, however, things that  belonged to her were legally Oort's. Eighteen months after Oort's death—the last possible date she could file without receiving another penalty—Sarah organized the exhibition of the inventory, and it was recorded on October 26, 1692. With Kidd by her side, Sarah dipped her quill pen into a pot of black ink and signed the closing document of her brief marriage to John Oort with her mark, "SK," because she could not write her name. Then, she likely collected all the displayed items and put them back in her house where they belonged.
_______________________________________________________________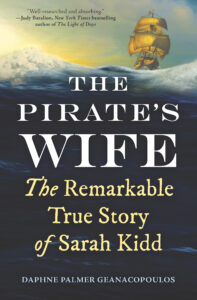 From The Pirate's Wife: The Remarkable True Story of Sarah Kidd by Daphne Palmer Geanacopoulos. Used with permission of Hanover Square Press. Copyright © 2022 by Daphne Palmer Geanacopoulos. 
---