Exploring the "Hidden Figures" of the WWII Women's Army Corps
Kaia Alderson on the Books That Shaped Her Debut Novel
My debut novel Sisters In Arms follows the lives of two fictional African-American women who join the Women's Army Corps (WAC) during World War II and ultimately become members of the 6888th Postal Battalion Directory, the only all-Black and all-female American unit to be deployed to Europe during the war. It was only a few years ago that I became aware of this battalion, when I stumbled upon a picture of Black women in uniform marching in what had to have been Europe during the war.
I have always been a bit of a geek for the histories of World War II and of African-American women. Intellectually, I had been aware of the Women's Army Corps and that Black women had served in the Corps. But I had never seen a picture of them. It was a "whoa!" moment when I first saw that image of 6888th, or informally known as The Six Triple Eight. Black women were not just sitting at home while their men had gone off to fight the war. They had enlisted and put themselves in harm's way too to help win the war. I immediately knew that I had to write a story about them.
I didn't expect to find many resources when I set out to do my research. My biggest surprise was how many books that had already been written about The Six Triple Eight. (see below). Uncovering the history of the unit was the easy part: they set sail to Europe, their troop ship was chased by a German U-Boat, they cleared the mail backlog in England, they went to France and did the same. Along the way, their commanding officer, also a Black woman, told off a general and then three of their members were killed in a jeep accident.
However, finding the details of their story on a more intimate level was a bit more challenging. What was it like to be aboard a ship that was trying to outmaneuver a U-Boat? What did their day-to-day mail processing operation look like? What was it like to go from the safety of American soil to a foreign land where an air raid was no longer just a drill? What were the circumstances surrounding that fatal jeep accident?
Finding the answers to those questions, the details of which would become the heart of Sisters In Arms, took a little bit more digging. And travel! Luckily, I had the opportunity to visit Fort Des Moines (Iowa) and the Orangetown Historical Museum and Archives (New York) to get some of those answers. Sometimes you just have to walk upon the same dirt as your historical subjects and breathe the same air that they once did to get a sense of what they experienced.
If you are interested in a deep dive into the world of The Six Triple Eight, I encourage to visit these places as well. Until then, I invite you to get your feet wet with the books listed below.
*
Charity Adams Earley, One Woman's Army: A Black Officer Remembers the WAC 
I recommend this memoir as your gateway text into the story of the Black female soldier's experience in the military during World War II. Written by the woman who was the commanding officer of the 6888th Postal Battalion, it is engaging and funny. Her description of traveling to Europe under the cloak of night almost feels like an Indiana Jones movie.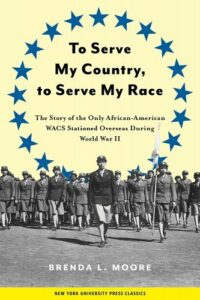 Brenda L. Moore, To Serve My Country, To Serve My Race: The Story of the Only African-American WACs Stationed Overseas During World War II 
My recommended second gateway text about the 6888th Postal Battalion is the thoroughly researched, To Serve My Country. The book provides an easy-to-read overview of The Six Triple Eight based primarily on Moore's compelling interviews of the Battalion's veterans in the 1980s.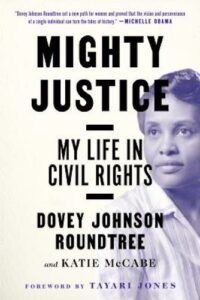 Dovey Johnson Roundtree and Katie McCabe, Mighty Justice: My Life in Civil Rights 
Dovey Johnson Roundtree was in the first WAC officer training class with Charity Adams Earley. Roundtree provides a different perspective of the Black female officer experience where she was out in the field as a recruiter while Adams Earley was back in Iowa training the first classes of Black female enlisted WAC regulars. I also found Roundtree's post-war life fascinating. Her legal work laid the foundation for future Civil Rights Movement successes that spun out of the Montgomery Bus Boycott and the Freedom Rides.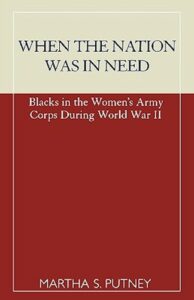 Martha S. Putney, When The Nation Was In Need: Blacks in the Women's Army Corps During World War II  
A more scholarly account of Black female WAC experience during World War II. Putney was a historian who had also served in the WAC during World War II. Offering a comprehensive overview of the experiences of Black female soldiers, not surprisingly, the high incidences of racism and sexism experience by the women are a recurring theme.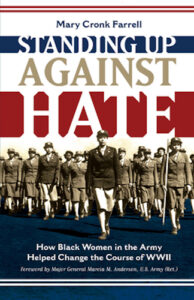 Mary Cronk Farrell, Standing Up Against Hate: How Black Women in the Army Helped Change the Course of WWII 
A middle-grade friendly account of the Black female soldier experience during World War II. Cronk Farrell unearths stories and perspectives not found in the more academic Moore and Putney texts. Perfect for budding historians.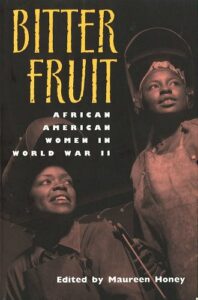 Maureen Honey, Bitter Fruit: African American Women in World War II 
This anthology compiles essays, photos and poetry from Black women that chronicle their experiences during World War II. Bitter Fruit pulls from women who contributed to the war effort from the US home front at factories as well as from those who served in the military. Most of the works in this rich tribute are seen here for the first time since their original publication.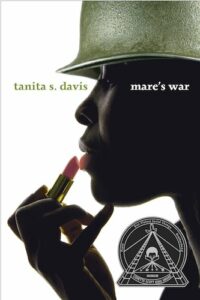 Tanita S. Davis, Mare's War
A Young Adult novel about two willful teenagers and their grandmother who is a World War II-era veteran who had served in the 6888th Postal Battalion. The story switches between the girls' points of view in the current day and their grandmother Mare's as a younger woman in the 1940s. As Mare and her grandkids road trip across the country, they come to see their grandmother in a new light as she recounts the fascinating adventure that transported her from the deep south to the world stage via the Women's Army Corps.
_______________________________________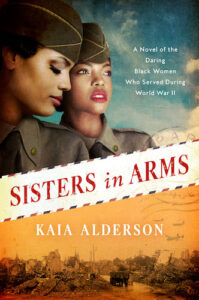 Sisters in Arms by Kaia Alderson is available now from Willaim Morrow & Company.
---