Literary Hub is pleased to reveal the cover for Bryan Washington's latest novel, Family Meal, coming this fall from Riverhead Books. Here's a bit about the book from the publisher:
From the bestselling, award-winning author of Memorial and Lot, an irresistible, intimate novel about two young men, once best friends, whose lives collide again after a loss.
Cam is living in Los Angeles and falling apart after the love of his life has died. Kai's ghost won't leave Cam alone; his spectral visits wild, tender, and unexpected. When Cam returns to his hometown of Houston, he crashes back into the orbit of his former best friend, TJ, and TJ's family bakery. TJ's not sure how to navigate this changed Cam, impenetrably cool and self-destructing, or their charged estrangement. Can they find a way past all that has been said—and left unsaid—to save each other? Could they find a way back to being okay again, or maybe for the first time?
When secrets and wounds become so insurmountable that they devour us from within, hope and sustenance and friendship can come from the most unlikely source. Spanning Los Angeles, Houston, and Osaka, Family Meal is a story about how the people who know us the longest can hurt us the most, but how they also set the standard for love. With his signature generosity and eye for food, sex, love, and the moments that make us the most human, Bryan Washington returns with brilliant new novel.
And here's the cover, which was designed by Grace Han, Associate Art Director at Riverhead Books: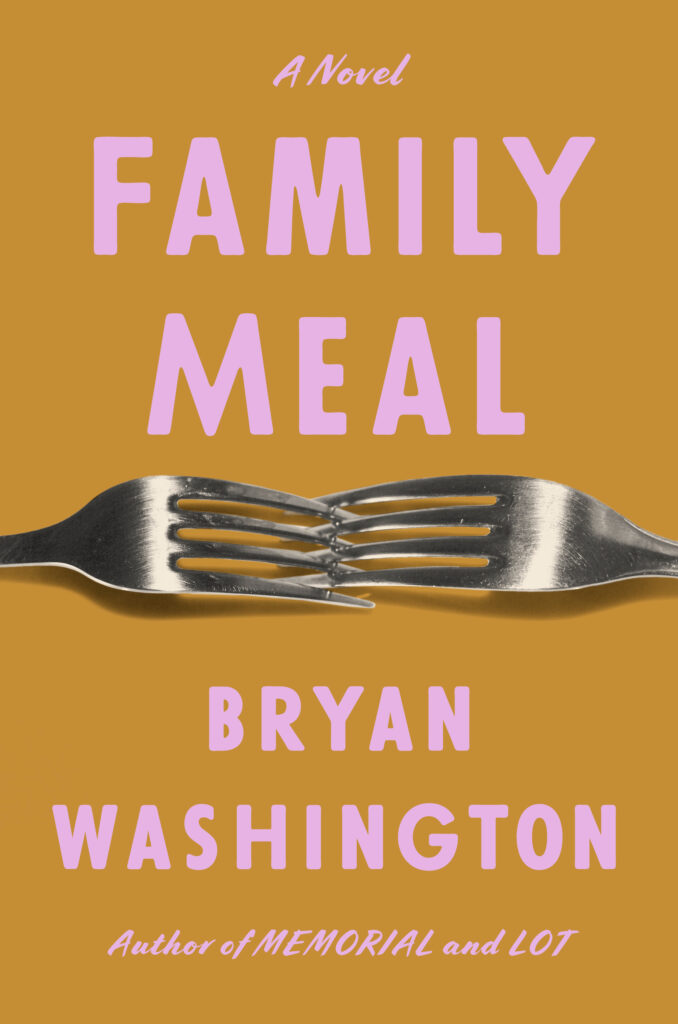 "Bryan's writing tackles healing, sensuality, and connection particularly through food—GOOD food," designer Grace Han told Literary Hub. "People both literally and metaphorically come to the table to address grief and love. I think the image of interlocking forks mirrors interlocking fingers, giving us a sense of vulnerability and connection—feelings that this book explores so beautifully.
"Grace Han really outdid herself: I couldn't be happier with her work," Bryan Washington told Literary Hub.
Because the cover for Family Meal was genuinely a challenge, and we worked through a few different concepts. There's a softness, design-wise, that my eye is generally drawn to, and I really admire when a focal image is presented against warmer color profiles. It felt essential that the cover art alluded to connection, but I didn't want that presentation to feel obvious or reductive. And it was similarly important to me that the image's language worked on a few different levels, aside from whatever front-facing signal a reader might pick up on. Sometimes, with English language books featuring characters from historically marginalized communities, there's an impulse to sort of stampede over subtlety in the interest of signaling for a "perceived audience." But more often than not, what you get is a not-great product. And one that's immune to play. So it was important to me that the design functioned clearly on a number of levels, while still holding enough subtly to allow room for interpretation and softness and playfulness.
None of these things is easy to accomplish on their own. Let alone all of them. So it felt unrealistic to think these ideas would be achieved in tandem. But Grace truly, truly came through—and she consistently accomplishes this, time and time again, with each of her covers. The image immediately coded with the book for me, and seeing it felt like an exhale at the end of a long trek. I really couldn't be more grateful toward her.
Family Meal will be published by Riverhead Books on October 10, 2023. Preorder it here.