Ethan Hawke, the most bookish man in Hollywood, is back on his beautiful bookish bullshit, and I for one could not be happier.
Yes, the four-time Oscar-nominated star of Gattaca—as well as many other films which are very good despite not being as good as Gattaca—is about to release A Bright Ray of Darkness, his first book since 2015's Rules of a Knight.
According to Knopf editorial director Jordan Pavlin, Darkness, which tells the story of a young man making his Broadway debut in Henry IV just as his marriage is falling apart, is "soaked in rage and sex and longing and despair, a ferociously intelligent evisceration of fame and celebrity, and a transfixing backstage glimpse into the magic of New York theater."
As someone who regularly has to wring the rage and sex and longing and despair out of my clothes at the end of yet another tough day, it's gratifying to finally feel seen in the pages of contemporary literature.
Earlier today EW revealed the novel's cover, which has some serious Pale Fire vibes.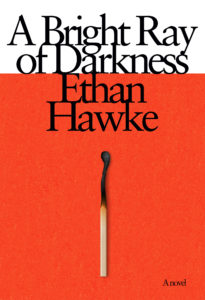 They also published a short Q&A with Hawke, in which he explained a little about both the story and cover art:
What do you hope readers take away from the book?
I have found great comfort in the healing powers of performance. I was hoping to share what I have experienced.
The cover is striking. What does the match imagery signify to you, and why were you drawn to it?
To me, the image says something about the immense value of zero. I guess it's a counterintuitive idea that when you are burned down to your essence, that's the moment you are about to grow. In a strange way, it directly relates to the title.
A Bright Ray of Darkness hits shelves on Feb 2.
Gattaca is available to watch on Hulu, I think, but you can also just buy it, and you should. It's great. I have it on special edition DVD, but since I no longer own a DVD player, it serves a mostly decorative function these days.
[via EW]