Encounters with the Black Madonna of Lake Ohrid
Kapka Kassabova Visits the Mysterious Idol and Her Keeper
"I'll leave you alone with her," the keeper said, laughing away my protestations that I wasn't here to ask for help, I just wanted to see the icon.
"It doesn't matter," he said. "She doesn't discriminate."
The flagstoned terrace of the monastery was ablaze with morning sunshine. He'd been sweeping it with a long-handled broom. He was radiant—about the brilliance of the day, about being here. His tall, gaunt body was in perpetual motion—brushing blossoms from a bench, watering flower beds, unlocking the souvenir shop, waving his arms to point out parts of the monastery complex with its handsome mansions reserved for the clergy whenever they deigned to visit, showing me the "curative" mineral spring in the rock that was especially good for the eyes; and leading me up the newly built staircase into the hermit niches where the Black Madonna had been painted, he said, by a monk who lived in darkness and so everything appeared dark to him.
"But don't take my word for it," he laughed, and the apple in his skinny neck moved. "I'm no expert. I'm just a fool glad to be alive."
I had returned to the monastic cells hewn into the rock, as curious about the Black Madonna as I was about the odd-looking keeper who had beckoned from the shore. His name was Clement, Clemé for short, after the protector-saint "our golden one."
"I knew you'd come back," he grinned, with his missing front teeth bar one, a grin so unselfconscious that you were won over. He had recognized me from Tanas's boat some days before.
"I look like an imbecile but I have a memory for faces."
His face was lopsided and one of his eyes was filled with blood—the effect of a stroke that had nearly killed him four months before, though he was only my age.
"You've come before the season, so you can have the place to yourself. But come September— well!" The monastery's festival day fell in September. People came from all over to ask the Black Madonna for help.
"Every monastery specializes in something," he said. "Naum specializes in mental disorders. The Black Madonna is for infertility and illness. Jovan of Bigor up in Debar is for addictions. Drugs, gambling, sex. And believe me, I've covered the spectrum. Now, here you have to crawl, if you don't mind losing your dignity."
I crawled inside the hermit's niche. It was just wide enough for a person to lie down, but the ceiling was high, at least.
The karst shore of this western side of the lake must have struck the monks of early medieval times as especially welcoming, with its natural niches, fertile hilly hinterland and proximity to water. Generation after generation had lived here in blissful silence, in the dim light of candles they made themselves, like everything else they needed. The niches had been plain for several centuries, until artists started painting them in the 13th century.
Just up from the niches was a small chapel, richly frescoed with lifelike characters. Here was Clement with his teachers, the brothers Cyril and Methodius, holding a script of early Glagolitic—the alphabet that would be adopted by the entire Slavonic world and then vanish, to be replaced by Cyrilic. Here too was the pagan healer and seer Panteleimon who never took payment, holding the tools of his practice. He was converted to Christ's ways by the defaced figure next to him, guessed to be Hermolus, which got them both killed in 304. This "church" was cacophonous with epochs: from Jesus to the 9th-century Clement. The artists ranged from the 16th to 19th century. Two of them had left their names: Jovan and Angel. At the other end of the beach was another cave church, where the healers Cosma and Damian were depicted. Many of the monks themselves had been healers.
"I don't mind telling you," Clemé said when we went down the steps again, '"cause you'll be wondering what a vagabond like me is doing in this place."
He'd been in a coma for a week after the stroke, and in that time he had a dream.
"I saw many faces, painted-like, a sort of voiceless chorus. Among them was this familiar face, a woman's face with a halo. She was looking at me with such understanding, I could have wept if I hadn't been in a coma."
He knew this was his last chance. When he came round, ignoring the doctors' advice he checked himself out of hospital and walked the few miles to the monastery.
"I came to the Black Madonna and kissed her. Then I went straight to the abbot and said, I want to work as a volunteer. He took me on. After a month, he offered me a job. A monastery is always short of hands. You say you're not a Christian, but it doesn't matter what you are 'cause this is a place of wonder. I wasn't a believer either, I was a cynic, a waster and a goner, oh yeah."
A few months before his stroke, his mother had been struck down too. She was paralyzed down one side and bedridden. After his coma-induced dream, he begged her—she also wasn't a believer—to come and visit the Black Madonna.
"By then, she could move with crutches. And what happened? She stood before the icon, and when she went to go, the crutches fell out of her hands, as if wrenched by  a force. I picked them  up for her. But once again, they fell out of her hands. And she walked. Like a healthy person. Last week, I had a brain scan. The doctor didn't believe his eyes—no trace of damage. Now go on, tell me that miracles don't exist!"
Just then two young unshaven men in leather jackets came through the monastery gates, one pushing the other in a wheelchair. They came to the spring. Clemé and I moved away, to give them privacy.
"You asked who comes here. Those who suffer come here. And because there is suffering every minute of every day, the visitors never stop."
In the garden he tended were two graves: sister Efrossinja and sister Irina.
"The last nuns," Clemé said. "I knew sister Irina. She was a tiny but great woman. She dug her own grave, right here, and knew when she would die, to the day."
Until after her death, in the monastic tradition, the complex had been self-sufficient for hundreds of years—with its own herds of goats, chickens, vegetable gardens and extensive vineyards. Wine, bread and honey were produced in a large farm building by the beach, fallen into disuse after the deaths of the last nuns.
Beyond the farm building was a beach thick with giant reeds and overlooked by two hotels that appeared abandoned but weren't. A row of milky-skinned Dutch lay inert in chaises longues, like patients in a sanatorium. In the courtyards of those hotels remnants of the Via Egnatia had been found by passing archaeologists, but when I went up to look for them later, I was told by a waiter who'd worked there for 40 years despite his small wages—because he couldn't live away from the lake—that the last of the Via had been dug up when a hospital was built. Though it was never used as a hospital.
"Because nothing finds its true purpose in this country, ideas and people get wasted. And I'm still here," the waiter smiled philosophically, "serving breakfast to the Dutch and watching them burn every summer."
Where the hillside hotels stood now, there had once been vineyards, and this is where a great-great-great-great-uncle of mine, a bibulous monk called Kiril, had spent his life tending the vines. When he ran out of string, he'd tie them up with threads from his hemp robe.
Clemé had chores to do so he left me with the Black Madonna, which—the harried-looking abbot with his hair in a bun and long black robes told me—had not been painted in the rock niches above. Her origins were uncertain, but she had been brought to the lake by a monk from Mount Athos. The unknown artist had worked in the Russian iconographic tradition. She was one of several hundred "Black Madonnas" in Europe. Most were painted during the early Renaissance in Italy. Some were associated with "miracles." This one, the story went, had been thrown into the lake three times "in chains"—by German or Italian soldiers. And each time, she freed herself of the chains and floated back to the same spot on the beach.
There was something about this icon. I was drawn to it, but unable to say why. Against the white background inscribed in Greek, the figures were black in both skin and dress, except for the scarlet robe of Jesus and the white edge of the mother's shawl. The abbot told me that the icon had darkened over time, after many dips in the lake and centuries of exposure to smoky votive candles. The glass over it was already smeared with the finger- and lip-prints of the morning's visitors; it was Clemé's task to wipe the glass clean at the end of each day. Later, I returned to the monastery and Clemé asked the abbot for a day off.
__________________________________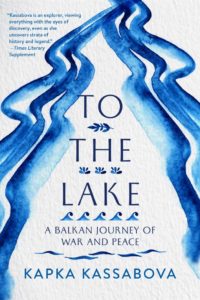 Excerpt from To the Lake.Copyright © 2020 by Kapka Kassabova. Reproduced with the permission of Graywolf Press, Minneapolis, Minnesota.
---