Famous meme-lord and loser-of-billions Elon Musk is once again using the $44 billion message board he bought to share his erudition. Last night Musk Tweeted what looks like an old meme whipped up by an edgy 15-year-old who just lost his Xbox privileges for a week: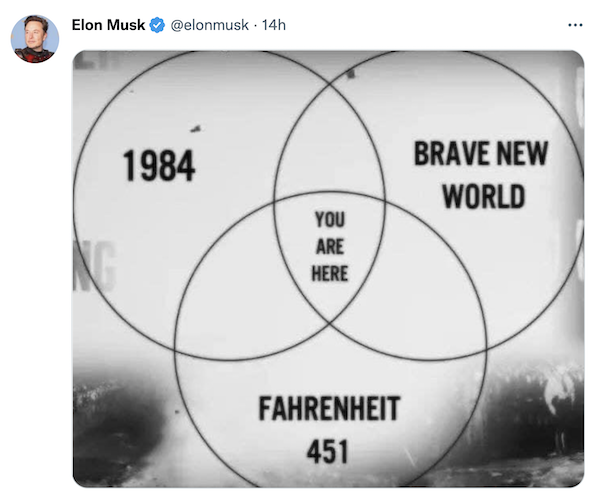 I confess I haven't read these iconic cautionary mid-century novels of dystopia since I was a 16-year-old suburban Kerouac wannabe whose reading list looked a lot like this guy's. That's not to say these books aren't worth reading at any point in one's life (and really, anything by Orwell), but rather that whoever Musk stole this meme from skimmed them at best: as many, many people have noted, these dystopias DO NOT OVERLAP.
We're probably closest to Brave New World's vision of a docile populace in constant need of dopamine distraction, and though we certainly rely an awful lot on actual pills to keep us diverted from reality, we also have our own self-generated Soma supply via social media and, to a lesser extent, the endless streaming of everything.
The closest thing we have currently to 1984 is probably North Korea's surveillance-propaganda state, the inbred ideological descendant of the Stalinist Russia Orwell was writing about just after the Second World War.
As for Fahrenheit 451, I guess we *do* have Florida.
The worst thing, really, is that we have one of the world's most influential billionaires acting out his inferiority complex on one of the largest platforms in the world, that he controls; as one Twitter user pointed out, Musk basically runs a 44-billion-dollar Soma factory.
What kind of dystopia is that?