Eight Books You Should Read in July
Recommended Reading from Lit Hub Staff and Contributors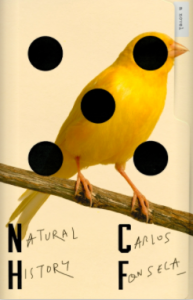 Carlos Fonseca trans. by Megan McDowell, Natural History
(Farrar, Straus & Giroux)
For readers interested in climate change and the natural world—but who prefer books a little less on the nose—Carlo Fonseca's Natural History (translated by Megan McDowell) offers a layered and at times wonderfully beguiling story about art, history, and mystery that hops generations. Animal lovers will delight at the protagonist's obsession with creaturely furtiveness and wild animals' natural ability to self-camouflage. And fans of ambitious structure-benders like Italo Calvino will appreciate the novel's planet-and decade-spanning mystery that connects 1970s New York to the jungles of Latin America. As the protagonist, a curator at a natural history museum, pieces the clues together, he discovers links between art, science, and religion that change forever how he sees the world.
–Amy Brady, Lit Hub contributorr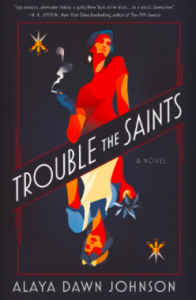 Alaya Dawn Johnson, Trouble the Saints
(Tor Books)
I am psyched for Alaya Dawn Johnson's Trouble the Saints, out from Tor on July 21, which has both an intricate crime plot and one of the original magical systems I've ever come across in fiction. Set in an alternate version of the 1940s, Trouble the Saints follows a mid-career assassin getting tired of using her special knife skills to kill for a brutal hitman. She and the bartender at the gangster's cabaret hidey-hole share a forbidden love as she tries to make up her mind about leaving her violent boss and making her own way in the world. Meanwhile, someone's been killing those with special talents—people like her. The magic of Trouble the Saints is reserved for those who have society stacked against them, and their talents can be curse and blessing. As glamorous, smoke-filled, and noir as anyone could hope for, Trouble the Saints is the perfect lush summer fantasy read, with an ending that will stay with you long after you turn the last page.
–Molly Odintz, CrimeReads Senior Editor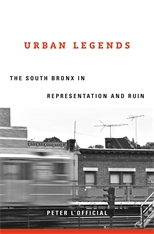 Peter L'Official, Urban Legends
(Harvard University Press)
The Bronx is burning and crumbling; the Bronx is the Boogie Down—the distance between these popular representations and life in the Bronx is wide enough to swallow the borough whole. Yet for far too many, the Bronx sits in the imagination among ruins, descending into decay or ready to emerge into renewal. When not overlooked, it's held up as a symbol of urban neglect, a caricature for our consumption. Thankfully, along comes the intellectually capacious son of the Bronx, Peter L'Official, to peer into the archives, survey the streets, and dip into varied fascinating crevices to present a vibrant cultural history of the South Bronx. In Urban Legends: The South Bronx in Representation and Ruin, L'Official summons photography, film, fiction, and music to bear witness to the multifaceted creativity and vitality of the South Bronx, and deftly reveals a place overflowing with with myths, dreams, images, and visions that make us see it afresh. This delightfully innovative narrative is the perceptive look that the Bronx and New York City has long deserved.
–Garnette Cadogan, Lit Hub contributing editor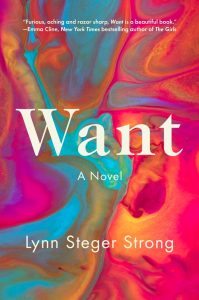 Lynn Steger Strong, Want
(Henry Holt & Company)
I loved Lynn Steger Strong's Want, which reminded me a little of the first time I read Jenny Offill's Dept. of Speculation—that thrill (or dread) of recognition on every page, that deep engagement with what it's like to be a woman who thinks "too much," and what it's like to be any person who thought they would make their life about books, and has found it's not entirely as advertised. But there's more here—about money, about class, about falling through the cracks. It's hard, and scary, and great. Also I wish I had read it before I made this list, as it would definitely qualify.
–Emily Temple, Lit Hub senior editor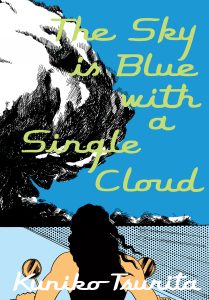 Kuniko Tsurita trans. Ryan Holmberg, The Sky Is Blue with a Single Cloud
(Drawn & Quarterly)
Until the 1980s, alternative manga was largely run by and created by men. Kuniko Tsurita was a vital exception and was the first woman to regularly draw comics for the legendary alt-manga magazine Garo. Throughout her life, Tsurita surrounded herself with material from writers like Dostoevsky, Pushkin, Beckett, Sartre, and Nietzsche. Tsurita unnervingly did away with traditional narrative structure and coherence and anchored her comics with feverish sensory experience. Her comics are miniature existential nightmares that twist through the mind after reading.
–Nate McNamara, Lit Hub contributor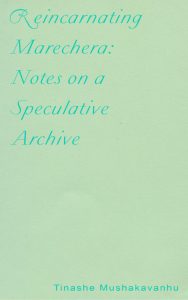 Tinashe Mushakavanhu, Reincarnating Marchera
(Ugly Duckling Presse)
My first exposure to the writings of the late Zimbabwean novelist Dambudzo Marechera came via an issue of the online journal The Scofield dedicated to his writing. Intrigued, I've gone on to read (and be absolutely stunned by) a few of his books, which sadly aren't easy to find in the US. (The fact that some enterprising publisher hasn't yet done a high-profile reissue series of Marechera's books is something I have been known to gripe about on social media.) But if we don't have new editions of books by Marchera, we can at least have new books about Marchera. Cue Tinashe Mushakavanhu's Reincarnating Marchera: Notes on a Speculative Archive, which explores Marchera's legacy and the wide array of styles and emotions contained in his work, and his life.
–Tobias Carroll, Lit Hub contributor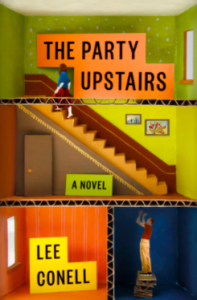 Lee Conell, The Party Upstairs
(Penguin Press)
Lee Conell's debut novel, The Party Upstairs, is singularly suited to the specific times we're in. The novel takes place solely in the course of a single day in a luxury apartment building, told from the point of view of the live-in super's daughter, a 24 year-old who has a foot in both worlds: her father's world, as well as the more-privileged world she wishes to inhabit. The novel's portrayal of class, the real and lasting effects that wealth, or lack thereof, can have on your mentality and outlook, is unparalleled. Most impressively done was the depiction of performative wokeness that pervades our current society, and manages to get to the crux of why that culture can often feel wrong: namely, when privilege can blind those to the power structures they inhabit, as those same privileged people simultaneously "call out" those who don't have the privilege of such a voice. It has, as my coworker Molly Odintz said, "Marxist, Big Little Lie vibes," a compliment I don't think one can top.
–Julia Hass, Lit Hub editorial fellow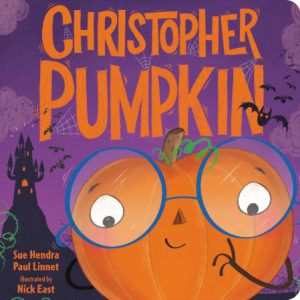 Sue Hendra and Paul Linnet, Christopher Pumpkin
(LB Kids)
Word has gotten out that I have a one-year-old son and I've received several advanced copies of children's literature these past few months. Christopher Pumpkin by Sue Hendra and Paul Linnet with illustrations by Nick East publishes July 28. I'm a big Halloween fan so I was excited to read this to my son despite the summer weather. The story is about a witch who is trying to throw the scariest Halloween party ever. With a quick spell, she enlists the help of a few pumpkins. All seem to fit into her mold of horror and wickedness except for Christopher, a cheerful pumpkin who prefers pink, sparkles, fluff, and cupcakes. He figures out how to scare everyone without compromising who he is. It's a special gender nonconforming read to share with your child.
–Melissa Ximena Golebiowski, Lit Hub contributing editor
---