Dina Nayeri on Returning to the Hotel-Turned-Refugee-Camp of Her Childhood
"To this day, the name Hotel Barba fills me with dread and nostalgia."
In summer of 2011 I returned to Hotel Barba with my then husband Philip. We didn't know that this would be the last summer of our marriage, and the twilight of a decade of travels, but one morning we woke up on holiday in Rome and craved to visit the refugee hostel where I had once lived, this place of personal legend—I remember that we both wanted to go. Maybe we sensed a coming exile.
Soon I would become a wanderer again, setting off from Barba into a new life for a second time. Maybe that's what drew us back there, the notion that Barba had the power to launch me. Philip had been more father to me than husband, and at Barba I had once before learned that fathers aren't necessary. I had learned to live without one. Now, having forced my husband into my baba's empty seat, maybe I was here to make amends for my silliness, to relearn my lesson, and to give him back.
We made phone calls, but no one in Mentana remembered the hotel. We rented a scooter and drove to the town anyway, on a wet, hot day, through mist and drizzle, Rome receding behind us as we navigated woods and slick highways. I wore a green dress and flats, ready to pick through the rolling fields, to steal an unripe peach, to toe the narrow paths behind the fence. I wished I could buy a Cornetto with lire, so I could remember how it feels to give a thousand of something for an ice cream cone and still find it a bargain. When was the last time a sweet felt precious?
Long before we arrived, I spotted the house on a hill from the road toward town. I didn't need confirmation. I knew that hill, that manor on the horizon surrounded by valley. We roared up to the dirt path, our cheeks flushed and windblown. Pulling up that steep, meandering road to Hotel Barba, watching it appear, was a sensation I knew: a jolt of rescue, the feeling that I was plucked by some unseen hand from a fire.
To this day, the name Hotel Barba fills me with dread and nostalgia.
I jumped off the scooter and ran the rest of the way. Philip parked. Were we in the right place? The building was renovated, the courtyard converted to a parking lot and the canteen turned into a restaurant and espresso bar. The fence to the adjoining garden was gone. I imagined it disappeared with the refugees.
If Barba's bones were any more ordinary I would have doubted. But we hadn't followed an address. We had spotted Barba and made straight for it, passing through Mentana (a confirmation) then up the same winding road that, seen from a government car in 1989, had promised new life.
Article continues after advertisement
I entered the deserted lobby, my steps echoing dully as a concierge greeted me in Italian. Had I dropped into a parallel universe? "What the fuck happened?" I muttered.
"Welcome to Hotel Belvedere," he said in English. Barba, it seemed, had become a place for businesspeople to rest and eat forgettable meals between breakout sessions. Outside, Philip readied his camera, waiting to capture me in my pretty dress discovering a tree, a bench, as if I were a child in a ballet or having a birthday photo shoot.
I asked to see our old room. I didn't know the number, only the view overlooking the courtyard (now parking lot). The concierge took me from room to room in search of it. It was a slow day. He promised to introduce me to the owner. When we found the room, I stood on the balcony where we had hung bags of sandwiched dinners. I remembered women picking through piles of clothing dumped in the courtyard just below. I said, "A Romanian man used to climb our balcony to get to that one, over there. He was in love with the wife." I had forgotten that detail, the student climbing.
Limbo is temptation itself—the itch to make life happen.
Later, I drank an espresso in my own familiar canteen, now with delicate curtains, tablecloths, while the grandfatherly owner patted my hand and offered me a wafer. I thought: years ago I drank milky coffee in this room, unable to imagine that one day I'd enjoy the taste. I thought of the Romanians. Why do stories repeat themselves in this way? How does love stop being love, and how can I tell if it's happening to me?
"This room is the same," I said. "Those windows . . ."
"It's much nicer," the owner said; the concierge translated.
"Big renovation. Do you like it?"
"This room doesn't feel as changed as the rest," I said, looking out at the leafy landscape below the dining room. "Maybe it's the windows."
"Maybe your taste improved at the exact same rate as the renovation," Philip joked. I was so grateful for his presence. He made that first step (of a long journey into my past) bearable, though he seemed so out of place. We seemed out of place.
My return to camp was unsettling, no return at all. The cappuccino machine. The tablecloths. The butter cookies. This wasn't Barba. Though we were both done up now to suit Western tastes, I couldn't stomach Barba's familiar frame tarted up for new uses. It felt like fresh homelessness. Barba had been more than a house to us, the exiles it sheltered.
To this day, the name Hotel Barba fills me with dread and nostalgia: that first lick of a Cornetto, the crunch of unripe peaches stolen from the garden, the tinny taste that filled my mouth in embassies. After my second visit, it also conjures images of me as the unhappy wife of a good man, in a green summer dress, trying to find the tree whose peaches I had stolen, the bench where I taught Russian men a few words of English, the sound of a Romanian student climbing over my balcony with his guitar.
For years, the characters in Hotel Barba have appeared unbidden in my fiction. Young heroes arrive with milky scars whitewashing half their face. Menacing lovers carry guitars and have curly hair—fingers are lost in it. Grandmothers in chadors hide little indulgences under long skirts. Idle women with sleepy eyes make themselves silly with yearning. Back then, the worn-down paths seemed new to me. But I watched people and I began to learn the stories: All love ends. Without a country, a fire is quenched, another flares. Limbo is temptation itself—the itch to make life happen.
It is the ultimate indignity, to be made to wait; and power is to impose it.
People think of the refugee camp as a purgatory, a liminal space without shape or color. And it is that. But we kept our instinct for joy. We made friends and we studied and made a community, as we had every day in Iran. Journalists and aid workers who visit camps often comment on this aspect of the psyche—how can these people carry on with their gossip and petty dramas and daily pleasures? How can they endure the limbo?
Since Hotel Barba, all waiting has been agony for me, and I've been obsessed with the idea of it. Why does it feel like an insult to wait for anything? Why does patience seem like one of those manipulative, sinister virtues invented to debase and subdue, like chastity or poverty? Who waits least in the world? I look for answers in A Lover's Discourse by Roland Barthes. Barthes says that waiting robs you of your sense of proportion. It plays out in scenes, in outbursts and calm, like waiting in a café for a lover to arrive. It is the ultimate indignity, to be made to wait; and power is to impose it. "I decide to take it badly," Barthes says. The implication of choice strikes me as a clue: I could decide to behave instead.
At Barba, we sensed the expectation as we waited: the unspoken chides of our native-born rescuers. The inconvenienced. Your life is no longer in danger. You could be more patient. You could behave. The primary sin of the Romanians was their ingratitude, their inability to sit still and revel in their physical safety.
Maman rebelled too, by not waiting. She worked and roamed Italy. Perhaps the joys and dramas that arose at Barba were our collective sigh of refusal. To take it well would be gracious. To take it badly, though, would create a sequence of events, heightened sensation: drama and distraction.
In the imagined café, Barthes searches for ways to disrupt or explain away the wait. Then he stops writhing; he watches those who are not waiting and slips into a kind of fog. "The anxiety of waiting is not continually violent; it has its matte moments; I am waiting, and everything around my waiting is stricken with unreality . . . waiting is enchantment: I have received orders not to move."
My defense against unreality in those unmoving Barba days was the movement of other people. Atop that pretty hill, I saw a universe of others, with personalities, secrets, dramas as rich and consequential as mine, battering parallel walls that extended out to the edge of the earth. I learned to care about their stories and the aftermath of those stories. I learned that some stories are a joy to embellish and re-create (as in literature or gossip) and in others, the facts are vital (as in fights with little brothers, or asylum interviews), and that to believe or not believe, the "how" of the story matters in both cases.
Sometimes invented stories are true in more important ways—though, despite the allure of fiction and the instinct to create, this wouldn't present itself as foundational for me for decades. What was clear then: by watching I could choose who I wanted to be, or seem to be, and I could be believed. I could tell my own story convincingly, by convincing myself, by making it true. I could put an end to every wait. That's the allure of the Romanians' story—they decided simply to stop waiting; they defied the orders not to move. They remade themselves, deliberately. Is a true thing less true, if you have consciously made it so?
Those were early days in my chameleon life. 
Some places travel on with you. They grow up with you, at the same pace. Though in 2011, I was disappointed with my return to Mentana, and though Barba's assimilation made me recoil (perhaps making my own suddenly palpable), I left with a promise from the owner that I could return one day, maybe with a translator, to dig for details from those two years when the hotel served as a refugee camp. This was a comfort, and I knew that Barba would always tempt me back.
___________________________________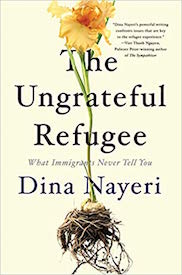 Copyright © 2019 by Dina Nayeri, from The Ungrateful Refugee: What Immigrants Never Tell You. Excerpted by permission of Catapult.
---