Diary of a Scottish Bookseller
Shaun Bythell Recounts Life in Scotland's Largest Used Bookstore
Tuesday, 6 January
Online orders: 3
Orders found: 3
All three orders today were for books about railways.
Yet another utterly foul day, though the rain abated in the afternoon. The winter so far seems to have been nothing but heavy rain, driven by strong winds. I don't think we've had a single frost.
In today's inbox:
From: xxxxxxxxxxxx
Subject: the world needs my book
Message Body:
id love to advertise my book with u.
I have written a book that ensures the person you find becomes your life partner, this also removes the need for lying, manipulation and game playing. prevents emotional damage and removes the risk to human life through suicide. by arming people with knowledge about personalities.
The first customer of the day was an elderly woman who wanted to use the shop's telephone to call her daughter-in-law, who had failed to pick her up from the doctor's. The second customer was a balding man with a ponytail who tutted at the price of every single book he picked up.
I found an old blackboard in the cellar and made a frame for it out of an old picture frame. It looks rather nice. I've decided to try to write something amusing on it every day, an endeavor that is doomed to failure as weeks—sometimes months—may pass before a witty thought enters my head. To make it simpler, I picked a quotation from Noël Coward, taken from a book called Famous Last Words: "Goodnight my darlings, I'll see you tomorrow." My mother dropped round at about 4 p.m. and talked without interruption for half an hour. Topics covered were the Writers' House idea and a source of potential funding that she's found (she repeated this at least six times), her friends' friends who have a castle in Deeside which is about to fall into the river because of the floods (repeated four times) and the tenants of The Open Book who left the place in a bit of a mess ("despicable"). It wasn't the most recent occupants, two Spanish women, but another couple (repeated four times).
Article continues after advertisement
About twenty minutes after she'd left (with a breezy "Must dash, goodbye lovey") I looked out of the window and saw her bashed-up VW badly parked in the bus stop, while she busily chatted to someone. When I closed the shop half an hour later she was still there, bending the ear of whoever had the good fortune to bump into her.
Till Total £125.49
11 Customers
*
Wednesday, 7 January
Online orders: 1
Orders found: 0
Opened the curtains this morning to see the first sign of the sun in what feels like months.
I spent the first hour of the working day being slowly asphyxiated by a customer's perfume, which I can only assume was manufactured as a particularly unpleasant neurotoxin by a North Korean biochemist in a secret bunker. Kim Jong extremely ill.
Another order came in for a book from the Railway Room. These are always the hardest to find. Railway enthusiasts must not care much for order on their bookshelves.
A woman slightly older than me, I'd guess, came in around 11 am. I vaguely recognized her, so when she came to pay for a pile of novels—all of which I'd read and enjoyed—I asked her why she seemed familiar. It turns out that she used to go to the same auction house in Dumfries that I occasionally attend, so we reminisced about all the various characters and questionable activity that inevitably seem to surround auctions. It then emerged that she has a tea room in Rockcliffe (about 35 miles away), so we moaned about customers, and particularly about running a business on your own, and one that people expect to be open when it suits them rather than when it suits you. We have a shared loathing of the tyranny of social obligation in rural communities.
She hates having anything planned as much as I do, it appears. And she's just finished reading Any Human Heart, one of my favorite books. I started sorting through the two remaining boxes from the deal before Christmas. Not good shop stock, but all barcoded and in pristine condition—perfect for FBA,* so I processed them and boxed them up ready for "uplift." Some surprisingly high prices for paperbacks, but that's the way things have gone since online selling—it is harder to predict the value of a book than it once was. In the afternoon I had a massive row with a customer over whether Maigret was a fictional French detective (me) or a Belgian surrealist painter (them), after which I telephoned the woman in Ayr whose books I'm supposed to be looking at tomorrow to postpone. She sounded enormously relieved and clearly has yet to go through them and sort the books she wants to keep from those she wants to dispose of.
Till Total £65.49
3 Customers
* FBA (Fulfilled by Amazon) is a service Amazon provides where booksellers can store their stock in one of Amazon's warehouses (euphemistically named "fulfillment centers"). When orders come in for the books, they will package and send them out to customers. Although it solves the problem of not having enough space for books in the shop—as with almost every service that Amazon provides to third-party sellers, it comes at a cost which always leaves you on the brink of wondering whether it is worthwhile. Inevitably their "charges" will multiply and keep creeping up to the point at which your margin is so tight that it's almost suffocating. But not quite. Parasites prefer to keep their hosts alive.
*
Thursday, 8 January
Online orders: 3
Orders found: 2
Another sunny day. Two in a row feels like some sort of record, given the weather so far this winter. One of today's orders was for a book called Minorities in the Arab World, which will be shipped to a priest in Lebanon.
My mother appeared this afternoon and talked for about half an hour about the door knocker on The Open Book, which apparently has a film of white mold over it. Why this matters, or why she thinks that I need to know, baffles me. She disappeared for five minutes, then returned with Alicia, the Taiwanese woman who is running The Open Book for a week. We arranged to go to the pub for a pint after work. Alicia, it transpires, is not her real name, but she's chosen it because it's simpler while she's in Europe. She's studying in Spain at the moment, and decided that Wigtown would provide her with a welcome break from the warmth and fine food of Spain.
Till Total £42
3 Customers
__________________________________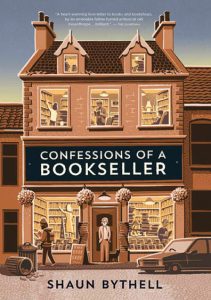 Excerpted from Confessions of a Bookseller by Shaun Bythell. Reprinted with permission of David R. Godine, Publisher. 
---