Deb Olin Unferth Didn't Expect to Be Writing From the Point of View of a Chicken
The Author of Barn 8 on the Benefits of Anthropomorphizing
I didn't initially think I would be writing from a chicken's point of view.
I was writing a novel that centered around an industry farm of a million egg-laying chickens. It was a lot of chickens, and I knew my main challenge would be to get the reader to care about them (I figured this out when so many people said to me, in essence, "Why should I care about a bunch of stupid chickens?"). I was going to have to get people to see them differently, to hear them, and it couldn't be as a tiresome activist screed.
So I read books about chickens, histories of our 8,000-year entanglement with them: the roosters etched onto ancient Egyptian walls, the homemaker hens of the Renaissance, the mechanized chickens of the 20th century. I sorted through hundreds, maybe thousands, of websites devoted to chickens—the backyard-aficionado blogs, the industry-promo sites, the commercial sites for cage systems, trucks, lighting equipment. I read about the problem of disposal—getting rid of some 60 billion chickens' worth of byproduct a year. Think of all the chicken bones, feathers, and don't forget chicken shit that is, piling up, sinking into the earth's crust, fossilizing, some disintegrating, the DNA floating through waterways, descending into the silt.
I visited chickens. I went to small farms and animal sanctuaries. I sat in backyards. I spent many, many hours just sitting in hen houses, watching them peck and chatter. I attended an industry egg conference and listened to scientists talk about chickens. I watched fifty hours of raw undercover footage of chickens inside factory-farm barns. I talked a farmer into letting me come to his farm of over two million hens and I studied them in their battery cages, their combs poking out through the wire. In all these places I recorded the hen voices and listened to them at night on my headphones, the cooing, the squawks. I thought about their feathery fluff. Their friendly, jaunty style. Who are you, chicken? Am I seeing you?
I bought a painting by the activist-artist, Yvette Watt, an illustration of a chicken, painted in Watt's own blood. Most chicken images are of the bird in profile from a distance, but this one is close up, head on, looking at me, studying me, meeting my eyes.
By this time I had settled on having a star chicken-character, Bwwaauk, in the book. She kicks off the plot and comes back again and again. But how do I get her right?
This went on for years.
*
Anthropomorphism. The term is usually leveled as a dismissive critique. That's anthropomorphizing. But the more we learn about nonhuman animals the more we realize how much we have in common with them, the vast biology and psychology we share, the wide experience and history that unite us.
I wanted to write Bwwaauk so that she was very much a chicken, but I didn't want her to represent all chickens.
In many ways chickens aren't terribly different from us. They're brave, not "chicken," fierce in defense of their chicks. They're gregarious and social, inventive. They have all sorts of individual personalities. Chickens were evolving long before we were. Their ancestor, the Gallus, ran though the forests of South-East Asia for 50 million years. They slept in trees, climbing the bark. They passed their wisdom on through the generations. When the glaciers divided them, new species formed. Civilizations of chickens rose and fell. Even today in their stunted, destroyed communities, they have 30 categories of conversation. They have close friendships, creative games, a culture of rituals. They teach their children. Hens sing to their eggs and the embryos twitter back through their shells.
(I think of our own early human iterations, our lost selves as nomadic tribes crossing fields and forests, now living in cages of concrete, rebar, and plastic, crumbling governance, touch-screens, in a vast warming pot.)
Our error is not anthropomorphism, but the opposite. We refuse to believe, to the point of absurdity that we and they are first animals, that there is no us and them in this regard, only us, all of us.
*
It seems obvious to me, and maybe we forgot or don't believe it, but it's true: these chickens, by the way, are not ours. We do not own them. That is purely a human construct—ownership of living beings—an invention, along with other human inventions, like calendars, constellations, cash. We decided we own them. This great unexamined assumption—that we own all we can see, create, and even imagine—underlies all we do. We own the seashells on the beach, the oil in the ground. We own the Moon and can fight over it with the Chinese. We own water, all water anywhere, and what's in it. We own our children's futures and can buy them a better one, and anyone trying to stand in the way will pay.
And we certainly own stupid chickens.
*
I wanted to write Bwwaauk so that she was very much a chicken, but I didn't want her to represent all chickens. I wanted her to be entirely her own character, her unique self. I wrote and wrote, groping through this forest, but in the final analysis, at the core of Bwwaauk was a mystery. I didn't know if I was getting at chicken-ness.
*
My favorite book about chickens is Chicken by Annie Potts. The title reads like a declaration: Chicken, stripped of all grammar and syntax, separate from all qualifiers we put on her. Potts does not justify her right to take them seriously. She does not imply they are here for us to use.  She talks about chickens without a "birdbrain" wisecrack in sight, a feat even scientific articles cannot manage.
In the midst of a long chapter about chicken wisdom and emotion, she says that "no doubt" chickens "also possess their own exceptional forms of emotion and consciousness that even the most rigorous scientific tests may not begin to uncover—simply because these inimitable perspectives of chickens do not register… within the human domain."
For a moment I found that frustrating (how the hell am I supposed to get people to care about a character they can't know?) but then I found it revelatory. We cannot fully know their minds. Some of what they are maybe be superior, or at least vastly different from what we are, and be forever closed off to us.
Where are my loyalties? With humans or with the universe? With knowing or not-knowing?
It's a modernist question. How can I see a thing for what it really is with this human veil over my face? Maybe we can see only in terms of human narcissism.
Well, I am old-fashioned. I want to remove the veil. I want to pull off chains, emerge from Plato's Cave, wince and blink in the light. I want to see the thing separate from myself and my use of it. I believe that in the effort lies true empathy—and we are so bad at empathy, however much we talk about it these days.
This is what drove me: If I can see this one thing, this humble hen, just for a moment, maybe I could see more, maybe I could see the web that connects us (and maybe I will try harder not to rip it to shreds?).
And if I can't see the hen? Maybe I can at least see that I don't see. Maybe I can sit and look at what I don't understand and yet share so much with.
(Where are my loyalties? With humans or with the universe? With knowing or not-knowing?)
I wrote it all into the book, the knowing, the not-knowing.
*
When I was nineteen, I got a bird tattoo—abstract and tribal, wings up, long tail in a swirl, taking off from my shoulder for life. It was 1988—still early for tatted women, but within a few years half the women I knew had them. A lot of bird tattoos. Birds spread out over backs, twirling around ankles, flying up arms, swooping off stomachs.
A bird in flight: that existential totem, that universal symbol of freedom, flux, quest, time. Is it a contradiction to have a tattoo that signifies change, if the whole point of a tattoo is that it's permanent? But a tattoo is not static. It changes and so does the body on it. My tattoo has faded and blurred over the years, and my body now is that of a woman of 51.
I spent so much time staring at hens while writing Barn 8. I could tell, as I researched and visited and read and wrote, that I was changing. Years were going by. My life was different from the early days when I began thinking about chickens. I moved across the country, once, twice, driving by factory farms and detention centers and shipping warehouses. I married (learned true love at last). We had jobs, friends, a dog, a house. I was happy. (Who knew it could happen and that the formula could be so simple?) Here we are, me and him, every morning, standing on the front porch, cooing over our luck. Home. We'd committed to no longer being in flight, to not twisting that unwieldy tail and flapping into the night in the name of freedom. It had taken me so long to reach this point, longer than most people I knew, but, hey, I'd made it.
I never want to forget the lessons I've learned while writing this book.
It was time for a second tattoo. A proud chicken, a warrior in a tribal pattern. Bwwaauk. I got just her head, her glorious comb raised, stamped onto my back, a sign of mystery, connection, a promise to the universe. I'm still a bird, but I'm not in flight anymore. I'm a regal hen, with a long history.
Meanwhile, I'll keep changing every day, the skin on my back, the muscles in my shoulders. My original bird tattoo is still there, marking the origin of the 30 years of flight I took to get here.
__________________________________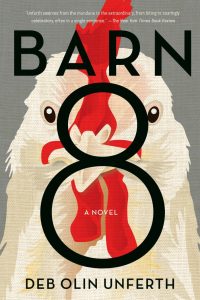 Deb Olin Unferth's Barn 8 is available on March 3 from Graywolf.
---