Danger and Depth in Literary Thrillers: This Month's Audiobook Recommendations
James Tate Hill: "Who needs more danger in 2020?"
"A spoonful of honey makes the medicine go down," says S. A. Cosby on the appeal of thrillers. The medicine he's referring to is themes like racism, poverty, and income inequality woven throughout his debut novel, Blacktop Wasteland. "It's easier to talk about those things," Cosby says, "if you've got a car chase going and a shootout happening and bullets whizzing by."
This month's audiobook recommendations are thrillers filled with danger and depth. We could call them literary thrillers, but that might make them sound too medicinal.
I know. Who needs more danger in 2020? But these are audiobooks. No matter how fast you read them, you can't even get a papercut.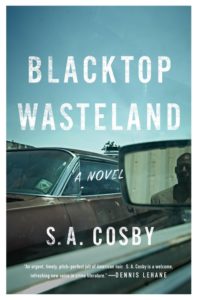 Blacktop Wasteland by S. A. Cosby
Narrated by Adam Lazarre-White · Flatiron Books/Macmillan Audio
11 hours and 8 minutes

All the familiar tropes in S. A. Cosby's gripping debut—the criminal trying to go straight, the final caper before retirement, the family business of crime passed down through generations—are rendered fresh in the author's voice and virtuosic storytelling. Nobody on the East Coast drives a getaway car like Beauregard Montage, always one step ahead of the law and his enemies. An African American husband and father in rural Virginia, he also runs an auto body shop hemorrhaging business. When his cantankerous mother can no longer afford her nursing home, an offer from former associates becomes one Beauregard can't refuse.
Adam Lazarre-White adds tension and grace to the audiobook with one of the richest voices I've encountered in some time. He's also a versatile narrator, voicing a large, lively cast of characters without puncturing the suspense. Lazarre-White also knows his way around varied Southern accents, a source of frequent consternation for Southern audiobook readers.
With plenty of narrow escapes, double crosses, and high-speed chases, Blacktop Wasteland will satisfy readers looking for traditional thrills. It also isn't afraid of the quiet moments in which Beauregard ponders what kind of father and husband he's been.
"His [own] father's face was becoming blurred around the edges in his mind. Unless =[Beauregard] was sitting in the Duster, Anthony Montage was a shade who spoke in whispers. Sitting in the car brought everything back into crystalline clarity. If he went through with this job, would his sons have to sit in the Duster to recall his face? Would they even want to?"
The audiobook includes a conversation with the author. Cosby is charming and funny, describing the inspiration for characters. Like his protagonist, he has spent a lot of time on the road and cannot wait to hear his own audiobook. When encountering these interviews in print, I have almost always skipped them, but recent conversations in audiobooks of Kate Elizabeth Russell's My Dark Vanessa and Adrienne Brodeur's Wild Game make me hope these become a trend.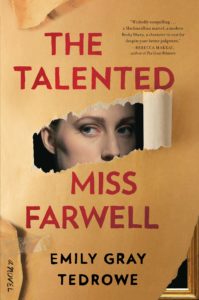 The Talented Miss Farwell by Emily Gray Tedrowe
Narrated by Allyson Ryan · Custom House/HarperAudio
9 hours and 56 minutes

In book clubs where discussions often turn to sympathy or likeability, the title character of Emily Gray Tedrowe's latest novel should stir strong debates. A clever homage to Vanity Fair's Becky Sharp, Becky Farwell is also a female answer to morally complicated heroes like Walter White and Don Draper. Instead of cooking meth or committing adultery, Becky Farwell's vice is fine art. Over the course of decades, she embezzles millions of dollars from her hometown to fund an out-of-control addiction to buying and selling paintings.
A good audiobook narrator, like a good author, doesn't judge her characters, and Allyson Ryan follows Tedrowe's lead. Ryan narrates with an occasional wink in her voice, recalling Paul Winfield's beloved voiceover in A&E's true crime docuseries City Confidential. She also captures Becky's humanity and animates supporting characters with distinctive but understated voice work.
While running her father's business as a teenager, Becky notices how much smarter she is than those around her, how much she can get away with if only she wanted to. That Becky has foregone college and a social life to take care of her father's business, then her father, lets us cheer for her long before we have a reason not to. We also pull for her because, like so many of the great con artists, she's so damn good at what she does.
"She'd get ahead of it like she always did, through hard work and hustle. When threatened, Becky had learned to move toward the danger." But she doesn't realize, or can't admit, the danger is also moving toward her.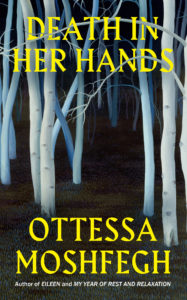 Death in Her Hands by Ottessa Moshfegh
Narrated by Ann Marie Lee · Penguin/Penguin Audio
7 hours and 51 minutes

"Her name was Magda. Nobody will ever know who killed her. It wasn't me. Here is her dead body."
So reads the note found by an elderly woman in the woods near her rural home at the start of Ottessa Moshfegh's latest novel. This being an Ottessa Moshfegh novel, there is, of course, no dead body, though the note has been carefully pinned to the ground with four stones.
The narrator decides Magda was just a nickname, that the individual who left the note did care for her, that his name was Blake and that Blake is slyly communicating with the narrator after she finds the note. These inferences come from the frail and desperate logic of a lonely woman with too much time on her hands and even more regrets. Active as her imagination may be, her actions after finding the note place her in real danger.
Death in Her Hands unfolds as a long, increasingly frantic monologue, and Ann Marie Lee's work in the audiobook is more performance than narration. Her dramatization would be at home on a stage, though it's a credible, straightforward interpretation of Moshfegh's text. It also feels like the right choice for a novel where much of what happens comes in stream-of-consciousness flashbacks and imagined scenarios.
Death in Her Hands is a mystery, but one in which the questions are more important than answers. The narrator's late husband, an academic, "made a living sitting still, just thinking things and writing them down, convincing others that what he thought and wrote was correct, and in this way the world was supposed to change?" What mattered," the narrator decides, Ann Marie Lee's voice quavering, "was what a person did, not what they went around pontificating about."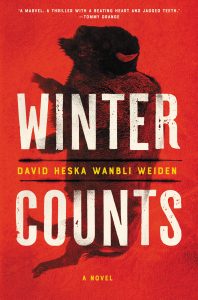 Winter Counts by David Heska Wanbli Weiden
Narrated by Darrell Dennis · Ecco/HarperAudio
8 hours and 17 minutes
On American Indian reservations, tribal courts can only charge misdemeanor crimes. Tribal police have to refer other, more serious crimes like theft, sexual assault, assault and battery, and murder to federal authorities. As a result, many of these crimes go unreported and unpunished.
"When the legal system broke down like this, people came to me," says Virgil Wounded Horse early in Winter Counts.This is his explanation for the crippling violence he's about to inflict on a gym teacher (and serial rapist) leaving a bar. When Virgil's nephew overdoses, the crimes he investigates might be more than one man can handle.
Written in first person, Winter Counts finds a compelling surrogate for Virgil in audiobook narrator Darrell Dennis. Like Virgil, Dennis isn't a conventional narrator. Slightly nasal with a hint of a lisp, his voice captures well a Lakota character once bullied for being half-white. Friendly and disarming, it's also a voice capable of menace when it needs to be.
"I didn't feel any mystical bond with the res," says Virgil. "I hated our shitty unpaved roads and our falling-down house and the snarling packs of dogs that roamed freely in the streets and alleys."
As much as his resourcefulness and love of the nephew he is raising, it's Virgil's ambivalence about who he is and where he comes from that makes him a fascinating protagonist. His ex-girlfriend, an aspiring doctor with more reverence for native traditions, helps him uncover a heroin ring and tribal corruption. David Heska Wanbli Weiden's debut is a finely constructed thriller, but Winter Counts, like Weiden's characters, has far more on its mind than crime and punishment.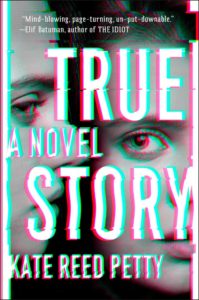 True Story by Kate Reed Petty
Narrated by Kristen Sieh, Alexander Cendese, and Cassandra Campbell · Viking/Penguin Audio
8 hours and 34 minutes

The mystery at the center of True Story, Kate Reed Petty's wildly inventive debut, concerns a sexual assault on the night of a high school party. Although the novel answers the questions we seek from such stories, it's more interested in the aftermath of trauma. With chapters structured as screenplays, college admission essays, first-person confessions, transcribed interviews, and more, True Story circles the truth to explore how much and how little it tells us.
Formally adventurous novels like True Story are opportunities for the audiobook to show how far it's come since the days of abridged classics on hissing cassettes. Visual material like the famous PowerPoint chapter in A Visit from the Goon Squad have been creatively translated into audio, broadening the ways we can appreciate a text. That PowerPoint story came to mind while reading True Story, during a chapter structured as a student essay peppered with her teacher's comments.
"In most horror movies, women are just running away all of the time. Silence of the Lambs challenges that cliché from the beginning," writes the student, narrated by Kristen Sieh.
"Let's explore your perspective on sexism a bit more," interrupts her teacher with a note in the margins. Voiced by the great Cassandra Campbell, the teacher's feedback only muddles the student's attempt to speak her truth. The student's frustration surfaces in Sieh's narration as drafts pile up.
I was initially confused when Alexander Cendese, who narrates as one male character in the first half, handles another male character later on. This choice proves to be an interesting one for reasons that might spoil the novel's ending if I said more. A handful of late revelations more than justify the structure of the book and audiobook.
"In a way, this book is an exorcism," writes a character who is denied her own voice until that last chapter. "It's also the kind of book I'd want to read. Because storytelling doesn't belong only to perpetrators, and neither does having fun."
---