Cree Turned City Slicker: Returning to One's Indigenous Heritage
Darrel J. McLeod on Teaching at a School in Yekooche
I could barely keep up with elder Catherine Bird as she sped through the now dense, now clear-cut forest to get to Yekooche, a Dakelh village 80 kilometers north of Fort St. James, British Columbia. It was June 1990, and the local school district had been asked by Tl'azt'en First Nation to take over the community school in Yekooche from the Department of Indian and Northern Affairs the next fall.
Why was Catherine in such a rush? Was she testing me—curious to see if a Cree boy turned city slicker, now a rural school principal driving a new cherry-red Suzuki Sidekick, could keep up with her older crimson Dodge pickup? We hydroplaned over vast puddles, shimmied over uneven washboards and plowed through a layer of fresh gravel before slowing to cross the tiny wooden bridge that spanned a moat around the village. I didn't dare take time to admire the new leaves that shimmered on stands of alder trees filtering the spring sun. I had forgotten how fine dust clogs the sinuses.
What would these people think of me? Could they accept me as a fellow Indian, even though I was a mixed-blood Cree who had an expensive haircut and fancy clothes and who spoke eloquent English? Fitting in was critical, though I wasn't sure why. I thought about how Catherine had confronted me the day before on the steps of the school district offices in front of my new boss, Louise Burgart, the assistant superintendent.
"Hadih—so you're Cree, eh? They're our neh-bors and eh-nemy—stole our horses 'n womans." Looking stern, she paused, glanced from me to Louise, who was blonde and at least six inches taller than Catherine, then back at me again. Once Louise's cheeks had pinkened and my eyebrows had furrowed, Catherine let out a loud girlish laugh. "I jus' lie—good to have you here, T'airl." She stretched out her eagle-claw hand and clasped mine. Her hand was as strong as Mother's, though it wasn't a man hand like Mother's had been. No, I decided, Catherine wasn't testing me, she was just doing what she always did. She knew these back roads like the face of her eldest child.
Chaos. That was the only word to describe what was going on in the classroom I visited in the dilapidated schoolhouse the next morning right after recess. I was the only visitor to venture in—the Indian Affairs director, Juanita Tupper, and my boss, Louise, waited outside. A warped 45 vinyl record of a Beatles song played on the small school-issue turntable, the melody wafting in and out. I -ee wah na … hol…yor… ha-a-a… wah na…hol… your ha-a…
Then a witch. That was honestly what I thought I saw. A woman with long, matted grey hair, a wrinkled face, missing teeth and chipped and gritty fingernails was perched behind her desk fidgeting with some papers. Instant tears, which I blinked back. About 15 kids with thick black hair were scattered around in one cluster on the floor by a cluttered bookshelf, a few cutting something out at a table covered with junk. Others were at their desks doing arithmetic worksheets. Torn textbooks and tattered paperbacks lay on the floor and countertop as if they had been flung there. Many curious glances in my direction, but everyone was too shy to say anything. Did they see me as I hoped, as another Indian who wanted to help them get out of the rut of poverty, dysfunction and sorrow, or were they even aware of their situation? Did they care in the slightest way who I was? Through the bank of windows I could see large crows flitting between tall spruce trees and alders, cawing over each other impatiently and making guttural clicking noises. I thought of home—Spurfield, and the dozens of cousins I grew up with in Smith, Alberta. We all had thick black hair like that. Classes had been organized, clean and strict at our school, but the crows outside were identical.
Could they accept me as a fellow Indian, even though I was a mixed-blood Cree who had an expensive haircut and fancy clothes and who spoke eloquent English?
That afternoon, I strolled to the cemetery at the edge of town and paused beside the white picket fence around one grave. I looked toward Shass Mountain and began to pray—not to Jesus or to God, but to the ancestors of this place. I asked them to accept me, to protect me and guide me to do the best I could to help their descendants.
At two in the morning in a cabin along the shores of Stuart Lake, I woke with a sucking hollowness in my chest. Was I really going to do this—move north on my own, leaving my teaching job and friends in Vancouver? More importantly, was I going to leave Milan? When the emptiness didn't recede, I lay in the dark, thinking. I pictured my classroom at Trafalgar Elementary, on the west side of Vancouver, and wondered how my students would have reacted had they seen Yekooche, the school building and the students—the beauty, the starkness, the unkemptness and the abject poverty. I thought about the contrast between my well-equipped and neatly organized classroom, tastefully decorated with student art, and what I had seen at the Portage School. I would have to get rid of everything but the furniture and start anew. What would we do for phys ed? There was no gym or even a playground. I would have to recruit an entirely new team of teachers, and that wouldn't be easy. The next day I would need to start ordering books and poring over résumés.
I tried to lull myself to sleep by picturing Milan's bulky hands and his kind, loving gaze. Milan had purchased a trendy condominium in Kitsilano, where we had settled into a comfortable life with a circle of caring friends, the type of friends I could only have dreamed of having in northern Alberta or in Calgary— teachers, a school principal, a physiotherapist, a Guatemalan friend and one who was Rotuman. Weekly dinner parties. Weekend mornings at Granville Island Public Market enjoying coffee and croissants while we listened to buskers were followed by hours of me singing my favorite tunes and accompanying myself on piano or guitar at home. Surely Milan would stick with me through the transition to working and living in Yekooche. He had been so supportive in my university years, through my five years of teaching and through my sorrow when first my sister Debbie died, and then Mother.
Why was I making this drastic change in my life? Was I trying to rebuild my connection with Cree culture after losing my only bridge to it—Mother? Was I trying to get back to my roots, or was it simply more escapism, a distraction to avoid my predicament—a collapsed and diminishing family, sexual confusion, an uncertain future, a constant fear of falling into a downward spiral and losing everything?
*
Normal classes were set to begin the second week of September for everyone except the teenagers, who were at an outdoor camp to learn orienteering, survival skills, canoeing and Dakelh language. In the weeks to come, the older students would have workshops instead of regular classes—hairstyling, baking, basic cooking, drum making, hide tanning and other skills to build their self-confidence and give them a positive experience at school. The plan was that we would ease them into a more structured academic program in November.
By 9:15 on the Monday of the second week, only a handful of the seventy or so students we had registered had showed up. So at 8:00 am on the Tuesday, standing on the steps of the school, I played "Reveille" on my high school trumpet. I was on my third round of "ta-ta-tadada ta-ta-tadada" when Art pulled up in his pickup truck and began honking his horn in rhythm with my playing.
"Hadih. Ever craz-ih, prin-ci-pl," Art called out as he studied me, his head cocked to one side.
Was I trying to rebuild my connection with Cree culture after losing my only bridge to it—Mother?
Everyone thought I was joking when I announced later that day that the whole school—students, teachers, assistants, the secretary and I—would begin a mandatory fitness program: every day, 20 minutes before morning recess, we would go for a run or a walk. Sally and Art were lined up to serve hot soup and bannock to each person as they returned, a role the teenagers would take over once back from camp.
The next day, around 11:00 am, we got a surprise visit from the district superintendent. Mike spent a half-hour in the school, observing and scribbling notes. "You have your staff dressed nicely—so professional," he said in a singsong voice as he stepped out onto the porch and offered me his hand. Mike's timing couldn't have been better. Art and a few other men had just driven up to the school with truckloads of smoked and dried salmon, jars of bear grease, a pile of bear meat, tanned hides and a quartered moose to show the kids what we had accomplished during our week at the fish camp.
*
By the end of September, though, I was discouraged. Randy was having problems with the teenagers' behavior. I'd learned that Isaac and a couple of other teens were sniffing gas. Leona and I had discovered that the literacy challenges with the intermediate class were even greater than we had thought. A few of the primary children had emotional problems we couldn't address. Our book order was late. The telephone system we had hoped the band would install would cost 5,000 dollars and there was no budget for it, so we were stuck with the expensive and unreliable radio phone.
The previous Friday, when the band manager invited me to Taché, the larger community across the lake, for a meeting, I had hoped for good news. Instead, he gave me an ominous warning about getting involved in the politics of the community. The Yekooche elders were upset about how they were being treated by the larger community, the Tl'azt'en Nation, who administered their affairs, and they wanted to separate. The band manager was afraid that I would help them with this. Our conversation, or rather his monologue, went like this:
"You're not gonna help 'em with this, mister. Last principl' tried. Keep your nose out of it. Oh, 'n the construction of the new school's been delayed—won't turn the sod before next spring, but yer house should be ready by middle of October. You won' havta stay in that camper much longer. Nice o' ya ta give the trailers ta yer teachers."
I wasn't aware, but the Dunne Za—the top hereditary leader who was also the elected chief—was about to enter a turbulent time in his leadership. In fact, he had just bought a white elephant with a large settlement the community received—a cement plant, complete with trucks, that never returned to operation mode.
The moment I got back to Yekooche from Taché, I knew I had to return to the cemetery to plead with the ancestors. It was all getting to be too much. I set out from the school to walk the kilometer or so along the main road, which ran parallel to the creek. The fresh air and idyllic country setting calmed me. As I walked, I reminded myself why I was here. For years I had longed to be surrounded by empathetic brown faces, as I had been in my childhood. I'd missed hearing Cree spoken fluently, its comforting musicality. The language spoken here was Dakelh, a Dene language, but that didn't matter—it was beautiful too. I wanted to harvest and feast on traditional foods, re-establish my oneness with nature. Along with all of this, I hoped to reduce the misery and suffering in this forsaken and exploited community. If I could make a difference in the lives of even a few Yekooche children or adults by walking alongside them for a while, my purpose would be accomplished and I could move on.
__________________________________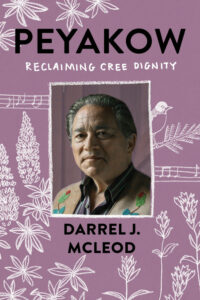 From Peyakow by Darrel McLeod (Minneapolis: Milkweed Editions, 2021). Copyright © 2021 by Darrel McLeod. Reprinted with permission from Milkweed Editions.
---