Cornel West on the Revolutionary Politics of the Foundry Theatre
"To live in this hell of a world does not trump our capacity to leave a little heaven behind."
The Foundry Theatre—founded, co-founded, and forever re-founded by the incomparable Melanie Joseph—is the great exemplar of artistic excellence, political courage, and visionary hope of American theater in the late 20th century and early 21st century. Holding on for dear life to the revolutionary traditions of art and theater yet mindful of postmodern skepticism, even despair, about any progressive change or transformation, the Foundry Theatre embarked on what seemed to many a crazy adventure, an untimely errand or foolish endeavor.
A deep sense of vocation sat at the core of this precarious leap of faith. In a world of commodified culture, a profound calling is rare—if not laughed at. Yet the abiding vocation of the Foundry Theatre was to always connect the existential to the economic, the spiritual to the social, the personal to the political. The non-negotiable calling was to raise powerful and subversive voices that cut through the market-driven culture of superficial spectacle and pieced through the timid theater of neoliberal Broadway.
The fundamental aim of the vocation was to inject new purpose by enacting theatrical productions and public dialogues of great talent, urgency, and vision. The basic end of the calling was to intervene in a decadent and decaying culture with a zest for life, gusto for joy, and quest for justice without downplaying the floods of sadness and sorrow in our souls, society, and world.
As my dear sister Melanie and I concluded in 1994, "Sometimes you must just step out on nothing and hope to land on something." And this hope is neither a naïve expectation nor blind projection. This kind of hope is more an effect of sacrificial and risk-ridden action than a ground of action.
To pursue this form of vocation, calling, and hope is to be a kind of holy fool. The ship of unholy fools—obsessed with money, image, status, and power—breeds our present imperial meltdown and spiritual blackout. Our predictable dance of death—much like that of the late Roman Empire—is full of corrupt elites; militarized families, communities, schools, media, and armies; and morally bankrupt gladiators of senseless violence and gratuitous cruelty. Like Diogenes or Sappho in ancient Greece, William Blake or Mary Shelley in early modern England, or Wole Soyinka in 20th-century Nigeria, the Foundry Theatre decided to persist in its holy folly in order to reach postmodern wisdom, to move to the core and periphery of this world in order to turn it upside down.
This rare worldly truth-telling and world-to-come witness-bearing was the hallmark of the Foundry. It was undeniably timely in that it engaged our times in a tragic and comic manner. Yet it also was untimely in that it cut so radically against the grain of our times. To live in this hell of a world does not trump our capacity to leave a little heaven behind. Such is the prophetic praxis of we holy fools.
Yet there is no vocation without invocation, no calling without recalling. In a culture of fast-moving surfaces of glitz and blitz, remembrance is the first step to revolution. To remember is to situate and locate ourselves in the flow of time, the drama of history—and the possibility of a better future. Subversive memory requires a selective invocation of exemplary movements, institutions, and figures that can shake us out of our contemporary ruts and routines and transform us into wounded helpers and wounded healers from the wounded hurters we too often are.
The Foundry Theatre . . . is a uniquely American movement against the dominant forces in America that tightly links the will to truth and the will to beauty to the will to fight.
To put it crudely, the Foundry's hope on a slippery tightrope was fanned and fueled with a rich sense of history that understood the present as history. Hence, the Foundry was never reduced to a market brand for corporate picking or seduced into the new star on the block for avant-garde propping up. Instead, it put a premium on the blue notes shot through history—the notes of dignity, dissonance, defiance—that constitute the majestic sound of social movements, political struggles, spiritual healings, and psychic breakthroughs.
Needless to say, the effects and traces of past barbarities and atrocities, criminalities and mendacities loom large, yet they do not get the last world with subversive remembrances and joyful resistances. The Foundry embodied a vocation that embraced artistic rigor, a calling that included theatrical precision, an invocation that wedded revolutionary joy to aesthetic pleasure, and a recalling that revered freedom within the constraints of respect and dignity.
Just as hope is the fruit of love, provocation is the fruit of vocation and invocation. During its 25 years, the Foundry wrestled with the terrifying question of Mama in Lorraine Hansberry's A Raisin in the Sun: How does one bequeath to the younger generation the rich traditions of critique and resistance? There has never been a figure or character on the American stage as full of such mature love as Mama in this classic play.
It flows from the tradition of a people who have been terrorized for 400 years yet taught the world so much about freedom, a people traumatized for 400 years yet taught the world so much about healing, and, especially, a people hated systematically and chronically for 400 years yet taught the world so much about love and how to love.
From John Coltrane's A Love Supreme to Toni Morrison's Beloved, from Nina Simone's "Young, Gifted, and Black" to James Baldwin's love-soaked essays and novels, this great caravan of love (of truth, beauty, goodness, and sometimes of God) provokes us into a habitual vision of excellence and elegance, joy and justice, courage and contestation. The Foundry sits squarely and hiply in this great tradition.
The greatest of 20th-century American theatre—from Eugene O'Neill, Arthur Miller, and Tennessee Williams to Edward Albee and Adrienne Kennedy—is profoundly un-American in that it is preoccupied with the underside of America, the underground of the land of optimism, prosperity, and limitless possibility. Yet even those grand truth-tellers fell short in regard to the personal and collective will to fight even after the bleakness has been depicted and probed. The Foundry—like Lorraine Hansberry and a few others—goes through and beyond this great un-American theatrical tradition that tells painful truths about America.
When I first met my dear sister Melanie at Princeton University in 1994, it was clear she was a sophisticated artist, subtle thinker, and soul sister—that rare kind of genius and giant who hates the spotlight and loathes the center stage. Yet there could and would be no spotlight or center stage of the Foundry without her love, service, vision, intelligence, imagination, and style. Her unique fusion of vocation and invocation led to an artistic practice of great provocation—to unsettle, unnerve, and undo ourselves and the world in order to critically awaken, spiritually fortify, and collectively inspire us to fight for truth and justice.
The Foundry Theatre—like the best of the blues—is a uniquely American movement against the dominant forces in America that tightly links the will to truth and the will to beauty to the will to fight. So even as its particular doors are shut, the motion and momentum of the Foundry goes on, moving and grooving through us, with us, for us in our work and witness.
The afterlife of its initial iteration will forever be at work in our lives. And our will to fight as artists and citizens gives the Foundry a future just as it helped give us a recent past. It was one of the great joys and honors in my life to be a part of its flow. The Foundry Theatre—alongside sister Melanie—is a wind at my back and a fire in my soul—it will never let me hold my peace until the worms get my body!
__________________________________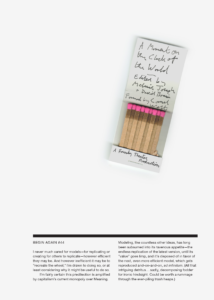 From A Moment on the Clock of the World: A Foundry Theatre Production. Used with the permission of the publisher, Haymarket Books. Edited by Melanie Joseph and David Bruin. Copyright © 2019.
---