Cooking With… Crickets? Baking With… Bugs? Yes and Yes.
Heston Blumenthal Experiments With Unconventional Ingredients
What's my best way into cooking with crickets? It's probably these biscuits. After all, who doesn't love a biscuit? Plus, the flavor's not too strong and the mixture combines well with chocolate to create a tasty little nibble that also gives you a shot of protein. And how many biscuits can claim that?
How many of our food taboos are preconceptions or learned opinions? We can all be a bit nervous with a new ingredient but, in the end, once you get into the rhythms of baking and the pleasures of preparation, isn't it just another powder to add? After childhood, it's not often we get to taste a brand new, never before-encountered ingredient. Why not have a first nibble with that in mind—has it taken that choc chip bikkie in a different direction? Is there a slight savoriness to complement the other ingredients? These biscuits are bursting with protein. So why not put aside those protein shakes and bake a batch of these instead to use as your post-workout energy boost?
*
Cricket Biscuits
Makes 16–18
250g unsalted butter, softened
125g unrefined golden caster sugar
1 large egg
1 large egg yolk
40g cocoa powder
50g cricket powder
200g plain flour, sifted
70g chocolate chips
20g whole milk
Using a stand mixer fitted with the paddle attachment, cream together the butter and sugar until pale and smooth. Add the whole egg and extra yolk and mix until incorporated.
Now add the cocoa powder, cricket powder and flour to the mixture, and mix on a low speed until evenly combined. Lastly add the chocolate chips and milk and mix briefly until incorporated.
Tip the mixture onto a sheet of cling film and roll into a log, about 6cm in diameter. Wrap the log in the cling film, sealing the ends, and place in the fridge to set for several hours, preferably overnight.
When ready to bake, preheat the oven to 180°C/Fan 160°C/Gas 4 and line a large baking tray with baking paper.
Unwrap the log and slice into 16–18 discs, about 1cm thick. Place the dough rounds on the prepared tray, leaving a little space in between as they will spread a little. (You may need to bake the biscuits in batches, depending on the size of your tray.)
Place the tray on the middle shelf of the oven and bake for 11 minutes. Transfer the biscuits to a wire rack to cool.
__________________________________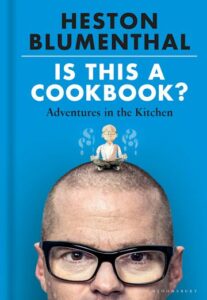 Adapted from Is This a Cookbook: Adventures in the Kitchen by Heston Blumenthal. Copyright © 2022. Illustrations © 2022 Dave McKean. Photography © 2022 Haarala Hamilton. Reprinted by permission of Bloomsbury.
---