Connected at the Roots:
A Conversation with Margot Livesey
Steven Wingate Talks to the Author of The Boy in the Field
The August 2020 publication of Margot Livesey's The Boy in the Field comes 30 years after her first novel, Homework. In that time Livesey has earned a wide range of honors, including fellowships from the Guggenheim Foundation and National Endowment from the arts, a New York Times bestseller (The Flight of Gemma Hardy, 2012) as well as a prized teaching position at the University of Iowa Writers' Workshop. Her career, at the 30-year mark, can't be considered anything short of substantial.
The Boy in the Field, Livesey's ninth novel, begins with a primal incident. The Lang siblings—Duncan, 13, Zoe, 15 and Matthew, 17—are walking home from school one afternoon when they find a young man who has been stabbed in a field. Sworn to silence by the police, they are drawn deeper into a different kind of secrecy: the kind they each carry inside themselves. The Lang siblings' pursuit of their secrets allows Livesey ample opportunities to use what may be her greatest gift: the ability to catch her characters as they raise their heads above the surface of their limited self-understanding into broader visions of who they might be—sums of the parts they haven't even catalogued and counted up yet. 
Before this interview, Livesey and I had been talking about the way time reveals the subterranean interconnections within a writer's work—even in projects that seem disparate at first. Our conversation made me think of recent research on the networks of fungi that connect trees in forests, so I read The Boy in the Field with this thought in mind. Those already familiar with her work will find pleasure in traveling a new route through Livesey's thematic landscape. Those new to Livesey's novels will find a suspenseful plot and a rich set of underground labyrinths to explore. 
Livesey and I corresponded electronically in early summer, both of us far away from the novel's setting near Oxford—she in Cambridge, MA and me among the open fields of South Dakota, where many stories hide. 
*
Steven Wingate: At one point a character in The Boy in the Field says "paintings are in conversation with each other." One way your novels converse with each other is the way they show familial units—whether biological, chosen, or some blend of the two—undergoing stress tests. They're pressured by shared pain to the point of breaking and have to find their way individually and collectively. What, in your eyes, makes a family intriguing enough to merit a novel?
Margot Livesey: I remember one day when I was reading for Ploughshares magazine—I used to be the fiction editor—I found myself exclaiming, "I don't want to read any more stories about sisters and brothers and parents and grandparents." Of course, I didn't mean it but I do sometimes find it frustrating that blood relationships are so central in fiction. In my own writing I have, at various times, tried to banish them. Not surprisingly, it's hard to do. But with the exception of my novel, Mercury, when I needed A Husband and A Wife, I don't think I've ever set out to write about a family, per se. There are characters and situations I'm drawn to; the families follow.
In the case of The Boy in The Field, I wanted the people who found the boy to be siblings and I wanted them to be young but I never saw myself as writing e.g. a coming of age novel. Matthew, Zoe and Duncan were for me as intelligent, as passionate, and as complex as any of my adult characters.   
"At the same time, I believe there are essential lies, heroic lies.  And I'm very interested in the relationship between secrets and lies." 
SW: Across your work there's also a great deal of lying about what's been hidden—characters nesting lies within lies as if testing their consequences. In this novel, one of the lies is a forced one: the police tell the Lang children not to tell anyone about finding the injured boy. What interests you about lies and the people who tell them? 
ML: As a child growing up in Scotland, my Sunday school teacher, Mr. Chisolm, taught me that telling a lie was a terrible sin which would, inevitably, be punished. As an adult, I discovered to my amazement that people could lie with impunity and nothing terrible happened. This did—and does—bewilder me (although, given the current regime, I should have got used to it).  
At the same time, I believe there are essential lies, heroic lies. And I'm very interested in the relationship between secrets and lies. Keeping a secret, however innocent, often seems to require lying.
SW: Finding the boy in the field sets off something for all three Lang siblings—not a bomb but a flower, a desire to solve other mysteries in their lives. Duncan wants to find his birth mother; Matthew wants to find the boy's assailant; Zoe is searching for someone who truly sees her. Why does proximity to misfortune and death bring such searching to your characters? 
ML: I wanted to explore a central trope of detective fiction—the discovery of the body—from a different angle. In my version the boy recovers but each of the siblings is jolted into a new awareness. A few years ago, I reencountered an old schoolfriend. He described coming home from school one sunny afternoon and finding the body of a woman at the bottom of the garden. Those few moments changed his life, and his account of them made a deep impression on me. Perhaps not everyone would respond this way but my three characters do.  
SW: Throughout your work, I see a tendency toward nefarious behavior that's not quite illegal. The brother and sister in Criminals scheming after they find an abandoned baby, the undercurrent of financial dirty dealings in Banishing Verona. In The Boy in the Field the crime is "offscreen," but your characters are all pulled into it. What keeps drawing you to these kinds of lives that flirt with, but don't fall into, outright criminality?
ML: There's probably some deep reason why I'm drawn to nefarious behavior but, putting that aside, I'm very intrigued by how people respond to temptation. What would have happened if the witches hadn't appeared to MacBeth? If Iago hadn't hated Othello? It's relatively easy to be virtuous if you're not tempted, but what if you are. We talk about making a decision but I think people often just leap, or swerve. Rereading James Baldwin's Giovanni's Room, I was struck by how often David, the narrator, simply succumbs to Giovanni's charms, or to social pressure, rather than making a choice.     
SW: It's hard not to be drawn into the worldview of Duncan, the youngest Lang child. He's adopted, racially different from his family, and an artist who observes the world in great detail. I suspect it was tempting to let him be your "eyes" inside the novel, but you committed to multiple close third person perspectives—something else you've been drawn to in the past as in The House on Fortune Street. What freedoms and constraints does using multiple perspectives give you? 
ML: To me one of the most fascinating aspects of families is that each member experiences the same events differently. I wanted to show Matthew, Zoe and Duncan responding in very different ways to finding the boy. While Duncan's quest is the largest—the most life changing—it's crucial that his siblings too are inventing themselves outside the family.
SW: "My diagnosis," a detective tells the oldest Lang child, "is that you are wrestling with the problem of evil." It would be hard to write that line without also wrestling with the problem of evil yourself. Where, in the process of writing The Boy in the Field, did you discover evil—or its opposite—in unexpected places?
ML: The novel is mostly set in 1999 but was written during very dark days in the US and the UK. Perhaps that is why, although two of the wrong doers are granted the grace of explanations, the third, entirely off-stage, is purely evil in my Sunday school teacher's sense of the word. I hope to suggest that goodness, too, can be found in unexpected places. 
SW: Your most recent novel before this one, Mercury, was your first set in the United States. With The Boy in the Field, you're writing about the British Isles again. How did it feel to write about England after writing about America? Was there a sense of defamiliarization for you in this return to your home turf?
ML: Writing a novel set in the States had many pleasures—I got to visit gun shops in New Hampshire; I got to interview my friends' children—but I was glad to return to the British Isles. The English countryside felt very familiar and allowed my teenagers to lead fairly independent lives. It also allowed me to have something very un-American—a benign police force. After the struggle to find voices for my American characters, I welcomed the freedom of diction. In these turbulent times, I suspect my next novel will also be set in Britain, perhaps in Scotland where I grew up and which, increasingly, feels like a separate country from England.       
SW: You have, if I recall correctly, an enviable and longstanding writers' exchange—a reader you trust. What was that process like on this book? What did your reader notice?
ML: It was my great good fortune to meet Andrea Barrett, author of The Air We Breathe, Archangel and many other brilliant books, at the Bread Loaf Writers' Conference. We have been exchanging work for nearly three decades. She is my utterly invaluable first reader. In the case of The Boy in The Field she read several drafts and told me I didn't need a long section where Zoe got a part-time job at the hospital where the boy in the field works. I also have a terrific editor at Harper Collins, Jennifer Barth. We've now worked on six novels together.  
SW: Finally, going back to the tree metaphor of the title, I wanted to ask about your literary "family tree" going in both directions. Who are the roots (the writers you learned from and sought to emulate) and the branches (writers you see today who are working in the same vein as you are)? 
ML: I grew up reading children's classics—Jane Eyre, Great Expectations, Kidnapped, Alice in Wonderland, Anne of Green Gables and many others. I loved, and love, how those books transported me and gave me a home in the world. When I started trying to write myself, I wanted to honor their inventive plots, and the way they earn their readers' attention.
There are many contemporary writers whom I admire on both sides of the Atlantic but I'll mention a few British writers Kate Atkinson, Kazuo Ishiguro, Ian McEwan, Zadie Smith and most recently Bernadine Evaristo. I love how each of them approaches the complicated challenge of writing about contemporary life with passion and imagination.
__________________________________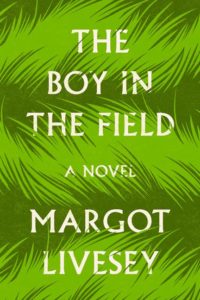 The Boy in the Field by Margot Livesy is available now from Harper. 
---