Comics Legend Seth Talks Virginia Woolf, Charles Schulz, and His Latest Book
In Conversation with Drew and Christopher on So Many Damn Books
Alternative comics legend Seth drops into the Damn Library on tour for his career-defining Clyde Fans. The conversation quickly turns to the medium of comics itself, and its potential for conveying human emotion. Also discussed is the joy of designing a book, channeling Charles Schulz, Virginia Woolf's To the Lighthouse and more.
Seth on how Clyde Fans isn't as boring as it might sound
Seth: Yeah, Clyde Fans is one of those things that, when you describe it, sounds terrible—because basically it's about two old men and their lives over five decades as electric fan salesmen slash businessmen, and sort of about the decline of the business but more about I guess the interior worlds of these two men who failed to make it in the world, who are isolated figures in two different ways, who are in conflict with each other and basically the whole book for me was describing these two men and eventually bringing them together and seeing the ramifications on their lives.
On one level, it does sound terribly boring. But I'd like to think that what's really going on is kind of an exploration of that strange interface between inner and outer that we all have: the world, and our interior reality.
*
On getting started
Seth: It took me a couple of years till I started working on the book, and during that period it went through a variety of scenarios of what I would make a book out of. At one point, I think I was even thinking of doing it with anthropomorphic characters, of dogs or something.
Drew: Whoa.
Seth: I was just kind of fishing around for ideas and eventually, like any book, when you start it, there's a moment where you start it that sets it in place. You have your ideas and you roll from there, and that process of figuring out who these men were was what I worked on for the next twenty years.
*
On an evolving drawing style
Drew: There's something wild about watching your drawing style develop [over the book].
Seth: It does change. If it were a prose novel, what's interesting is that you probably wouldn't notice it so much. It might still be obvious if you really studied a prose novel that took a long time, you might say, "oh I can see where this changed." But with drawing style there's almost nothing you can do about it. It changes on its own. I mean, you're evolving, you can't help it: you follow a thread and it leads you somewhere, but even if you tried to stop it, you can't do it. It's funny—there's something in the way the hand works; it makes its own decisions.
When I went back to try to correct the book, at the end, to fix things up, there were a few things I wanted to fix in the first chapter that could not be fixed. I could not draw a panel that looked like those panels. So I did some manipulating, some Xeroxing and moving things around, but I could not draw like that anymore. It's interesting, I probably could've faked another artist better than I could fake my own work from that period.
Christopher: Wow, that's interesting.
Seth: I didn't understand it anymore. I could sit down and look at Charles Schulz or something, but with my own work, I could no longer understand the mental process that had made those decisions to draw those drawings.
*
Seth on the tiny wonders of Virginia Woolf
Seth: The scene that really hits me in the dinner sequences is when Mrs. Ramsay is watching the fruit in the bowl and thinking how beautiful the arrangement is and hoping no one will take a piece of fruit — and then the moment a grape is plucked, she's like "oh, why did it have to happen?" And it's funny because could you have anything that is less dynamic in a way than a bowl of fruit, and yet she's added so much of the strife of human life to it. It's just tremendous.
*
This episode's recommendations
Drew: Democracy May Not Exist But We'll Miss It When It's Gone by Astra Taylor
Seth: Sabrina by Nick Drnaso // the novels of Anita Brookner
Christopher: Wimbledon Green by Seth // Girlchild by Tupelo Hassman
*
This episode's cocktail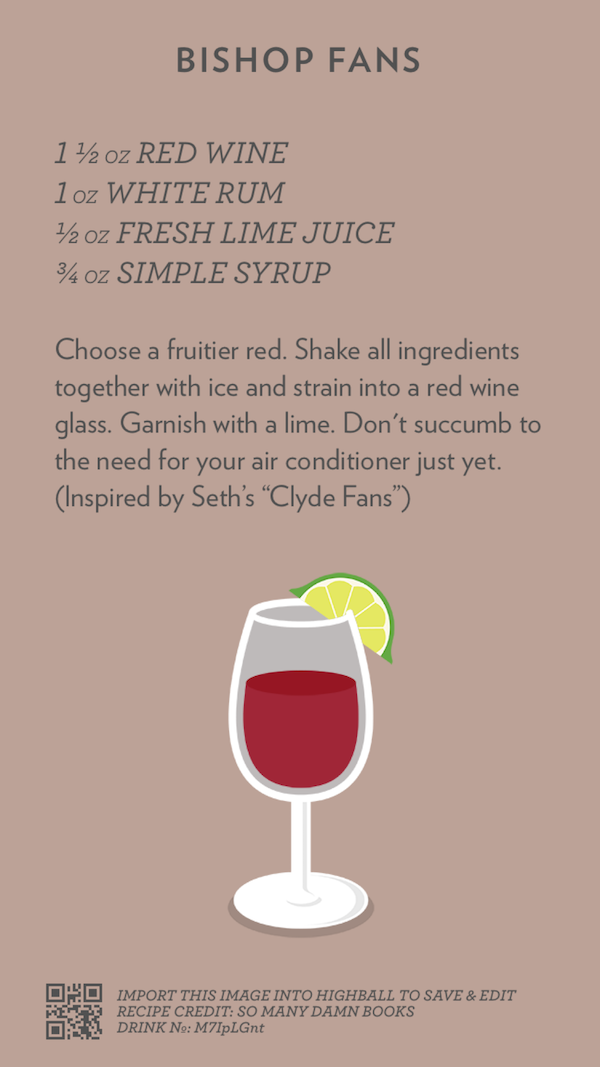 ---