Catching Wild Bill and Jane: The End of a Killing Spree in Panama
On the Crimes of William Dathan Holbert and Laura Michelle Reese
After fleeing Bocas in early June 2010, and eventually crossing the border into Costa Rica, Holbert and Reese had planned to lay low. The problem was, their faces were all over the local television and newspapers. In the middle of July the pair pitched up in a resort town about an hour out of San José and rented a cabin. But the owners recognized them and called the police. Holbert and Reese had a narrow escape and, with the manhunt in full swing—Interpol had been alerted and the FBI was giving chase—they decided to switch countries again. Part of Costa Rica's border with Nicaragua to the north is the broad, meandering San Juan River. On July 26, Holbert and Reese stole a powerboat on the Costa Rican bank by dumping its owner into the water, and headed for the Nicaraguan side. However, they were spotted by a group of Nicaraguan soldiers who knew that the pair were trying to enter their country illegally before they realized exactly who they were. Confronted by a line of machine guns, Holbert and Reese surrendered. When questioned by the Nicaraguan authorities, Wild Bill and Jane claimed to be Dutch nationals. They had thought up some new names for their purposes. They were dressed in T-shirts, short pants, and flip-flops, every inch the guileless tourists who had lost their way. But their story didn't wash for a minute. They were handcuffed and taken away to a nearby police station. The law had caught up with Wild Bill and Jane.
On July 29, 2010, William Dathan Holbert and Laura Michelle Reese were deported from Nicaragua and flown in a light aircraft to Panama City. The plane touched down at Albrook airfield, Panama City's domestic airport, as day was about to turn into night. It had just stopped raining. Reese emerged first from the plane and descended the short steps onto the runway, slowly, unsure, like she was dipping her toes into a hot bath. Then she was ushered to a waiting police car, looking down all the time, perceptibly shaking. Holbert came out next and glanced over at a couple of photographers who called out his name, holding their stares. He then held his head high, back straight, nose pointing up to the sky as he, too, was taken away. His body language was arrogant, even imperious. Both Holbert and Reese were admitted to police custody, the blinking lights of the capital city blurring as their vehicle sped off.
Ariel Barría, then spokesman for the National Police, recalled that, in the days that followed, "we were all amazed to see how the detainee behaved. He waved and smiled at the cameras as if he were a rock star, that's the only way we had to describe it, even though the circumstances were so tragic." The precise circumstances of the unfolding drama in Darklands were what Panama's prosecuting attorneys wanted to uncover. There was some urgency, too; the local media was sensing a big story, calling the police and the state prosecutor incessantly. The following day, July 30, was a Friday, and at 3 p.m. deputy state prosecutor Ángel Calderón faced a relaxed William Dathan Holbert in an interrogation room at the state prosecutor's office. Laura Michelle Reese would have to wait her turn to give her account of events to Calderón and his team. Holbert told Calderón he spoke and read Spanish, but the prosecutors had already hired an interpreter for the session, which was the usual routine when non-Hispanic detainees were being interrogated.
First there was the question of who this man was, in fact. Holbert was announced as William Adolfo Cortez, but when asked for confirmation of his name, and other personal details, he gave the impression of wanting to level with the investigators: "My name is William Dathan Holbert, I am thirty years old. I got married in Costa Rica in 2006 near the city of San José, but I don't remember what the place was called exactly. I was born on September 12, 1979, in Hendersonville, North Carolina, in the United States." Holbert gave the names of his mother and father and his US social security number. He said he earned a living from farming.
"Why the name William Adolfo Cortez?"
"I chose the name thinking that Panamanian people would prefer a Latin name to a gringo one, and I wanted to fit into society. […] I found a man on the Internet who sold camouflage passports. The idea of these passports is that a citizen of the US or Israel can carry one and if they are kidnapped by terrorists, no one will find out that they are American or Israeli."
Holbert bought a fake Dutch passport in his new name for $600. The man who sold it to him was very secretive and there was no way of knowing from which country he was operating.
"If you have any tattoos, tell us where they are and what they are."
"I have four. I have the American Confederate flag tattooed on my chest on the right-hand side. I have a cross on my left shoulder, a wild boar on my right shoulder, and a lightning bolt on my back." Holbert briefly took off his shirt to show his tattoos. He was asked the color of his skin. He replied, "White." Holbert spoke slowly, politely, deliberately. When Holbert put his shirt back on, he told Calderón's team of his life in Darklands. His farm, by which he meant the Hacienda Cortez—tending his cattle, growing bananas—earned him around $1,500 a month. He supported one other person economically: his wife.
Calderón cut to the chase, as the formal record of the interrogation indicates: Once the identification of the detainee was completed, he was informed that he was being accused of the crime of murder. Holbert was read his Miranda rights; he was free to remain silent if he so wished. An attorney, Javier Racine Gómez, had been provided to Holbert by the state and was present. Any person who has been arrested must be informed immediately and in a form that is understandable, the reasons for their detention, and their corresponding legal and constitutional rights. Persons accused of having committed a crime have the right to a presumption of innocence until they are proven guilty in court…
Holbert told the investigators that he and Reese had both entered Panama illegally in 2007, via a little-used border crossing close to Río Sereno. He had hopped on a bus and went to David, bought an SUV, and went back to the border to fetch Reese. This was as easy as walking along a track. "It was the middle of the night and there was no one around." The year's lease on the house in David cost him $3,200; he was carrying $50,000 in cash, he said, which were the spoils of a fraud that he had committed in the United States. Tiring of David, the couple went to the Chiriquí highlands. That's when he saw Michael Brown's ad on Craigslist and called him. "We arranged that he would pick me up in Chiriquí Grande [a small port southeast of Darklands] so that I could visit the property. I found out that this man had been a drug trafficker in the past. He told me this himself. I came to the conclusion that he was a desperate man, like I was. My first thought had been to rob him because he told me that he had a lot of money. But I changed my mind when I saw his property, which was in a remote, beautiful place, and that was when I decided to kill him and his family, too."
Holbert said that he had seen Michael Brown's nest egg, which was around $90,000 in cash. Brown had owned his assets through a shell corporation. He explained to Holbert how a shell corporation with bearer shares worked and that "whoever was holding the shares was the owner of the corporation." Brown's shell company, Latitude 9.10, Inc., held the property on Darklands that had been advertised on Craigslist. "If I killed him," said Holbert, "the shares would be mine and so would the property."
Holbert hatched a plan on the third day of his stay with the Browns. He asked Michael Brown to show him a well that was at the rear of the house. When they got to the well, Holbert shot Michael Brown with a single bullet to the head. "I had bought the gun in a bad part of David. I asked a man selling drugs if he could get a weapon for me and after 30 minutes he came back with a new gun that was still in its box. I don't remember the make or brand but I remember it was made in Argentina and it was a piece of garbage. It was of a very low quality and made of the kind of metal you would use to make pots and pans. It felt like aluminum."
Holbert assured the investigators that Michael Brown "died in an instant and he didn't feel a thing."
"What I want to say to you is that it gives me no pleasure to kill people. Actually, it's a difficult decision to make and it's difficult to do."
After Holbert had shot Michael Brown, he walked back to the house. "Then I said to his son, whose name I can't remember, that his father wanted him to bring a shovel and help out. I told him that I would go with him to his father. The young man was about 18 years old. I took him near to where his father was and I shot him in the same place, and also in the back of the neck. I then returned to the house and Brown's wife was in the garden, working and bent over. I shot her in the same way that I had shot the father and son."
To make sure they were all dead, Holbert shot Michael Brown, his wife, Manchittha Nankratoke (Nan, for short) Brown, and their son, Watson, in the neck for a second time. The Browns kept a pickup truck on their farm and Holbert threw the three corpses into the back of it. He drove into the bush along a rough track behind the house. He stopped and dug two shallow graves. He put Nan Brown and Watson in one and Michael Brown in the other. Their bodies would stay where they were, gradually decomposing, until they were discovered two years and seven months later. Holbert drove back to the house and found some soap and some bleach to clean the truck. Then Holbert said he got drunk and—when he woke the next day—made the journey back to Reese in Volcán in reverse, using the Browns' motorboat to get to Chiriquí Grande. Back with Reese, "I explained to my wife that we had a new house."
Holbert said he thought that he and Reese moved into the Browns' residence on New Year's Eve of 2007. For the next two years the couple lived a "trouble-free" life. The Browns' home was spacious and there was plenty of money, too. Apart from the $90,000 in cash, there was another $225,000 in a bank account with HSBC in Hong Kong that Michael Brown had controlled. "I found information on the account when I went through Brown's documents, which were in a filing cabinet. That's where I found the passwords…
"I made a request to HSBC for a new [debit] card with a new PIN, since I didn't have the PIN of the old card. I sent the request to Hong Kong, because if I had sent it to Panama City, I would have been asked for identification." Holbert got the card in a package at the office of an express mail service in Bocas Town. "All I had to say was that I was picking it up for Michael Brown. These things are very easy in Bocas." Holbert then bled Michael Brown's account dry with systematic withdrawals up to the daily maximum at the ATM in Bocas Town. With part of the money, he stocked his new bar. He bought a powerful motorboat. The rest of Michael Brown's money was spent on day-to-day living expenses.
Holbert and Reese took off for occasional trips to the Chiriquí highlands and other parts of Panama. "When we left, I would tell my friends that we were visiting relatives. It was a lie, but it stopped them asking more questions about my family."
Holbert told the investigators that he wanted to confess to a number of other crimes. "I bought an AK-47 from a woman named Ann who had anchored her sailboat in front of my house. She told me she was short of money and that is why she was selling the weapon." Holbert paid her $600 for the AK-47—coincidentally, the same amount that the fake Dutch passport cost—and it came with a thousand rounds of ammunition. "I also bought a rifle from a delinquent in Bocas Town who went by the name of Bobby. […] These weapons are in my house, in the house that used to belong to the Browns, in the main bathroom under a dropped ceiling. The gun I used to kill the Browns is in parts lying around the house."
Around May or June 2009, Holbert and Reese started to fight. She was drinking too much and so was he. At that time, Holbert was spending a load of money and was away from home a lot. "We came close to getting a divorce, but the biggest complaint she [Reese] had was that she was stuck on a farm in the middle of nowhere. So I put an ad in the Bocas Breeze that said that I bought houses. At the beginning, my intention was honorable. A man called Bo Yancey [Icelar] called me to see if I wanted to buy his house. But he wanted over $400,000, which wasn't a reasonable price, so I turned him down."
The purpose of the ad in the Bocas Breeze was to find people who really needed to sell their homes, people who were desperate to sell. In September and October 2009, Holbert came across Icelar at various parties and get-togethers. A deal might still be on.
"I got the impression that he [Icelar] was in a witness protection program that had something to do with the Mafia, judging from what he said. So I decided to kill him because I thought that his death would be attributed to the Mafia in the United States."
In November 2009, Holbert said he invited Icelar to his house so that he could meet with Holbert's attorney. "But the story about the attorney was a lie. I went in my motorboat to Bo's house in Big Creek to fetch him, and on the way from there to my house, when we were in the boat out in the lagoon, I shot him in the neck. I used a .38 caliber revolver, which I also bought from Bobby." Of course, Icelar was carrying the bearer shares of his shell corporation. In anticipation, Holbert had instructed his workmen to dig a hole in a small clearing in the bush about 300 yards behind the Browns' house. "I threw Bo's body into the hole and covered it with a thin layer of dirt. On top of this, I threw in household garbage." The following day Holbert asked his workers to fill in the hole with more dirt. Reese wasn't in the house when Bo Icelar was shot and buried, said Holbert, as he had sent her off to Boquete or someplace else to go shopping.
Holbert and Reese now had two houses. The pair lived mainly in the house in Big Creek they had stolen from Bo Icelar. They quit drinking for about six weeks and, during this time, Holbert made some improvements to the Icelar property with a view to flipping it. Eventually, however, they returned to Darklands: "It was where I liked living the most." It was in 2008 in Darklands when Holbert and Reese met Cher Hughes and her husband, Keith Werle. Holbert digressed to describe a couple of boozy parties where some of the guests, including Keith Werle, came to blows. Eventually, Werle left Hughes for an acquaintance of hers. That hurt Hughes. Calderón's report of the interrogation makes no mention of what the officials from the state prosecutor's office made of Holbert's slice of Bocas expat life. Eventually, the detainee's story changed gear: "Around the middle of March 2010, Cher mentioned that she wanted to sell her property [the Casa del Sapo rental place]. This might have happened at her house, or it could have been at my house, as she started to visit with us frequently.
"One time when she came to see me, she confided that she didn't want to carry on living. She was a tall woman but because of the effect of drugs, she weighed under 100 pounds. As she had got to that point, I decided to kill her and take what she owned."
On the night Holbert killed Hughes, "I think my wife was staying at Bo's house or maybe she was elsewhere, as we were going through some problems in our marriage." Holbert killed Hughes execution-style and drove in the Browns' old pickup to a new hole he had instructed his workers to dig. Holbert covered Hughes's body in a blue tarp and tossed it into the hole. He covered it with a layer of dirt, just as he had done with Bo Icelar's corpse, then some household garbage. Subsequently Holbert asked his workers to fill in the hole with more dirt. Holbert dispatched a large gray plastic cooler, of the type you can wheel around, on a plane to Panama City. The cooler contained some of Hughes's clothes and personal belongings. "I did this to cover my tracks."
With his account of the Bocas del Toro murders complete, Holbert had something to say about Laura Michelle Reese: "My wife is innocent of all these crimes and didn't have any knowledge of the crimes I committed. I have always acted alone, as is my habit. If there is any justice in the world, she will be released.
"I moved to Bocas Town and worked in the hotel I got from Cher," said Holbert, this despite "becoming lazy […] and unhappy." At nights, Holbert got into the habit of getting drunk in an expat bar called the Riptide. "I did nothing to take over [formal] ownership of the Casa del Sapo. I just took physical possession of it along with the rest of her assets. Then a time came when I started to realize that I really missed my wife, and so I went back to the farm, which is where she was living."
Holbert and Reese had two parties in Cher Hughes's house: "I don't remember the dates, but I don't think they were successful. Then we decided to go on vacation in the way that we used to every three months or so, in order to get away from everyone we knew. We rented a house in Boquete in a subdivision called Emerald Drive from a friend of ours called Tom Byrne, who is Irish."
Holbert told the investigators that on June 11, 2010, he got a call from a friend in Bocas who informed him that the police were looking for him. "I told my wife that we had to escape and we went to Costa Rica that same night." The pair moved from place to place in Costa Rica, not staying for more than three or four days in the same motel or rental. On July 23 or 24, Holbert said that Reese caught a glimpse of their photos on the TV news.
Reese was "very upset and afraid," said Holbert, "because they were calling us serial killers."
By the time Calderón's team wound up the interrogation it was 8:25 p.m. William Dathan Holbert signed the confession in his spidery handwriting. He was given an ink pad to make a thumbprint, which he put next to his signature. The confession was filed away with a sketch that Holbert made of the layout of the former Brown house. It showed the main residence and a housekeeper's cottage near the shore. At the top of the map was a stream marking the boundary of the property. Between the stream and the residence were two fences. Holbert marked a path that snaked from the residence as far as the stream. On the left-hand side of the path, between the second fence and the stream, two Xs marked the spots where Holbert had buried Hughes and Icelar. Close by, on the right-hand side of the path, an X marked the grave shared by Nan Brown and her son, Watson; another X indicated where William Dathan Holbert had buried Michael Brown.
On July 31, 2010, Ángel Calderón questioned Laura Michelle Reese, who was then 27 years old. After Reese had confirmed her identity and her rights had been read out, she complained to Calderón that she had been "unjustly imprisoned" and that her detention was "very stressful." Reese spoke and understood little Spanish and, once again, the prosecutor's office provided an interpreter. She also complained that the Nicaraguan police who had arrested her on the San Juan River had stolen her wedding ring. Calderón informed Reese that she had been detained, like Holbert, on suspicion of involvement in the murders of three members of the Brown family, Bo Icelar, and Cher Hughes. But her interrogation then took quite a different turn from Holbert's a day earlier. "What does William Dathan Holbert do for a living?"
"I don't know."
"Where did his money come from?"
"I don't know."
"What about the [stolen] credit cards and checkbooks found at the house? Where did they come from?"
"No idea."
Reese said she had no information to share about where the family who lived in their house in Darklands had gone. She also didn't know how much her husband had paid for the Browns' property or who owned the jewelry—necklaces and bracelets belonging to Cher Hughes—she was carrying when she was arrested.
"What do you have to say to the fact that five bodies were dug up on your property?"
"Nothing."
"If you're American, why do you travel on a Dutch passport?"
"I haven't seen any of those documents, so I can't tell you." Reese could not remember where she entered Panama from Costa Rica with Holbert, nor what documents—if any—were shown. Reese said that Holbert had decided she should call herself Jane Seana Cortez. She'd had nothing to do with it, she said.
Reese signed her short statement in a looping, girlish script. She was obliged to take part in another interview on September 22; by this time both she and Holbert had been transferred from the police cells to jails in Panama City. This second interview also yielded no useful information; Reese merely stonewalled her interrogators again. As with the longer, more voluble statement made by Holbert on July 30, and his subsequent depositions, Panamanian prosecutors would have the task of separating fact from fiction. Crucially, they would have to come to their own understanding of the extent to which Reese had been involved in the killings.
On July 30, 2010, the same day that Holbert was being interrogated by Ángel Calderón, an Air Panama plane was touching down at the Bocas del Toro airport. A large gray plastic cooler with wheels was unloaded from the hold. With it was a letter addressed to Virgilio Morales, the personero (municipal district attorney) in charge of the Bocas del Toro archipelago. The letter was from an Air Panama executive and explained that the cooler had originally been flown from the Bocas airport to Albrook airfield in Panama City on March 29, 2010. It weighed ninety pounds and the cost of freight was to be paid on delivery at Albrook. But no one had picked it up. Air Panama staff had become suspicious and contacted the authorities in Bocas del Toro, and the decision was made to send the cooler back where it had come from.
The police in Bocas forced the cooler open. Among other things, it contained forty-one blouses and tops, thirteen pairs of trousers, shorts, an overcoat, underwear, bikinis, and five pairs of shoes. There was a framed photo of a yacht with two people on board; another photo showed three women wearing swimsuits. There was a crucifix and a Bible. In another frame, there was paper with a prayer printed on it: God, grant me the serenity to accept the things I cannot change, / The courage to change the things I can, / And the wisdom to know the difference.
After Holbert's confession was made public—and particularly after Holbert and Reese were carted off to jail—Panamanian journalists scrambled to find out more about this odd pair. In the wake of their arrest, and given the rumors, hearsay, and few hard facts emanating from Bocas del Toro, the local media did not quite know what to make of Holbert and Reese. First of all, there was the color of their skin. In common with many other Latin American countries, Panama's prison population is almost totally poor and dark-skinned. The perception was, and still is, that white people can buy their way out of trouble, not necessarily by bribing policemen or judges (although this happens, too) but more commonly by employing cunning lawyers to find loopholes to endlessly delay cases from ever coming to trial. In Panama, the statute of limitations for criminal proceedings is six years for offenses that entail up to six years of imprisonment. For offenses that entail more than six years of imprisonment, the period is a time equal to the maximum prison sentence imposed for that offense. The court system is chaotic and—like much of the state sector—underfunded. Long delays in criminal trials are par for the course.
Locally, the developing Wild Bill and Jane case gave support to a view commonly held in Latin America: that cold, ruthless multiple killers—whether serial murderers like Ted Bundy and Jeffrey Dahmer, or the protagonists of random, mass shooting sprees such as those at Columbine and Sandy Hook—are a product of the United States and other English-speaking countries, or at least of developed, but non-Latin, societies.* American movies and TV shows, from The Silence of the Lambs to Dexter, only serve to confirm this prejudice. Conversely, Latin Americans enjoy movies and television shows that help them forget their troubles. The fantasy world of the telenovela, the Latin soap opera, broadcast throughout the Spanish-speaking countries of the Americas (and in Brazil, too), offers a saccharine viewing experience almost wholly devoid of the often gritty reality of everyday life. Given that all of Holbert's known victims had come from overseas, ordinary Panamanians with no personal or professional stake in the affair tended to think that the case had nothing to do with them. It only concerned Panama insofar as the crimes had been committed on Panamanian territory. This was particularly true of Panamanians living outside the archipelago of Bocas del Toro. One waiter in David, clearing away cups of coffee from tables at breakfast, shrugged his shoulders and said, "It's just a story about gringos killing gringos." This was a typical view. Meanwhile, Holbert wasted no time in learning how to work the unofficial prison system. There was only the smallest chance that underpaid guards were going to hand over the keys to the main gate of a penitentiary to an inmate offering a large sum of money, but bribes regularly bought significant favors in jail. Cell phones or drugs could also be floated over the walls of the prison attached to helium balloons or even just thrown over. Or prison guards at visiting time might just decide to look the other way. Holbert had his own computer and access to the Internet, and maintained his own Facebook page; he had a cell phone; for periods he had a cell to himself. Eventually, he even sponsored a prison's soccer team by buying their jerseys.
There were persistent rumors in Bocas that Holbert had cash buried somewhere on Darklands. One scenario was that Holbert had bled dry the bank account held by Michael Brown at the HSBC bank in Hong Kong by torturing him to reveal his passwords and PIN before he killed him (in his confession, he said he found the passwords written down in a notebook). One night at the Jolly Roger Social Club in 2008, Holbert appeared rather flustered and asked his guests if they had any idea why his money access card, which had been working the previous week, was suddenly not working anymore. Nobody knew for sure, but someone said, "Call your bank and see if they might have blocked the account. They'll probably ask you a few security questions and issue you a new PIN." Holbert mentioned to his guests that his account was with a bank in Hong Kong, but since Michael Brown had generally been very discreet about his assets and savings and where they were, none of Holbert's buddies were likely to smell a rat. In another scenario, Brown had another overseas account containing more of his life savings, and Holbert had bled this one dry, too.
What we know is that Brown kept money in the Hong Kong account and transferred funds at regular intervals to a local, Panamanian, account also at the HSBC, from which he made cash withdrawals. He did this by writing checks to himself. Brown's Panamanian account usually had between $5,000 and $30,000 in it. But soon after Holbert murdered Brown, he almost got caught. An HSBC bank statement shows that in January 2008, Holbert wrote a check to transfer the amount of $15,900 from Brown's Hong Kong account to the Panamanian account. The bank official dealing with the transfer spotted that something was not quite right and reinstated the money with the note firma incorrecta (signature not correct). But no alarm seems to have been raised, and Holbert tried again with a new check for the same amount on February 8. Right from the beginning—and surely fearful that his source of "free" money might dry up—Holbert took the calculated risk of transferring much larger amounts from Hong Kong to Panama than Brown usually did. From February 8, 2008, when the transfer of $15,900 finally went through, until April 2 of the same year, when he transferred $43,610, Holbert made a total of $162,710 available for systematic ATM withdrawals on Brown's HSBC account in Panama. As he told investigators on July 30, 2010, he withdrew cash from the single ATM in Bocas Town—or other ATMs in Almirante or in Changuinola—up to his daily limit. This pattern continued until either the money ran out or the account was blocked; the figure of $225,000 that Holbert gave to the investigators might have been the total of the cash that he was able to get out of local ATMs before his activity was halted. It was not necessarily the case that Brown had $225,000 in his HSBC account in Hong Kong—he might have had more. What we do know is that, when he was arrested, Holbert had left just $508.78 in Brown's HSBC account number 100340471 in Panama.
Because of Michael Brown/Salem's criminal past, and the ultra-discreet way in which he felt he needed to live his life in Bocas del Toro, compared to Bo Icelar and—especially—the sociable and vivacious Cher Hughes, when the story of the murders in Darklands broke, much less was known about him and his family. Gradually, this situation started to change. As early as July 22, 2010, a man who preferred not to identify himself made a statement to an officer named Wilmer Santamaría at a police station in the city of Changuinola, the provincial capital of Bocas del Toro. The man told Santamaría that he was "a friend of the Brown family." He said that he still maintained contact with Marco Brown, Michael Brown's son from an earlier relationship, but that the last time he had seen the other members of the Brown family was three to four years previously. This had happened at their home in Darklands. Since the anonymous witness said that he had seen the Browns on a Sunday—and that William Dathan Holbert was also present—it is likely that this was either December 16 or 23, 2007; both these dates fell on Sundays that year. The man related that he was leaving the Browns' house, after spending the weekend with them, just as Holbert was arriving. The two men were introduced, Holbert as "Bill Cortez." That is when Michael Brown took the anonymous witness to one side and told him that Bill Cortez had offered to buy his property for $750,000. Brown went on to explain why he was selling: he and his family had spent a long time in the bush and his younger son, Watson, was growing up, so it would be a good idea to spend time "in the city" (the witness did not specify which city). Brown added that he was having some problems with his other son, Marco. The anonymous witness had no further contact with the Browns after that day. The witness assumed that Brown and his family had left the country. Sometime later, the witness bumped into Holbert and Reese, who went under the names Bill and Jane Cortez, at the Romero supermarket in Changuinola. The witness asked Holbert about the Browns. Holbert told him that he had indeed bought the Browns' property but that he had no idea where the Browns had gone. Subsequently, the declared figure of $750,000, which Michael Brown said that Holbert had offered him for his property, might also have led to Holbert's unmasking if one of Michael Brown's friends or associates had contacted the police after becoming suspicious.
On September 2, 2010, a young woman named Leanne Brown, who carried a Dutch passport, made contact with the authorities in Panama City. She was Michael Brown's daughter and said that she was presently living in Cuba and studying medicine in that country. Leanne Brown was interviewed at the state prosecutor's office by an official named Julio Villareal. Leanne Brown showed Villareal a photo that she said was taken sometime before November 2006. "I know this," said Leanne Brown, "because Marco lived in Panama up to November 2006." The photo showed a smiling, long-limbed boy of African American or Caribbean descent standing to the right of a white man of late middle age. The man was visibly happy and relaxed. In front of the man was a woman of Southeast Asian descent and a shy-looking boy who appeared to be the son of the two adults. The group seemed to be standing on farmland; in the background there were trees and broad banana leaves. Leanne's father, half brother, and stepmother were in the photo and were now dead; only the tall boy—Marco Brown—was still alive. Leanne Brown told Villareal that in January 2008 her mother (Michael Brown's former wife, who was Jamaican) and her brother, Marco, had been trying to contact her father, and Marco had been trying to get in touch with Watson.
When Marco noticed that Watson wasn't replying to his e-mails, he contacted several friends of his father to see if they had had news of him. Marco had the password to his father's e-mail account and saw that he had been in contact with someone named Bill Cortez. On reading the exchange of e-mails, Marco thought that his father had sold the property. Prompted by Marco, one of Michael Brown's friends delved deeper into what had become a worrying mystery. He saw that the Brown family home had been put up for sale on the Internet by a man calling himself Bill Reese. This, of course, was Holbert. But the asking price was much lower than the price ($750,000) that Michael Brown had supposedly sold his Darklands residence for. The same friend sent an e-mail to Bill Reese saying he was interested in buying the property. He got hold of Bill Reese's phone number and then called him pretending to be Michael Brown's brother. He asked Bill Reese/Holbert where the Brown family was. Bill Reese said the same thing to Michael Brown's friend that he had said to the anonymous witness: they had sold up and left quickly. Almost certainly Michael Brown's friend did not relay his suspicions to the police.
Leanne Brown told the Panamanian authorities that the choice of remote Darklands as a place to live had taken its toll on her father and his family. "There are always problems between parents and children. Marco got to an age when he didn't want to live in Bocas anymore. There wasn't much to do there," said Leanne Brown. Marco left for Jamaica, his mother's home country, and enrolled in an information technology course there. But Michael Brown gave his elder son an airline ticket with an open return date so he could fly back to Panama whenever he wanted.
Julio Villareal asked Leanne Brown what her father did for a living.
"My father retired very young and always wanted a small farm with horses and so on, so he moved to Panama and worked his farm."
"How did your parents meet?"
"My parents met in Jamaica in the 1980s. I think it started like any other relationship might start. I was born in 1986 when my mother was 19. My brother [Marco] was born in 1989, but very soon after they separated. He [my father] moved to Thailand and St. Maarten, I don't remember in what order, we went when we were very small. My parents remained in contact. I remember asking my father [about the split] when I was about fourteen, and he replied that my mother was very young and she couldn't handle the situation, that he loved her, but that he liked to travel a lot and my mother didn't." Eventually, Leanne Brown returned to Jamaica when she was 16. Although Watson Brown, Michael Brown's son with his Thai wife, Nan, was born in 1990, according to his Dutch passport, he looked noticeably younger than his half brother Marco, who was born the previous year. Leanne Brown also said that her father had asked Marco in early December 2007 what he would do if he gave him $100,000, because he had helped build the house in Darklands and it was his share of the sale.
"Did Michael Brown have any enemies?"
"No, not that I know of."
"Did he have any relatives?"
"I don't know where they are, but I do know they are in the United States. My father hadn't talked with them in years."
"Did your father acquire another nationality?"
"My father was a Dutch citizen. That's all I know. I think my father was born in the United States, but he left when he was very young. Then he settled in St. Maarten and became a Dutch citizen."
"Do you know if your father, Michael Brown, was known by any other name?"
"I just know his name is Michael Brown, maybe they call him Mike."
Leanne Brown gave a blood sample to identify her father. The probability of paternity was recorded as 99.46 percent. Later in September 2010, DNA taken from one of Watson's teeth showed a 99.05 percent match with Leanne. Watson's DNA showed a 99.96 percent match with Nan Brown's DNA, demonstrating maternity. In due course, the three death certificates were issued.
As a young man, Michael Brown/Salem had a long criminal record. He was charged with burglary and grand larceny in Florida in 1961 and again in 1964. The following year he resisted arrest; grand larceny again in 1967; then "fugitive flight escape" in 1968. All this was in Florida. There was a count of armed robbery in Atlanta, Georgia, the same year, and in 1969, also in Atlanta, "robbery by use of weapon." In the 1970s there were multiple counts of possession of illegal drugs; two escapes from the custody of the Miami Dade Police Department; and one count each of kidnapping and of attempted homicide. In 1988 there were two counts of importing narcotics (LSD and cocaine), this time in Darwin, Australia.
To become a resident of Panama, Michael Brown presented to the authorities a Certificate of Good Conduct from the Island Territory of St. Maarten, N.A. (Netherlands Antilles). The document, dated November 18, 2002, certifies that Michael Watson Brown is registered in the registers of population of the island of St. Maarten, N.A. This certificate is issued in connection with the VIETNAMESE AUTHORITIES. At the bottom of the document it reads: Signed in the name of the Lt. Governor by Derrick E. Holiday, Chief of Police (the title was written in Dutch).
Derrick E. Holiday was convicted of forgery and fraud in St. Maarten in March 2009. He appealed to St. Maarten's Supreme Court, which upheld the conviction. Holiday was sentenced to a one-year suspended sentence, two years of probation, 180 hours of community service, and a three-year ban from the St. Maarten police force. Meanwhile, Michael Brown's Dutch passport (Nan Brown and Watson also had Dutch passports) records his place of birth—improbably—as Antigua. All three Brown family passports give the relevant issuing office as Ambassadeur te San Jose (Ambassador to San José). The Browns had this much in common with the man charged with killing them. William Dathan Holbert's fake Dutch passport made out to William Adolfo Cortez also had Ambassadeur te San Jose stamped on the document as the issuing office.
* * * *
Time has hardly removed the evidence of Holbert and Reese's passage through Bocas del Toro. A small red Mazda covered in dust and dirt is parked outside a police station opposite the airport terminal in Bocas Town. It used to be Bo Icelar's. The license plates have been removed and there is nothing lying on the seats. Close by, men and boys are spilling out of a gate to a soccer field after the referee's final whistle. Their long shadows dance across the turf. Meanwhile, Holbert's old cigar boat bobs up and down in the water behind the main police building on the seafront. Another motorboat is stranded outside of town on a patch of marshland. Locals say it was driven inland in a ferocious storm. That one belonged to Cher Hughes.
Vessels of all sizes ply the narrow sound between Columbus Island and the neighboring island of Carenero so often that the water is barely ever clear. Right now a tottering three-story party boat is returning from a far-off beach. Flags fly from its mast, and kids lie out on deck like so many lizards in the sun, others drinking under the thatched roof of the onboard bar.
I go over to Carenero to take a closer look at the Casa del Sapo, which was Cher Hughes's short-term rentals business. I walk past a couple of pastel-colored hotels, one of which adjoins a red and white lighthouse that might well have been constructed as a real estate feature. The Casa del Sapo is one of several residences built at the water's edge next to the hotels. It's the perfect location, facing Bocas Town across the water. Unlike the other structures, it is made of unpainted wood stained a dark red, Scandinavian style. Three or four air-conditioning units poke out close to windows with white frames. There is some laundry hanging out to dry on the deck, which juts out over the water. One of the windows is ajar. Someone has rented the house and moved in, perhaps unaware of its history.
Behind the facade of the hotels and the expat residences there is third-world poverty: a couple of fires have been lit to burn coconut husks and other refuse; hens dart across the muddy spaces between the simple shacks of the island families; children are wearing rags. But it feels provincial in a nice way, too, because there are no cars here and everyone says hello to people they meet on the narrow dirt path that connects the dwellings, offering a smile. This doesn't happen as much in Bocas Town.
The sun, low in the sky, finally breaks through the clouds and I see that the Casa del Sapo and the waterfront mansions and the two hotels have been angled to catch the sunset views. The narrow strip of beach they sit on is so white, it could almost be made from chalk, except where the lapping tide has left black lines of spilled engine oil. In the water, long tresses of seaweed and algae are gently pushed and pulled this way and that.
Over in Darklands, the Jolly Roger Social Club is smaller than I had imagined it. The place is also a ruin. Pretty much everything in the bar that wasn't bolted to the floor or one of the walls has been taken away by souvenir seekers. These days, a urinal screwed to the wall is the only thing left that could feasibly be wrenched off. The floorboards have been attacked by termites and are close to collapsing; it would be dangerous to climb the stairs to the second floor where Holbert and Reese offered a couple of rooms for rent. Most of the paint has peeled off the upper-floor balcony. A few discarded beer bottles lie in corners. Perhaps the structure is still used by someone as a venue for parties. In the kitchen, the stove where Holbert did his greasy cooking has been ripped away and the cupboards are smashed up. The U-shaped, tiled bar where Reese served drinks and stared into the distance is still there. It was probably too big to move. The wooden boards closest to the water are covered by an encroaching slime, like a moist green moss. Meanwhile, the Browns' old house is being guarded by three policemen working two-week shifts. They cook their meals on the open, upper floor where, years earlier, Marco and Watson rode their skateboards. They sleep in hammocks in the same space where they eat. The policemen are bored but friendly. One tells me the place gives him nightmares. He heard some noises in one of the bathrooms one night, when no one was inside, and that gave him the creeps. On the first floor, the inside of the house looks like it has been set on fire. On a ledge in the kitchen there is an old, discolored can of Hershey's cocoa—this is pretty much all that is left. Holbert's flags and his skull and crossbones hacienda cortez sign have long been removed; an old do not cross police tape flutters in the breeze.
The house that Cher Hughes and Keith Werle built on the island is visible from the Browns' old dock. I think of Jack the dog swimming across this mile and a half of still sea to lead Werle and the police to Hughes's grave. A couple of small indigenous children, a boy and a girl, are playing outside the boathouse that guards access to Hughes's former home. Inside the boathouse there are a stove, a couple of mattresses, clothes hanging out to dry. The only sounds are the tame waves lapping against the shore. Dina lives in the boathouse with her four children. "These two kids are the ones Cher never knew," says Dina, who doesn't give me her last name. The two children Cher used to spoil now go to school, so they are not at home.
"When Cher was here, my first two were the ages of these here," says Dina, pointing at her younger children. Does she miss Cher? Dina nods.
A steep stairway cut into a slope above the boathouse leads up to the main residence. The sun beats down, and climbing the 20 or so steps is enough to make you sweat a little. From the outside, the property looks like a new home that has been subjected to a sudden, accelerated aging process. A wide deck, flecks of varnish here and there, has been taken over by termites. It is strewn with corn husks and home to half a dozen hens. A wooden bench with room for two people, constructed like a swing, looks out over a secluded cove. But a couple of the planks are missing so it is no longer functional. The geography of the location becomes apparent: the house is on the brow of a hill and has views of the sea on three sides. Bushes and banana trees give the property privacy, and the deck is out of view of the boathouse. There is a profusion of plants with purple flowers. The water in the cove below is translucent, achingly inviting on such a hot day. An island a hundred yards offshore has a guest cottage. The kitchen is open-air; inside the house there is a bedroom, dressing room, and bathroom with a large, sunken tub. This is what there is—it is a home designed for two people. The bedroom has piles of bedclothes, terminally damp in the moist, salty air. The terra-cotta floor tiles are cool. In the bedroom there is a book on Rottweilers, a picture book of Ireland, another with paintings from the Louvre museum. Photos are on display everywhere: speedboats, sunshine, sea. Maritime charts with the beginnings of mold. There is a decorative bottle with glass geckos climbing over it. Dina looks around impassively. This will never be normal, but it is a situation she must live with. She has little choice unless she leaves her home on the dock. On the top of a low bookcase set against a wall in the bedroom, there is a framed picture of Cher and Keith on their wedding day, smashed. Momentarily, the shards of glass in the frame catch a ray of sun passing through the large window.
A hen has gotten into the bathroom and is clucking around a collection of toiletries. It gets shooed out with a loud flap of its wings. The sunlight outside is almost blinding. But there is something else to see, quickly. Adjacent to the house are two gazebos built in a style common in Central America—essentially, huts with no walls and a roof of bamboo thatch. These have a social function and are used for entertaining. Outside the first gazebo is a stone sundial inscribed with the lines, Grow old along with me! / The best is yet to be. In the second there is a pile of cassette tapes: the Beach Boys, Buddy Holly and the Crickets, Chaka Khan, a homemade mix tape with I LOVE YOU written on it. Also, a book, dusty, its cover faded: it's The Path Between the Seas, a history of the building of the Panama Canal, by David McCullough. A Madonna cassette tape is broken, its shiny, narrow tape in ribbons falling onto the floor. The person or persons responsible for taking Cher Hughes's life killed her for all this.
* * * *
* Serial killers do exist in Latin America: A man named Silvano Ward, dubbed the "Panama Strangler," murdered three women in Panama City between 1959 and 1973. He was sentenced to 30 years' imprisonment, served his time in jail, and was released. Meanwhile, in December 2014, a man thought to be one of Brazil's most prolific serial killers admitted to murdering 42 people in the course of a decade. 26-year-old Sailson José das Graças said he began stealing purses and then "started thinking about killing."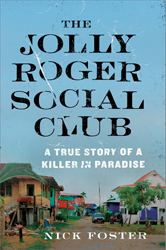 From THE JOLLLY ROGER SOCIAL CLUB. Used with permission of Henry Holt and Co. Copyright © 2016 by Nick Foster.
---