Casting "Place" as a Character: On the Essence of Rural America
Gigi Georges Recommends Nonfiction that Moves
Beyond Hillbilly Elegy
In the history of literature, unique landscapes, sweeping scenery, desolate towns and villages, and gleaming cities take on the role of central characters in unforgettable stories. One recalls the thrall of the desert itself in T.E. Lawrence's Seven Pillars of Wisdom (decades later immortalized into the classic film, Lawrence of Arabia), the menacing yet captivating moors of Emily Brontë's Wuthering Heights, the tragic centrality of "the Bottom" in Toni Morrison's Sula, and the wild kaleidoscope of 1980s New York City in Tom Wolfe's Bonfire of the Vanities.
My personal exploration of place came only later in life, as after working for decades in New York City and Washington, DC, policy realms, family decisions lured me from the urban sphere to the far reaches of coastal Maine. In 2006, I met my future husband, who had started to put down some roots there—and while not quite Gladys Knight taking the train to Georgia, I did want to live in his world, which became mine as well.
What a world it is. A state so jagged that its coastline, if stretched out, would run longer than California's. Maine's wilderness in particular has been oft-chronicled and romanticized over generations of literature, from long ago stories of Henry David Thoreau (The Maine Woods), Edna St. Vincent Millay (Renascence) and Louise Dickinson Rich (We Took to the Woods), to relatively modern blockbusters from the likes of John Irving (The Cider House Rules) and Stephen King (take your pick). The most rural state in the nation—whose young people in faraway regions face challenges as they do in many such places—but one whose same young people's underlying hopefulness, sheer tenacity, and love of country and life belie the downbeat tenor of so many current depictions of rural life.
As I turned to narrative nonfiction writing in my new home, I shook my urban lens and became interested in teasing out the tensions between some elders' pessimism for the future and many residents' pure happiness in the present, the notion of "home" itself, and what it really means to people who are the legacy of enduring generations of hard work, communion with the land and sea, and the bounty of nature. What will become of far-flung communities who have been through so much in the way of economic dislocation, ravaging opioid use, and dwindling populations now threatening their time-honored ways?
To find answers to my mounting questions, I used a tool, similar to Irving's Bildungsroman, of following a wide variety of characters' growth and life decisions from youth to adulthood. I believe clues to the future of many of these challenged communities lie in the hearts and minds of its girls. In my region that evokes images of boys brandishing pickup trucks and old salts hauling traps, it is Maine's girls who are most visibly wrestling with the growing complexities around them and forging new paths.
I picked five of them, who have led me, after four years of writing Downeast, to arrive at a more optimistic perspective about the future of rural America. These girls are among so many people not rushing for the exits, but instead, building successful lives in keeping with their roots and heritage.
The sixth character of my book—the rocky, alluring, sweeping Maine coast itself—proves to be another key heroine that helps make these successes possible.
I am fascinated by similarly heroic places and people. And some of my favorite writers have chronicled the stories of rural America through other lenses, from which—though I have cried reading some of them—I have learned so much.
*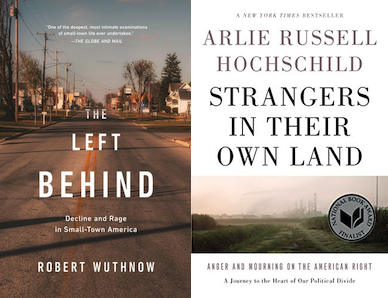 Robert Wuthnow, The Left Behind: Decline and Rage in Small-Town America
Arlie Russell Hochschild, Strangers in Their Own Land: Anger and Mourning on the American Right
Robert Wuthnow's The Left Behind: Decline and Rage in Small-Town America (2018) and Arlie Russell Hochschild's Strangers in Their Own Land: Anger and Mourning on the American Right (2019) for leading with empathy in their clear-eyed and rigorous accounts of rural Americans. Both are esteemed sociologists and self-described progressives. Wuthnow, who lived as a child in small-town Kansas, spent more than a decade conducting interviews in the heartland. There, he found resentment fueled by the sense "that their communities are in danger" and "their lifestyles are under siege," particularly by Washington-based policies. Hochschild left the comfort zone of her Berkeley, California perch and delved into the heart of Louisiana bayou dwellers in an effort to put herself in the shoes of "the American right."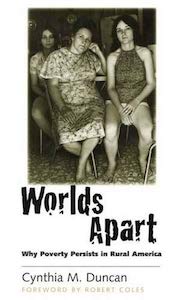 Cynthia M. Duncan, Worlds Apart: Why Poverty Persists in Rural America
For an older yet enduring account of poverty in Appalachia, on the Mississippi Delta, and in rural New England, rustle up a copy of Cynthia M. Duncan's Worlds Apart: Why Poverty Persists in Rural America (1999, updated in 2014). Duncan, also a noted sociologist, examines relationships between the powerful and powerless in rural communities, combining careful data analysis with meticulous observation—and in so doing, renders a poignant, moving account.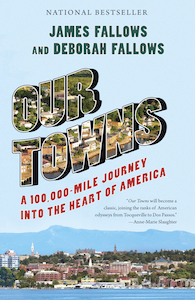 James Fallows and Deborah Fallows, Our Towns: A 100,000-Mile Journey into the Heart of America
James and Deborah Fallows' Our Towns: A 100,000-Mile Journey into the Heart of America (2018) presents an optimistic portrayal of small towns across America, which the authors visited and re-visited via a single-prop airplane over the course of five years. They conclude that small towns and cities that are "working best" share common elements and see in these places "locally based renewal and experimentation, directed at many of the same challenges that now seem practically hopeless from a national perspective."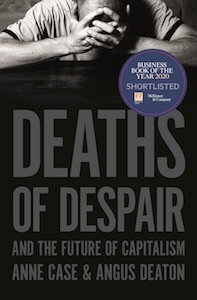 Anne Case and Angus Deaton, Deaths of Despair and the Future of Capitalism
Anne Case and Angus Deaton's Deaths of Despair and the Future of Capitalism (2020) files a contrasting examination of the declining life expectancy of less-educated middle-aged white Americans, who hail disproportionally from rural America. The renowned husband-and-wife Princeton economists unpack the social and economic forces behind a half-century's rise in deaths by "suicides, drug overdoses, and alcoholic liver disease" and find a key culprit in the "loss of good jobs for less educated Americans." Although they delve into admittedly bleak territory, Case and Deaton emerge with cautious hopefulness and place their stock in economic policy to help stem the tide of desperation.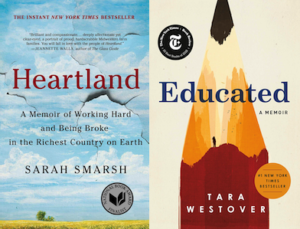 Sarah Smarsh, Heartland: A Memoir of Working Hard and Being Broke in the Richest Country on Earth
Tara Westover, Educated: A Memoir
Sarah Smarsh's Heartland: A Memoir of Working Hard and Being Broke in the Richest Country on Earth (2018) and Tara Westover's Educated: A Memoir move us beyond Hillbilly Elegy, which broke open the modern-day genre of rural memoirs. Both women follow the "one-in-a-million" trajectory of youth who escape rural poverty (and in Westover's case, a horrific family upbringing), make their way to elite educational institutions, and ultimately look back from the perch of career success to share their journeys. Their wrenching portraits guide readers toward uncomfortable questions about class, culture, religion, and social mores. Both women weave the natural power of their rural homelands into their revelatory narratives. They pave the way for stories of contemporary young women like those chronicled in Downeast—and for what we can only hope will be more resonant female rural voices to come.
__________________________________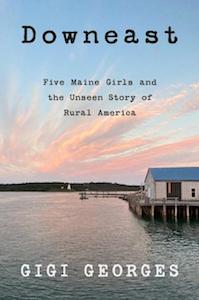 Downeast: Five Maine Girls and the Unseen Story of Rural America is available from Harper, an imprint of HarperCollins Publishers. Copyright © 2021 by Gigi Georges.
---