Café Life and Literati: Life in Turn-of-the-Century Prague
Chad Bryant on the Prague Circle
In Prague, as in capitals throughout central Europe, turn-of-the century artists experimented with various forms of modernism that challenged the liberalism of their fathers while seeking to make sense of an uncertain, post-liberal world. Here, too, Czech and German speakers, while often taking different paths, inspired each other's work.
Still, a sense of isolation and alienation was palpable, especially among the German-speaking Jews of Egon Erwin Kisch's generation born after 1880. Pavel Eisner wrote, "The life of the German Jew in Prague became fundamentally pathological because he belonged to a sociologically abnormal minority which hung like a mote in the air." This same isolation and alienation, in turn, provided the raw materials for one of the century's most vibrant and original modernist movements. According to Scott Spector, for these German-language writers, including Kisch, questions of territoriality, both literally and metaphorically, often provided a framework within which they attempted to make sense of their lives amid liberal decline, popular nationalism, and antisemitism.
Many wrote of inhabiting an "island" or of belonging to various, often claustrophobic circles surrounded by a Czech majority, miles away from the vibrant centers of German-language art and culture. Many belonged to the so-called Prague Circle, a metaphor coined by Max Brod that described a series of outwardly expanding circles of Prague writers and artists in which he was at the center. They engaged in a project of "radicalized rootlessness," Spector continues, that experimented with various literary forms as well as political notions of belonging, whether they be Zionism, pan-Germanism, or socialism.
One of the Prague Circle's most well-regarded members, Franz Kafka, explored themes of alienation and dislocation suggestive of the modern condition. His writings were often brooding and expressed feelings of entrapment and helplessness. Still, according to Noah Isenberg, "Kafka's yearnings for 'belonging' . . . can be considered as much an integral component of his modernist writings as are his portraits of 'non-belonging'" for which he is best known. Rather than abject despair and isolation, Kafka imagined himself existing somewhere between aloneness (Einsamkeit) and community (Gemeinschaft), as he explained in one diary entry.
Kafka and members of the Prague Circle did not lead isolated lives. Many had regular jobs. Several of them, in the tradition of the Prague salon, regularly took part in philosophical discussions in the home of Bertha Franta. Around the time that Kisch was writing his "Prague Forays," Kafka dabbled in Zionism and explored his Jewishness. He attended lectures by the existentialist philosopher Martin Buber that were hosted by Prague's most prominent Zionist student organization, Bar Kochba. He also attended performances by a visiting Yiddish theater company. He marveled at how the performers, many of them hailing from distant Galicia, appeared to be "bound to each other by their Jewishness in a degree unknown to us." While watching the performance, Kafka continued, he did not feel alone, but "among them," if only for a brief moment.
Kafka's favorite gathering place, however, was Café Arco, which opened in 1907. Designed by the renowned architect Jan Kotěra, it was a thoroughly modern establishment divided into three sections: a main room with tables and chairs, a billiard room, and a reading room replete with newspapers and publications from across Europe. Prague's German-speaking literati, whom the Viennese satirist Karl Kraus mockingly referred to as "Arconauts," were among the café's most well-known regulars. Here, they belonged.
By 1900 the café had become a staple of middle-class urban life throughout Europe, especially in fellow Habsburg cities such Vienna and Budapest.
The Arconauts gathered in their favorite café for long stretches of time. Artists of various sorts were especially attracted to the interactions—and caffeine—that cafés offered. Café Arco, similar to other cafés, also served frankfurters, cold food, bread, and desserts. Café Slavia, located in the heart of Czech-speaking Prague, at the end of Ferdinand Street across from the National Theater, was a favorite spot of Czech modernists. In these cafés, however, national borders were porous. German speakers mingled with Czech-speaking counterparts in Café Slavia, and Czech speakers did the same in Café Arco. Café Unionka was known as a place where Czech- and German-speaking artists mixed freely. It mattered little that Café Slavia and Café Unionka occupied buildings on Ferdinand Street, a decidedly "Czech" boulevard where Czech strollers and students predominated. Similarly, Café Arco was near the "German" boulevard Am Graben / Na příkopě. Café Savoy, also located on Ferdinand Street, hosted the Yiddish theater performances attended by Kafka.
Nor were cafés the sole preserve of artists. Other professions and social classes congregated in various cafés throughout the city. Café Arco attracted travelers from the nearby State Train Station and office workers walking home after work. Czech and German merchants often met in Café Corso. Crime reporters, as Kisch knew well, gathered at various cafés throughout the city to exchange information. Small-scale traders did the same in cafés that lined a street near Old Town Square.
By 1900 the café had become a staple of middle-class urban life throughout Europe, especially in fellow Habsburg cities such Vienna and Budapest. The café, as Jürgen Habermas has famously argued, was one of many institutions crucial for the emergence of a bourgeois "public sphere" in which participants discussed common problems and exchanged information. In cafés and in other public spaces, public opinion took form, as did plans for public action. Similar to the salons that preceded them, cafés were also key sites of middle-class sociability, albeit with fin-de-siècle intonations. Middle-class norms of manners and polite language distinguished the café from working-class establishments such as the pub.
Even in Café Arco, the hub of modernist critiques of bourgeois culture, the owner, Josef Suchánek, could not resist making tongue-in-cheek policies on proper café culture. For example, ripping out a section of a newspaper was "foul robbery" that could cause the offender to be banned from the premises. Anyone providing information about said crime could receive a reward of 100 crowns. Café conversational styles also combined middle-class upbringing with rhetorical innovations. In artists' cafés such as Arco, the "bon mot," a conversational style that entertained the listener with clever word use and playful paradoxes, reigned supreme. Similar to the feuilleton, the bon mot style combined self-ridicule with light tones while addressing serious or deeply meaningful issues. Stamm­gäste, or regulars, had reserved tables where they would meet with friends and spend part—or all—of their day chatting, reading, writing, and drinking.
The cabaret deliberately thumbed its nose at many middle-class social mores, yet, similar to the café, it, too, was a site of middle-class sociability, if on its own terms.
Kisch was a regular at Café Arco, but Café Montmartre, located just around the corner from Bohemia's editorial offices, was his preferred gathering spot. He often rushed there after leaving work around midnight. Café Montmartre, where Czech and German speakers mixed freely, was less a café than a cabaret, where drinking and carousing combined with intimate, often experimental performances and readings. ("Ah, finally," Kisch allegedly said after Josef Waltner informed him of his plans to open a cabaret in Prague.) Named after the neighborhood in Paris where the cabaret was born, Café Montmartre offered live music that continued until the wee hours of the morning. The clientele, as Kisch recalled, included professors, high-ranking civil servants, and even powerful state officials, but artists and the spirit of modernism predominated. Cubist and futurist art decorated the walls. The café album, he continued, was where the best young poets, "drunk with alcohol and erotic desires," joined artists in memorializing their beloved establishment.
The cabaret deliberately thumbed its nose at many middle-class social mores, yet, similar to the café, it, too, was a site of middle-class sociability, if on its own terms. His friend Waltner fondly recalled Kisch's "grotesque dances" with a regular named Revolution, dances that Kisch had first learned as a high school student visiting a down-and-out music hall on the edges of the city. Montmartre was also a site of belonging. Notions of camaraderie and of the cabaret as an oasis run through the published version of Montmartre's album. Otakar Hanuš, a self-described "poor literati" who later became a noted screenwriter and publicist, ended his self-mocking poem "Chanson de Montmartre" with the words "In Montmartre we all meet up!" The word "friend" appears throughout the album, often in self-mocking, playful tones that betray a genuine sense of attachment to others.
The celebrated Czech satirist Jaroslav Hašek's short story "My Montmartre Tragedy" featured dogs and falling asleep on the streetcar, as well as Waltner's heroic efforts to save the writer from himself. Kisch's melodramatic entry implored his cherished friends to tell his "dear Montmartre" how much he longed for it. The album concludes with Waltner thanking all who had supported him and expressing gratitude "for their advice as well as their frequent visits" to his establishment. Enemies have been made, as have friends, he continued, "and to the latter, my heartfelt thanks!"
In the same album, Waltner also praised Kisch for patronizing down-and-out drinking establishments throughout the city, where he "gained, thanks to his modest and unobtrusive manner," an array of additional friends. The playful irony suggests a tension that runs through Kisch's many feuilletons detailing visits to dives and other gathering places. Pubs, too, had their own Stamm­gäste and their own nicknames familiar to regulars. Similar to middle-class cafés, regulars and others used their stares to police class borders. Only rarely did Kisch succeed in becoming an unobtrusive observer able to cross class boundaries.
__________________________________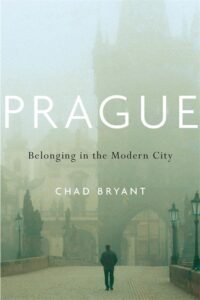 Excerpted from Prague: Belonging in the Modern City by Chad Bryant, published by Harvard University Press. Copyright © 2021 by the President and Fellows of Harvard College. Used by permission. All rights reserved.
---