Breaking Down the Roiling, Emotional Middle of a James Baldwin Narrative
Daniel Joshua Rubin on If Beale Street Could Talk
Illustration by Raquel Aparicio
*
All parts of your story are difficult to write. There are infinite possibilities for every choice—where to set the scene, what the characters say, what happens, and how everyone responds. None of it is easy. But generally speaking, it is simpler to craft the narrative for your beginning and ending than the middle, because its purpose is not as simple to define. In the beginning you set up and ask the Central Dramatic Question (CDQ). In the end, you answer it. But what do you do in the middle?
You give your readers an experience. You give them the purest form of the experience that you promised. If your story is a drama, you tear their hearts out. If it's a comedy, you make them burst out laughing. If it's horror, you terrify them. You amplify emotion and crank up spectacle. Your audience didn't come for a lecture; they came to feel. It's here, in the dead center of your story, that you hit them hard. This will keep it from dragging and give them what they came for.
*
In James Baldwin's If Beale Street Could Talk, a short novel that flies like a bullet without chapter breaks straight through for 200 pages, young lovers Tish and Fonny and their families struggle against a corrupt, vicious system that has wrongly imprisoned Fonny for a rape he didn't commit. He is a 21-year-old sculptor, a sensitive soul trapped in a violent, nightmarish prison. Tish, the story's 18-year-old narrator, is shattered by his imprisonment, but determined to fight it as best she can.
The two are childhood sweethearts who are truly in love. They get each other on every level. But they live in New York City of the 1970s, and the cops and district attorneys are crooked and have it in for any black kid who happens to look at them sideways, refuses to kowtow, or is just in the wrong place at the wrong time. The police rip Fonny from his tiny studio apartment one night after a rape, haul him into a lineup—where he is the only black man included—and he's picked out by the traumatized victim. If this isn't bad enough, Tish is pregnant.
Disastrously, the families have little money, few meaningful connections, and no real strings to pull. The entire action is fueled by a simple Central Dramatic Question: "Will the family rescue Fonny from the system?" He's stuck in a tiny cell with a filthy toilet that overflows, surrounded by predators, and the clock is ticking. He's kept from the general population, but the longer he's kept in prison, the greater the odds of him eventually being assaulted, his mind going, or both. He has to get out.
Baldwin infuses the middle of his story with raw emotion: rage, tears of joy and sorrow, violence, desperation, fear, and true friendship and familial love.
Throughout the novel, you feel a weight crushing down on all these people. It's hard to make ends meet. It's hard to find good work, a nice place to live, and a way to control the rage they feel when the deck is stacked against them in every way. Tish, whose real name is Clementine, has loving parents: Joe, a tough, streetwise man, and Sharon, a world-weary but very much spiritually alive woman who had her two girls young and is now in her early forties. Tish has an older sister, Ernestine, who loves her dearly and is a scrappy child advocate, committed to the struggle against the system.
Fonny's mother, Mrs. Hunt, is a deeply religious woman but ignorant, judgmental, and terrified. She never could relate to Fonny, and only wants him to accept Jesus. Her daughters, Adrienne and Sheila, are not much better, though Adrienne has a trace of humanity. The only hope the families have is that Ernestine was able to help Fonny get a passable attorney, a young white lawyer, Arnold Hayward. He genuinely cares, but he's got little money to work with and the case against Fonny is all but airtight—the victim says it was him.
The victim has moved to Puerto Rico and the only hope they have is to get to her and explain that Fonny was with Tish and their friend, Daniel, the night of the rape, and that he is a good kid—about to become a father—and pray she'll take back her statement against him. There are really two stories provoked by the CDQ: One is external, "Will the families rescue Fonny?" The other is internal, "Will the stress and pressure break the characters, destroy their hope, and turn them against each other?"
What we're focused on here is what the author, James Baldwin, does in the middle. He infuses it with raw emotion: rage, tears of joy and sorrow, violence, desperation, fear, and true friendship and familial love. And all this emotion keeps the middle fully engaging, if it is at times hard to read, because the rage and pain expressed are so intense.
In one scene, Tish's parents, Joe and Sharon, joined by her sister, Ernestine, invite Fonny's family, Frank and Mrs. Hunt (Baldwin hardly mentions her first name), and their daughters, Sheila and Adrienne, over to their apartment to break the news of the pregnancy. (I'm repeating names because a group is hard to track.) Tish makes a pittance at a cosmetics counter in a department store and very well might end up a single teen mother.
The way Sharon and Joe see it, Tish and Fonny's baby will make them all one big family and they want to unite forces to get the young man out. They hope that Mrs. Hunt will rally. But Tish has her doubts. The women in Fonny's family never really loved him, never understood his quirky personality and artistic soul, and have barely gone to visit him in prison, or "The Tombs" as it's called.
Frank is the only one who truly loves his son and is devastated by his imprisonment and his own inability to do anything about it. When the Hunts arrive, Tish's mom and sister serve cocktails, soda, and ice cream. Though the men, Joe and Frank, get along fine, the tension between the women is palpable. Mrs. Hunt and her daughters are arrogant and look down on Tish's family, whom they consider inferior.
Adrienne wants to get to the point—so she can get the hell out of there. Tish insults her for not visiting Fonny and then breaks the news that she's pregnant. The news rattles Frank, who is moved, and would normally be joyful, but this only exacerbates his sense of utter helplessness.
Then, incredibly, Mrs. Hunt lashes out at Tish, "I guess you call your lustful action love . . . I don't. I always knew that you would be the destruction of my son. You have a demon in you—I always knew it. My God caused me to know it many a year ago. The Holy Ghost will cause that child to shrivel in your womb. But my son will be forgiven. My prayers will save him."
All are stunned that the woman could say such a hateful thing and curse her own grandchild. Frank is so disgusted, he cracks his wife with a backhand and knocks her to the floor. Joe leads him out so the two can talk privately at a local bar.
The Hunt women make it clear they want nothing to do with the child and will not help in any way. Sharon is stunned. Tish calls Adrienne filthy names, but Adrienne stands her ground. Baldwin writes, "Real hatred choked off the air." Ernestine then rips into Adrienne, threatens to cut her throat, and throws the Hunt women out of the apartment. She follows them down the hallway, unleashing blistering riffs of profanity at Mrs. Hunt. "Blessed be the next fruit of thy womb. I hope it turns out to be uterine cancer. And I mean that."
She vows never to let them near the child and threatens to kill them if they ever cross her path again. When the elevator finally opens and Mrs. Hunt and her daughters get in, Ernestine spits in Mrs. Hunt's face and she rages at them through the elevator shaft, "That's your flesh and blood you were cursing, you sick, filthy dried up cunt! And you carry that message to the Holy Ghost and if He don't like it you tell Him I said He's a faggot and He better not come nowhere near me." She then returns to the apartment with tears streaming down her face.
Will the stress and pressure break the characters, destroy their hope, and turn them against each other?
Baldwin, as Tish, writes, "Sharon, in all this, had said nothing. Ernestine had delivered me to her, but Sharon had not, in fact, touched me. She had done something far more tremendous; which was, mightily, to hold me and keep me still; without touching me."
It's hard to imagine anything more despicable than a woman, in the name of a loving God, cursing a desperate, pregnant teenage girl whose childhood best friend, the father of her unborn child, and the woman's own son, faces life in prison. Not just prison, but a dirty, filthy, violent prison that will, without question, destroy him. This is how Baldwin kicks off the middle part of his story. And he doesn't let up.
In the next part, Tish recalls the night she and Fonny first made love. It's a tender, graphic, riveting encounter that fully captures the pain, fear, wonder, awe, and beauty of having sex with someone you're in love with. The scene is for the first time emotionally complex, as we experience it knowing Fonny will be arrested a short time later.
Following that, Tish recalls a night when, after she moved into Fonny's tiny apartment, he had a friend, Daniel, come over. The two were thrilled to reconnect and Tish felt real love for Daniel, if only because Daniel is one of the few people who she'd seen make Fonny so happy. Daniel was a big black kid who got busted for having marijuana on him, and the cops, with purely evil intention, hit him with another charge of stealing a car.
Daniel, a good-natured young man, went away for two years. And that night, he couldn't stop crying. Fonny and Tish took turns holding him. He couldn't bring himself to say what happened but it was obvious, and will be confirmed later, that he was sexually assaulted and, beyond that, witnessed another young prisoner get raped by nine guys.
This too is an emotionally layered, almost-too-painful-to-read scene. You have three people—essentially children—three good souls struggling mightily to care for each other, and you experience this tender, loving scene, this flashback, knowing that in the present moment, Fonny is in prison.
James Baldwin, like so many great writers, doesn't hold back. Not every story, of course, has to be this intense, but he had a mission: to express the pain, suffering, joy, creativity, love, and full humanity of his characters. And he unleashed it all in the middle.
__________________________________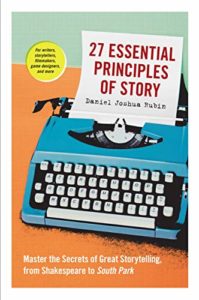 Excerpt from 27 Essential Principles of Story. Used with the permission of the publisher, Workman Publishing. Copyright © 2020 by Daniel Joshua Rubin.
---